After our one day in Bologna post, welcome to the sequel – the perfect itinerary for 2 days in Bologna!
You've decided to spend two days in Bologna. Well, what can I say, what a great idea! Bologna is one of our favourite places in Italy, a city we visited countless times and we are always happy to return to.
Why do we love it so much? For starters, there are plenty of non-touristy things to do in Bologna, and a variety of day trips you can take from the city, including to many small towns in Emilia-Romagna.
It's also a wonderful destination for food lovers (you knew that, right?), its porticoes are UNESCO-listed, and it's close to a variety of wonderful itineraries for cycling lovers – like Ciclovia del Sole, a 40-km ride connecting offbeat towns along a former railway.
Are two days in Bologna enough? 48 hours in Bologna are a good amount of time to get an idea of what to do in the city and enjoy sightseeing (and eating!) without having to rush too much. However, three days in Bologna would be even better!
Let's have a look at some practical information on how to plan your two days in Bologna itinerary!
Would you like to explore with a local guide? Book one of these quick and easy Bologna tours!
Two Days in Bologna – Practical Info
Best Time to Visit Bologna
Bologna can be visited at any time during the year, with every season offering different experiences. Summers can be very hot and humid, and winter can be cold and foggy, but these are also the times when you'll find fewer tourists and affordable prices on accommodation.
Winter is also a good time to enjoy traditional Bolognese food, which tends to be quite hearty and meat-heavy. In August you'll find the city virtually empty, as most locals head to the mountains or seaside for their holiday – it's a good time to see sights and attractions with no crowds, but bars and restaurants are also often closed.
Overall, spring and autumn are the best times to visit Bologna. The weather is usually dry and temperatures are mild, making it pleasant to walk around and explore.
How to Get to Bologna
Italy has an excellent high-speed railway system, and Bologna is an intermediate stop on both the Milan-Rome and the Venice-Rome lines. The train is by far and away the best and most convenient way to get to Bologna, and to travel around Italy if you are sticking to the main cities.
It's very easy to buy your own train tickets in advance on the Trenitalia or Italo websites – book in advance for the best fares. Tickets go for sale about 4/5 months before the date of travel. Travel times from other Italian cities are as follows:
Milan: 1 hour
Venice: 1.30 hours
Florence: 1 hour
Rome: 2/2.30 hours
How to Get Around Bologna
All the places mentioned in this 2 days in Bologna itinerary can be reached on foot. If you don't feel like walking up to San Luca, you can take the tourist train (on wheels) – here you can find more info on tickets and timetables.
There's no need to rent a car while in Bologna, and actually, it would be a hassle as most of the city centre is car-free. If you're on a northern Italy road trip, make sure to book accommodation that includes parking!
Is Bologna Safe?
In short? Yes, Bologna is as safe as any other Italian city. There are some seedy areas, especially around the station, and petty crime does occur especially in crowded places, but there's no need to panic. Just exercise caution, don't leave your things unattended, and you'll be fine.
Bologna also has a large university population and you may come across some rowdy nights out, especially in the University area. If that is your scene, go for it! Otherwise, plan to stay and have dinner elsewhere to avoid party noises.
2 Days in Bologna – Day 1
Day 1 in Bologna – Morning
A Tour of Piazza Maggiore
Piazza Maggiore is Bologna's main square. Although it is often overlooked in favour of other Italian squares, Piazza Maggiore offers a spectacular view, thanks to its incredible width. It almost looks like the sky is opening up, leading viewers to the majestic Basilica of San Petronio, with its unfinished façade looming over the entire square.
Piazza Maggiore is also home to the Palazzo Comunale, which dates back to 1290 and whose courtyard has been opened to the public. On weekends, numerous events are organized in Piazza Maggiore, especially in the warmer months of the year, during which the square becomes a stage for street performers and musicians, some of whom have become true "characters" of Bologna's urban folklore.
Also, don't forget to check out nearby Piazza del Nettuno, and spend a few minutes admiring the fountain of the same name, built in the 16th century and recently renovated.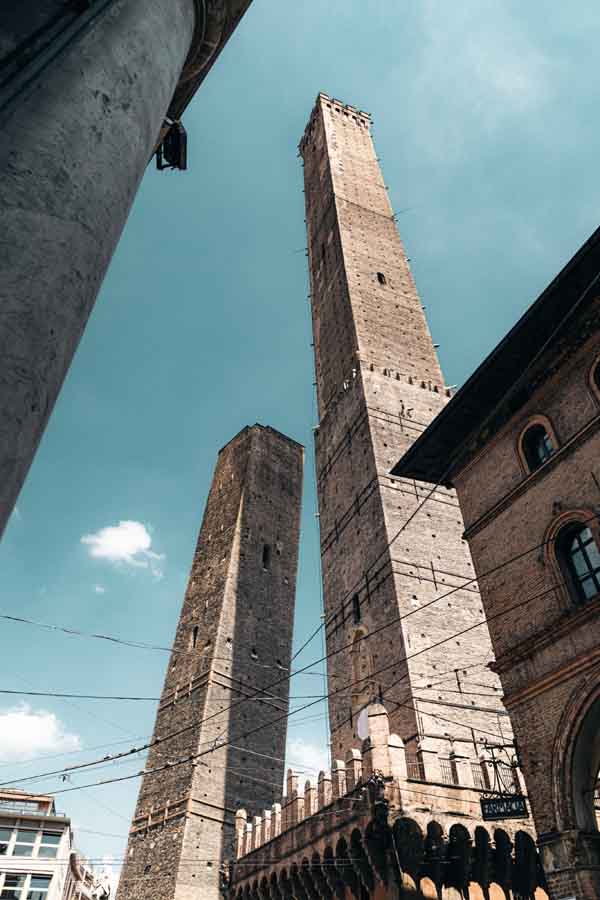 Walk along Via Rizzoli, up to the Two Towers
From Piazza Maggiore, you can walk down Via Rizzoli in the direction of the Asinelli and Garisenda Towers. An undisputed symbol of Bologna and a focal point of the historic centre where all the main streets converge, the Asinelli and Garisenda towers are among the few left standing in the entire city.
Like other medieval Italian cities (San Gimignano in Tuscany comes to mind), Bologna in the past was characterized by the presence of numerous towers, built by important families to show off their power. The Asinelli Tower stands out, as it is the taller of the two, 97.20 meters high, with 498 steps leading to the top.
If you visit Bologna during spring or summer, you may consider tackling the stairway. It is a bit tiring, but you'll be rewarded with a great view of the entire historic center and the surrounding hills. The Garisenda Tower, on the other hand, has been "halved" after suffering several structural collapses. If you look at it from Via Zamboni, you can see the impressive slope of the tower.
Day 1 in Bologna – Afternoon
Archiginnasio of Bologna
The centre of Bologna is full of beautiful historic buildings, some of which are open to the public and can be visited. Among them, the Archiginnasio di Bologna in Piazza Galvani (behind Piazza Maggiore), is one of the most famous.
It was built in the 16th century to create a single place for university lessons, which just as it is today, was shared between several faculties throughout the city. The building has a central courtyard with 30 arches, under which it is possible to admire coats of arms and paintings.
On the upper floor you will find the Stabat Mater Hall, used for reading, featuring an impressive collection of coats of arms. Another must-see room is the Anatomical Theater, designed in the 17th century to house anatomy classes. It is made entirely out of wood, with an anatomical table in the centre and benches where students sat to attend classes.
Visiting Via Zamboni: the university street
To the left of the Garisenda Tower (if you come from Via Rizzoli), you will find the famous (or infamous, depending on the point of view) Via Zamboni, the university street. Alma Mater Studiorum in Bologna is the oldest university in the world, still active, thanks to a wide choice of faculties and specializations.
Aside from studying, many young people choose Bologna for its many cultural and entertainment opportunities. The university is also linked to many political movements, so don't mind the occasional rally, since they are absolutely peaceful. Via Zamboni is the symbol of Bologna's university life, with historic faculties such as Law, as well as many of the city's most famous clubs and pubs.
Halfway down Via Zamboni, you'll find Piazza Verdi, overlooked by the Teatro Comunale. In the evening, Piazza Verdi becomes the common gathering place for students who spread out to the clubs on Via Petroni and Via delle Moline, two other streets in the university area famous for their nightlife.
Day 1 in Bologna – Evening
Dive into Bologna's night life
On your first day of visiting Bologna, you will probably still be full of energy. If so, then you may want to find a place to have a good beer, a wine glass or maybe a cocktail, while listening to live music. Bologna and music have always had a good relationship, although in recent years many venues and music pubs were forced to close, due to the economic crisis.
Some remain, like Circolo DEV on Via Capo di Lucca, which is especially recommended if you love alternative music and want to try some great vegan burgers. Otherwise, Bravo Caffè on Via Mascarella is one of the most renowned venues in Bologna, where you can enjoy jazz concerts by world-famous artists while sipping great wine or cocktails.
For an aperitivo, you can try Lab 16 and Caffè Zamboni on Via Zamboni, or the elegant venue Le Stanze on Via delle Moline.
2 Days in Bologna – Day 2
Day 2 in Bologna – Morning
Visit San Luca
No visit to Bologna is complete without visiting the Sanctuary of San Luca. Known simply as "San Luca", this shrine is especially beloved by locals. The steps leading to the sanctuary are covered by 666 arches – the symbolic number represents the Devil in the form of a snake, defeated by the Madonna of San Luca.
Although it is possible to get to the top of San Luca by car, tourist train or taxi, I recommend getting there on foot, as the climb under the porticoes is pretty impressive. By the way, if you are feeling particularly athletic, you can even run! There are plenty of people who do that every weekend.
You can climb to San Luca from Via Saragozza, perhaps coming directly from the center and passing through the gate of the same name, which is also one of the most beautiful and best preserved of the Bologna's gates. Once you get to the top of San Luca, you can enjoy a truly spectacular sight, with a 180-degree view of the city.
The narrow streets of the Quadrilatero
Head back to Piazza Maggiore to enter the so-called Quadrilatero of Bologna, the area of the old market. In recent years, the Quadrilatero has become one of the most visited places in all of Bologna, especially by tourists looking for gastronomic products and perhaps a table to sit at and try some typical Bolognese cuisine.
Before the explosion of tourism in Bologna in the last decade, the Quadrilatero was visited exclusively by locals who lived in the center, which loved to wander the narrow streets and buy food in their favorite local stores. Some of these stores have practically turned into restaurants, ready to welcome tourists.
In general, restaurants in the Quadrilatero offer platters of cold cuts and cheeses with small breads known as tigelle or crescentine, served directly at outdoor tables. The food is of excellent quality, but if you want to avoid the crowds, visit the Quadrilatero just to take a stroll through its quaint little streets.
Day 2 in Bologna – Afternoon
Palazzo Poggi and its unique exhibitions
University students know Palazzo Poggi simply by its civic number: the 33. Located on Via Zamboni, Palazzo Poggi dates back to the 16th century and still houses the headquarters of the University of Bologna.
In addition to its historical importance, Palazzo Poggi turns out to be a very interesting place to visit, as it houses the collection of the Institute of Sciences, divided into several thematic rooms and exhibitions. Among them, there are two important exhibitions, one dedicated to human anatomy and the other to obstetrics, with wax figurines and replicas made for the scientific community in the 18th century.
The natural history museum hall exhibits various materials divided between geology, paleontology, and zoology, all in an authentic setting. Also notable is the room dedicated to art from the Far East, where you can admire prints by Japanese Ukiyo-e artists such as Kunisada, Hiroshige, and Kuniyoshi.
Shopping between Via Indipendenza and Via Farini
You can't spend 2 days in Bologna without doing some shopping, so you might consider taking a stroll down Via Indipendenza, one of the city's most important streets together with Via Rizzoli and Via Ugo Bassi.
Via Indipendenza is the city's shopping street, with clothing stores of the most famous brands. You can go as far as Piazza VIII Agosto, where the Montagnola market is held on weekends, and maybe have a look at the various stands to find something of your taste.
For luxury shops, you'll have to go to Via Farini, where you'll find the Galleria Cavour, home to shops owned by brands such as Armani, Fendi and Louis Vuitton. If you want to get some gastronomic souvenirs, then you should go back to the Quadrilatero.
Day 2 in Bologna – Evening
A nice dinner in a trattoria
When it comes to food, Bologna really has a lot to offer, in fact it is no coincidence that many call it the capital of Italian gastronomy. Of course, Bologna's cuisine is not among the "lightest" in the country, but it is certainly one of the tastiest.
Are you wondering where you can go to try a good lasagna, or a nice plate of tagliatelle al ragù? Well, I can recommend Osteria Bottega in Via Santa Caterina 51, near Porta Saragozza. Alternatively, if you prefer a more youthful environment, then head to Osteria dell'Orsa, near the university area. Also in the university area, more precisely on Via delle Moline, you can find two excellent trattorias, namely Montanara and Il Rosso, the latter particularly famous for its Cotoletta alla Petroniana.
If, on the other hand, you prefer to stay closer to Piazza Maggiore and the Towers, then you can book a place at Cà Pelletti on Via Altabella, which among other things also offers an excellent selection of desserts. Alternatively, right in front of the Two Towers you will find Bottega Portici, which specializes in making handmade tortellini to enjoy at the table, or to take away.