The 7 coolest places to visit in Calgary? It was a tough choice to narrow it down to 7, as the city is really quite cool – it's so much more than 'Cowtown' and a gateway to the Rockies, and worth spending a few days to explore its nature, food and bar scene!
Welcome to Calgary, the last stop on our Canadian tour after Toronto, Edmonton and the Canadian Badlands. Calgary is one of the youngest cities we've ever visited, first settled around 1875. However, the city boomed from the Seventies onwards, more than doubling in population in just forty years – Calgary is young, vibrant and creative, and full of fun things to do!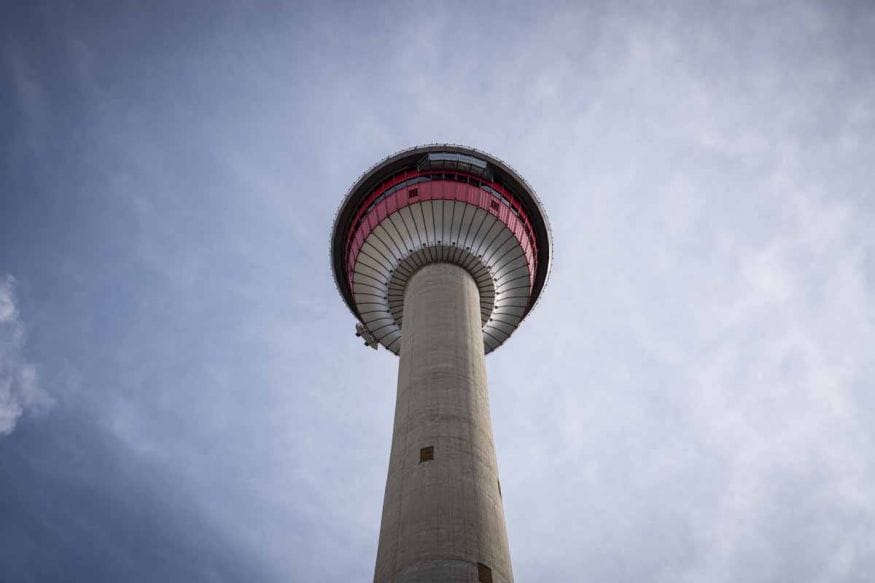 Most people breeze through Calgary on their way to the Rockies, but during our two-day stay we found that Calgary is full of cool places to see – how about craft beer, lots of urban nature, and not one but two villages in the city?
Joining a tour with a local guide is also a great way to explore Calgary – if you learn more local secrets, don't forget to let us know so we can update this guide!
Places to See in Calgary & Unique Things to do
1) Get to the top of Calgary Tower
True, Calgary Tower may be positively tiny compared to Toronto's CN Tower – 190 meters as opposed to 553 – but it's still a great place to go to get a bird's eye view of the city, all the way to the Rockies on the Western side of the city.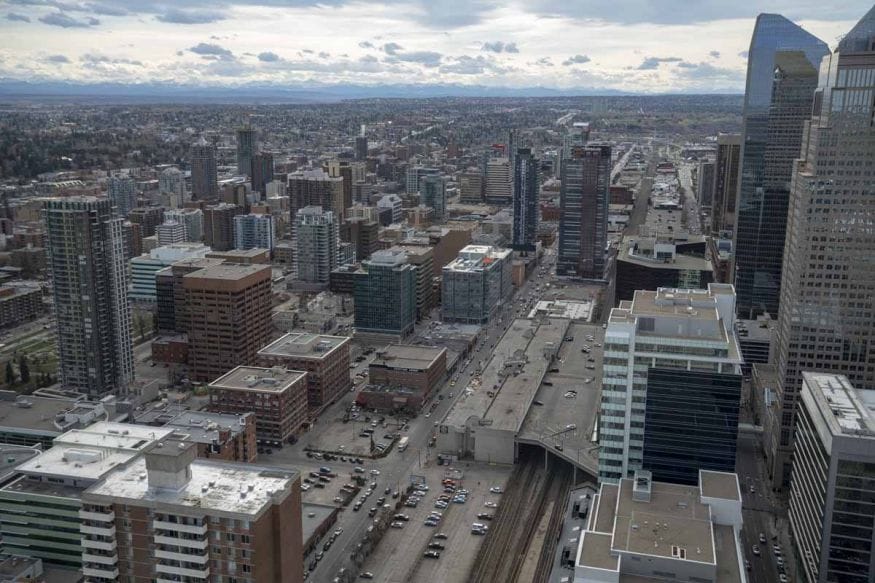 Calgary Tower was originally called Husky Tower, after the famous Canadian oil company, and it was commissioned to celebrate Canada's Centennial in 1967. When it was opened in 1968, it was the tallest freestanding structure in North America – and it is still one of the tallest buildings in the Calgary skyline. Since most of Calgary's skyscrapers house office buildings and are therefore inaccessible to the public, the Calgary Tower is a great vantage point to look at the city!
At the top, there's a 360° viewing deck, and a section with a glass floor – not recommended if you're afraid of heights, but makes for some pretty cool picture opportunities!
Entrance is only $18 CAD, and includes an audioguide that comes with a small tablet-like device, allowing you to select what kind of info you want – about the building you can see in front of you, about the history of Calgary and the Tower itself, the Rockies or more.
However, our favourites were the random 'interesting facts' you could choose to listen to – here's how we learned about about 'Eddie the Eagle', the British ski jumper who arrived last at the Calgary Winter Olympics, and the man who takes his horse to the top of the Calgary Tower during every Stampede.
Cool Places to Stay in Calgary
2) Enjoy Calgary Parks – The Riverwalk and Prince's Island Park
We visited Calgary in early May. In Alberta, April/May is shoulder season – winter is almost over, but the warm season isn't quite there yet. For this reason, we decided not to visit the Rockies, but to get our nature fix instead by exploring Calgary's best parks and green spaces. From downtown Calgary, it's just a short walk to the Bow River, flowing across the city with the fury and might of glacial melts.
The southern bank of the river is where you'll find the RiverWalk, a two kilometre pedestrian and cycle path running from the Centre Street Bridge all the way to East Village, where you'll find the famous Simmons Building, a former mattress factory with a bakery, craft coffeeshop and restaurant in its refurbished interiors.
Alternatively, you can head west and walk/cycle down the Bow River Pathway all the way to the striking red Peace Bridge, or head to Prince's Island Park, a river island entirely covered by a public park. The eastern side of the island was landscaped to recreate a wetland environment, and it offers a short discovery walk with signs illustrating the importance of wetlands to keep the riverine environment clean and healthy.
We found the southern bank of the river nicer and greener, but if you're looking for views you can walk up the northern bank along the Bow River Pathway, until you get to the Curling Club (so Canadian, I KNOW). There you'll find a set of wooden stairs heading up to the top of McHugh's Bluff, an escarpment overlooking the city, offering the best ever views of the Calgary skyline!
3) Get Your Music Fix at Studio Bell – National Music Centre
If you're that kind of person that says 'meh' to museums, visit Studio Bell and you'll change your mind! Not only is Studio Bell a super cool building, a kind of giant arch spanning the streets below, it is also home to the National Music Centre, Canada's largest music-related museum, also including a performance hall.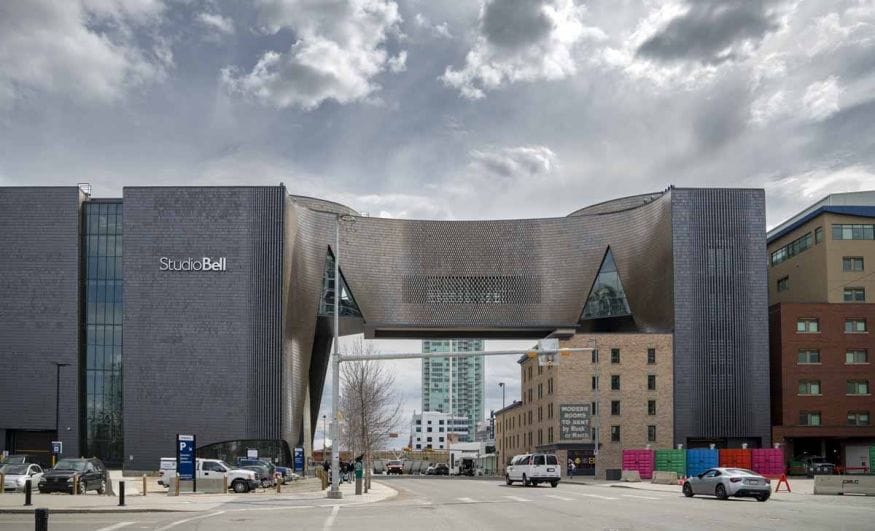 The museum includes five floors of hands-on exhibitions, including a 'Hall of Fame' dedicated to Canadian music, temporary exhibitions dedicated to various artists, and rooms where you can follow video tutorials and learn to play all kinds of instruments – the usual suspects like guitar, keyboard and bass, but also the theremin for example!
There are also singing booths to find out the tune of your voice, turntables to mix your tracks, and what is probably the star of the whole museum – the Kimball Theatre Organ, one of the few remaining theatre organs in the world, which is played twice daily, at 12 and 3 pm. If you can, make sure you time your visit accordingly!
Make sure to allow yourself enough time to visit the National Music Centre – we thought we would be in and out in a couple of hours, but ended up spending about half a day. Besides the fun exhibits, the architecture is also worth looking at – the building is inspired by the colours, lights and landscapes of the Canadian prairies around Calgary, and the curved walls and surfaces found inside are reminiscent of musical instruments.
4) Shopping and Lunch at Kensington Village
Toronto has bohemian Kensington Market, and Calgary has Kensington Village, the city's very own 'Urban Village', a short walk across the Bow River from the downtown area. Kensington Village has a very different feel from vertical, glass-and-steel downtown – you'll find cute brick buildings, a pedestrian-friendly layout and lots of cool cafes, restaurants, and boutiques.
Whether you're after a craft beer, a cupcake or you wish to browse an independent bookstore, Kensington Village is the place for you – and if you're into food, you'll be spoilt for choice. We had lunch at Hayden Block Smoke & Whiskey, a restaurant specialising in smoked, barbecued meat and whisky-based cocktails – I'm still dreaming of their barbecued brisket and pulled pork!
5) DIY Craft Beer Tour of Inglewood
If you liked the vibe of Kensington Village, we also recommend visiting Inglewood, also known as 'Calgary's Original Mainstreet', as it's the oldest neighbourhood in the city, first settled in 1875.
Inglewood is located east of the centre and the East Village, near the confluence of the Elbow and Bow River not far from Fort Calgary, and 9th Avenue is its main drag. Compared to Kensington Village, Inglewood feels a bit more gritty and alternative, definitely making it one of Calgary's coolest places to visit – or at least that's what we thought!
A really unique thing to do in Calgary is a craft beer tour of Inglewood – why Inglewood, you may ask? The neighbourhood used to be called Brewery Flats as it was home to the Calgary Malting & Brewing Company – the former plant is now derelict, but there are talks of redeveloping it. Meanwhile, Inglewood is getting back to its brewing past, with more and more craft breweries opening these days – there are three within a few blocks of one another, making it ideal for a DIY craft beer tour.
We recommend starting at High Line Brewery, where you can also get a pizza if you're hungry – we loved their Heartless Romantic, a nice hoppy sour. After that, walk to Cold Garden, with a large and very popular tap room – we visited on Friday night, and you could barely stand! Finally, save yourself the best for last, and walk a few blocks to The Dandy Brewing Company, serving truly excellent small batch brews with some yummy small plates on the side. We loved their sour and IPA, perfect on a summer evening!
6) Discover a Secret Cocktail Bar
We only spent two days in Calgary, and one night we had dinner with a friend – choosing where to have the remaining dinner was a very hard task indeed, with so many cool restaurants and places to eat to choose from!
Eventually, we opted for the Tea House, a 'secret' cocktail bar located in the basement of Two Penny, a famous modern Chinese restaurant. You just need to walk through the main door and the stairs leading you down to the restaurant are on your right hand side.
The Tea House has a cool, Chinese speakeasy-esque vibe, with dim red lights and Chinese lanterns hanging over the bar. We each ordered a cocktail and shared some crispy truffle gyoza, salt and pepper squid and our very own favourite, pork belly bao. The Tea House also regularly hosts comedy evenings, which would definitely be worth dropping in if you have time!
7) Stay and Have Brunch at Hotel Arts
During out two days in Calgary we stayed at Hotel Arts, a stylish hotel in the heart of downtown Calgary, walking distance pretty much from everything I mentioned in this article. You can breathe the 'artsy' vibe of Hotel Arts as soon as you walk into the lobby, full of unique furniture and contemporary arts pieces, and opening up into a swimming pool patio – it was still closed when we visited, opening at the end of May.
We stayed in one of the Luxury King Rooms, which had a massive king bed (honestly, as a European I'm still baffled by how big king beds are!), a sitting area, massive bathroom with quality toiletries and the same whimsical, design-focus decor found in the rest of the hotel.
Hotel Arts has two restaurants – the Raw Bar, serving modern Vietnamese cuisine, and the Yellow Door Bistro, famous for serving the best brunch in town, definitely worthy of a mention in this list of Calgary's coolest places!
The brunch is a steal at just $24 CAD for a delicious buffet including a whole bunch of sweet and savoury delicacies like eggs Benedict, chia puddings, and 'chef's surprises' found in mini La Creuset cocotte pots, as well as a full continental buffet and juice and tea. Or you can do like I did, and opt for a Caesar, Canada's unique take on the Bloody Mary, made with Clamato and with a dash of hot sauce! One thing is certain – you'll be full until dinner.
BONUS! Take a Day Trip to Drumheller
Calgary is full of unique things to do – if you wish to get out of town there are the Rockies, of course, but we would also recommend paying a visit to Drumheller, in the heart of the stunning Canadian Badlands!
Drumheller is home to the famous Royal Tyrrell Museum, one of the best (if not the best?) palaeontology museum in the world, the tallest dinosaur statue ever built and lots more dinosaur-related sights. If you want to read more, check out our post about Drumheller, Alberta!
We would like to thank Travel Alberta for supporting our trip, and the management of Hotel Arts for the room upgrade!
Pin it for later?