Are you planning to visit Bethlehem? Find out all there is to know to plan your visit to this magical Palestinian town, famous for its street art and religious sights. Let's discover things to do in Bethlehem, the perfect day trip from Jerusalem!
'Mum, I'm going to visit Bethlehem!' If your mum is like mine, chances are the first reaction would be 'please don't, it's dangerous!' Well, not only I didn't find the town to be dangerous, I also loved my visit to Bethlehem and I was amazed by the variety of things to do and see – one day was definitely not enough!
Here are some important things to know before visiting Bethlehem, and a summary of the main Bethlehem points of interest – if you're planning a day trip from Tel Aviv or Jerusalem, keep reading – and let us know if you have any questions!
Visit Bethlehem – FAQ and Practical Info
What Country is Bethlehem in? Is it in Israel or Palestine?
Bethlehem is located in the West Bank, part of the Palestinian Territories. It is very close to the Israeli border and tourists can cross the border between Israel and the West Bank very easily. However, Israeli citizens cannot enter the West Bank, and entry into Israel for Palestinian citizens is very restricted.
What Money is Used in Palestine?
The most popular currencies accepted in Bethlehem are the Israeli Shekel, the USD and Euro. Restaurants and souvenir shops also accept major credit cards. Prices are usually quoted in USD, but you can easily pay with shekels.
Is it Safe to Visit Bethlehem?
In my experience, yes. During my day trip to Bethlehem in April 2018, I didn't feel in danger at any time, and there was a constant police presence in the streets and near churches and other sights. It was a Sunday, and the streets were busy with tourists visiting Bethlehem, as well as locals going about their daily lives.
The reason why most people immediately associate Palestine with danger is definitely related to the media – however, please don't forget that the Palestinian Territories are made up of two distinct regions, the West Bank and the Gaza Strip. The latter is where most clashes occur, and it is located about 100 km south of Bethlehem.
If you're planning to visit Bethlehem, we recommend getting first-hand info from someone who has recently visited, rather than relying on what you see on the media. Facebook groups and travel forums can be a good place to start. Travel advisories usually place Bethlehem in the 'exercise caution' bracket – make sure your travel insurance covers you in the West Bank.
How far is Bethlehem from Jerusalem?
Bethlehem is only about 10 km from Jerusalem, but travelling between the two cities can take over an hour, because of intense traffic and checks on either side of the border. Travel time can also vary depending on whether you travel by public bus, taxi or take a tour.
Visit Bethlehem as a Day Trip from Jerusalem
Bethlehem is a popular day trip from Jerusalem, because of the short distance between the two cities. The easiest way to visit Bethlehem is taking a tour, which also includes a Palestinian guide – remember that Israeli citizens cannot enter the West Bank, so you'll be asked to switch transport at the border, and continue your visit with a Palestinian driver and guide.
If you prefer to visit independently, you can take Bus n.231 from the Arab bus station at the Damascus Gate in Jerusalem. However, this takes considerably longer as the bus is mainly frequented by locals and doesn't bypass checkpoints like tourist vehicles.
Also, you cannot hail a taxi in Jerusalem and ask the driver to take you to Bethlehem. However, it is possible to arrange a private car to take you around once you cross the Palestinian border.
We recommend getting in touch with Ali, a wonderful taxi driver from Bethlehem – his phone number is +972 522 912745 / +972 598 305801, or you can send him a message via his Facebook page. He can come and pick you up at the border or at the bus stop in Bethlehem, and he'll show you all the best sights in Bethlehem (plus Banksy graffiti!)
If you prefer a group tour, contact Tourist Israel for info on tours to Bethlehem!
Visit Bethlehem as a Day Trip from Tel Aviv
It is possible to visit Bethlehem as a day trip from Tel Aviv. However, if you're planning to visit independently, you'd have to get to Jerusalem first and then make your way to Damascus Gate. For this reason, we highly recommend a tour, which can also be used as an easy way to get from Tel Aviv to Jerusalem.
We visited Bethlehem after spending Shabbat in Tel Aviv, and after our tour we had three more days checking out the many amazing things to do in Jerusalem.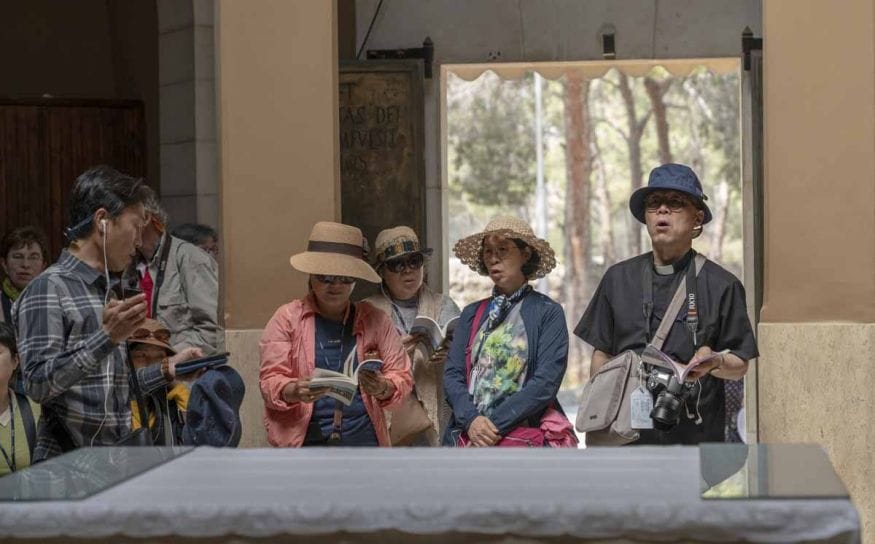 Where to stay in Bethlehem
Most people visit Bethlehem as a day trip from Jerusalem, but there's so much to see and do you may want to spend some extra time in the city and spend the night! Check out these four Bethlehem hotels:
Things to see in Bethlehem
The Wall
If there is one sight you won't miss when you visit Bethlehem, it's the 8-foot Separation Wall, marking the border between Israel and Palestine. The Wall is absolutely mind-blowing, a stark reminder that the world we live in is – sadly – one where walls still exist.
It's worth walking down the Separation Wall to check out the many examples of street art painted on it, many of which make reference to freedom and absence of freedom, and the relation between Israel and Palestine. There are also two Banksy pieces – can you find them?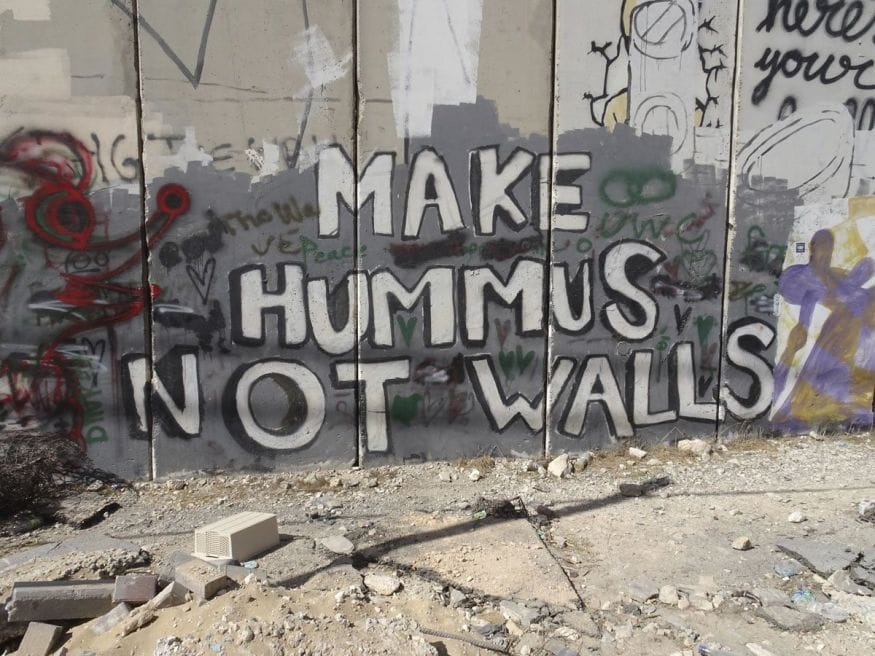 The Walled-Off Hotel
Part hotel, part work of art, and definitely one of the coolest things to see in Bethlehem! The Walled Off Hotel was established by mystery street artist Banksy in 2017 – it calls itself 'the hotel with the worst view in the world', as it opens up onto the Separation Wall.
Rooms and common spaces were decorated by Banksy and other street artists, and pieces by Palestinian artists are showcased in the art gallery located inside the hotel. There are rooms and suites available, as well as a section with budget bunk beds reminiscent of an Israeli army barracks.
Church of the Nativity
If you're planning to visit Bethlehem, chances are you'll be heading to the Church of the Nativity, built above the cave where Jesus was born – even though the Bible doesn't mention Jesus was born in a cave, but this is a different story.
The Church is UNESCO-listed, overlooking Manger Square, the busiest in town. The first thing that will catch your attention is the fortress-like appearance of the church, not dissimilar to the Holy Sepulchre in Jerusalem – the Church of the Nativity is one of the most ancient in the world, having first been established by Constantine's mother Helena in 339 AD. However, it was destroyed and rebuilt several times throughout the centuries.
The entrance door is tiny – the idea was that visitors would have to stoop to show humility in front of God. The interiors of the church are divided between three Christian denominations – Greek-Orthodox, Catholic and Armenian, and each faith administers a section of the Church. We highly recommend visiting the with a guide, who will help you navigate the crowds and show you the different 'historical layers' of the Church, such as the 4th century mosaics rediscovered in 1934.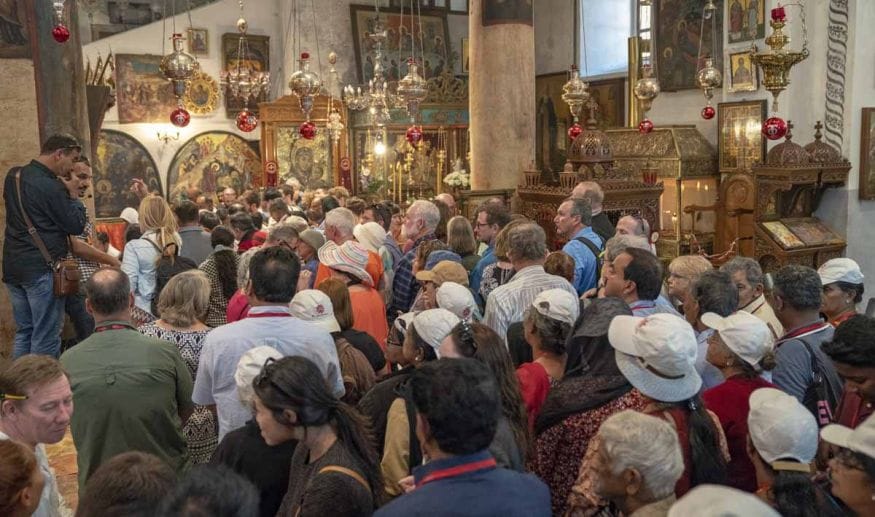 Grotto of the Nativity
When you first enter the Church of the Nativity you'll no doubt notice the crowds concentrating on the right hand side – these are all the people queuing up to descend to the Grotto of the Nativity, the actual location where Jesus was said to have been born. Another reason why we highly recommend visiting with a guide is that they'll help with the queuing, which is not exactly orderly, and if you're with a small group you may even get to skip the line.
Once you climb down the steps, there are two things to see – a 14 point star, marking the exact site where Mary gave birth, and the manger where baby Jesus was placed, hidden behind an iron grate which makes it barely visible. The Grotto of the Nativity is packed with people praying, chanting, inching their way through… to be honest, I didn't find the experience spiritual at all.
If you're looking for a peaceful, secluded space, the grotto under St. Catherine's Church (the adjoining Catholic place of worship) is a much better bet.
Chapel of the Milk Grotto
Another amazing thing to do in Bethlehem is visiting the Milk Grotto – which was completely empty when we visited. The Chapel has also been a place of worship for several centuries, and it is situated in the place where the Holy Family sought shelter with baby Jesus during Herod's massacre of the innocents. Some drops of milk fell from the Virgin Mary's breast, turning the rock white.
The Chapel was built in the 19th century – a staircase leads down to the grotto, made of three interconnected caves, where couples are often seen praying in the hope to conceive a child. I am not religious, but this was my favourite place in Bethlehem. I found it to be intimate and spiritual.
Shepherd's Fields
This is another important Christian point of interest, located just outside town, in the location where according to the Bible the angels announced the birth of Jesus to the shepherds.
There are two locations to see in the Shepherd's Fields – a Greek Orthodox church, and a Catholic one, with a unique five-apse plan said to be reminiscent of a shepherd's tent, and a grotto just below with its roof blackened by soot, housing a small chapel.
Rachel's Tomb
The only place where the Separation Wall 'detours' for a few blocks is around Rachel's Tomb, a sacred site for Muslims, Jews and Christians. Since Israelis are forbidden from entering the West Bank, the wall was moved so that Rachel's Tomb is located on the Israeli side of the Wall.
Inside the tomb there's a small room with sections for men and women, with Rachel's Tomb covered in cloth. It's often busy with worshippers whispering their prayers to Rachel, seen as a kind of 'universal mother'.
Conclusions – Should you Visit Bethlehem?
Absolutely. I loved visiting Bethlehem, even though I am not religious. The town is definitely worth a visit for its variety of things to see and do, its historical and cultural significance, and unique atmosphere. Bethlehem is a super easy day trip from Jerusalem, and an easy one from Tel Aviv – don't miss it!
We would like to thank Tourist Israel for hosting us on their Bethlehem tour from Tel Aviv!
Pin it for later?