Welcome to Danjugan Island, the highlight of our month in the Philippines, an eco paradise like no others. We spent three days on the island, learning about nature and conservation and living off-grid. 
At low tide, the reef was shallow. I had to be perfectly horizontal to avoid scratching myself with corals. I saw a flash of silver and started swimming as fast as I could. But he was faster then me, and before I knew it, he was gone.
No matter, I thought – I was snorkeling through the most beautiful coral gardens I had ever seen. I glimpsed some umbrella-shaped formations, two or three meters across, and underwater coral meadows, seemingly endless.
Then the sea bed dropped, and it became much easier to move. Fish swam through the coral bommies. Schools of small, silver fish, ghostly-looking batfish with their elongated triangular silhouette, and banner fish, the graceful ballerinas of the underwater world.
The more I swam, the more I saw. Parrotfish, angelfish, clownfish… I checked them off mentally, remembering the diving books I had thumbed through during our month in the Philippines.
But I couldn't see the shark again. He was too fast. As a matter of fact, I wasn't even sure it was a shark in the first place. Earlier that day I thought I glimpsed a black-tipped fin, while kayaking around the island. I asked around, and I was told that blacktip reef sharks do indeed live in the reef off Danjugan Island.
Danjugan Island – the rebirth of nature
Danjugan island is a tiny speck of land just off the coast of Negros, one of the largest islands in the Philippines. It's a four hour trip from the nearest airport, and a short crossing on a bangka, the traditional outrigger boats found everywhere in the Philippines.
But Danjugan is not like any other island. It's a place where nature thrives after having been brought back from the brink of destruction. The island is administered by the Philippine Rainforest and Reef Conservation Foundation, a local NGO set up by Gerry Ledesma, a conservationist and visionary in a world where nature's needs are often neglected.
We had the pleasure to meet Mr Ledesma and his daughter Kaila during one of the nights we spent on Danjugan, and he told us about his relationship with the island. An avid scuba diver, Mr Ledesma had been visiting the island since the mid seventies, and was impressed with the exceptional reef and fish life.
The island is a tiny nature paradise – only 1.5 km long and 500 m at its widest point. The interior of Danjugan was covered in virgin jungle, inhabited by several bird species, including a pair of white-breasted sea eagles that nested on the island's highest tree.
In the Eighties, matters changed dramatically. Negros experienced a period of economic downturn and impoverished locals turned to dynamite and poison fishing to make ends meet. Loggers felled many trees, and some particularly severe typhoons damaged the reef even further.
The family that owned the island at the time didn't seem to care too much – they even allowed poachers to snatch eagle chicks from the nest.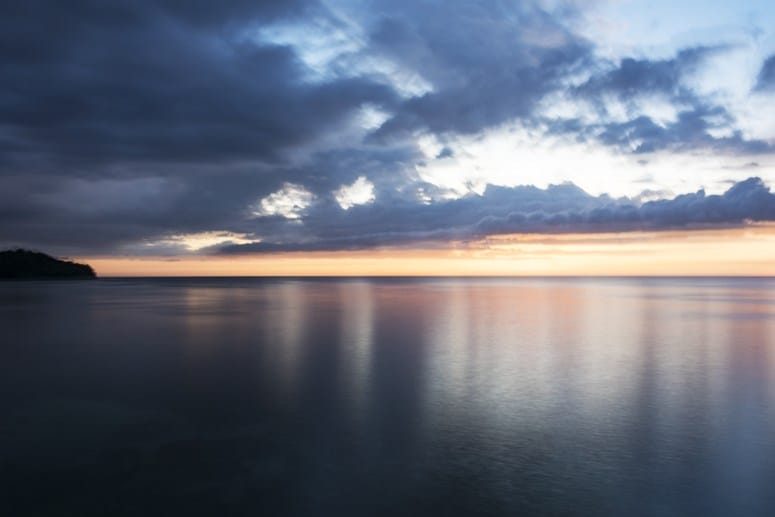 In the mid-Nineties, when the owners of Danjugan decided to put the eagle tree up for sale, Mr Ledesma decided to make an offer – not just for the tree, though, but for all of Danjugan, and he set up the foundation to protect the island and help it return to its natural, pristine state, that made him fall in love with the island twenty years before.
Funds were raised through the World Land Trust, and with the help of citizen science surveys organized by Coral Cay Conservation, a UK-based environmental NGO, Mr Ledesma and the Foundation gathered essential scientific data that were then used to lobby for the reefs surrounding Danjugan to be declared by the local government as marine reserve and sanctuaries.
'But remember, this is not a resort' Mr Ledesma told us. The last thing he wanted was turning Danjugan into one of many money-making resorts for rich tourists.
Danjugan Nowadays
Danjugan is an open-air classroom, a place where people from all walks of life can come and learn about nature and wildlife. All facilities on the island have been built sustainably, with locally-sourced wood or mud from the island.
The island regularly organises study camps for children and adults, led by biologists and conservationists, to educate people about nature in Danjugan. You can visit independently for the day, or stay two or three days to experience living off grid.
There's no electricity on Danjugan – everything runs via solar panels. There's no wifi or mobile reception. Meals are cooked by the villagers of Bulata, just across the sea from the island, and transported by boat.
We imagined our stay would be really spartan, but it ended up being really comfortable. Our hut had running water, a solar powered fan and we never had a power shortage during our stay. And cold beer was always available!
Kaila Ledesma told us that the island's facilities were built with the help of artists she had met on her travels. 'My friend from Palawan made the sunset deck with bamboo, without using a single nail. And a Norwegian artist taught us how to build mud huts' she told us.
The island is a haven for artists. It's a place where you can unplug, absorb the energy of nature and turn it into music, dance, performance, paintings, whatever. Our stay coincided with an artists retreat – more than twenty artists from the Philippines and abroad had been invited to spend a week on the island, and had complete freedom to create whatever they wanted.
Some artists decorated huts and a small boat with their art. A visual artist from Iloilo called Marz made ephemeral art using driftwood, leaves and berries. Three musicians composed nature-themed music. There were also photographers, designers, video makers, writers, even a costume designer and a ballerina.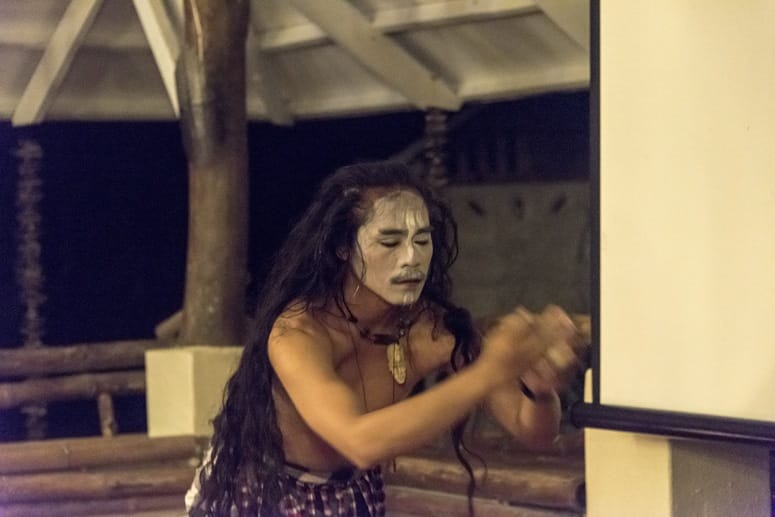 Every corner of the island contained a learning opportunity. We got to know Tabon scrub fowls, flightless birds roaming the grounds of Typhoon beach. We walked around the jungle to spot wildlife, and tried to photograph kingfishers, flashes of turquoise against the green of the canopy.
One day, we followed piercing cries to a cave to see dozens of bats flutter in and out, and huddle close to one another on the cave roof.
We learned about pawikan, the Tagalog word for turtle, thanks to a lovely lady named Celine whom we met during the artist retreat. If you look at the map of the Philippines, the archipelago does indeed resemble a turtle. We didn't see any turtles of Danjugan, but had many unforgettable encounters with these wonderful animals while in the Philippines.
The Spirit of Danjugan Island
Guides were always available on Danjugan, but we preferred roaming on our own. The island possessed a strange kind of energy. Its wasn't just about the stunning beauty of its nature. It was about life. The feeling of life going on, after having been brought back from the brink of destruction, despite all odds.
We felt life – vibrant, verdant, thriving nature, alive in the leaves of every tree, in the droplets of water in the ocean, in the five lagoons on the island.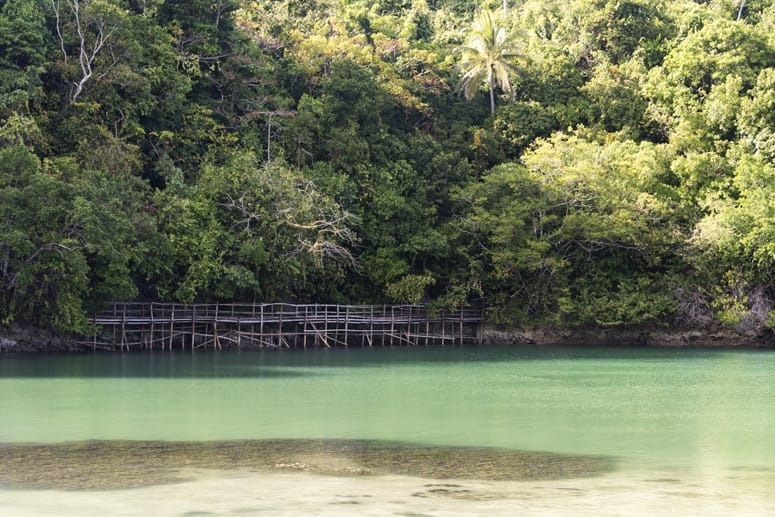 One of the lagoons became our secret hideaway. It was only accessible by kayak, and every day we paddled there, first following the western coast of the island, water so clear that you don't even need goggles to see underwater. Then, through a channel. The wind and the currently were always blowing against us – it was as if nature was concealing a secret, and we weren't allowed in. But we powered on – we are explorers after all.
The lagoon was surrounded by a ring of trees, with small yellow birds fluttering in and out. It was about twenty meters across, almost perfectly round, and five meters deep. Paddling around the lagoon, swimming, or just sitting in our kayaks looking at it was regenerating. I never dived down to the bottom – it was too dark, deep and mysterious. There was something going on there. Something. Whatever it is, I'll never know.
It was on our way to the lagoon that I spotted the shark fin for the first time. As fast as lightning, slicing through the golden surface of the water, lit by the afternoon sun.
We spent hours underwater. Diving through the corals, letting our legs be caressed by seagrass, observing clown fish dance with anemones. The dwellers of the underwater world always put up a stunning show – one day there was a school of catfish, another time we saw a lobster hide between the corals.
Yet, I couldn't get the shark off my mind. I swam until my fingertips were pruny and numb, until the sun set and it was impossible to see underwater. The shark always eluded me.
And then I did see it. A shadow underwater. When the last light of the last day was about to fade. I was circling the shallow corals, one last time – when I saw something moving at the edge of my vision. I raced to it, and the black-tipped reef shark swam right past me – then circled a couple of times, before racing away.
Shame. I didn't have my GoPro with me.
How to Organize Your Stay on Danjugan Island
First things first – you can't just rock up on Danjugan. Make sure you arrange your stay in advance, as only a small number of visitors and day trippers are allowed each day.
The website of Danjugan Island lists all possible packages, with activities and prices – feel free to contact Dave, the friendly island manager, if you want to organise something specific or if you're travelling with a group of people.
At first glance, Danjugan may seem pricey. But let us tell you – it's a bargain. The island is as wild and pristine as it gets, and the eco diversity is simply outstanding. 72 bird species, 10 bat and 22 butterfly species, and 572 species of fish have been recorded around Danjugan. And we're talking about an island that is only 1.5 km long and 500 metres wide!
How to get to Danjugan Island
The closest airport to Danjugan is Bacolod in Negros Occidental. Bacolod can also be reached by bus from Dumaguete, by ferry from Iloilo and by bus and ferry from Cebu.
Then, you can ask Dave to organise a transfer from Bacolod, or travel independently by bus. If you opt for the bus, catch a shuttle (150 PHP per person) or a taxi (between 300 and 400 PHP) to the South Bus Terminal. Ask for a bus bound to Hinoba-an – departures are frequent.
Buy a ticket to 'Crossing Remollos-Quadro de King' (about 180 PHP per person) from the conductor. The trip will take about four hours and you'll be deposited in front of a convenience store called Quadro de King. Make sure you have a Filipino SIM card so you can keep in touch with people on Danjugan and let them know the time of your exact arrival, so they can send boatmen to meet you at the bus stop.
From Quadro de King it's a short walk to Bulata, where the outrigger boats to Danjugan depart. Danjugan boatmen will help you with your luggage if necessary.
Welcome to Paradise! Enjoy Danjugan Island!
We would like to thank Danjugan Island and the PRRCF for having welcomed us on the island for three nights. 
Pin it for later?