In 2015 we had Mondays in Milan to celebrate Expo, while this year we'll be sharing articles about Lombardia once a month, to celebrate the awesomeness of our home region! The first one was this post about Livigno ski and other winter wonderland places, and now we'll make you all hungry with these yummy vegetarian dishes chosen from the best of Lombardia food!
The Myth of 'Italian Cuisine'
I often tell my friends that there's no such thing as Italian cuisine. The country is so large and diverse that every single region has its own traditional dishes and flavours, and they often vary within a matter of kilometres.
For instance, South Tyrol and Sicily are both in Italy, yet their cuisines couldn't be more different. South Tyrolean food has a distinct German influence, with lots of smoked pork and sauerkraut, while Sicilian dishes are reminiscent of Arabic flavors and contain lots of tomatoes and other typical Mediterranean veggies.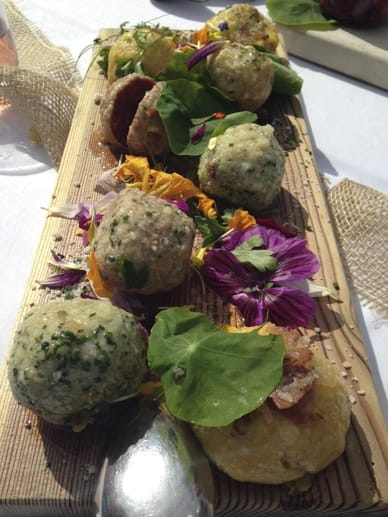 And what about Lombardia food? The cuisine of my own region is not very well known, neither in Italy nor abroad. I mean, how often have you seen restaurants or trattorie proudly advertising 'traditional Lombardia food'?
That doesn't mean food from Lombardia isn't good. There are several interesting dishes, like cassoeula, a meat and cabbage stew that is believed to have been taken to Lombardy by Napoleonic troops, and bollito, an array of boiled meats served with mostarda, delicious candied/pickled fruits.
Meat-based and Vegetarian Lombardia Food
Most famous dishes from Lombardia are meat-based, but if you look closely you'll find some delicious vegetarian options. I've decided to compile this list of best vegetarian dishes from Lombardia to help vegetarian travellers, but not only! Even the heartiest meat eaters with admit that there are some veritable delicacies in this list.
1) Pizzoccheri
This is one of my fave dishes ever. I could have it all day, every day – actually, let's say from October to April because it's wayyyyy too rich to be enjoyed in the summertime. Pizzoccheri are a kind of buckwheat pasta, similar to broken-up tagliatelle, cooked and then mixed with chard, potatoes and covered with mountains of melted cheese and garlic-infused butter.
Pizzoccheri are typical of the Valtellina region, and the best place ever to enjoy them is Livigno, after skiing, or Rifugio Pizzini near Santa Caterina Valfurva while hiking in spring or summer.
I liked them so much that I've also included them in our popular 9 Italian Dishes You Simply Must Try article – if you're interested at trying your hand with a Pizzoccheri recipe, let me know and I'll send you my friend Barbara's recipe (she makes the best ever!)
2) Pizzoccheri Chiavennaschi
Despite the name, these have very little to do with 'ordinary' Pizzoccheri. This dish is from Valchiavenna, it is also known as 'Pizzoccheri Bianchi', and it is made with small bread dumplings, drowned in cheese and melted butter. Some also add nutmeg, sage and potatoes when serving – but never chard or spinach.
These are best enjoyed in a 'crotto', a typical Valchiavenna restaurant – my very own favourite is Crotto Belvedere.
3) Ravioli di Zucca
Ravioli come in all shapes and sizes – big ones, little ones, filled with meat like Bergamo's very own casoncelli, or 'di magro', with ricotta and spinach. My favourite are ravioli di zucca, with a delicious pumpkin filling sometimes flavoured with amaretto and lemon zest.
Ravioli di zucca are traditionally from Mantua and Cremona, in southeastern Lombardy, but can be found everywhere in the region.
4) Risotto allo zafferano
When talking about food from Lombardia, risotto con ossobuco inevitably appears. But guess what? Ditch the ossobuco and you'll have a delicious vegetarian dish.
Risotto allo zafferano (or risotto giallo, meaning yellow) can be very easily made meat-free, using vegetable rather than chicken stock and adding butter in place of bone marrow. A generous helping of saffron will give the dish its signature colour and scent.
If you are out of saffron, there are thousands of vegetarian risotto recipes – with mushrooms, artichokes, asparagus, peas, you name it. Just chose what's in season!
5) Polenta
This is another Lombardia staple, so much so that locals are sometimes jokingly called 'polentoni' by people from the rest of Italy.
Polenta is made with cornmeal and water, and can be a main dish, such as in the case of polenta taragna (made with a mountain of melted cheese and a mixture of cornmeal and buckwheat).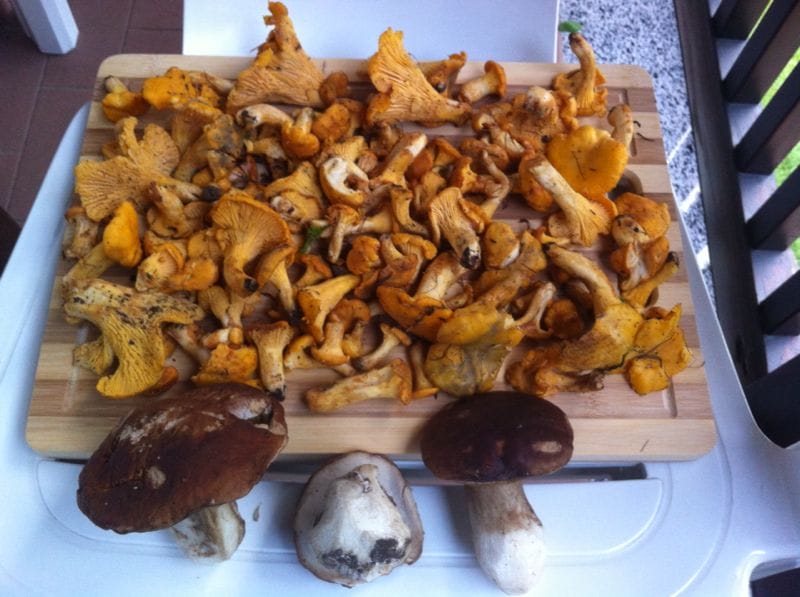 Otherwise, it's often served as a side dish to roasted meats and stews – for a veggie version, just ask for polenta coi funghi to get a generous helping of garlic-scented mushrooms.
6) Sciatt
So far, we covered a lot of main dishes. But what about starters and snacks? If you're travelling around Valtellina or Valchiavenna, make sure you try sciatt, deep-fried balls of buckwheat stuffed with cheese.
You may be getting a bit cheesed-out by this point but let me tell you, we're not talking about Jarlsberg or Cheddar here. Lombardia mountain cheeses like Bitto and Casera are a whole different story – they're made with milk from cows that have spent the summer grazing Alpine meadows, and they're aged in caves and cellars lending them a peculiar herby flavour. Just taste these cheeses to believe what I mean!
7) Sbrisolona
Let's end our list with a dessert. Yes, I know, pretty much all desserts are vegetarian – I chose sbrisolona because I believe not many of you will know it.
Like ravioli di Zucca, sbrisolona also originates from Mantova and Cremona. The name comes from the verb 'sbriciolare', meaning crumble, and it is in fact a large crumbly biscuit with toasted almonds in the shape of a cake.
It's usually served with melted chocolate at the end of a meal, or you can choose to have it solo, with coffee or tea. Yum!
If you're a vegetarian or vegan visiting Milan, check our best vegetarian restaurants in Milan article!
This post was brought to you in collaboration with In Lombardia
Pin it for later?