Singapore is not just another city for me. It's the reason why travel is in my blood. It's a place I love intensely and I never tire of visiting. During our last trip we decided to find nature in Singapore – yes, because besides the high-rises and fancy hotels Singapore has many gardens, parks and nature reserves.
My Father's Singapore
Singapore and I share a deep bond. My father lived there from 1955 to 1958, when he was a child, and I grew up listening to tales of that magical city. He told me tales of monkeys that hopped between banyan trees and frangipani in his garden, his Chinese ayah that gave him durian for breakfast, and how he learned to swim in the exclusive 'members only' private club for wealthy expat families.
After my grandfather died, we found his Super-8 videos – silent and flickering, showing a city that no longer exists. The Singapore of the 1950s looked like a country town surrounded by jungle. There were no high-rises, no scores of taxis on the roads, no steel, glass and concrete. Nature was literally everywhere.
Ok, maybe not quite, given that by the mid 20th century only 10 per cent of Singapore's forests survived – but, you know, old videos and childhood memories can indeed play magical tricks.
My Singapore
Fifty years later, Singapore was the first place in Asia I set foot on. The city I discovered was a sprawling, modern metropolis, sanitary and efficient. There was little left of the luxuriant tropical paradise of my father's childhood days. The house he grew up in had been replaced by a 23 storey apartment block. The 'members only' club was now a shopping mall.
Walk along the waterfront at Marina Bay or down Orchard Road, and you'll be forgiven to think that nature is well and truly gone from Singapore – but you just need to look at an aerial map of the city to see that this is not the case.
Nature survives. There are over 300 parks, nature reserves and gardens in the Lion City – from sprawling Central Catchment Nature Reserve to smaller urban parks like Fort Canning Park, a favourite location for early morning tai-chi, and futuristic Gardens by the Bay.
Nature in Singapore
It would take years to visit every single park and garden in Singapore. During our last visit, we had the added problem of the Haze, that made spending time outdoors really difficult. We had to cancel our visit to Pulau Ubin because the haze was so bad we could barely see across the road – and so we missed out on the one place where, apparently, the spirit of 1950s Singapore lives on.
During our week in the city we managed to visit three places that – in a very different way – symbolize the concept of 'Nature in Singapore'.
The first is MacRitchie Reservoir, where secondary rainforest survives and you need the permission of cheeky long-tailed macaques to enter the stunning treetop walk. Then we chose Haw Par Villa – where there is little nature per se, but imagination and myths reigns supreme – not to mention, this was my father's favourite childhood haunt. Finally, we visited Gardens by the Bay – a real window into the future, or at least what I wish the future to be.
MacRitchie Reservoir
Close your eyes and imagine you're in the forest. Leaves rustle underfoot. Birds sing, macaques leap from one branch to another. Sunlight filters from the canopy up above. Yet, you haven't trekked for days to reach this place – it's only half an hour from the center of Singapore.
MacRitchie Reservoir is Singapore's oldest, built in the late-19th century to provide the Lion City with fresh water. The park is a short walk from Caldecott MRT. It seems rather urban at first, with young professionals running in matching Lycra outfits and Singaporean families on their Sunday strolls.
It's a great place to get a little breath of fresh air before jumping back into city life – or you just need to circle the reservoir for twenty minutes or so and head into the forest to be surrounded by the wilderness of secondary rainforest.
The main sight at MacRitchie Reservoir is the treetop walk, a 250 meter-long boardwalk between the park's two highest hills. From the main park entrance it's a 5 km walk to the treetop walk – long enough to make you forget Singapore's fumes and make me feel I had travelled back in time, to the city of my Dad's childhood.
The treetop walk is completely free, but it's only open until 5 pm – allow at least an hour and a half or two to walk from Caldecott, and make sure you have plenty of water. Once on the treetop walk, beware of macaques who may try to snatch your food.
The treetop walk reaches a maximum height of 25 meters, affording amazing views over the reservoir and the 12 hectare park – if it's not hazy, that is.
You can also rent a canoe or kayak at MacRitchie Reservoir, and explore the water edge on a lakeside boardwalk.
Haw Par Villa
Among my Dad's tales of macaques, durian and gardens, there was one place in Singapore that seems to dominate his childhood memories: Tiger Balm Park.
Haw Par Villa, as it is known nowadays, is a strange place. One of the oddest places I've ever seen, in fact. It's kind of half-way between an amusement park and a city park – plus, it affords an insight into Chinese folk tales and mythology, with a good amount of weird and gruesome statues thrown in.
The park was built in 1937 by the Aw Boon brothers (Haw and Par – hence the modern name), owners of the Tiger Balm fortune. The plan was constructing a villa in a park surrounded by dioramas depicting old Chinese tales – a walk through the park would allow visitors to stroll through the world of Chinese myths and values.
The villa was built, but sadly the brothers didn't get to reside in it for long. When Singapore was occupied by the Japanese, they acquired the villa and used it as a watchtower and control center. It was subsequently vandalised and after the war it was pulled down, but the gardens and dioramas survive.
The most famous of them all is the Ten Courts of Hell, a representation of the Chinese afterworld. You walk into a cave (it used to be a dragon tail, but the rest of the dragon was destroyed) and you're immediately surrounded by depictions of hellish punishments – think disembowelled figurines, dragons and other monsters, people being ground by stones or cut in half. Not really the place where you'd take a three year old child – but it might explain my Dad's fascination with horror films.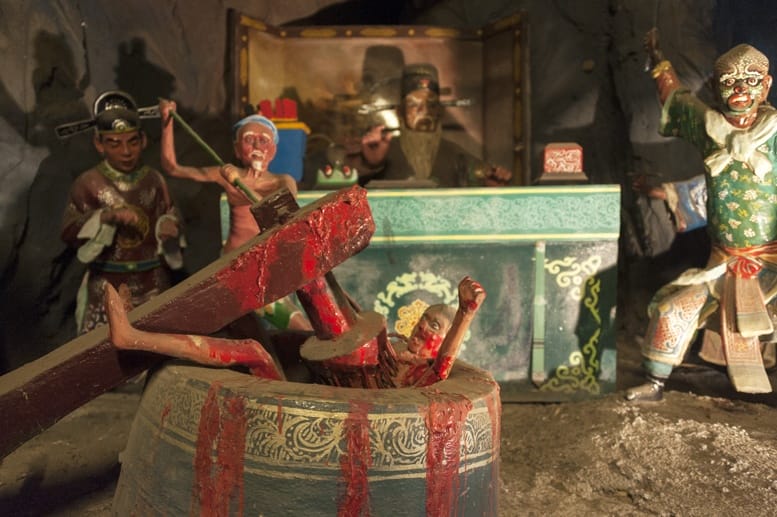 The rest of the gardens are a lot less gruesome. You'll find several depictions of the Monkey God quests, dioramas exemplifying Chinese values like filial obedience and helping the poor and some crazy statues like a crab-woman and several other creatures.
There's not much nature, but this place is one of my favourites in Singapore – because it's just crazy odd.
Gardens by the Bay
Singapore is an ever-changing city. Every time we visit, there's something new to discover. When we visited Singapore in 2010, the whole Marina Bay area was a big construction yard – fast forward five years, and Marina Bay has pretty much become the symbol of Singapore.
With the Marina Bay development, Singapore to-do lists have acquired new items – a ride on the Singapore Flyer, a cocktail on the rooftop of the Marina Bay Hotel, or even a swim in the infinity pool if you're lucky. And, of course, Gardens by the Bay with the famous Avatar-like Supertrees.
In a city with so much pristine nature, creating a huge garden on reclaimed land may sound extravagant – and at first glance, the gardens look extravagant indeed. There are huge structures like the Supertrees and two big conservatories, and one might wonder how much water and energy is needed to maintain something so huge.
I was surprised to learn that Gardens by the Bay is an excellent example of sustainable architecture. There are two conservatories – the Flower Dome is the largest of the two, and contains plants and flower displays typical of warm and dry ecosystems like the Mediterranean, California, the Cape and Australia. There are flower tunnels, an olive grove and small baobabs – several plants that Singaporeans may never get to see otherwise.
The Cloud Forest is dedicated to high-altitude humid climates. You enter the conservatory and are immediately dwarfed by a huge waterfall – I had never seen an indoor one of this size before. The Cloud Forest is set up in such a way that you start your visit on top of the waterfall, where you find the 'Lost World', with cloud forest trees and bushes around a pond. Then, you make your way down to the lower levels via skywalks or stairs, circling behind the waterfall – all with great views of this stunning man-made ecosystem.
The conservatories are the only ticketed section of Gardens by the Bay – the whole outdoor section of the gardens (including the Supertrees!) is free of charge.
The Gardens are built in a way to minimise environmental footprint. In the conservatories, rainwater is collected and used for the cooling system that maintains temperature constant. In turn, the Supertrees function as vents for hot air and help circulate the water for the cooling system.
You'll have understood by now that the Supertrees are not just Singapore's Instagram favourites – their trunk is a vertical garden, with bromeliads and other jungle shrubs. On top of that, they contain technology that allows them to harvest rainwater and solar energy – much like 'real' trees.
Make sure you walk on the Supertree OCBC Skyway if you're not afraid of heights and visit the Supertree Grove in the evening to catch the stunning sound and light show.
We lied on our backs in the center of the Grove, listening to movie theme songs while the crowns of the Supertrees changed colour – from red to purple, blue, green, and all shades in between.
When I was a child in the 1980s, I dreamed of the future. I imagined hover boards, flying cars and robots doing housework – 2000 came and went, and so did 2015, and the sci-fi future I imagined never materialised.
At Gardens by the Bay, I felt the future – and it's more beautiful that what I have ever expected. A future that is not just flashing lights and cutting-edge extravaganzas. A future in which humankind has understood that 'eco-friendly', 'carbon footprint' and 'sustainability' are not just buzzwords for press releases to convince the public that 'we are doing the right thing'.
In the future I dream, the future I saw at Gardens by the Bay, respecting the world is the first and foremost objective.
And the only right way is nature's way.
Stay at Naumi Liora
We looked far and wide for the right place to stay in Singapore. We wanted something stylish, yet secluded – a boutique property set in a convenient location but far away from the traffic and fumes of the city centre.
When we came across Naumi Liora, we thought 'that's it'. Naumi Hospitality owns three properties in Singapore (including their amazing signature hotel in Marina Bay) and others in Australia and New Zealand. Naumi Liora is set in the heart of Chinatown, in a restored Peranankan heritage townhouse.
The hotel is super convenient to reach from the airport, Marina Bay and Singapore city center, but feels peaceful, as if it was set in a small village – the Singapore of my father's tales. Our balcony overlooked a 'secret garden' – we could see grass and trees, people walking their dogs and even chickens – yes, chickens, in the heart of Chinatown!
We stayed in the 'Porch Room', with a big, comfortable bed, complimentary treats in the minibar and the fantastic balcony over the garden. The wooden floors are still original, and room and bathroom are separated by a timber screen reproducing a motif of Peranankan tiles.
Service at Naumi Liora was especially amazing. All members of staff were kind and helpful with directions and all other questions we had during our stay. There are complimentary treats and cool drinks in the lobby 24/7 – there's nothing better than a bottle of chilled water and a mini-ice cream to cool down after a day around sweltering Singapore.
Their 'breakfast concept' was also interesting. Not having a breakfast room, guests at Naumi Liora receive 'breakfast trays' – you collect them at reception and take them upstairs for breakfast in bed or on the balcony. An excellent idea for two lazy people like us – and a great way to start the day, overlooking nature in the heart of Singapore.
We would like to thank Naumi Liora for welcoming us for two nights, and the Singapore Tourism Board for having provided us with media passes for Gardens by the Bay.
Pin it for later?