Let's leave Penang for a few days and head to Malaysian capital Kuala Lumpur, KL for friends. One of the main cities in South East Asia and a busy transport hub, KL is on many travellers' radar. Continuing our Five Quick Tips series, we would like to introduce you to our Kuala Lumpur favourites; five sights and activities we loved and a great introduction to the city for first-time visitors.
Only this time we haven't just chosen five random places. We tried to include locations that were representative of Kuala Lumpur, and of Malaysia as a whole. Malaysian cultural and religious diversity is what struck us most about the country; this is why we have decide begin with the symbols of Islam, Hinduism and Chinese faith. As a special treat, we've included a little 'surprise' at the end.
We can also recommend this Kuala Lumpur in 2 days guide if you're pressed with time, or if you're on a short break between flights, check our Kuala Lumpur layover guide!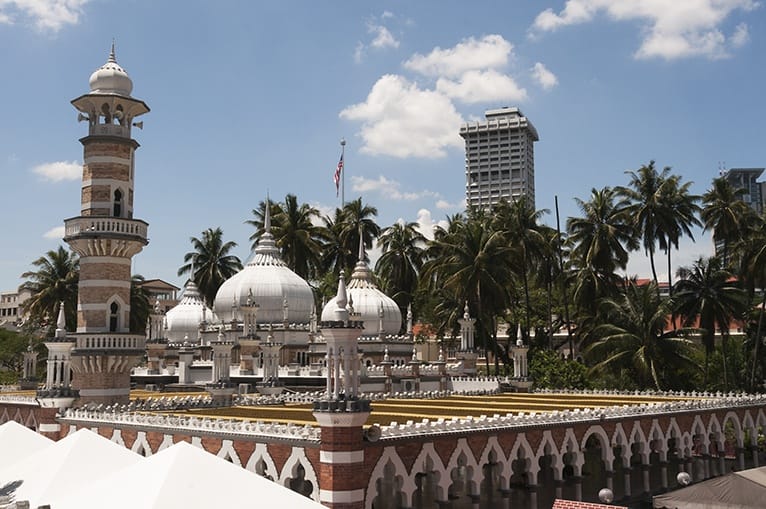 The Museum is not only an architectural marvel, all gleaming white marble and geometric perspectives; it is also an important cultural and learning centre. The collection houses examples of Islamic craftsmanship, such calligraphy, ceramics, painting and sculpture. Exhibits offer an interesting overview on the history of Islam and its relation to Malaysia. Temporary exhibitions are also held; a Steve McCurry photography show was on display when we visited.
The National Mosque next door is nothing short of stunning. Sitting in the middle of a park not far from downtown KL, its curious roof is visible from a distance, looking like a folded paper fan. Inside, it is airy and bright. The atmosphere is peaceful and contemplative, a place to relax and unwind from the hustle and bustle of KL sightseeing.
2. Batu Caves
This is the centre, the beating heart of Tamil culture and Hinduism in Malaysia. A complex of caves and cave temples snaking through a hill 13 km away from Kuala Lumpur, Batu Caves became in important place of worship in the late 19th century. An Indian trader noticed that the main cave entrance was shaped like a vel, the spear of Hindu deity Murugan.
Nowadays, a giant statue of Murugan, vel in hand, greets visitors at the base of the 272-steps flight of stairs to Cathedral Cave, the biggest shrine in the complex. Visiting Batu Caves is like going to India for the day; we spent hours visiting the main cave temples and the smaller ones around the complex, observing devotees perform puja and posing for pictures with Indian families. Make sure you have a meal at one of the banana-leaf thali restaurants near the entrance.
3. Thean Hou Temple
It might not be the most beautiful temple, and certainly not the oldest, having been completed in 1987. I have chosen to include it because, in my mind, it represents not only a single religion, but the whole of Chinese faith and culture. The temple has syncretic elements of Buddhism, Confucianism and Taoism; we were blessed by monks who gave us some yellow string bracelets, burnt joss sticks and collected water from the Goddess of Mercy fountain. The temple is in a stunning location, high up on a hill with a wonderful view over downtown KL.
This is the symbol of Malaysia's controversial love affair with modernity. The twin Petronas Towers, looming Metropolis-like in an ensemble of steel cables and glass windows, are KL's most famous landmark. 451.9 meters high, they were the world's tallest building until Taipei 101 stole the cap. When we visited, we couldn't get tickets to the observation deck; advance reservation was impossible and tickets were sold out by 8 am. The system seems to have been simplified now, with online booking and extended opening hours. One adult ticket is 80 RM, check here for more details.
We loved walking around Petronas Towers at night. The area around the towers was deserted, save for a few guards pacing back and forth. The towers stretched upwards, piercing the sky, lights flickering in rapid motion.
5. Jalan Alor and Jalan Petaling
To end our selection, I have chosen an element that has united people since time began: food. I am a big fan of street food. I mean, who isn't, right? Well, street food lovers in KL will be utterly spoilt for choice, with food courts and hawker stalls pretty much everywhere in town. Ditch the air-con restaurants, I was told. KL's best food is in Jalan Alor; a Blade Runner-style smoky alleyway filled to the brim with street stalls, hole-in-the wall restaurant and hungry diners.
My Malaysian friend suggested we tried Wong Ah Wah and its famous barbecue chicken wings. It's not hard to find Wong Ah Wah; dozens of chicken wings on spits roast right next to the entrance, crowds elbow their way to get their hands on them. We sat at one of the steel tables and ordered a dozen wings plus a serving of roast pork noodles and some razor clams. As soon as I bit onto the first wing, I understood the fuss. The marinade had a smoky, caramelised flavour, the meat was plump and juicy, flavours perfectly balanced. The rest of the meal was even better.
However, Jalan Alor does have a touristy reputation. A KL friend called it 'a cut-throat price trap for tourists'. Jalan Petaling is the real place to be.
If you or any of your travel companions happen to be vegan, check this vegan food guide to Kuala Lumpur!
For all those in search of nature not far from the city, FRIM is the place to head to. Created in 1929, it is the oldest man made forest in the world, focusing on the conservation of tropical forest ecology and biodiversity. If you're not heading to Borneo or Taman Negara, pay a visit to get a glimpse of what the whole of Malaysia was like until la few centuries ago. The site is huge; stroll at leisure around the trails to try spotting some birds or monkeys, or make the trek to the canopy walkway, from where you can catch a glimpse of Kuala Lumpur beyond the treetops.