Adventure lovers, welcome to your Neverland. A place where you can hike, bike, kayak, abseil, boulder, deep-water solo, swim, dive… all within a short distance from one another. Welcome to Gozo, Europe's active hotspot. And Gozo adventure happens all year round!
The first time I visited Gozo, fifteen years ago, I remember liking how varied the island was, how many sights it manages to pack in just 67 square kilometers. We visited ancient villages, beaches with red sand, the prehistoric temples of Ggantjia, cliffs, canyons and coves, all just a few minutes drive from one another.
When we returned last April, the first thing we did was climbing to the highest point, Victoria's Cittadella, and see the island from above. Cittadella is right in the centre of Gozo, and from there we saw the coastline on all four sides. After all, Gozo is tiny – Malta's sister island is only about a quarter of the size of its larger neighbour, and all together with nearby Comino they form one of Europe's 7 smallest countries.
We were there as the sun was setting, slowly dipping into the sea off the western coast, painting the whole island golden. No one else was there. Nothing moved. The tourists had already left, and we enjoyed a moment of peace and stillness on the roof of Gozo – the perfect prologue to an action-packed day.
Gozo Adventure: Take your pick!
Gozo is adventure paradise. The island is still largely undiscovered by mass tourism, especially in low season. You can hike or cycle the island's trails in total solitude, with the sea all around you. You can climb on wonderful limestone, hard and rough, miles away from the smooth and slippery crags of the Alps. You can kayak all the way to Comino, the smallest of the Maltese islands, and visit sea caves where smugglers and pirates hid their treasures.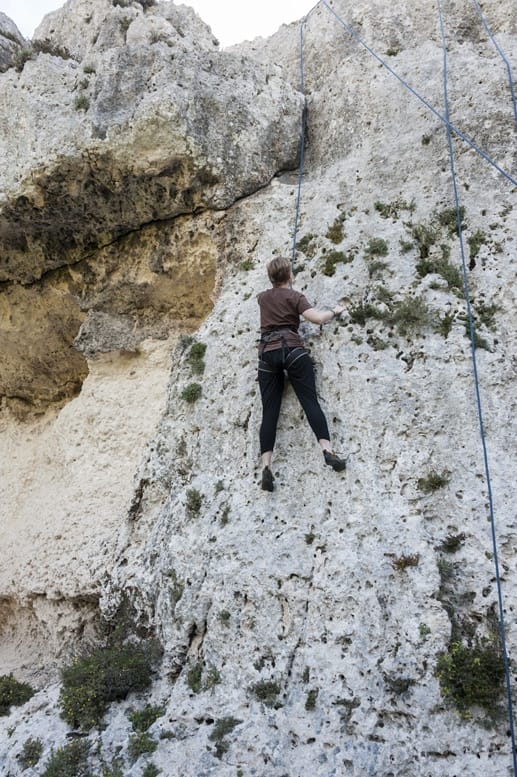 And finally, Gozo has some of Europe's best diving sites, with excellent visibility, shipwrecks, incredible morphology and rock formations, such as the famous Blue Hole. And what is even better, you don't need to drive for hours to have a go at different activities. Whichever Gozo adventure you choose, everything is very, very close.
As such, we decided to try two activities during our 'adventure day' in Gozo: climbing in the morning, and kayaking in the afternoon. We also wanted to go diving, but in April the sea is still cold and strong winds make diving difficult.
Rocks: Climbing in Gozo
For our first Gozo adventure, we met our climbing instructor Didi at Mgarr Ix Xini, a tiny but very special cove on the southern coast of Gozo. Mgarr Ix Xini is very deep and narrow, hemmed in by vertical cliffs, lending it the look of a fjord.
The sea was still and transparent – you could see the sea bed perfectly, schools of little fish playing hide and seek among the rocks, the sun reflecting on the sand, turning the water a pale green-aquamarine. Mgarr Ix Xini was a 'getting away from it all' kind of place, a Gozitan version of The Beach – and soon, it will stop being a hidden gem, as it was chosen by Angelina Jolie as the location for her latest film 'By The Sea'.
I really wanted to climb near the beach, but Didi had another place in mind. Flake Out Walls, a crag that was discovered by Didi himself and his friends, and that is perfect for beginners. Didi works for Gozo Adventures, the main operator offering adventure activities around the island – climbing, biking, kayaking and a lot more.
To be honest, Nick and I are not actually beginner climbers. We know how to climb, and we enjoy climbing every now and then, but climbing is such an intense activity (both physically and mentally) that unless you go regularly, it's hard to improve, and so we're a kind of eternal beginners.
Flake Out Walls are in a canyon formed by a river, that used to be completely overgrown with brambles, vines and bushes. Didi and his friends took two years to clean it up, to make the canyon walls accessible to climbers.
On the other side of Flake Out you'll find Dream Walls, 'climbing for grown-ups' as Didi said – high, smooth-looking cliffs, ranging in grade from 5C to 8 – which in non-climbing language means from intermediate to downright impossible.
We spent the best part of the morning climbing top-rope with Didi. The grades were not challenging for us, and so we had the chance to enjoy the perfect conditions that Gozo offers – a warm, dry climate, even in winter, and excellent rock, still in pristine conditions thanks to being relatively little-known.
In my opinion, climbing is one of the most relaxing activities there are. I've struggled with climbing a lot, when I first started. As someone who's afraid of heights, the feeling of doing something that is totally unnatural, hanging over meters of void, gave me the chills. I've even had a couple of panic attacks while climbing – but somehow, I decided not to give up. I've learnt to trust my equipment and my partner, but most of all I've learnt to trust myself and my abilities.
Climbing is the only way for me to switch off completely. Only the rock and I exist. My mind is totally focused on the movements, on the aim of getting to the top. Any kind of trouble disappears. And the feeling of abseiling down, after having done it, makes me feel like a superwoman that's capable of anything – the best cure for low self-esteem.
So, I said the grades were easy, didn't I? Actually, I didn't manage to finish my last pitch. The clock was ticking as we had to go kayaking in the afternoon, and my arms were just about to give up, and so I didn't finish Caraboo. All climbers will know the feeling – and know that I'll be back.
Sea: Kayaking in Gozo
After a great fish lunch at Zaffiro in Xlendi Bay, we drove to Dweijra, location of the famous Azure Window and other stunning rock caves and formations, like the Inland Sea, a lagoon, where the sea flows through a tunnel in the rocks. On the shore of the Inland Sea we met Xavier, one of the creators of Gozo Adventures, and our kayaking guide for the afternoon.
Their signature kayaking excursion includes Comino's famous Blue Lagoon and the sea caves around the coast of Gozo, and takes a full day. We would only be kayaking for an hour or so, visiting the cliffs and caves around the Azure Window and finally the big arch itself.
It was our first time sea kayaking – we had tried kayaking once previously, on a river in Laos, and it was a total disaster. Nick and I almost ended up divorcing. So, understandably, we were a bit apprehensive. However, maybe because the kayaks were better, we had a great time. Controlling the kayak was easy, but required a fair bit of muscles and hard work. After a morning climbing, my arms were spent, and every now and then I stopped paddling to catch my breath, only to start drifting away and find myself paddling furiously to catch up with the group.
Kayaking through caves was a bit spooky, but a soothing experience. I felt as if I was in the bowels of Earth, in a rock-and-water belly, where darkness is almost total and the noise of water whooshing over the paddle and splashing onto the rocks made me feel a world away from everything else.
Out of the caves, we paddled towards the Azure Window. The rock arch of Game of Thrones's fame, where Daenerys and Khal Drogo got married, is majestic in real life, especially when you're paddling around it. The Azure Window is quickly being eroded by the elements, and is expected to collapse any time. This doesn't stop tourists from wandering on the top, despite warning signs. When we paddled near it, we could see the underside of the arch and a massive crack running across it. Needless to say, we turned back.
As an adventure lover, Gozo does indeed sound like the ultimate holiday destination. It just ticks all the boxes – ideal climate year round, affordable accommodation (even the 5 star hotel we stayed at, Ta Cenc Hotel and Spa, had rooms starting from €120), excellent food and activities for every season. Winter is prime climbing time, spring and autumn are ideal for hiking and mountain biking, summer is the perfect time for deep water soloing (climbing on sea cliffs then jumping into the sea) and diving, especially late summer when the crowds are gone.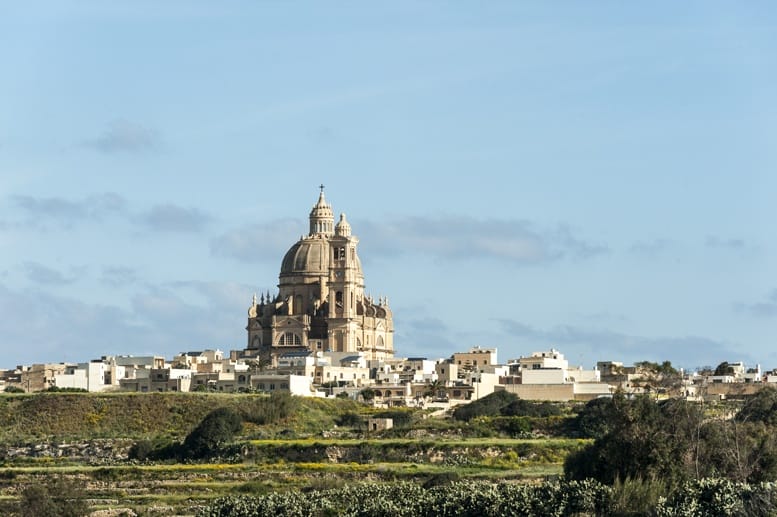 I'd love to return to Gozo, this time with a bit more time in my hands, and enjoy a variety of adventure activities. Get lost in the island's trails, knowing that you can't actually be lost for real, it's so small you'll always find your way around eventually. Finish climbing Caraboo, kayak to Comino and dive the Blue Hole – but most of all, enjoy the feeling of wild, windswept nature, of primacy and getting away from it all, that every adventurer seeks.
If you want to know more about this charming island, here's a great post about discovering Gozo!
Where to stay in Gozo
After adventure, we love pampering ourselves, and so we chose to stay at Ta Cenc Hotel and Spa, a wonderful luxury property on the southern coast of Gozo. Ta Cenc's rooms are in individual stone bungalows, built in Gozitan limestone, and set all around the hotel gardens overlooking the Ta Cenc cliffs.
The hotel is wonderfully retro – a sign proudly advertises 'London newspapers early every morning', there's a TV and a game room, and a decadent breakfast spread with Mediterranean and British favourites, and you can have breakfast under a secular carob tree.
The Ta Cenc Spa is the ideal place to round up a day of adventurous activities. There's a Jacuzzi and a warm water pool, half inside half outside, a sauna and a la carte massages. After an hour or so in the spa, I guarantee you'll feel reborn!
We were guests of the Malta Tourism Authority and Ta Cenc Hotel during this tour. We would like to thank our guide Anna, Didi and Xavier, and all the staff at Ta Cenc that made our stay amazing. All opinions are our own – we loved Gozo and highly recommend it.
Pin it for later?