What is everyone looking for this year (and more than likely, next year also)? Yes, you got it – social distancing! Hiking is a great way to escape crowds, and if you choose an offbeat hike, you're guaranteed solitude and nature.
Here are 9 of the best off the beaten path USA hikes, from Alaska to Hawaii, with the Lower 48 in between!
In January/February 2020, before the world we knew changed completely, we went on an unforgettable 7-week road trip across the Southwestern US.
We started in Los Angeles and drove all the way to Dallas, then turned back west, heading to San Francisco via Monument Valley and some of the most iconic US National Parks.
Some of the locations we visited get incredibly busy in spring and summertime, but visiting in winter meant we had all those vast skies and sprawling vistas to ourselves. To give you an idea, we were the only ones visiting Bryce Canyon, one cold Tuesday in February, and one out of only three cars at Monument Valley.
We were often alone on the trails, alone in front of unforgettable sunsets, alone in the wilderness of Death Valley National Park. We both enjoyed being alone, after years spent trying to escape over tourism in Europe.
Yet, at that stage we didn't quite value how important solitude was going to be in a few months. At that stage, social distancing was just a wish – now it's a necessity.
Hiking has a myriad of benefits, and it is, by definition, a solitary experience, something that is best done alone, or in the company of few others. Here we've collected 9 of the best off the beaten path hikes in the US – some are offbeat locations in well-known national parks, some hikes are permit-only, others are true undiscovered gems, where you're pretty much guaranteed to be alone with nature.
Off The Beaten Path Hikes in the US
1) Havasu Falls (Arizona)
In the heart of Arizona, in the ancestral land of the Havasupai people, you'll find the marvellous Havasu Falls, a waterfall of clear blue water tumbling from the iconic red rocks of the American Southwest.
Hiking to Havasu Falls is only possible with a permit, which need to be booked months in advance. This guarantees the site is never overcrowded, allowing you to enjoy the beauty of the place at its fullest.
Permits are given for a 3 day period, and you'll need to spend at least one night in the canyon. The hike is 10 miles each way, and even though various websites classify it as 'difficult', it's not technically challenging.
The only issue is related to the fact you'll have to carry all your camping gear and food, but in high season you may find stalls selling snacks and other essentials. In any case, this is truly one of the best off the beaten path USA hikes!
2) The Wave (Utah)
Next up on our lineup of best offbeat hikes in the US is The Wave, another permit-only hike in the heart of Paria Canyon-Vermilion Cliffs Wilderness Area, on the Utah-Arizona border.
The Wave is often called 'the most exclusive hike in the US', since only a few dozen permits are given out each day. You can get a permit in one of two ways – online prior to your visit, or in person at the Visitor Centre in Kanab, via a lottery system.
You have approximately a one in 10 chance to secure a permit in person, depending on when you visit. We tried in February 2020 and sadly, we were not successful. If you are lucky, you'll be in for a 6.4 miles each way moderate hike, ending at a stunning sandstone formation resembling a giant wave.
Please be aware that the trail is not marked, and you are not allowed to camp onsite – make sure you have a GPS or map (and know how to use it) before attempting this remote hike!
3) The Narrows – Zion National Park
Zion National Park is one of the most popular in the southwestern US, and The Narrows probably the most unique and memorable hike you can do there. So, why am I adding it in this collection of offbeat US hikes? Because in winter, not many brave souls attempt hiking The Narrows!
The hike leads you to the section where Zion Canyon is at its narrowest, with the two rock walls only 20/30 feet apart. To get there, you'll have to hike approximately 10 miles return, 4 of which are along the course of the Virgin River. There is no trail – you'll actually be hiking in the river, so in winter drysuits and boots are a must.
4) North Kaibab Trail – Grand Canyon National Park
The vast majority of visitors to the Grand Canyon use the South Rim as a base – only 10 per cent choose to stay at the lesser-visited North Rim, open from May to October.
Out of the various trailheads starting at the North Rim, the most challenging (and arguably most beautiful) is the North Kaibab Trail, descending 14 miles into the canyon, crossing a variety of ecosystems, passing waterfalls, and crossing Bright Angel creek seven times.
The North Kaibab Trail is definitely the most offbeat hike in the Grand Canyon. You can hike sections of it in one day, but if you want to reach the Colorado River or do a 'Rim to Rim' hike all the way to the South Rim, you'll need at least three days.
5) Fairyland Loop – Bryce Canyon National Park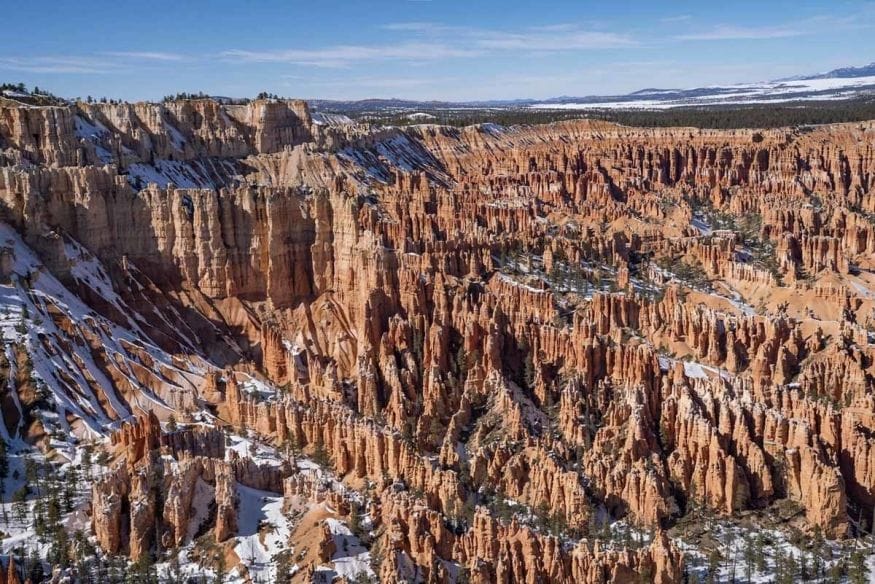 Bryce Canyon National Park is probably my favourite in the Southwest, because of its amazing amphitheatre full of hoodoos, spires, and other rock formations.
You can enjoy stunning views from the various viewpoints dotted around the park, but to get a true 'Bryce experience', you'll have to hike. Out of all the trails available, Fairyland Loop is definitely one of the most beautiful, leading you from the rim into the canyon and close to the rocks, with a total length of 8 miles and 2300 ft elevation gain.
Fairyland Loop is a very challenging hike – don't forget that Bryce Canyon is located at high altitude, between 8000 and 9000 ft (2400-2700 meters). This trail crosses a section of the park that is rarely visited, especially in winter, so make sure you take all precautions!
6) Ernst Tinaja Trail – Big Bend National Park
Big Bend National Park is in Southwestern Texas, where the course of the Rio Grande makes a 'big bend', separating the US from Mexico. The park is one of the largest and least visited of the US, so finding places where you can be alone with nature is not hard – especially away from peak season.
You'll probably have noticed that most of the off the beaten track USA hikes featured in this article have one thing in common – they're strenuous. In contrast, Ernst Tinaja Trail in Big Bend National Park is quite easy, taking only one and a half hours round trip.
The trail is really spectacular, following a slot canyon through a series of layered rock formations and waterholes. So, why is it so offbeat? Because it's hard to get there! You'll need to drive down the Old Ore Road, which is an adventure in itself – a 5-mile former mining road, for which you'll need a high clearance vehicle.
7) Waipi'o Valley – Hawaii
No list of best offbeat USA hikes is complete without at least one Hawaiian addition. We haven't yet visited the state, so we asked a friend who knows the place well, and she recommended the trail to the bottom of Waipi'o Valley in Big Island.
Waipi'o Valley is also known as the 'Valley of the Kings', where Hawaiian royalty used to live. The trail crosses a rainforest with lush vegetation, some waterfalls, and ends at a black sand beach.
The hike is about 6.5 miles return, but it's not very well marked, and you'll need to pay attention not to stray into any private property. The famous Hi'ilawe Falls are located in the back of Waipi'o Valley, but the trail to reach them does cross private property, so it shouldn't be attempted without permission from the owners.
8) Doe Mountain – Sedona
Sedona is one of my favourite places in the US, a town with a spiritual vibe lost in the red rock wilderness of Central Arizona.
You could spend months and months hiking all over Sedona, with a variety of trail ranging from quick sunset strolls to multi-day jaunts – some hikes reach Sedona's famous 'vortexes', locations with strong energy flows, said to help meditation and introspection.
One of my favourite offbeat Sedona hikes is the short but rewarding trail to Doe Mountain, a mesa offering great views of the red rock landscape. The trailhead is located in West Sedona, and it's necessary to pay a $5 Red Rocks Pass for parking.
It takes only about 45 minutes to hike to the top of Doe Mountain, and once at the top you can spend as long as you wish exploring the mesa and taking in the views. We were the only people there when we visited – hope you'll be as lucky as we were!
9) Gates of the Arctic National Park – Alaska
Let's end this list of offbeat hikes in the US with the most off the beaten path of them all – Gates of the Arctic National Park, the second largest, wildest, most remote and least visited national park in the US.
It's hard to recommend a single hike in the park, because there are no trails and no road names, and most landmarks like lakes and mountains are also unnamed. If you want to hike around Gates of the Arctic, you must, and I repeat YOU MUST, have very good backcountry survival skills.
There are only two ways into the national park – by air with a private charter, or on foot, driving the (in)famous Dalton Highway. For this reason, only few intrepid hikers visit this gem of a park – yearly visitors number less than 10,000.
You may have to work hard to reach Gates of the Arctic, but once you get there, you'll be rewarded ten times over!