This photo story is a love message to Jericoacoara, a place where we felt truly at home. A place where we may disappear to, one day.
Where is Jericoacoara?
There is one place in the world that I will keep in my heart forever: Jericoacoara, Jeri for short, a small seaside village in the state of Ceara. We decided to visit Jeri after receiving enthusiastic feedback from other travellers; it is a place to switch off, to catch up with the slow pace of life characteristic of the far northeast coast of Brazil.
How do I get there?
Jeri is hard to get to, and even harder to get out of. The bus from Fortaleza follows tarmac roads for approximately 5 hours, until everything, passengers included, is unloaded onto the back of a truck for the final 2 hour stretch. The truck runs parallel to the beach, following sand tracks that appear, faint in the moonlight. All with the backdrop of a stunning starry night. After reaching the count of 8 in the first 15 minutes, I stopped counting falling stars; I had ran out of wishes.
There are no roads in Jeri, all the village is built on sand. There are no cars, only a few trucks and beach buggies. There are amazing landscapes; a broad grey beach surrounded by a majestic golden dune, white sandy beaches, a rocky coastline. Winds blow virtually constantly between July and December, making it popular amongst windsurfers and kitesurfers. Some stay for months at the time, some never leave.
Life in Jericoacoara
All our days in Jeri started and finished in a similar fashion. We woke up and visited Joao, maker of the best juices of the world. He open when he feels like, closes when the juices are finished, and doesn't own a shirt. For 1 real one can choose between pineapple (alone or mixed with mint), guava, acerola and my personal favourite, passionfruit.
At sunset, everybody gathered up under the dune on the main beach to watch the sun setting in the ocean. There is music, and capoeira on the beach; plus a myriad of cocktail carts serving caipirinha and other fruit cocktails. My drink of choice was maracujaroska, vodka and passionfruit pulp. And before bedtime we had a chocolate cake from the lady across the road. It could be plain chocolate, or with coconut or carrot, sold from the window of her house. We grew accustomed to this ritual so much, imagine my disappointment when she was closed on our last night.
Between a passionfuit juice and a chocolate cake our days were long and mellow. We walked along the coast for hours followed by vultures and wild pigs; woke up at dawn to buy prawns from the fishermen; took pictures off surfers and even had a little go at kitesurfing; took a day tour of the region on a beach buggy. It was there, with the wind in my hair, that for the first time I felt free. I thought of Janis Joplin's words in Bobby McGee "Freedom is just another word for nothing left to lose".
We could have stayed there forever. Maybe one day we will.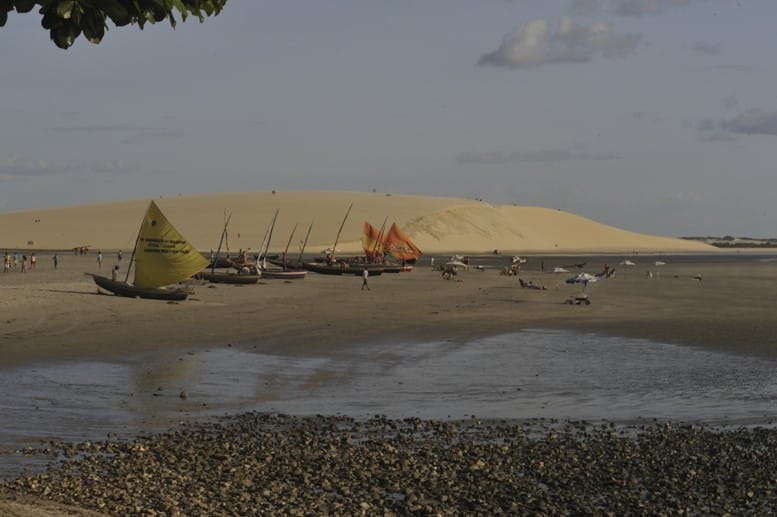 The area around Jericoacoara is one of the most beautiful parts of Brazil. Here is our Road Trip around the Nordeste of Brazil, and a photostory of our visit to Lencois Maranhenses, one of the world's greatest natural wonders.