I can't believe it's taken us so long to finally write about Iceland, one of our favourite destinations ever and the place that sparked our love for the great North – since then, we've also been to Sweden, Finland (many times) and the Faroe Islands! Here's our experience of Iceland in winter without a car – a trip that we need to repeat sooner or later!
Our plane landed at Keflavik airport, but we thought we'd flown to the moon. What was out our windows, all around our plane, wasn't of this world. There were no trees, no sign of life. Only snow and black volcanic rocks, sparkling under a sapphire sky.
The light was unlike any I had ever seen. It was late March, so we were out of the dark months when the sun only shines a few hours a day – yet, the light was cold, almost blue, as if it was shining through a dusty lens.
And it was windy. So windy. The kind of wind with icicles in it, biting through our layers and making us dream of a crackling fire and hot chocolate. But we'd leave that to another day – we were in Iceland, with only a week to spare, and so much to explore.
Iceland in Winter, No Car – Is it Possible?
As we headed out of the airport, most passengers made a beeline for the car hire desks – except for us. Nick and I are not big fans of driving, and only opt for cars when it's absolutely necessary. Our plan was to explore Iceland in winter making use of tours and public transport, using Reykjavik as our base. We didn't dream of covering the whole island – just the capital and its immediate surroundings, enjoying the peace of mind of not having a car (something that makes us both quite stressed).
A week later, we flew back with a backpack full of Icelandic sweaters (nothing else protects you from that wind!), two memory cards full of pictures and hearts full of love for the nature of Iceland. Then our camera was stolen, and we lost all of our Iceland pictures, but this is a different story…
Our trip was a bite-size taste of what Iceland has to offer, but yes, exploring Iceland in winter without a car is definitely doable – some buses run year round, and there's a variety of tours on offer to go hunting for the Northern Lights or venture for a day-trip out of the capital.
Other benefits of heading to Iceland in winter? First of all, it's cheaper than in the height of summer. Iceland is an expensive destination, like much of Northern countries, and high season is in summer when prices skyrocket. In winter you'll also find far fewer tourists than in summer – who cares about the cold, when you can have Icelandic nature to yourself?
Here's what we got up to during our week in Iceland in winter with no car. Needless to say, we'll be back for more!
Reykjavik
The Icelandic capital was dismissed by many travellers as being a boring place with nothing to see. Well, we beg to differ. We loved it! It's a small city, so walking around is quite easy – once you get used to the cold.
The star attraction in Reykjavik is Hallgrímskirkja, with its concertina-like façade. The inside is plain and sombre, but it's worth climbing to the top for an awesome view over the colourful houses of downtown Reykjavik – looking more like an Arctic village than a European capital.
Another place we loved was the Old Harbour – it was a sunny day when we visited, there was not much activity save for a couple of whale-watching boats picking up passengers, and we had a lovely lunch at Icelandic Fish and Chips, one of the few eateries in Reykjavik that won't break the bank.
Talking about food, Reykjavik is the ideal place to try some exotic local specialties. The restaurant Tapas Barinn offers a tasting menu of Icelandic specialties, including minke whale and puffin – we gave minke whale a miss, but did enjoy trying puffin, after being told that – at the time – they were not endangered in Iceland. Well, enjoyed may be stretching the truth – it was a bit too strong for our liking!
PS. If you're flying between Europe and the US, a layover in Reykjavik is a perfect idea to break your journey – and yes, you don't need a car!
The Golden Circle
The Golden Circle is the number one day trip available from Reykjavik, a 300-km loop including three of the country's main sights – Thingvellir National Park, the Haukadalur geysers and Gullfloss waterfall.
Thingvellir National Park is worth a visit for two reasons – it's the place where the Eurasian and North American tectonic plate meet (you can also go diving there!) and it's where the Icelandic parliament started gathering in 930, arguably the first parliament in the world!
At Haukadalur you'll be able to see two geysers – Geysir, now inactive, and Strokkur, erupting a column of steam and water up to 20 meters high every 4-8 minutes. Gullfloss was our favourite sight, a majestic, mostly-frozen waterfall, cascading from the rocks into a snow-covered valley.
The Golden Circle loop is a kind of intro to Icelandic nature, offering the chance to see 'iconic' sights (i.e. waterfalls, geysers, a geological oddity) without travelling too far from the capital. Guide to Iceland offers Golden Circle tours and other trips to Iceland, perfect if you're travelling without a car like us!
The Northern Lights
First things first – you're not guaranteed to see the Northern Lights if you travel to Iceland (or anywhere else in the north, for that matter) in winter. Your chances will be higher if the sky is clear, the temperature cold, and if you're travelling during a time of high sunspots, meaning lots of solar flare energy is being released into space – leading to increased chances of aurora borealis.
The sun follows 10-12 year cycles of solar activity, culminating with 2/3 year periods with higher chances of Northern light viewing. This, once again, doesn't mean viewings are guaranteed. We travelled to Salla in Finnish Lapland in the winter of 2016, supposedly one of the best ever in terms of aurora activity, and didn't see it at all.
On the other hand, during our week long visit of Iceland, we saw a beautiful aurora despite all odds – it was a warm, slightly cloudy night. The Northern lights sometimes shine over Reykjavik, but it's rare. Your best bet, if you don't have a car, would be joining a Northern Lights tour taking you to a dark area away from the city lights.
Make sure you cover up and wear warm shoes – I still remember my feet FREEZING after I ran into the snow in my Converse to chase the lights of the beautiful aurora just above me. Sadly, all of my pictures of it are gone. Sigh.
The Blue Lagoon and other Geothermal Pools
Iceland has lots of volcanic activity, meaning that thermal pools are abundant all over the country. A bath in an Icelandic geothermal pool is a not-to-be-missed experience – kind of like visiting a Japanese onsen or Finnish sauna.
The most visited pool in Iceland is definitely the Blue Lagoon, a photographer's favourite with its milky-blue waters surrounded by the stark Icelandic nature. The Blue Lagoon is located halfway between Reykjavik and Keflavik airport, and it's a popular stop to and from the airport – we visited on a weekday and were lucky to find it fairly quiet, with only a few dozen people bathing in the outdoors pools.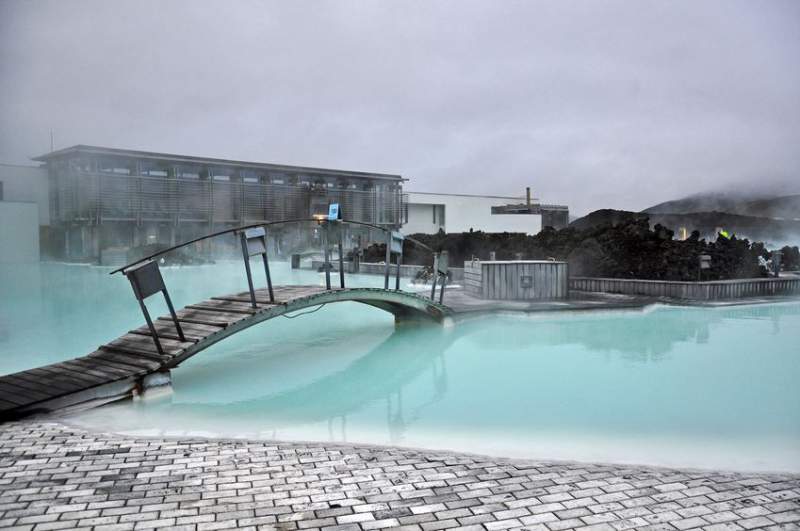 Visit on a weekend, and you will probably be stuck in an endless queue, and share the pool with hundreds of beer-toting tourists. The alternative? Reykjavik houses several geothermal pools, although the surroundings may not be as spectacular as the Blue Lagoon. We visited Laugardalslaug – Sundhöllin and Vesturbaejarlaug are other options.
There are many geothermal pools all around Iceland, although you may need a car to access them. The Myvatn Nature Baths, Landmannalaugar and Secret Lagoon near Fludir on the Golden Circle all came highly recommended.
Have you been to Iceland in winter without a car? Let us know your experience!
All pictures were taken by Martina from Pimp my Trip – blog di viaggi avventura unless otherwise stated in the caption
Pin it for later?