June is nearing to an end, and with it we'll leave India for destinations closer to home. Before we go, let's say goodbye to this land of mysteries, trying to inspire you to visit soon. Here's our Ultimate India Itinerary!
Amazing cities in India
1) Mumbai
Or Bombay, or whatever. Our first port of call in India. Even though it felt as if we had already been there, reading Shantaram, one of our favourite books ever that we highly recommend if you're travelling to India.
Bombay was the India we imagined. Chaotic, yet charming. Colourful and smelly. An assault on the senses, a cultural shock, yet a place that we felt was very close and familiar to us. We loved sitting for hours by the Gateway of India, eating vada pav and pretending to be celebrities as people waited in line to have their pic taken with us.

I wanted to be a Bollywood celebrity, and we spent the whole week we were there pacing back and forth the Colaba streets, hoping to be spotted by an agent. No luck. Maybe next time.
Why should it be on your itinerary?
It's a great introduction to India, less than a culture shock than Delhi or Calcutta. The colonial influence is still present, especially in areas such as Colaba and Malabar Hill. Wandering around the seaside promenade at Chowpatty Beach is a great way to finish the day. Mumbai is also the ideal place to plan your Indian adventure and get all essentials you might need, like a sim card for example – here's a great article explaining how to get a sim card in India!
2) Amritsar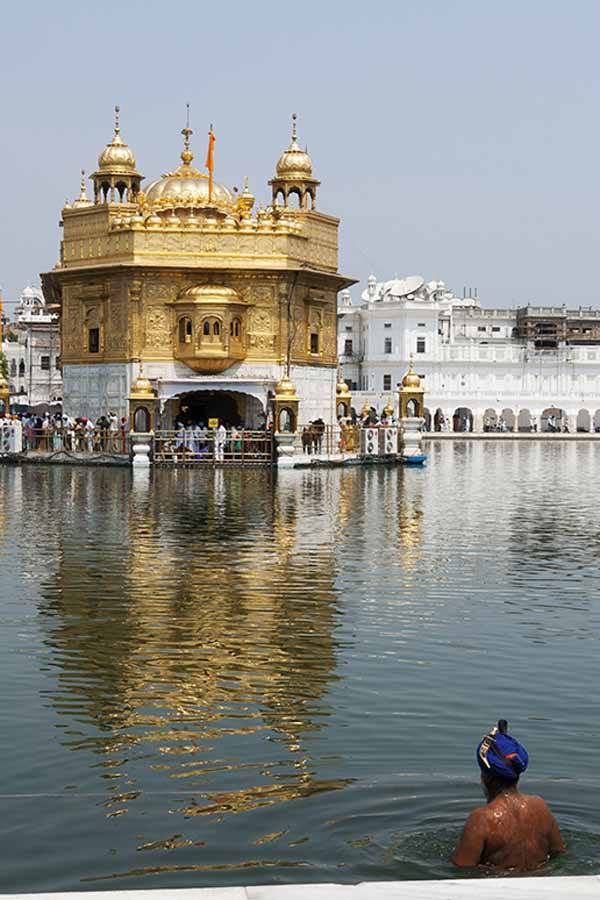 We've already talked about the Golden Temple of Amritsar in our India in Five Sacred Sites post. Not only was it a stunning place, it is also a place where we've encountered genuine hospitality. A must-see for all visitors to India.
Why should it be on your itinerary?
Accommodation and food in the Golden Temple complex are donation-based, making it a a budget-friendly destination.
3) Leh
The main city in Ladakh. Leh. Oh, Leh. The memories of you are enough to move me. The sheer beauty of your mountains, the infant Indus roaring through the valley, monasteries perched high up on the mountaintops, wrapped in prayer flags.
Why should it be on your itinerary?
There are a thousand and one reasons to visit Ladakh, the northernmost corner of India, high up in the Himalayas. Wonderful trekking, the presence of Tibetan culture, the mellow atmosphere, the beauty of Buddhist monasteries… I could go on forever. Ladakh was one of our all-time favourites.
Nature in India
4) Nubra Valley
If Ladakh is the northernmost region in India, this is its northernmost corner. Nubra Valley lies on the other side of Khardung La, the world's highest motorable pass at 5,359 meters (even though it is debated). The place is stunning. It's a high-altitude desert, with rocky mountains, crisp air and deep blue skies, and a valley covered in sand dunes.
We travelled to Nubra to attend some teachings with the Dalai Lama. I have no words to describe what a moment it was, being close to a man that shaped the history not only of his people, but of the world as a whole.
Why should it be on your itinerary?
To take an epic selfie at Khardung La? If you're so inclined, why not. Or just look at the picture. Need I add more?
5) Pangong Lake
Pangong is a high-altitude lake in Ladakh, straddling the border between China and Tibet. It's a very remote place; there's little on its banks besides a few scattered huts and some camps to spend the night. The sight of its milky-blue waters between the mountains is one of the most beautiful we've seen. There's nothing there. Nothing. Just you, and nature.
Why should it be on your itinerary?
This one is a little tricky. Because it's beautiful. Because it's remote. With only one monthly bus going there (on the 15th of each month), it does indeed require planning. You could also boast to your friends you've taken the slowest bus ever – it takes just over 12 hours to cover the 150 kms between Leh and the lake.
6) Periyar National Park
From the furthest north to the deep south of India. We move to Kerala, the land of tea and spices, of the backwaters and colourful folklore. Periyar is a great national park, near the village of Kumily, on the border between Kerala and Tamil Nadu. The village was worth a wander, with loads of ayurvedic massage schools and spice gardens, but the park is what we liked best. You can either take a walking tour with a local guide, or a boat tour. We did both and loved both experiences. The boat will remain in our hearts forever, though, as it was there that we first saw a wild elephant.
Why should it be on your itinerary?
Unless you have plenty of time, it would be hard to fit both Kerala and Ladakh in the same itinerary. The solution? Choose one, then start planning your next trip to India. Kerala (and Periyar in particular) offers a great opportunity to get close to nature, and not everywhere you have the chance to see wild elephants.
Crazy Indian places and things to see
7) Pulikkali
One of our favourite festivals of all time! read our Pulikkali post to know more about it. The festival takes place in the town of Thrissur, in Kerala, around mid-August. Pot-bellied men parade around town dancing, in tiger body paint. Great fun!
Why should it be on your itinerary?
I'll say that again. Pot-bellied men parade around town dancing, in tiger body paint. Sounds like a good enough reason, doesn't it?
8) Leh-Manali Road
This was one of the most spectacular roads we've ever been on. It joins Manali, a popular mountain village in the state of Himachal Pradesh, to Leh, the main town of Ladakh. It was unpaved when we visited, and it took two days to cover the 400-odd kms between the two towns. We took a bus then a van, which drove up and down hairpin bends at hair-rising speed, while the drivers happily puffed on joints. Sounds scary, right? The landscape was absolutely stunning, and funnily enough, I was totally relaxed.
Why should it be on your itinerary?
Because it would be one of the greatest road trips of your life!
9) Indo-Pakistan Border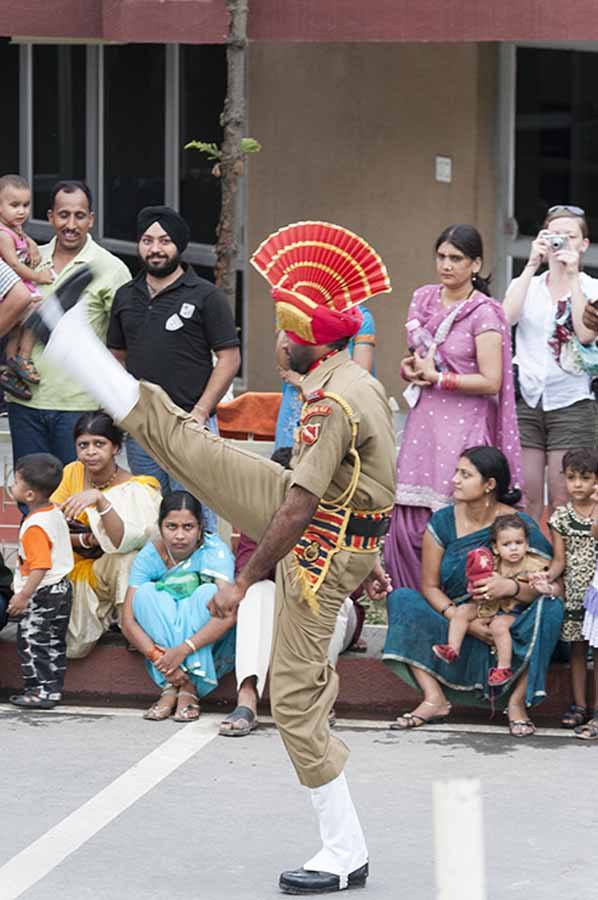 Everyone knows India and Pakistan are not the best of friends. Visit the closing ceremony at the Indo-Pakistan border at Attari Wagah and you'll see what I mean. It's a Monty Pythonesque show of frogmarching, leg-raising, yodelling, staring and essentially trying to outdo one another. Great fun, if one didn't know history. Leaves you with a bittersweet feeling.
Why should it be on your itinerary?
Because it's surreal.
And to conclude… the most beautiful fort in India
10) Amber Fort (near Jaipur)
Rajasthan is full of forts, fortresses, citadels and city palaces. We spent three weeks touring Rajasthan, visiting many of these, and discovering some curious places; have a look at our Quirky Rajasthan post!
The place we loved the most in the state was Amber Fort, just outside Jaipur, the capital city. Jaipur, the pink city, is wonderful, and full of great sights such as the City Palace and Jawa Mahal, the palace of the winds. But Amber fort is what took our breath away. We visited just after a monsoonal downpour, and the pools of waters reflected the fortress creating beautiful perspectives.
We loved how real it felt. Couples kissed in dark corners. Women clad in colourful saris pushed their children on strollers. There was no sign of the poor elephants that supposedly ferried tourists up the (tiny) hill atop which Amber stands.
Why should it be on your itinerary?
Because Jaipur is a great destination to begin with, and this fort is stunning.