Well… mountaineering may be pushing it. Trekking, more like. However, we are talking about Madagascar's highest climbable mountain – climbing Pic Boby is an adventure that shouldn't be missed. 
Where is Pic Boby?
Climbing a mountain in Madagascar? What? That's what we thought. We imagined Madagascar as a lush tropical island, with steamy rain forests and palm-fringed beaches. In fact, Madagascar is surprisingly diverse. There are indeed beaches and rainforests; on top of that, there are the weird limestone pinnacles of Tsingy, canyons and mountains, and a lot more.
A mountain range runs across Madagascar from North to South. In Central Madagascar, not far from the city of Fianarantsoa, lies Andringitra National park, a stunning wonderland of granite peaks, rivers and waterfalls that is sometimes referred to as 'Madagascar's Yosemite'.
Pic Boby, also known as Pic Imarivolanitra, is the star attraction of Andringitra National Park. It's Madagascar second highest mountain, and the highest climbable one. The mountain was named by the French after a dog, who supposedly was the first one to summit during the first expedition.
The Malagasy found the name offensive, as they believe the mountain to be sacred, and decided to change the name to Imarivolanitra, meaning 'close to the sky'. However, as it often happens, the mountain is still known by its former name.
Planning the climb and getting there
The best way to enjoy Andringitra National Park and climbing Pic Boby is a three day/two night trek, or longer if you have time. The closest town to the park is Ambalavao, about 60 km south of Fianarantsoa.
If you have your own transport (4WD is essential) you can reach the Namoly Valley park entrance independently, and arrange a guide, porter and cook at the park headquarters.
If you don't, you'll be better off arranging a tour with an agency in Ambalavao. Madagascar is still relatively undertouristed, so don't expect touts on every other street corner – you'll probably have to search them out. We arranged the trip with JB Trekking, located near the taxi-brousse station, and paid about 150€ for the trek for two of us.
What to take on Pic Boby
First things first. If you're travelling in the European summer, Madagascar is likely to be COLD. Pic Boby base camp is at 2000 meters above sea level, meaning that temperatures are likely to drop to zero at night. Bring warm clothes and a rain jacket as it often rains.
If you're not a fairly experienced trekker, climbing Pic Boby can be really tough. Good hiking shoes are a must.
Climbing Pic Boby – Day by Day
Day One
The first day was a relatively easy but incredibly scenic walk, with stunning views over the Andringitra Massif and on Pic Boby. The trail followed the valley and then climbed briefly through a forest where catta lemurs (remember King Julien?) are sometimes seen. Unfortunately, we had no luck.
As soon as the woods ended, we were treated to an amazing view. Two waterfalls tumbling down a granite rock; they were Riandahy and Riambavy, the queen and the king's waterfalls. The legend goes that the king and queen were unable to conceive; after swimming in this waterfall, they finally had the baby they so longed for.
After a brief stop at a natural pool, when it started to rain, the route continued to Pic Boby base camp, at the foot of the Andringitra Massif.
Day Two
This was the day. The alarm rang at 4am, to get to the top of Pic Boby in time for sunrise. Sounds lovely right? Well… it's not actually what happened to us.
The Andringitra Massif works like a funnel, attracting clouds and channelling them to the foot of Pic Boby. It started to rain when we got to camp the previous day. It will pass, everyone said. But when the alarm rang bright and early in the morning, the rain clouds were still there, spraying something more reminiscent of a sticky mist than rain.
To get to the top, we climbed in total darkness, our path lit only by head torches. The mist and low clouds effectively limited our visibility to zero. It was one of those 'why am I doing this' moments. I hated every single moment of that climb. I was tired and sore after a bad night sleep. I kept slipping on the stony path or getting stuck in mud. Everything was soggy and freezing. Why are we even trying to getting to the top, I kept thinking?
Then, the unthinkable happened. As soon as we reached the top, the clouds parted. We saw the neighbouring Tsaranoro Massif, the mountain range stretching north and south; the hills and lowlands east, stretching all the way to the Indian Ocean. It was one of those once in a lifetime opportunities. I have climbed plenty of mountains and marvelled at plenty of views, but that was something special. It lasted less then ten minutes; the clouds returned, and everything disappeared.
But the magic of day two was far from over. After a rest and lunch, we continued to the second camp, an easy but long 4 hour walk. Enroute we crossed the 'lunar landscape', a high-altitude plateau covered in boulders. It was raining again, but I could imagine how amazing it would have been on a sunny day.
And then we saw palms. Yes, palms. At 2000 meters. Apparently it's an endemic species that grows well at high altitude. Only in Madagascar.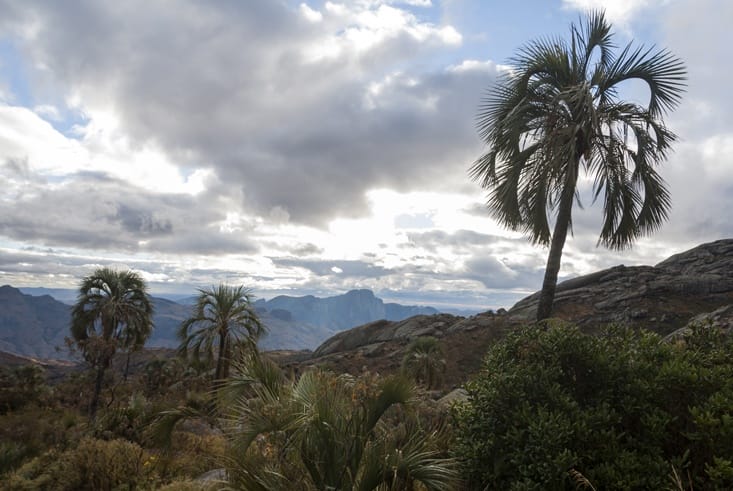 Day Three
The third day is an easy but LONG walk across the Tsaranoro Valley to Vohitsaoka, the closest market town where we caught a taxi-brousse back to Ambalavao. We left the high-altitude landscape and crossed rice-paddies and villages, surrounded by the sheer granite cliffs of the Tsaranoro Massif, Madagascar's prime rock-climbing territory.
After being alone for the best part of the previous couple of days, we finally saw some people. Children often ran up to us, practicing their French and English and trying to sell us necklaces and trinkets. Locals walked the path with us, moving from one village to another. Zebu carts loaded with people and produce travelled to Vohitsaoka for the market.
Is it worth it?
The three days we spent climbing Pic Boby and trekking around the Andringitra National Park are among our top experiences in Madagascar. The view from the top of the mountain was more than worth the effort, the rain and the early wake-up. But that wasn't it. We saw amazing landscapes and some of Madagascar's very own oddities, such as flowering pachypodium and a giant chameleon.
And what is even better, we were alone for most of the time. Despite being one of Madagascar's most scenic parks, Andringitra is still relatively unknown. We met perhaps a dozen tourists on the trail. It was a peaceful experience; we were alone with nature, miles away from the crowded taxi-brousses and crazy market towns we had visited in Madagascar so far.
It was different from what we thought Madagascar was like. But in a way, it was the Madagascar we were looking for.