Have you ever considered visiting Monument Valley in winter? If the answer is no, you should!
Here we'll tell you all about our visit to Monument Valley in January – including winter weather, things to do in Monument Valley in winter, and how to plan your visit!
There is no place that spells 'American West' more than Monument Valley. It's been the setting of countless movies and series, from John Ford's Western classics, to Easy Rider, TV series Westworld, and naturally Forrest Gump.
For someone like me, who grew up knowing America from the movies, Monument Valley was at the top of my wish list of places to see during our 7 week trip across the American Southwest.
There was only one issue – we could only travel to the Monument Valley in January. Everybody we knew or read about online seemed to have visited in summer, so we had no idea of what to expect visiting Monument Valley in winter.
Would Monument Valley in winter be busy? How would the weather be? Would it be hard to drive there?
We decided to put together this Monument Valley in winter guide to help anyone planning to visit this wonderful place during the coldest months of the year. Spoiler alert – do it! Monument Valley in winter is amazing!
Where is Monument Valley?
Monument Valley is located in the heart of the Navajo Nation, on the border between Arizona and Utah, not far from the Four Corners National Monument.
Entrance to Monument Valley is on US Highway 163, 28 miles from Kayenta, Arizona, where most hotels are located, and 26 miles from Mexican Hat, Utah.
The closest major towns are Moab, Utah, 152 miles away, and Page, Arizona, 127 miles away – driving time from Page is just under 2 hours, and once there you can visit the wonderful Upper and Lower Antelope Canyons!
Is Monument Valley a National Park?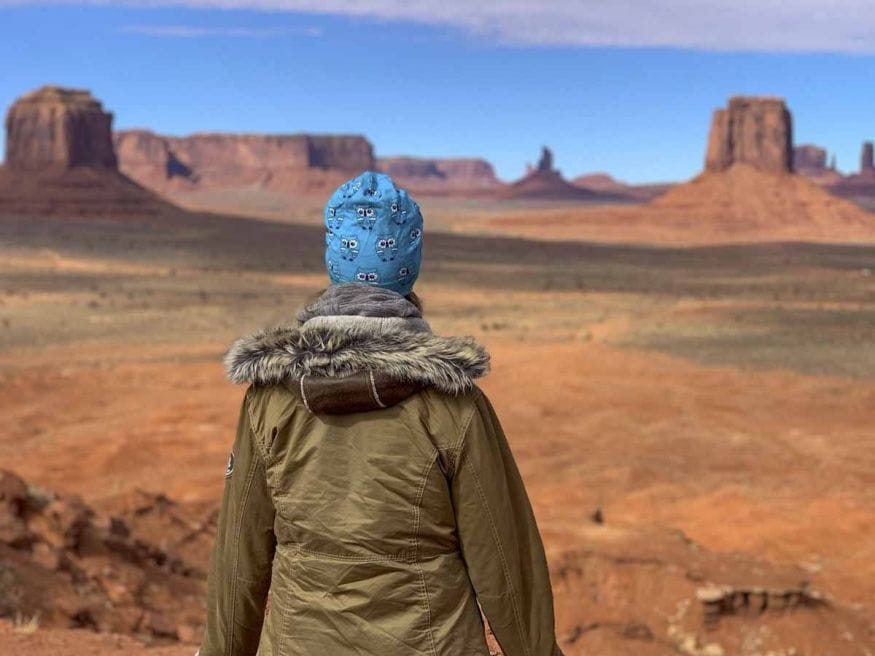 Monument Valley is not a National Park, it's actually a Navajo Tribal Park since it is in the Navajo Nation, a self-governed territory extending over three US states – Arizona, Utah and Colorado.
Since it's not a national park, you can't use your America The Beautiful pass to enter Monument Valley. An entry charge of $20 per vehicle (including 4 people – valid one week) is charged, payable at the booths located at the park entrance.
Monument Valley is sacred Navajo land, so you can't hike around freely. With the exception of the Tribal Park loop and one hiking trail, the rest of the park is off-limits unless you are visiting with an authorised Navajo guide.
Things to Know About Monument Valley in Winter
Monument Valley Winter Weather
If you've decided to visit the Monument Valley in winter, I'm sure your first thought would be the weather. In winter, daytime temperatures hover between 40-50°F (5-10°C), dropping below freezing at night.
Unless it gets windy, it's actually not very cold and quite pleasant to walk around, especially if the sun is shining!
Monument Valley is at 5200 ft (approx 1500 meters) altitude, in the desert, and it sees very little rainfall throughout the year. In winter, it may snow, but it's extremely rare to experience heavy winter storms – if it does snow, normally it's just a light dusting, making Monument Valley even more magical.
Getting Around Monument Valley
Monument Valley is in an extremely remote location, and the only way to get there and around is by car.
The 17-mile Tribal Park Loop (also referred to as Valley Drive) is unpaved. When the weather is nice, you can easily cover it with a regular 2WD car, but if it has rained or snowed, the road may become too muddy to drive unless you have a 4X4.
On a nice, sunny day, we still recommend paying close attention while driving along the Tribal Park Loop. The drive is quite rough in places, with rocks and potholes, and some steep ups and downs.
While pulling into scenic spots, be careful with the ditches between the road and the parking spots – don't attempt to drive through them as they are quite deep and sandy, we've seen a car stuck there!
Tourist Numbers & Photo Opportunities
Winter is the when Monument Valley tourist numbers are at their lowest, making for a nice, relaxing visit. That means you can drive around at leisure, stop at scenic spots whenever you like, without the need to worry about finding parking spaces.
In summer, not only it is very hot and busy with cars, it's also dusty – the result of hundreds of cars driving one after the other along an unpaved road, kicking up dust and obstructing scenic views.
Can you guess how many other cars were driving the Tribal Park Loop in January, besides us? THREE. That's right, there were three other private cars, plus two vans driven by Navajo guides carrying tourists.
As a result, we were alone most of the time, with the wide Monument Valley skies for us to enjoy. Along the Wildcat Trail, we saw no one else. If this isn't enough to convince you to visit Monument Valley in winter, I don't know what is!
Things to Do in the Monument Valley in Winter
Tribal Park Loop
The main thing to do in Monument Valley, in winter or otherwise, is driving the Tribal Park Loop, a 17-mile scenic loop drive taking in all the best scenic viewpoints around Monument Valley.
Monument Valley is known for its stunning sandstone mesas, spires, and buttes, isolated stacks with inclined sides and a flat top. Some of these formations have names – driving around the park, you'll find Camel Butte, Totem Pole and the famous Mittens.
The Tribal Park Loop, also known as Valley Drive, starts at the visitor centre, behind which you can see the first scenic view – probably THE image of Monument Valley, with East and West Mitten plus Merrick Butte right in front of you.
You'll be given a Valley Drive map from the visitor centre, marking where the best scenic spots are – however, signage along the road could definitely be improved, as sometimes it was hard to make out where the parking spots were.
The Valley Drive continues past the Mittens, and then past Elephant and Camel Butte, before looping around Rain God Mesa and circling back just in front of Camel Butte again, where you drive back the way you came.
There are only three places where you turn off the loop to reach viewpoints – John Ford Point's Overlook, a short drive from Camel Butte driving towards a small ranch with horses, Navajo Code Talker Out Post and the North Window Overlook towards the back of Rain God Mesa.
Keep your eyes open, as all these turnoffs are not very well marked – but if you are visiting the Monument Valley in winter, you are more than likely to have the place to yourself!
Wildcat Trail
Would you like to hike Monument Valley in winter? First of all, you can do so, and second of all, once again you're likely to have the place to yourself!
The Wildcat Trail is the only hike in Monument Valley that can be covered without a guide. It's a 3.2 miles (5 km) loop trail circling around West Mitten, starting at the northwest corner of the visitor centre car park.
The trail descends slightly at first, heading towards the Mitten – which is further than it looks. Naturally, the fact you're descending first means that the way back is slightly uphill – and the terrain is sandy, making for some pretty heavy hiking.
The Wildcat trail is great for those who want to experience the feeling of being in the desert, staying safe without the need of a guide. The trail is marked regularly and easy to follow, surrounded by desert plants and shrubs like cactus and sage.
We recommend hiking the Wildcat Trail in the afternoon if you're visiting Monument Valley in winter, to be able to get views like this!
Monument Valley Tours with Navajo Guides
Tourists are allowed to access a small part of Monument Valley by themselves – you can only drive the scenic loop and hike the Wildcat Trail, and that's it.
To experience the remotest stretches of the park, you'll have to visit with a Navajo Guide – here you can find two excellent Navajo-run tours including the Monument Valley backcountry, available to book on Get Your Guide.
Alternatively, you can find the offices of Navajo guides and outfitters near the Monument Valley entrance, or you can contact them online before your visit. Navajo Spirit Tours and Monument Valley Tribal Tours came recommended.
Here are the best-selling Navajo tours and experiences available in Monument Valley!
Monument Valley Tour – 2.5/3 hour tour covers the Valley Drive plus a few backcountry spots off the main loop, with a Navajo guide providing info and sharing traditional stories. Photography tours are also available.
Mystery Valley – 3 hour tour to a remote part of Monument Valley, taking you to petroglyphs, sacred Navajo sites, sandstone arches and buttes. Perfect for those in search of a transformative, spiritual experience.
Teardrop Arch – 2/2.5 hours adventure hiking backcountry tour to a location where you can see the famous Monument Valley buttes framed by a teardrop-shaped arch. Ideal if you really want to get away from it all!
Hunt's Mesa – the most complete Monument Valley experience! A day trip (or overnight tour) to the highest point in Monument Valley, with scenic views on the buttes and formations along the Valley Drive.
Forrest Gump Hill
If you've seen Forrest Gump (who hasn't?) you'll know what I mean – this is the spot where Forrest ends his run across the US, with the Monument Valley panorama just in front of him.
This place, named Forrest Gump Hill in honour of the movie that made it famous, is located about 20 minutes away from the Monument Valley entrance, along US Highway 163 in Utah, mile marker 13.
There is a spot you can pull into and leave your car, while you run across the road to take pictures of that iconic view. Depending on when you visit, it can be busy – but if you're visiting Monument Valley in winter, you'll probably be alone.
Two words of warning – first, please remember that US 163 is a busy highway, and since you'll be standing in the middle of the road to take pictures, be very careful!
Second, remember that the sun sets behind Monument Valley – at sunset time, you'll only see the silhouette of the buttes. To see them all lit up, visit in the morning!
Mexican Hat
This is another quick stop you can have on the way to or from Monument Valley, close to the small Utah town of the same name.
You'll see a turnoff off US 163, clearly marked, leading you to the bottom of the sombrero-shaped rock in only a few minutes. It's worth paying a visit for a quick scenic stop!
How Many Days in Monument Valley?
We spent one and a half day during our visit to Monument Valley in winter – one day to explore the park, driving the Tribal Park Loop and hiking the Wildcat Trail, and the remaining half day to see Forrest Gump Hill and Mexican Rock.
If this is all you want to do, then one day will be enough. Alternatively, if you want to also go on a tour with a Navajo guide, we recommend at least two days – day 1 for the scenic drive and Wildcat Trail hike, and day 2 for a Navajo tour, Mexican Hat and Forrest Gump Point.
Where to Stay in Monument Valley
The View Hotel and Campgrounds
This is the only hotel located inside Monument Valley, walking distance from the Visitor Centre. You can choose between different accommodation options – hotel rooms, with and without a view, cabins with scenic views, and a campsite located on a cliff overlooking the Mittens.
Hotel room charges start at $109 for Full Driver Rooms (without a view – why would you?), while rooms with a view start at $219, and suites are $300 and up.
Cabins are between $209-259. RV campsites start from $39.95, and campsites for tents are $19.95 – definitely the cheapest way to wake up with a view of Monument Valley!
In Kayenta
Kayenta is the closest town to Monument Valley, about 30 miles (40 minutes drive) from the park entrance.
You can find a few accommodation options and places to eat, including the amazing Amigo Café, a Navajo-run diner serving delicious 'Navajo Tacos' made with fry bread topped with beans and salad.
We stayed at the Wetherill Inn in Kayenta, an honest motel offering good value for money with free breakfast and comfortable rooms. If you are up for something more upmarket, try the Kayenta Monument Valley Inn, with an outdoor swimming pool and great restaurant.