Are you travelling through Texas or flying through DFW? If so, we highly recommend spending at least 36 hours in Dallas – this is the bare minimum to appreciate all there is to see and do!
If you want to find out more about Fort Worth, its twin city, stay tuned for our upcoming Fort Worth itinerary.
To be honest, I never thought I would be spending a weekend in Dallas in my life. Before heading there, I knew very little about this Texan metropolis – I knew there was a big airport, and that JFK had been shot there, and that's about it.
I had other US cities on my bucket list – New York and Los Angeles, first and foremost, Austin for its 'weird' reputation, and San Francisco because it's beautiful. I honestly had no idea of what to find in Dallas, but when we found ourselves heading to Fort Worth for 3 days, we decided to split our stay between the two cities – spending 36 hours in Dallas, and the same in Fort Worth.
Spoiler alert: we liked Dallas way better than Fort Worth, and in hindsight, we wished we had spent longer than just 36 hours. Dallas has more to offer in terms of culture, food, and entertainment, while Fort Worth feels more like a big country town – which is great, if this is what you're looking for.
Dallas is great weekend destination – just add a day in Fort Worth to this itinerary, and you can explore two cities, so close yet so different.
Here is our itinerary for 36 hours in Dallas, including some of the main tourist attractions in town and a couple of local secrets!
Would you like to know more about Texas? Here is our 2 weeks Texas road trip itinerary!
36 Hours in Dallas – Day 1
Morning – Explore Downtown
We travelled into Dallas by train from Fort Worth, so we started by exploring the Downtown area, a few steps outside of EBJ (Eddie Bernice Johnson) train station.
From the station, walk a few blocks to John F. Kennedy's Memorial Plaza, built by architect Philip Johnson in 1970. The memorial is a square room with no roof, 15 meters (50 ft) each side, made with concrete columns – inside, there's a simple plaque with JFK's name on it. The simple, airy design was chosen to represent the president's free spirit.
Three parallel streets form the heart of Dallas's Downtown – Main Street, Commerce Street, and Elm Street. Resist the urge of heading to Dealey Plaza, only 200 meters away – the entire afternoon of your first day in Dallas will be dedicated to JFK and his tragic end.
Just keep walking along Main Street until you reach the Giant Eyeball, probably the weirdest sight in Downtown Dallas. It's a 10 meter (30 ft) realistic sculpture of an eyeball, located in a public park surrounded by high-rises.
If you're looking for a hidden meaning behind this sculpture, I'm very sorry to disappoint – the company who created it said they just wanted to 'make something awesome'.
A couple of blocks from the Giant Eyeball you'll find Thanks-Giving Square – you'll find no turkeys or pumpkin pies, but artworks inspired by the idea of giving thanks. At the centre of it all there's the Chapel of Thanksgiving, a space for visitors of all faiths, with a hypnotic spiral ceiling containing the largest horizontal stained glass window in the world.
If you have time for one more sight not far from Downtown Dallas, we recommend walking all the way to the Traveling Man, three giant statues of a robot located in Deep Ellum, just on the other side of I-345.
Lunch – Pecan Lodge
There's no better lunch in Dallas than Texas barbecue, and locals will tell you that Pecan Lodge is the place to be. It's only about 15 minutes away from Thanks-Giving Square, and only a couple of blocks from the Traveling Man.
Pecan Lodge is hardly a secret – so if you want to have lunch there, be prepared to wait. Similarly to Franklin's in Austin, it draws long lines for its perfectly crisp and tender brisket, meaty ribs, and tasty accompaniments – its mac and cheese is legendary, and the banana pudding is probably the best you'll ever had.
Afternoon – Dealey Plaza and Sixth Floor Museum
Whether you're just spending 36 hours or longer in Dallas, you can't leave the city without exploring the Sixth Floor Museum at Dealey Plaza, located on the 6th floor of a building formerly known as the Texas School Book Depository.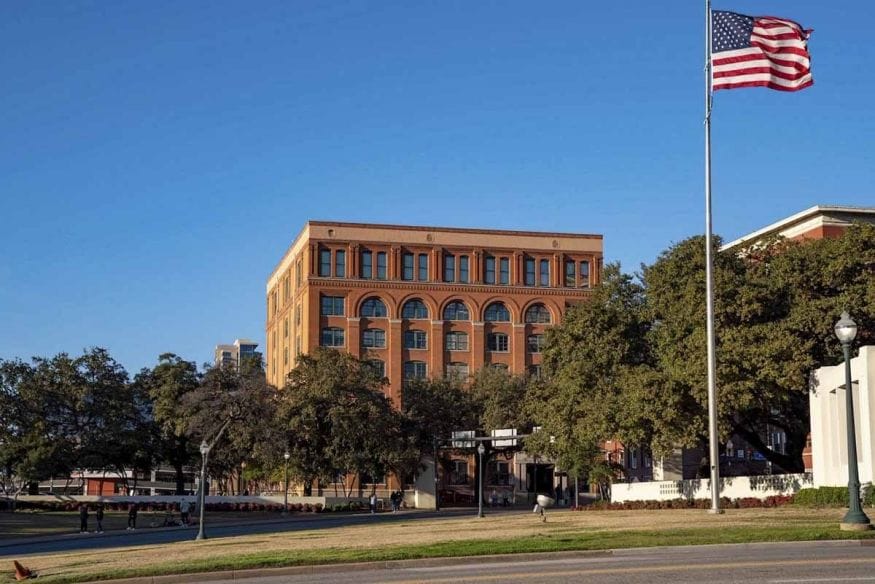 That is exactly where tragedy unfolded on November 22nd, 1963, when President John F. Kennedy was murdered as he travelled on a motorcade. The events of that day were the subject of countless movies, books and documentaries, not to mention conspiracy theories.
Even if you do think you already know everything about the assassination of JFK, we still recommend visiting the museum, located in the space where the final shots were fired.
The exhibition will take you through JFK's life and presidency, his death, and its consequences on historical events in America and overseas – plus conspiracy theories, of course.
Make sure you also walk around Dealey Plaza to get a close look at the famous 'grassy knoll', and at the exact spot where the bullets hit the president, marked on the road with two giant white X.
Evening – Margarita Mile
Did you know that the first frozen margarita was invented in Dallas, in 1971? A man called Mariano Martinez adapted a soft-serve ice cream machine, and used it to start making margaritas – a drink that was virtually unknown at the time.
Fast-forward almost 50 years, and margaritas – frozen or on the rocks – have become Dallas's official drink. You can have it literally everywhere – at swanky cocktail bars, hole-in-the-wall restaurants, hotels, and more. Whether you're after an iconic lime and tequila margarita, or a creative interpretation, you can find the perfect one for you.
To make your search easier, you can download the new Margarita Mile app, a curated list of the best places in town to enjoy margaritas. There are 17 places to choose from – naturally, we don't recommend checking them all out in one night, but you can try one or two.
We recommend starting with Meso Maya for dinner, a stylish Mexican restaurant serving delicious margaritas and tasty dishes like chile relleno, carnitas and queso fundido.
Other places worth trying on the Margarita Mile app are Mariano's Hacienda, the OG in Northeast Dallas, Wild Salsa for their Wild Rita with roasted pineapple and jalapeno-infused tequila, and Beto & Son, where you can try margarita made with nitrogen.
Can you think of a cooler way than a craft margarita or three to end the first part of your 36 hours in Dallas?
36 Hours in Dallas – Day 2
Morning – Dallas Arboretum or Arts District
If you're in Dallas for 36 hours, or a weekend, you'll have half a day left before heading back home or continuing your journey around Texas.
We have two different options for you, depending on whether you're longing for some nature or prefer to visit a museum.
The first is visiting the Dallas Arboretum and Botanical Gardens, a 66-acre park located in East Dallas, on the edge of White Rock Lake. You can easily spend the entire day roaming the Arboretum and exploring all its beautiful gardens.
Since you only have a few hours, you'll have to choose – we recommend checking out the Women's Garden with its infinity pool, Red Maple Rill with over 80 varieties of Japanese maples, and the Palmer Fern Dell, with rose bushes and scenic views over the lake.
If you're not into gardens, another option could be heading to the Dallas Arts District. The district is full of museums and theatres, and a really nice park. Depending on your interests, you may decide to visit the Dallas Museum of Art, with a collection of artworks from all over the world, including big names like Andy Warhol and Monet, and a focus on artists from Texas.
Two alternatives could be the Crow Museum of Asian Art, or theNasher Sculpture Center, with over 300 pieces of modern sculpture.
Lunch – Dallas Farmers Market
You'll have time for lunch before ending your 36-hour jaunt to discover Dallas! If you just want to grab something quick, a great place is the Dallas Farmers Market, close to Downtown and operating since 1941.
The market is a great place to get fresh produce from all over Texas, including organic fruit and vegetables, farm-reared meat, and the freshest pecan nuts you'll ever have. You can also grab some quick bites from the many eateries all over the market – pizza from Bellatrino, Thai street food from Ka-Tip, and Cajun Tailgators all came recommended!
Dallas Practical Info
Best Time to Visit Dallas
Summer is the most popular time to visit Dallas, but it can get incredibly hot and busy, with daytime temperatures often exceeding 90°F (32°C), and hotel prices are at their highest.
The best times to visit are autumn and spring, when daytime temperatures are in the 70s and 80s (20-30°C), and hotels are less busy. This is also the time to visit Dallas for events like the Texas State Fair, taking place between September/October, a celebration of all things Texan.
Winter is the time to visit to get great deals on hotel rooms, but you may also experience some of Texas's notorious storms and changeable weather – we visited in early February and we experienced below zero (30°F) temperatures one day, with wind and sleet, and sunshine the next.
All in all, winter a good time to visit Dallas – there are so many museums to visit, you can always find somewhere to explore indoors when it gets cold.
Getting To and From DFW
DFW (Dallas-Fort Worth) Airport is located pretty much right between the two cities, making it easy to reach both downtown Dallas and Fort Worth, with plenty of public transit options. Here they are!
The DART Orange Line travels between Downtown Dallas and DFW 7 days a week from 4 am to 1 am, with single tickets starting from $2.50.
The Trinity Express (TRE) line connects both Dallas and Fort Worth to DFW. Trains run every 30/60 minutes Monday-Saturday, and single tickets are $3.
SuperShuttle offers private and shared shuttle service between DFW and the city.
You can also take a taxi or Uber to reach downtown Dallas from the airport – fares are about $30-40 each way.
Getting Around Dallas
Dallas has a good public transit service, with four Dallas Area Rapid Transit (DART) light rail lines, plenty of buses, and a free trolley line. Buses and the light rail are all serviced by DART – visit their website for info on fares and schedules.
Some Dallas districts like Downtown and the Arts District can easily be explored on foot – if you like walking, you can walk between all attractions mentioned in this 36 hours in Dallas article, except the Dallas Arboretum maybe.
You can also get around Dallas using ride share apps like Uber and Lyft – there are plenty of drivers around at all times, especially at night.
If you have your own car, we recommend parking it somewhere and using public transit or ride sharing to move around Dallas – traffic is really terrible, and it's hard to find your way around the complex system of freeways and intersections if you don't know the city.
Where to Stay in Dallas
We recommend staying close to Downtown to make the most of your 36 hours in Dallas – here are six beautiful hotels, each of them offering something unique!