Have you ever considered a Texas road trip? The Lone Star state is perfect for road tripping, with amazing national parks, cities and just so much to explore. Here is our 2 weeks ultimate Texas road trip itinerary, from El Paso to Amarillo!
In case you didn't know, Texas is big. No, actually, Texas is HUGE. To give you an idea, it's twice the size of Italy, and three times the size of the United Kingdom, and if you were to place it on a map of Europe, it would stretch from Rome to the Baltic Sea.
So, when you'll be planning your Texas road trip, bear the state's size in mind. There is no way you can cover it all on a 2 weeks Texas road trip – but you can see a lot!
Over the course of our 2 weeks in Texas, we drove from White Sands in New Mexico to El Paso, drove south to Big Bend National Park, then continued through the Hill Country all the way to Austin and Dallas, where we turned west to Amarillo, and then back into New Mexico.
Naturally, this is only one of many possible Texas road trip itinerary, but it does include many iconic Texan places and experiences – the desert of Big Bend, Texan barbecues and the 'weird' atmosphere of Austin, longhorns in Fort Worth, and the charming Hill Country.
One thing is certain – love it or hate it, Texas is a place unlike any other in the US. It's a place with a strong regional pride, with heartwarming hospitality and – naturally – with its own quirks, endearing and annoying at the same time for an outsider like me.
A 2 weeks Texas road trip is just enough time to get a taste of it all – come and discover our itinerary!
Places to Visit on a Texas Road Trip
El Paso (2 Days)
Our Texas road trip itinerary was influenced by practical and logistical reasons, and so we started our 2 weeks in El Paso, a Texan town on the far west of the state, a short drive from New Mexico and an even shorter drive to Mexico proper.
El Paso feels like Mexico more than it feels like Texas – Spanish is spoken way more than English with a Texan drawl, and taquerias outnumber barbecue joints about twenty thousand to one.
Having said that, it's a really cool place to kick off your 2 weeks in Texas. Two days are enough time to explore – spend the first day roaming the city, visiting the El Paso Museum of Art or the interesting Border Patrol Museum, walking around downtown, and ending your day at Tap Bar and Restaurant, the kind of dive bar you'll only find along the border.
You can't miss having some great Mexican food – if you're on a budget, head to Lucy's Cafe, a tiny diner famous for its machaca, and if you want to splurge opt for Elemi, a classy taco joint with creative gourmet toppings and the best blue corn tortillas you'll ever taste.
On Day 2, it's time to head out of the city! One option is hiking in Franklin Mountains State Park, only 20 minutes drive from El Paso, offering plenty of scenic trails with views over the city.
An alternative is hopping across the border to Juarez, El Paso's sister city in Mexico – visit the Cathedral and the Museum of Revolution, and eat plenty of street tacos!
Big Bend National Park (3 Days)
Distance: 320 miles – Driving Time: 5 hours
Leaving El Paso is when I started grasping the size of Texas. Our second destination was Big Bend National Park – which is also in West Texas. So, how far can it be? An hour or two at the most? Actually, the drive between El Paso and Big Bend was a whopping FIVE HOURS LONG!
Trust me though – the drive is totally worth it, as Big Bend National Park is not only one of America's least visited, it's also incredibly varied in terms of landscapes and ecosystems, with the Chihuahuan desert, the Rio Grande, and the Chisos Mountains, all found within the park borders.
We recommend spending a minimum of 3 days in the area – we have a full blog post about what to do in Big Bend National Park.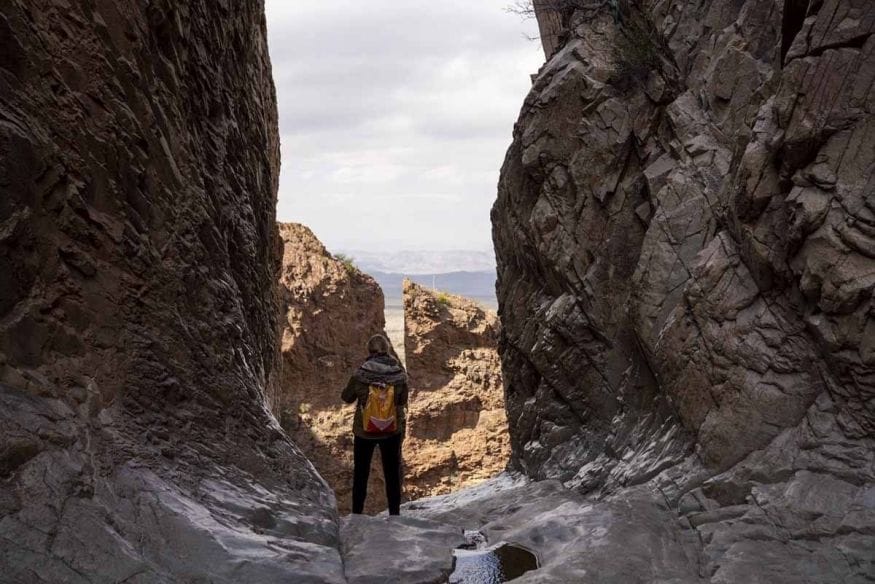 You'll be spending the majority of the first day driving there, visiting Marfa, its Prada shop installation and some of its galleries along the way. The remaining two days will be dedicated to the national park – one day you can go hiking or driving around by yourself, and the other day can be dedicated to a backcountry jeep desert tour.
Your next destination will be the Hill Country – so, why not break your journey by staying one night at Eve's Garden in Marathon, definitely the coolest B&B in Texas. Top tip – don't miss breakfast!
Hill Country (2 Days)
Distance: 350 miles – Driving Time: 5 hours
Travelling from Big Bend to the Hill Country you'll see what I mean when I say that Texas is varied in terms of landscapes. You'll leave the desert, and arrive in a quaint, tranquil land of farmhouses and rolling hills, forests and swimming holes.
The Hill Country is fun to explore for a couple of days. Fredericksburg is a great place to choose as your base, a town settled by German immigrants in the 19th century and still retaining a German flair, with beer gardens dishing out schnitzels, and several really nice B&B.
You could spend one day exploring Fredericksburg, walking down Main Street browsing art galleries and craft shops, climbing Enchanted Rock for a view over the Hill Country, and visiting a winery or three – Becker and Lost Draw come recommended. The former also sells food to go, so you can make up your own picnic and find a place in the winery grounds to enjoy it.
For your second day, there are so many options! If you're feeling like nature, you could head to the Balcones Canyonlands National Wildlife Refuge, home to the endangered golden-cheeked warbler, and to other critters like skunks and armadillos.
Another nice option is The Meadows Center in San Marcos, where you can take a river tour on glass-bottomed boats, as well as South Llano River Nature Park, where you can go paddling, river tubing, birdwatching and cycling along many miles of bike trails.
The Hill Country offers a delightful blend of small towns, delicious wines and unspoilt nature – just what you need before heading to three big cities during the next part of your Texas road trip!
Austin (3 Days)
Distance: 80 miles – Driving Time: 1.5 hours
In case you weren't aware, let me tell you – Austin is indeed weird! You won't even feel like you're in Texas – it's a fiercely alternative, liberal town, the kind of place where you find street art and secret cocktail bars, food trucks and live music every night of the week (and not just country and western!)
To make matters even better, there is some amazing nature both in Austin, and just outside of the city – including hiking trails and swimming holes, perfect in the boiling Texas summer weather.
After stopping in Austin during out Texas road trip, we've put together a 3 days in Austin itinerary – this is the bare minimum to explore all there is to see and do, and it will leave you longing for more!
If you want to spend less time in Austin, and maybe dedicate one more day to the Hill Country or Dallas/Fort Worth, there are two things to do in Austin you cannot miss.
Number one is barbecue at Franklin's, the most delicious, most amazing meal you'll have during your entire 2 weeks spent road tripping around Texas. Visit on a weekday if you can, try to get there early and be ready to queue – but every second spent in line will feel worthwhile once you bite into that delicious brisket! YUM!
Number two is visiting Congress Bridge at sunset to see over a million Mexican free-tailed bats fly out from their hideaway spots and under the bridge to feed on mosquitoes. Austin is home to the largest urban population of bats worldwide, so don't miss it if you're visiting between March and November!
Dallas/Fort Worth (3 Days)
Distance: 200 miles – Driving Time: 3 hours
Two cities in one! That's what you'll get when visiting Dallas and Fort Worth, less than an hour drive from one another.
You can choose to divide your stay between the two cities, or use one as a base and visit the other as a day trip. If you opt for the second option, we recommend staying in Dallas, the larger and more cosmopolitan between the two – Fort Worth is easy to cover in one day, depending on your interests.
3 days are enough time to spend between Dallas and Fort Worth. You'll spend part of the first day driving from Austin – this takes about 3 hours, with a halfway stop in Waco to see or have lunch at the famous Magnolia Market Silos if you wish.
For info on what to see in Dallas, head over to our 36 hours in Dallas article, with a full itinerary. You can't miss the Sixth Floor Museum and Dealey Plaza, detailing the facts around JFK's assassination, and in the evening you could attempt to drink your way up and down the Margarita Mile – BTW, did you know that frozen margarita was invented in Dallas?
Don't forget to spend at least one full day in Fort Worth, AKA Cowtown, headquarters of the cattle industry in Texas. Fort Worth has a completely different feel compared to Dallas – it feels like a big country town, where you can half expect a herd of longhorn cows come marching down the main street.
Oh, hang on – actually, they do indeed! Just head to the Fort Worth Stockyards every day at 11.30 am or 4 pm, for the daily Cattle Parade.
Other fun things to do in Fort Worth are visiting the National Cowgirl Museum and Hall of Fame, a fun interactive museum sharing info and stories about the lives of cowgirls past and present, and a guided tour of Firestone & Robertson Distilling, a local distillery producing delicious craft whiskey and bourbon.
Amarillo (1 Day)
Distance: 360 miles – Driving Time: 5 hours
One more stop before the end of your 2 weeks Texas road trip! The Texas Panhandle, the rectangular-shaped region occupying the northernmost part of the state, between New Mexico and Oklahoma.
The Texas Panhandle is a place with wide, open skies, endless plains dotted with windmills, canyons and ranches – basically, the stereotypical image of 'Texas' in people's minds.
If you're continuing your journey west from Dallas/Fort Worth, heading to Arizona or New Mexico, you'll be driving through the Panhandle – so you may as well stop for a day or two.
Amarillo is the largest town in the Texas Panhandle, and the most logical place to choose as a stop. We have three Amarillo sights and activities to recommend, perfect to round up your 2 weeks Texas road trip.
The first is Palo Duro Canyon, just 30 miles from Amarillo, also known as the Grand Canyon of Texas. There canyon itself is the second largest in the US after (yes, you guessed it) the Grand Canyon – the state park is a pleasant place to explore for a day, with over 50 miles of trails and some caves to explore.
Then, don't miss the Cadillac Ranch, a unique art installation made with 10 Cadillac cars stuck to the ground and covered in spray paint, making for a cool photo stop. For your last dinner in Texas, we recommend heading to the Big Texan, a steakhouse just outside Amarillo serving delicious steaks – including a 72oz mammoth one!
Other Ideas for a Texas Road Trip
As I mentioned at the start of this article, this 2 weeks Texas road trip itinerary is not intended to cover everything to see in the Lone Star State – for that, you'll need several months!
If you are lucky and have extra time to spend in Texas, you may include one or more of the following locations:
-San Antonio: the second largest city in Texas, just an hour south of Austin, famous for its riverside, for being close to the Alamo, and for the best Tex-Mex food in the state!
-Houston: we have a problem! Sorry, just had to write that. Most people visit the largest city in Texas for the NASA Space Center, but there's a lot more to see, and the culinary scene is the most diverse in Texas.
-South Padre Island: wait, is this Texas or Florida? This thin, narrow island in the Gulf of Mexico offers miles upon miles of beach to enjoy, plus nature trails and wildlife reserves.
-Galveston: this interesting coastal town on the Gulf of Mexico is worth adding to your Texas itinerary for the Pleasure Pier, with a Ferris wheel, carousels and rollercoaster, and the whimsical Moody Mansion, dating back to 1895. Galveston and Houston are about an hour drive for each other, so you if you have a few extra days to spare, why not add them both to your Texas itinerary?
Best Time for a Texas Road Trip
Texas is a huge state, so there's not one single 'best time' to visit everything – it will depend on where you're planning to head to.
We covered the 2 weeks Texas itinerary described in this article between late January/early February, and found it a really great time to visit Texas. Save for a freak storm in Fort Worth, we had sunny and mild weather every day (in the 60s°F), perfect to hike and explore Big Bend, and to wander around cities like Austin and Dallas.
The best time to visit Texas according to locals is spring, when the weather is a touch warmer than what we experienced, and you can see stunning expanses of wildflowers – desert blooms in Big Bend, blue bonnets in the Hill Country, and more.
Just be prepared for crowds during spring break in March, especially in Big Bend National Park.
From June onwards, the weather starts to warm up, making it hard to get out and explore. On top of that, schools across the state are out, and summer also coincides with hurricane season – so be prepared for heavy thunderstorms.
Together with spring, autumn is also a wonderful time for a Texas road trip. The weather is once again warm and sunny, and the crowds have gone.
Texas Road Trip Practical Info
Texas may very well be one of the best US states for a road trip – it's so huge, that traffic is never a problem, except going in and out of cities like Dallas/Fort Worth and Austin.
Having said that, there are a few things to bear in mind!
-Speed Limit: speed limits in Texas are similar to those found in the rest of the US, with the exception that on freeways outside cities you may see speed limits of 80 (or even 85) mph. And even if you stick to the speed limit, locals may still pass you!
-Driving Style: Texans can be quite 'macho' when it comes to driving style, so make sure you're quite assertive when merging and overtaking, as well as when driving in and around cities. Otherwise, do like what we did, and use Uber/public transit to move around busy cities like Dallas and Austin!
-Alcohol: Texas laws are very strict when it comes to DUI, and the blood alcohol content limit is only 0.8. Never drink and drive and if you want to have a beer with dinner, opt for a light beer or wait a while before getting behind the wheel!
-Border Patrol: when driving close to the Texas/Mexico border, you may come across Border Patrol checkpoints. If you're not a US citizen, you'll be asked to present your passport and visa. Make sure you have your passport in the FRONT of the car, not in the trunk – or else you'll have to park and ask the agent permission to get out of the car to retrieve it.
-Fuel: remember I said that Texas is huge? In isolated regions like the surroundings of Big Bend National Park, the fuel supply is limited and there may even be 100 miles or more between one gas station and the next.
Make sure you fill up when you can, or at least ask where the next gas stop will be – you don't want to be left with no gas in the middle of nowhere!