Hello friends, welcome to my biggest travel regret to date. Not climbing Mount Kinabalu. That doesn't mean I didn't have a good time; in fact, I loved it. I just need an excuse to get back!
We really played it day by day, in Borneo. We travelled to the island because we wanted to see wildlife, so the Lower Kinabatangan in Eastern Sabah was our main destination. Climbing Mount Kinabalu also appealed to us, but the €150 or thereabouts required per person were too steep for our very tight budget. It was either wildlife, or the mountain. With tears in our eyes, we chose wildlife.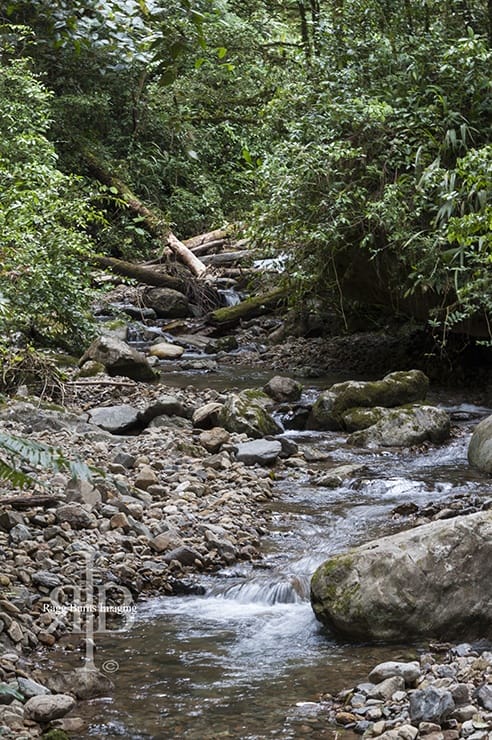 The imposing massif of Mount Kinabalu followed us everywhere we went, during the few days we spent in Kota Kinabalu. Not only the mountain itself, visible across the water; its silhouette was on flags and coat of arms, in souvenir shops and on government buildings. I felt as if it was mocking us, tormenting us for having decided not to climb. So, we decided to pay the mountain a visit. We decided to stay somewhere outside the national park boundaries to save on steep accommodation fees and just hike around the base.
When we arrived and I saw how majestic Mount Kinabalu was, I really, really regretted our decision. I would have done anything to climb. Even from its base, Mount Kinabalu is impressive. It rises more than double in height than its neighbours in the Crocker Range, such a sight that it can be spotted from a plane (so we were told).
It was easy to see how this mountain was considered sacred by the local Dusun people, who named it 'Akinabalu' (the place of the dead), as they believed it to be the place where the souls of the departed gathered.
Hiking around the base was easy, the temperature was around 25 degrees and the humidity rather low. In two days we walked all the trails. We stayed in Travellers Adventure Lodge Kinabalu (TALK), in a cute A-frame bungalow with a great view on the mountain. Seeing the sun rise and set behind it was a spellbinding sight. I could just imagine how it would be from up the top.
There are nine trails around the park headquarters, many of which can be combined to create day-long walks. The trails offer good chance to see birds and other small wildlife, compared to the busy summit trails. We often found ourselves walking alone, and spotted only a handful of hikers throughout the day. Even though the level of difficulty varies from one to another, generally speaking all trails are easy and well-marked enough to be walked without a guide.
Here's a brief overview of the trails around the base of Mount Kinabalu:
Bundu Tuhan View Trail; (465 metres, 30 minutes) this is one of the more accessible trails. It is a good opportunity for visitors with little time to experience the tropical rainforest. On a clear day, it offers a view of a nearby Kadazan Dusun village, Bundu Tuhan. Hikers have option of joining this trail with the Ligawu Trail.
Kiau View Trail. (2344 metres, 60-80 minutes) this trail is fairly long, but mostly flat, save for a couple of uphill climbs right at the stars. There are several viewpoints along the trail, with views of the Crocker Range and the Kadazan Dusun village of Kiau, from where the original trail to the summit begins.
Pandanus Trail; (598 metres, 45 minutes) this trail is short but steep, it can be easily combined with the Kiau View Trail. The forest stretch it crosses is famous for its giant lianas.
Bukit Ular Trail; (997 metres, 60 minutes) rarely used, this trail is often considered unsafe as it is not very well marked in parts. We thought it was fine. The walk can be extended joining the Mempening Trail that leads you back to park headquarters. As it is rarely walked, there are higher chances of seeing birds and wildlife on this trail.
Bukit Tupai and Bukit Burung Trails; (1425 metres, 90 minutes combined) fairly short trails that can be easily combined. Be prepared for lots of ups and downs though, as 'bukit' means 'hill' in Malay. This trail can be combined with the Mempening Trail or Silau Silau trail.
Mempening Trail; (3396 metres, 120 minutes) This is a very easy trail with little climbing, if it's not combined with the two Bukit trails. Mempening means 'oak' in Malay, and sure enough there's plenty of oaks around. Hikers can join the Liwagu Trail or Bundu Tuhan View Trail to extend their walk.
Liwagu Trail (5620 meters; 120-150 minutes) this is the longest trail. Liwagu is the Dusun name of the river that this trail follows. Hikers are sometimes at the same level as the river, sometimes on a narrow ridge overlooking it from above; meaning there's a fair amount of ups and downs.
Silau Silau Trail (3057 metres, 60-80 minutes) One of the easiest trails, with several options to extend or shorten the walk. The vegetation is especially interesting; with lots of mosses, ferns and orchids.
Mountain View Trail; (150 metres, 15 minutes) I'm not even sure this qualifies as a trail. It's a short path to a shelter with a view on Mount Kinabalu. Yes. I definitely need to climb, next time.
This post contains affiliate links, which means that if you book your accommodation through these links I'll receive a small commission at no extra cost to you, which will help me maintain the site!