To celebrate the week of Earth Day, we explore Sepilok, a centre in Malaysian Borneo where orphaned and injured orangutans are rescued and cared for.
My first encounter with an orangutan was a magical one. I was in Singapore Zoo, where free ranging orang utans are kept. It was the hottest time of the day, humid as hell, the sky was grey and thick with clouds. A downpour was on its way. Most visitors had retreated to the zoo's restaurants and cafés, but I didn't want to miss the chance of wandering around on my own. Suddenly, I heard leaves rustle just above my head. I raised my eyes and saw an orangutan, wrapped around a wire between two trees.
He looked at me, I looked back. He had such lovely, inquisitive eyes. The forlorn look of an old man, the curiosity of a little kid. He had a touch of shyness about him. We shared a look for a while, and then I raised my hand and waved at him. He waved back, then disappeared.
Travelling around South East Asia, orangutan news are on every other newspaper. Baby orangs killed by poachers. Orangs rescued from homes in inhumane conditions. I once shivered reading about a young orangutan addicted to alcohol and cigarettes that was kept as a pet by an elderly Indonesian man. I even saw orangutans for sale with my own eyes, in the darkest recesses of Bangkok Chatuchak Market.
Orangutans once inhabited the whole of Borneo. Agnes Keith, in her book Land Below the Wind, talks of orangutans visiting her garden. After the palm oil boom in the Sixties, much of Borneo has been logged to make room for palm oil plantations. About 80 per cent of orangutan habitat has been destroyed; numbers have decreased from several hundred thousand to just over 40 thousand. National Geographic has estimated they may be extinct by 2023.
Sepilok Orangutan Rehabilitation Centre, located 25 kilometers out of Sandakan, opened in 1964. Resident orangutans were orphaned and rescued after their mothers had been killed by poachers. Some were found injured in the forest, others again were rescued from homes where they were kept illegally.
Orangutans are kept at Sepilok until they are healthy and have developed the skills to live independently. The centre sits in the middle of 43 km2 of protected forest; a large enough area for orangs to live comfortably. Many orangutans, especially those who arrived as babies, spend most of their lives around Sepilok, even after they have been released.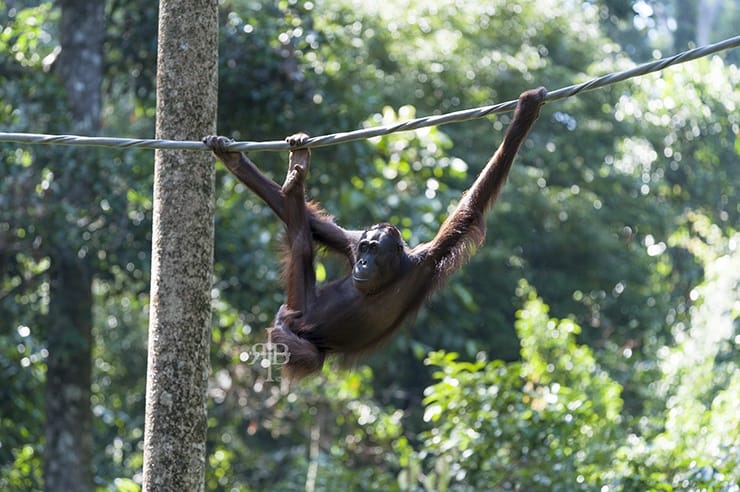 It is not possible to visit the centre where the injured orangs are kept. However, you can see orangutans every day, at 10 and 3 pm, at the feeding platform. At this stage, orangutans are free, so there's no guarantee they will actually turn up. It is very hard not to have a sighting, we were told.
The feeding platform sits at the end of a boardwalk, ten minutes or so from the reception area. We visited in the afternoon; at about 3.30, the platform was packed with dozens of visitors, anxiously scanning the leaves above for a glimpse of orange-brown fur.
After a little while, we heard a 'thump'. The ropes between the trees and the feeding platform wobbled, and the first orangutan appeared. He was an older individual, his fur so dark it looked almost maroon. He moved slowly but carefully, measuring his steps. He stopped in front of a fruit basket, and picked a banana.
The, he started to peel it. The same movements I make every day. Snap the top. Peel, one, two, three strips. Bite.
I knew orang utan is Malay for 'men of the forest'. I knew they share 98 per cent of their genes with us. But it was there, looking at an orangutan eating a banana, that I realised how similar they are to us.
With the realisation, came the anger. I was angry with my fellow men, who day after day fell century-old forest to chase the quick buck of palm oil, driving orangutans into the last remaining patches of forest. Loss of habitat is the first reason for their dwindling numbers; if nothing is done, they may indeed disappear very soon.
Another orangutan appeared shortly afterwards. He was smaller and scruffier-looking, a bit like a teenager. By then, no one said a word. Dozens of eyes scanned their movements, as they ate one fruit after another. Then, just as suddenly as they appeared, they left. I stood in my tracks for a second, trying to take in what I had just witnessed. A moment that is now one of my most precious memories.
Practical Information about Sepilok
Sepilok Orangutan Rehabilitation Centre is located in a forested area 25 kilometers out of Sandakan, in the Malaysian state of Sabah. The centre is open Saturday to Thursday 9am to 12pm and 2pm to 4pm; Friday 9am to 11am and 2pm to 4pm. Feeding times are 10am and 3 pm daily. Tickets costs RM 30 plus RM 10 for camera permit.