Did you know we love discovering unusual places in Italy? From bungee jumping in Biella to adventures on Lake Garda, that's how we spend our weekends. Follow us on an active weekend on two wheels in the Carnic Alps, one of the remotest stretches of the Italian Alps!
'Welcome to the Wild West' said Silvio, as soon as he welcomed us. 'Tomorrow you'll see what I mean'.
Silvio was a man of the mountains, born and bred in this wild borderland. We were in Ovaro, a village in the middle of the Carnic Alps, a region within the north-eastern Italian region of Friuli Venezia Giulia, close to the border with Austria and Slovenia.
First impressions of Carnia
Over a few bottles of wine, Silvio's tales flowed as smoothly as the wind that blew over the mountain peaks all around us. One minute, he was telling us about his adventures on two wheels around Monte Zoncolan, one of the symbols of the area, and location of one of the most demanding stretches of the Giro d'Italia. Then, he told us about World War 1, and then about the wild herbs of the region. The tales spun around one another – we were captivated, and couldn't stop listening. He kept referring to the area as the 'Wild West' – but I had no idea why.
On the way to the area, I fell asleep on the bus that took us from Udine, the provincial capital, to the village of Comeglians where we would be based for the following three days. The last thing I remembered was travelling on the ring road of a fairly typical Italian medium-sized city, with warehouses and small factories all around us.
Then, I woke up in the heart of the mountains. It was blue hour. All around us were meadows, green and shiny in the splendour of spring, villages with twinkling lights and slate roofs clinging to the mountainsides, and towering peaks half-hidden by the fast-advancing clouds. Not a sound, not a single living soul was about.
I had missed the stunning views on the way – cities turning into villages and then just a handful of houses far away on the sides of valleys, surrounded by woods, meadows and nature, the sun slowly setting and painting the scenery golden, then orange, then blue. But I had nothing to fear – Silvio did say we were going to the Wild West the following day.
Biking the Carnic Alps – The Wild West
After a good night's sleep, we left bright and early bound for the tiny hamlet of Forchia Navantes, where we ditched the van and grabbed our bikes, ready to jump into nature. We cycled up and downhill, on tarmac roads, mountain paths and rocky trails, for 40 kilometers. We zipped in and out of forests, with the ground still strewn with fallen foliage, and newborn leaves, pale-green and silky-soft, growing on silvery branches.
Every time we turned around a corner, cleared a forest section or got to the top of a climb, wonderful views were there to greet us. Wide valleys criss-crossed by rivers, mountains dusted with the very last of winter snows and emerald meadows, that made me want to drop my bike and run as fast as my legs would take me.
We crossed a couple of abandoned villages, nothing more than a handful of houses. One of them, Dolacis, was once a thriving mountain settlement – then its inhabitants moved further down to the valleys, one by one, until only one old man was left.
His name was Pietro, nicknamed the 'King of Dolacis', and even when he got old and frail, he refused to move out of his home, until his death. A few years after he passed away, several houses in the village collapsed after severe storms, and now their shells and ruins are all that's left, of a town where once dozens of souls lived, loved, laughed. A tiny chapel with Pietro's name and photograph is all that remains.
We also rode through villages that were still inhabited, albeit by a fast-aging population – and that's where we really appreciated the peculiarities of the Carnic Alps. Barely anyone spoke Italian – Silvio had to interpret the thick Carnic dialect, that sounded incomprehensible to all of us, even to those from Udine.
Goodbye was not the usual 'ciao' or 'arrivederci' but 'mandi', an expression in dialect that means 'may God be with you'. In the village of Vinaio, location of a spectacular canyon, we saw young women mixing concrete and carting wood up the mountainsides – 'do you see that in town?' asked Silvio, smirking.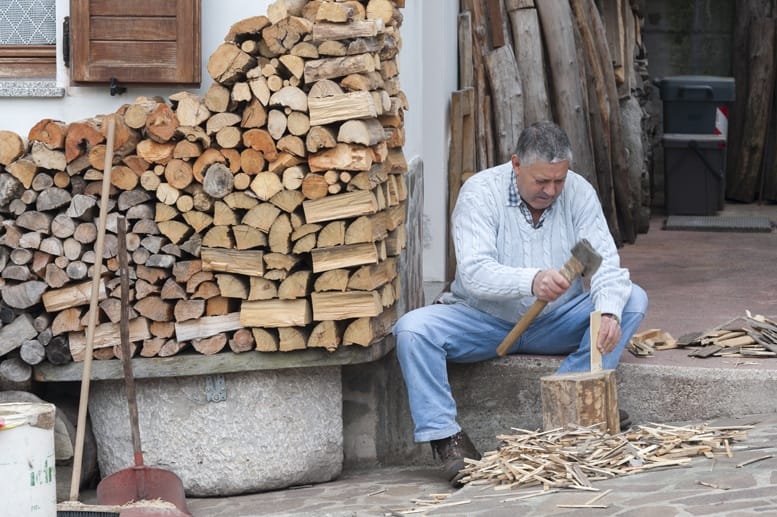 During breaks, between one tale and another, Silvio told us more about the history of Carnia. The feeling of isolation, of being somewhere different not just from the rest of Italy, but from the rest of Friuli as well. The area was actually an independent state, twice. First during the Middle Ages, for 343 years, after being gifted to the Patriarch of Aquileia by the Holy Roman Emperor. Then, during World War II: Carnia was declared a Free Partisan Republic by Resistance fighters, and despite the republic being short-lived (just over 2 months), the fierce, independent spirit of these mountain people is still alive and well.
Carnia, The Wild West. I don't know where Silvio got the nickname from, but it seemed just right. A place where young women mix concrete, where people speak a language that is incomprehensible to most, people that are welcoming and wary of tourists at the same time, and look at you with a wild, penetrating gaze, that feels like that of a mountain bird. The Wild West, one of the few stretches of the Alps whose spirit wasn't destroyed by the development spree of the last century, where Nature is advancing in full force, reclaiming what once were hamlets and villages – as we saw in Dolacis. A land that needs to be enjoyed with caution – because let's not forget that we are nothing but guests.
Practical Information
Biking in the Carnic Alps is not for the faint-hearted. Trails were unmarked and the conditions not always ideal – recent downpours made climbs extremely hard on the legs, and I had to get off more than once to push my bike downhill, as steep descents strewn with rocks and branches made zipping downhill extremely dangerous for a not very experienced mountain biker such as myself. On top of that, due to an organisational blunder, helmets were not provided.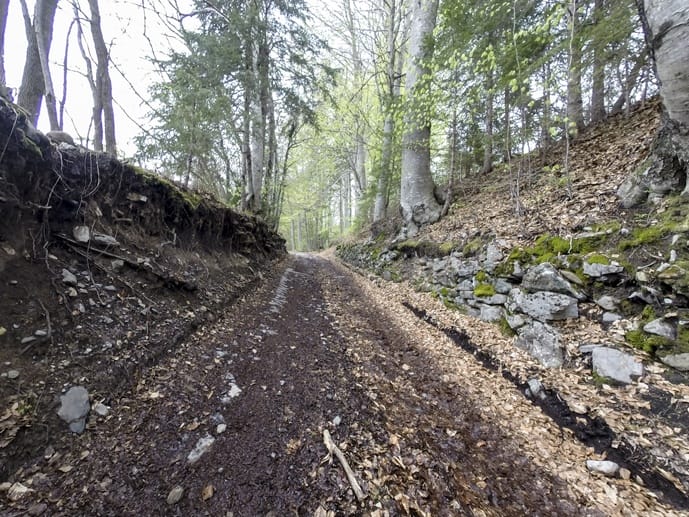 In my experience, having a local guide is mandatory. I have trekked extensively around the Alps relying only on maps and trail markers, but Carnia felt just a little too wild for me to explore independently.
Silvio was an excellent guide and I recommend him wholeheartedly. He speaks good English and German and can be reached through his Facebook page Campeggio Spin – he also owns a campsite, a soon-to-be-opened hostel and the fantastic restaurant Al Blitz. He rents mountain bikes (make sure you remind him to get you a helmet) and can guide you around for the day, but being a sturdy mountain man, what he describes as 'easy' is perhaps not so easy for the rest of us!
Where to sleep in the Carnic Alps
Our base for the weekend was the Albergo Diffuso in Comeglians, one of the villages of the region. The idea of Albergo Diffuso (perhaps translated as 'spread-out hotel'?) was actually born in Comeglians itself, in the aftermath of the 1976 earthquake that hit the region.
Looking for a way to fix period buildings that were damaged by the quake, a local architect suggested turning old farmhouses and barns into hotels, preserving their original elements and character. Instead of building ugly eyesore hotels like elsewhere in the Alps, in Carnia you can stay in old farmer houses with pretty wooden staircases and balconies – a way to preserve historic buildings putting them to good use, preventing the environmental impact of building a huge hotel.
In Comeglians, each building has enough beds for a number of people that ranges between two and twenty – this is the reason of the name 'diffuso', meaning spread out, as these buildings are spread out all over town, with a central reception where you pick up your keys and have breakfast.
Nowadays, the Albergo Diffuso is spread all over Comeglians, with enough beds for hundreds of people. The same concept can be found in several neighbouring villages: in Sutrio rooms are named after flowers, and in Sauris, the gastronomic capital of the region, visitors can stay in beautiful rooms with period furniture. You can also find Alberghi Diffusi elsewhere in Italy, including Sicily.
Other things to do in the Carnic Alps
If you're not a mountain bike fan, you can explore some of Carnia's unique villages. Pesariis is an eerie hamlet that houses the Museum of Clocks, the only remaining heritage of an ancient clockmaking tradition. You can visit the museum or wander around the village, where you'll find monumental clocks around every other corner – from a sundial to an astronomic clock to the odd-looking 'chess clock', the first type of digital clock, invented in the 1930s.
Another village worth visiting is Sutrio, where the streets are decorated with wooden statues. Similarly to Pesariis and clockmaking, Sutrio is dedicated to the tradition of wood sculpting, even hosting a wood carving festival every September. My favourite sight in Sutrio was a monumental nativity, 'Il Presepe di Teno', completely handmade by a local man.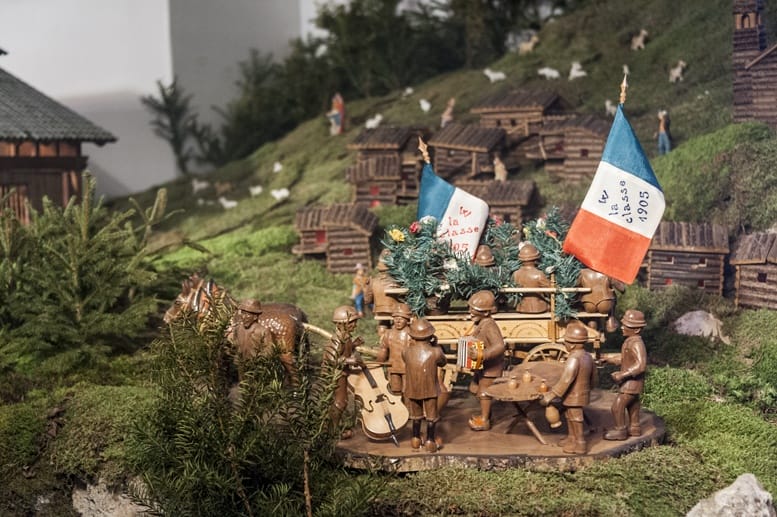 In the Wild West you get to enjoy nature and the independent spirit of the region, while in the villages you can learn about traditions and history, such as the fascinating tale of the cramars, local men that for centuries crossed the mountains on foot, to sell medicines, fabric and other objects in the Austrian empire. Carnia has little cultivable land, and so trading with northern neighbours was a necessity to be carried out in winter, when work on the fields stopped. With wooden cupboards on their backs, the cramars crossed the Alps under the blizzards of winter, the rainstorms of autumn and the floods of spring. The Wild West, indeed.