Planning to visit New York City in winter? It will indeed be cold, but it is actually a really good time to visit NYC, to enjoy the magic of the 'holiday season' and then admire the city covered in snow. Here is what to do in New York City in winter, and how to prepare to the cold!
First things first – New York City in winter is amazing. True, the city is wonderful all year round, but winter time is especially magical. After Thanksgiving, the Christmas lights go up, and the holiday mood takes over. Even the busiest New Yorkers will be in good spirits, with a smile on their face, remembering that – indeed – 'tis the season!'
Come January and February, the Christmas cheer is gone, but New York City looks just magical covered in snow, sparkling under a bright blue sky.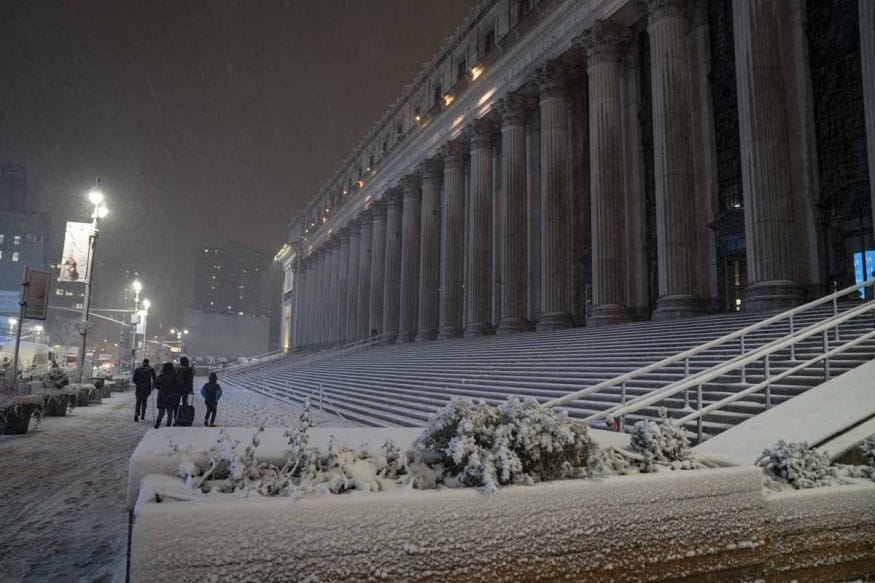 Moreover, winter in New York is the time for unique festivals and events – from Christmas markets to parades, from 'nostalgia trains' to Christmas shows, you won't get bored.
After all, winter or no winter, you are in New York City! Let's have a look at how to get ready for New York City in winter, and what to do when you get there!
For more inspiration, check out our unusual things to do in NYC post – many of these places can also be enjoyed in winter!
Don't forget to arrange travel medical insurance before you leave for your trip! We recommend SafetyWing, especially aimed at long-term travellers and digital nomads. SafetyWing offers medical assistance all over the world, including your own country!
Get your Travel Insurance Quote Here!
New York City in the Winter Months
Winter in New York City includes the months of December, January, and February. However, since weather and seasons are getting more and more unpredictable, the chilly winter weather may start as early as November and continue all the way through to mid (or even late) March.
We've included Thanksgiving events in our list of winter activities in NYC, even though being in late November, Thanksgiving is not technically 'winter' just yet. Speaking from experience, I can tell you that it can be very, very chilly indeed – in 2018, we had a beautiful sunny day, but temperatures reached -10°C.
So, if you're visiting New York City between November and March, be ready for subzero temperatures. How cold? Keep reading to find out!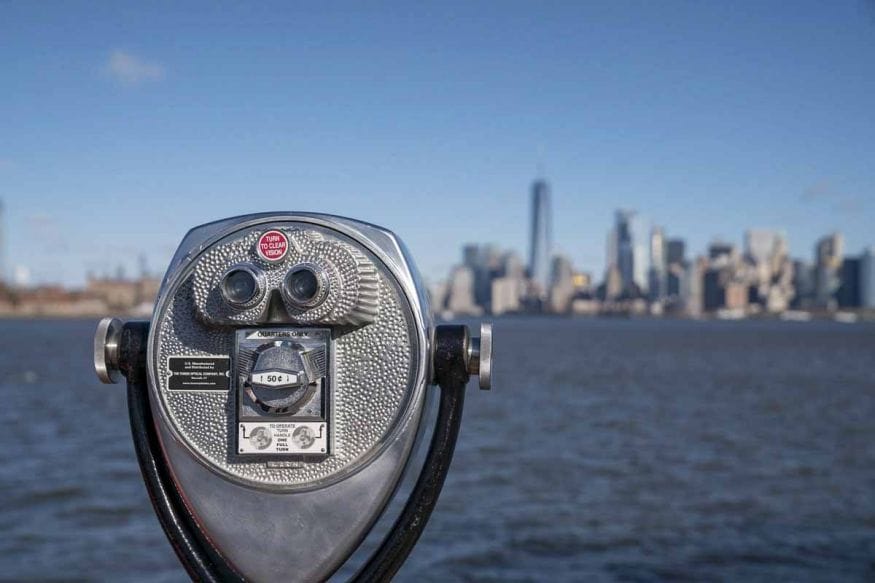 Winter Temperature in New York
The coldest month in New York City is January, with an average daytime high of +3°C, dipping to -3-5°C at night. December and February are slightly warmer, about 5-6°C during the day decreasing to -2°C at night.
Don't forget these are average NYC winter temperatures. Freak storms may occur at any time, and it may be considerably colder with all the wind and snow. Temperatures of -10 or even -15°C are not uncommon, even in November and March!
In terms of weather, you may have beautiful, sunny and crisp days, but the best way to describe winter weather in New York is cold and windy. Rain, sleet and snow are also to be expected, so dress accordingly – I've included more info at the bottom of this post!
Looking for more New York tips? Check our Wowanders diary with New York restaurants, places to see and other tips!
Thanksgiving in New York
1) Macy Thanksgiving Day Parade
This is THE iconic Thanksgiving experience in New York City, and it officially marks the beginning of the winter holiday season in the city! The Macy Thanksgiving Day Parade has taken place yearly since 1924, with floats, balloons and thousands of people marching down the 2.5 mile route – not to mention, many, many spectators.
The best known features of the Macy Thanksgiving Day Parade are the floats and giant balloons depicting pop-culture characters – and when I say GIANT I actually mean it! These balloons are held by up to 90 people!
The parade starts at 77th Street and Central Park West then continues along the edge of Central Park to Columbus Circle, where it turns down into 7th Avenue and continues all the way to the store, on 34th Street. It typically lasts from 9 am to 12 pm.
2) Have a Traditional Thanksgiving Meal
After watching the Macy Thanksgiving Day Parade, there's only one thing to do – going for a traditional Thanksgiving meal, with roasted turkey, stuffing and all the trimmings, followed by a tasty pumpkin pie.
Many restaurants close on Thanksgiving Day, but most of those who stay open offer a Thanksgiving-themed meal, sometimes with live music as well. Here are some cool places!
Celebrate and admire the NYC skyline in style with a Thanksgiving buffet lunch cruise!
Bustan – Middle Eastern-inspired Upper West Side classic, offers Thanksgiving a la carte menu
The Leopard at Des Artistes – just off Central Park West, the Thanksgiving menu here has an Italian vibe and is also a la carte
Hearth – opt for a full Thanksgiving menu for about $98 in this welcoming East Village restaurant
Market Table – another Village option, this time in the West, with a three-course menu for $95
Christmas in New York City
3) Winter Village at Bryant Park
You can find lots of Christmas markets (or holiday markets as they're locally known) in New York, but if you want to visit just one I would definitely go for the Winter Village at Bryant Park, just behind the New York Public Library in the block between Fifth and Sixth Avenues, and 40th and 42nd Streets.
The Winter Village at Bryant Park opens even before Halloween with a collection of holiday shops and some street food purveyors, all set in cute wooden houses surrounding an ice rink, which is totally FREE to use (provided you've got your own skates!)
It's definitely one of the coolest places to get into the Christmas mood in New York City and stock up on some presents for your friends and family… and for yourself!
4) Christmas Lights at Dyker Heights, Brooklyn
If you're after a dazzling Christmas light display, complete with giant blow-up Santa, and Christmas music playing at full blast, leave Manhattan and make your way over to Dyker Heights, in the southern part of Brooklyn.
Dyker Heights is home to the most spectacularly-decorated private houses in the city. The very best displays can be found in the area between 11th to 13th Avenues (also known as Dyker Heights Blvd), and between from 83rd to 86th St. The decorations are put up on the weekend after Thanksgiving, and left all the way to Christmas. Houses are usually lit up between sunset and 9 pm, so plan your visit accordingly!
It's quite a long journey from Manhattan, but it's fairly easy to visit Dyker Heights independently – just take the D Train to 79th St and New Utrecht Ave. The displays are about 15 minutes walk from the subway stop. Don't miss it if you're spending Christmas in New York City!
In case you don't fancy such a long journey on the subway, you can easily visit Dyker Heights on a tour – here are some of our favourites!
5) Rockefeller Center Christmas Tree
The Rockefeller Center Christmas Tree is 'the' quintessential Christmas tree in NYC. Inside the building, just in front of the lift to Top of the Rock, there's a quick video showing how the Christmas tree is individually sourced and picked out each year by a team of specialists before being flown in – it's a spectacular tree for sure!
The Tree Lighting Ceremony at Rockefeller Center is another iconic activity for those spending Christmas in New York. It usually takes place on the Wednesday after Thanksgiving, and the tree remains up until early January. The tree lights are switched off at 9 pm, except for Christmas when they stay on 24 hours.
6) Christmas Lights and Displays
If you can't make it all the way to Dyker Heights, fear not – all the Midtown department stores have stunning Christmas lights displays and windows all through the holiday season, from Thanksgiving to Christmas.
Saks Fifth Avenue is probably the best known, turning its façade into a castle of twinkling lights. Bergdorf Goodman is also worth visiting, and so is Lord & Taylor and naturally Macy's!
Here are also two fun Christmas tours to join!
7) Ride the Nostalgia Train
This is another super fun New York winter activity, I am so upset we missed it during our last visit and really hope we can return soon! As a treat to New Yorkers, the New York Transit Museum organises 'Nostalgia Rides' on the Sundays between Thanksgiving and Christmas, on vintage subway trains dating back between the 1930s and 1970s.
The Nostalgia Train travels along the F line from 2nd Avenue to 125th Street about once every two hours – a schedule can be seen on the New York Transit Museum website. Everything on the subway cars is original, and some people even dress up in period fashion for the occasion.
8) Radio City Christmas Spectacular
You can't visit NYC in winter (or any other season, really) without catching a show, right? If you're around during Christmas time, the Christmas Spectacular Starring the Radio City Rockettes is definitely worth going to.
This show has been a New York Christmas tradition since the 1930s, with 90 minutes of Christmas-themed dances and songs performed by the legendary Rockettes, some of the best dancers and performers in the country.
Don't forget to buy show tickets in advance – you can do so just below!
Winter in New York City – January/February
9) New Year's Eve in Times Square
Every major city has its iconic New Year's Eve celebration, and New York's is the Ball Drop in Times Square.
You can see the famous ball any time during the year, located on the roof at One Time Square – seeing drop right on the stroke of midnight, surrounded by neon lights and cascading confetti, is definitely an experience to remember.
However, don't forget that it's winter, and New York City is COLD. To see the ball drop, you have to reserve your spot in Times Square as early as 2 pm on the day, which means standing for hours in the bitter cold.
The Ball Drop is worth experiencing at least once, but if you can't bear being outside, it's worth booking a dinner with Times Square view!
10) NYC Winter Jazzfest
Early January is also the time for Jazzfest, a music festival attracting jazz musicians from all over the world to NYC. If you're visiting in winter and love jazz, you can't miss it!
The coolest thing about the NYC Winter Jazzfest are the marathons, held at venues around the Greenwich Village and Lower Manhattan. Various artists take turns on stage, playing non stop from 6 pm to midnight or later. Check the official Jazzfest site for info!
11) No Pants Subway Ride
This probably wins the prize for craziest winter event in New York City. The No Pants Subway Ride is exactly what it sounds like – one random day when people ride the subway with no pants.
It all started out with a prank in 2005. Nowadays, No Pants Subway Ride has turned into an event taking place in a dozen cities worldwide, with thousands of participants. The New York ride usually happens in the first half of January, and dates change every year.
12) Chinese New Year in Chinatown
Those visiting New York between late January and mid February should check whether their visits coincide with the Chinese Lunar New Year. Dates change depending on the moon cycle – in 2020, it will fall on Jan 25th and in 2021 on Feb 12th.
In New York, Lunar New Year is celebrated with a huge parade down Mott and Canal Street in Chinatown, including lion and dragon dances, drum concerts and martial arts performances.
After the parade, it's a good idea to warm up with noodles or dumplings – Xi'an Famous Foods in Chinatown is a good choice, or you can head to Chelsea Market for my favouritest bowl of biangbiang noodles in town!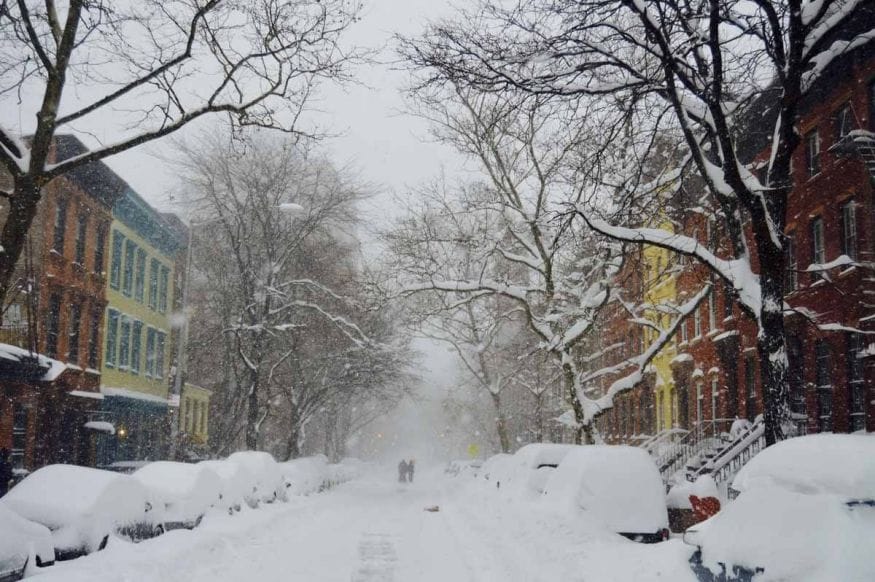 Other New York City Winter Activities
13) Ice Skating Rinks
Another typical New York in winter activity is heading to an ice rink. There are many to choose from all over the city, each of them offering something different.
The Bryant Park one is free if you have skates, while the one by the Rockefeller Center is probably the most scenic of them all, and a true classic. Another well known New York ice rink is the Wollman Rink in the southern part of Central Park, and Pier 17 at South Street Seaport is Manhattan's only rooftop ice rink. What about skating with a view?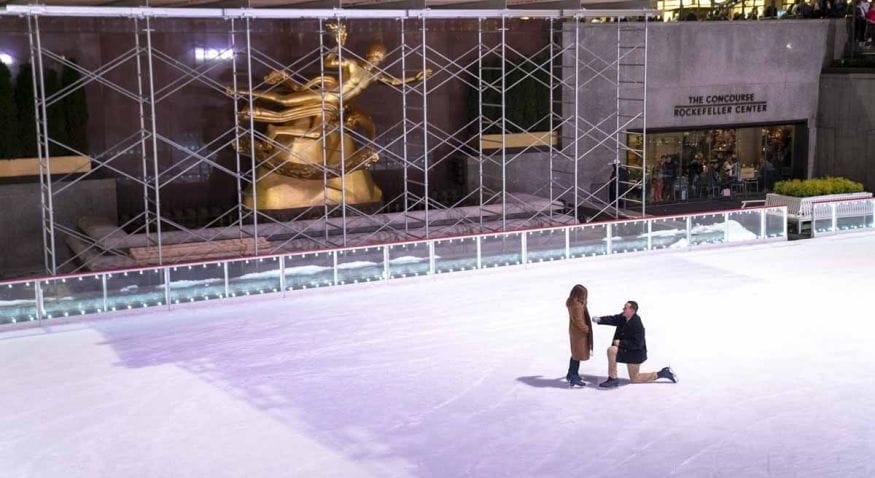 14) Visit a Museum
I think by now we've established that in winter, New York is COLD. It can be so cold, in fact, that being outdoors for the whole day may indeed get uncomfortable. Luckily, New York offers an incredible variety of museums – including some of the best art galleries in the world.
Can you imagine a better way to while away a winter day in New York than visiting a museum? The only issue would be which museum to choose – here we've listed 8 of our favourite museums in New York, including mainstream classics and some offbeat gems. All perfect to spend a day during winter in New York!
-Metropolitan Museum – if you have time to see only one museum during your trip to New York in winter, make sure you choose the Met. Don't miss the temple of Dendur in the Great Hall, the only complete Egyptian temple to be found in a museum.
If you want to dedicate your entire day to museums, remember that your Met ticket also allows you to enter the Met Breuer, dedicated to modern and contemporary art, and the Cloisters at the northern tip of Manhattan, with five reconstructed medieval cloisters.
-Guggenheim Museum – another unmissable stop during your winter trip to New York City! This museum is worth visiting for the daring architecture alone, but the wonderful array of contemporary art makes even more worthwhile.
-MoMA PS1 – the new Long Island City outpost of the super-famous MoMA, with cutting-edge contemporary art.
-Intrepid Sea, Air & Space Museum – perfect for those on a NYC winter break with kids or teenagers! This museum on a pier in Hell's Kitchen has a collection of ships that can be visited, including an aircraft carrier.
-American Museum of Natural History – one of the world's greatest natural history museums and top winter thing to do in NYC with kids. Two tips – don't miss the dinosaur section and the planetarium show!
-Mmuseumm – from mainstream to quirky, don't miss this tiny museum in a Chinatown elevator with rotating exhibitions. As the smallest museum in town, you won't have much respite from the New York winter cold, but it's still worth a visit!
-New York Food Museum – as far as weird goes, this museum probably beats all the competition! It's not a food museum in New York, it's a museum about New York food – think pickles, oysters, and Brooklyn breweries. There's no physical location as the museum organises pop-up events – just check their website to know more.
15) Check out the Views
There's probably no better place than NYC when it comes to city views, and winter is probably the best time of the year to enjoy them – think about those clear winter days after a snowstorm, when everything shines under a blue sky. Plus, winter in New York also means less tourists, so you won't have to share your favourite viewpoints with thousands of others!
Here are 7 of our favourite places to check out amazing views of NYC – in winter especially!
-The Empire State Building – this viewpoint needs no introduction! The Empire State Building is the tallest skyscraper in New York, and its 86th floor observatory is the place to go for incredible views covering the whole of Manhattan.
-Top of the Rock – in my opinion, this is the best place for views in the city, especially if you're in New York in winter and it's all full of snow! This viewpoint on the top of the Rockefeller Center is lower than the one on the Empire, but it means you can get top views of the Empire itself, and of Central Park covered in snow!
-Brooklyn Bridge Park – this is the place to head to for those iconic views of the Manhattan skyline. Walk all the way to the end to get this iconic picture with wooden pier poles sticking out of the water!
-DUMBO – the view made famous by Woody Allen in Manhattan can be found at the corner of Washington and Water Streets in DUMBO, the neighbourhood between the Manhattan and Brooklyn Bridge.
-Roosevelt Island Tram – another top place to get pics of the Upper East Side from an unusual perspective, and it's included in your subway pass!
-Domino Park – if Brooklyn Bridge Park and Brooklyn Heights are too 'mainstream' for you, head to this little-known park in Williamsburg, in the location of the former former Domino Sugar Refinery. Don't miss it if you're in NYC in winter!
-Staten Island Ferry – this is a true classic and the best way to see the Statue of Liberty without taking the pricey Liberty Island tour. Just head to Battery Park on the southern tip of Manhattan to jump on this free 24-hour ferry zipping you all the way to Staten Island, the most offbeat in the 5 boroughs, passing Liberty Island enroute.
Once you get there, either spend the day exploring Staten Island, or head back!
16) Head to a Spa
Is there anything better than a spa day in winter? Well, actually there is – a spa day in New York in winter. Most five-star hotels boast their own spa – like Mandarin Oriental, whose award-winning Asian-inspired spa also welcomes day guests.
There are also many unusual, yet uber-lavish spas all over New York City that are perfect to spend a winter day of total pampering. Haven SPA is probably the most 'New York' of all New York spas, with an exclusive SoHo location, exposed bricks and a la carte treatments including a 'Geek Massage' for those living a laptop lifestyle; while Aire Ancient Baths aims to recreate the feel of an Ancient Roman bathhouse in NYC.
Yet, for a NYC winter spa treat, the best place to head to is The William Vale in Brooklyn, offering sauna and treatments in six glamping tents on its legendary rooftop.
What to Wear in New York City in Winter?
Ok, so NYC in winter is COLD – and that may range from mildly cold, to freezing cold. The question is, what to wear?
During my own trip to New York in winter, I was really NOT prepared, so here are my best tips – please learn from my mistakes and pack accordingly!
Don't think sneakers will be enough – New York in winter is snowy and rainy, and your sneakers will be wet and cold in no time. Opt for comfy, cosy boots like Sorel – New Yorkers swear by them!
Remember to layer up, including thermal base layers if the temperature plummets below 0°C – and more than likely, it will. Make sure you pack a good jacket – a ski jacket will do the trick, or you can opt for any winter jacket or parka. Extra points if it's windproof and waterproof!
Also, very very important – don't forget to pack earmuffs or a beanie, gloves and a scarf. You'll need them!
If you find yourself in need of winter clothes in NYC, head to the REI SoHo flagship store at 303 Lafayette, full of excellent outdoor wear from REI and other top brands, including thermals, jackets, gloves and anything else you may need!