Looking for the best views in New York City? It's not hard – wherever you look, the Big Apple is truly stunning. Here we'll share 20 vantage points, some well known, and some really offbeat – keep reading to find out how to get the best shots of the NYC skyline!
Don't have time to read? Get your One World Observatory tickets here!
New York City is probably our favourite city on the globe. It's the kind of place you fall in love with even before you visit – after all, we've all seen it, in thousands of movies and TV series.
I still remember the feeling of my first visit to NYC in 2005, at the age of 22. My heart skipped a beat when I first exited the subway on Fifth Avenue. 'I'm finally here' I thought, a feeling probably shared by every first-time visitor to NYC.
Over the following years, we visited time and time again. Once we spent two weeks in New York in winter, and another time we went to the city with the sole mission of finding out all the best weird things to do in NYC.
Yet, there's been one constant activity during all our trips to the Big Apple – finding the best views in New York. Trust me, there's so much to choose from – swanky rooftop bars, observation decks on the top of skyscrapers, free views of the NYC skyline from riverside parks and promenades… you name it.
Here we've collected our 20 favourite places for best views in New York. If you know of any other places we've not listed, make sure you send them through!
Best Views in New York – Manhattan
1) One World Observatory (Freedom Tower)
How Much: $38 – Getting There: E train to WTC
Get your One World Observatory tickets here!
We may very well start with the tallest building in NYC, not to mention the tallest in the Western Hemisphere – the Freedom Tower, or One World Observatory, the centrepiece of the new World Trade Center. If this doesn't deserve to be in the list of best views in New York, I don't know what is!
One World Observatory is 504 m/1776 ft tall – 1776, like the year of US independence. It has 104 stories, and the observation deck is located on the 102th, at a height of 1368 ft. Even the elevator to get to the viewpoint is a real experience, zipping you up in just 28 seconds, as you enjoy a time lapse of how NYC's skyline changed over time.
The observation deck is indoors, meaning you won't have to battle with NYC's furious winds! The One World Observatory is located Downtown, so you'll get a great view of the entirety of Manhattan on one side, including the Empire State and Chrysler Buildings.
Also, this is the best NYC skyscraper to get a view of Lady Liberty!
2) Empire State Building
How Much: $42 – Where: 1, 2, 3, A, C, E trains to 34th Street/Penn Station; B, D, F, M, N, Q, R, W trains to 34th Street/Herald Square
Get your Empire State Building tickets here!
Once upon a time, the tallest buildings in NYC were the Twin Towers. Then, you know, 9/11 happened – and Art Deco Empire State Building regained the title, holding it again for over a decade.
Nowadays, the Empire State Building is not just the symbol of New York (city and state), it's also one of the best places to get a view of the city. There are two observation decks – an outdoor one on the 86th floor, and a glassed-in one on the 102nd.
To make matters even better, a ticket to the Empire State Building allows you to access TWICE on the same day, to enjoy the view both during the day and at night.
3) Top of The Rock
How Much: $38 – Getting There: B, D, F, M trains to 47-50 Streets/Rockefeller Center
Get your Top of the Rock tickets here!
So, the Empire State Building is probably the most iconic way to get views of New York City, but in my opinion the views from Top of the Rock are more beautiful!
Top of the Rock is located on the 70th floor of the Rockefeller Center. The observation deck is much lower compared to the previous two places, but the main benefits are that you'll get a great view over the Empire State Building itself, AND you'll get to see Central Park from above.
If you're visiting in winter, make sure you also allow some time for ice skating, as the Rockefeller Center ice rink is the most beautiful in town.
4) Central Park
How Much: FREE – Getting There: from 59th to 110th St, too many subway stops to list them all!
You can also get stunning views of New York from Central Park. There are so many corners to discover, you'll probably need the whole day to check them all out.
If you only have little time to discover Central Park, check out the views from The Pond, the artificial lake close to the corner between Fifth Avenue and 59th street, the southern boundary of the park.
Other scenic spots within the park are Belvedere Castle, Bethesda Fountain and the Great Lawn.
My favourite place for NYC views is the Jacqueline Kennedy Onassis Reservoir, covering most of the park's northern half. Make sure you follow the walking/running path going all around, for scenic views over the Upper East and Upper West Sides!
5) High Line
How Much: FREE – Getting There: 1,2,3, A, C, E trains to 34th Street/Penn Station for the northern entrance, A, C, E, L trains to 14th Street/8th Avenue for the southern entrance
Another fantastic FREE place to get top NYC views! The High Line is a public park built on an disused elevated rail line over Manhattan's West Side.
Total length is 2.33 km (1.4 miles), from Gansevoort Street to the new Hudson Yards development, where you can visit The Vessel and The Edge. The High Line is great if you're afraid of heights, but still want to enjoy 'elevated' views of NYC – you'll only be 9 meters above street level!
There's also a lot to see along the High Line, besides looking at city views. You'll find street art, gardens, some spectacular buildings including one designed by Zaha Hadid, and lots of places to sit down and enjoy the views.
6) The Vessel and The Edge
How Much: FREE for the Vessel – Getting There: 7 train to 34th Street–Hudson Yards
Opened in late 2019, The Vessel and The Edge are probably the newest places to get fantastic views of New York!
The Vessel is an eye-catching structure at the heart of Hudson Yard, a new luxury development located between Penn Station and the Hudson River. It's inspired by Indian step wells, and rises 16 storeys (46 meters) via connected stairways forming a honeycomb-like structure.
Nearby you can also visit The Edge, the highest outdoor observation deck in the city (and the Western Hemisphere!), a triangular platform jutting out of the 100th floor of 30 Hudson Yards skyscraper, 1100 ft above street level.
The Vessel is free to visit, you just need to book a time slot online before your visit. Access to The Edge is $36 – please note both attractions are currently closed. We'll update this page when they open!
7) Times Square
How Much: FREE – Getting There: 1, 2, 3, 7, A, C, E, N, Q, R, W, S trains to Times Square–42 Street/Port Authority Bus Station
Please, New Yorkers, don't hate me! I love Times Square. I know, it's a very touristy thing to say, but I think everyone (especially first time visitors!) should visit this iconic intersection, and see its bustling atmosphere and dazzling lights.
You can get nice pictures of Times Square from pretty much everywhere at street level, but you'll have to fight with thousands of others wanting to do the same!
Otherwise, head to the bleachers atop the TKTS booth, or splash out on a cocktail at the R Lounge in the Renaissance Hotel, the best place to get a view of Times Square!
8) Roosevelt Island Tramway
How Much: FREE with MetroCard – Getting There: N, R, W trains to Lexington Ave/59th Street
This fantastic place for NYC views is a true local secret! The Roosevelt Island Tramway connects Manhattan with Roosevelt Island, which is also a great place to walk around and enjoy views of NYC's skyline.
The Tramway is free with a MetroCard or valid subway ticket. You can access it just outside of Lexington Ave/59th Street station – departures are frequent, and the journey takes about 10 minutes.
Along the way, you'll enjoy scenic views over the Queensboro/59th Street Bridge and Upper East Side. Once you reach Roosevelt Island, make sure you take a walk up to the southern tip. It's a really interesting place, and you'll even see the ruins of a former smallpox hospital.
9) Battery Park
How Much: FREE – Getting There: 1 train to South Ferry Station
This park located on the southern tip of Manhattan is a great place to enjoy views of the lofty Downtown buildings.
The park is 25 acres in size, facing New York Harbour, where you board the free ferry to Staten Island, as well as ferries to Liberty and Ellis Island.
It's a pleasant place to stroll around – you can see Liberty Island without having to pay for a pricey tour, and if you have little ones, they may like the vintage SeaGlass carousel.
A short distance away you can also visit the Elevated Acre, a hanging garden hidden in a nondescript building along Water Street.
10) Met Museum Roof Garden Bar
How Much: Entrance by Donation – Getting There: 6 train to 77th Street, 4, 5, 6 trains to 86th Street
The Metropolitan Museum of Art is one of the best museums in NYC, and probably in the whole world. Period. Regardless of what you like, you'll find something for you – but we are not here to talk about museums!
Guess what? The Met delivers even in the New York views department! The Cantor Roof Garden Bar is probably the nicest rooftop bar in NYC – in my opinion, it's worth heading to even if you are not visiting the museum!
The Rooftop is covered in green grass, with tables and chairs available to sit down. You can just sit and enjoy the views without ordering anything, or opt for a cocktail or lemonade. Either way, don't miss it!
11) Press Lounge
Ink 48 Hotel, 653 11th Ave – Getting There: C, E trains to 50th Street
You could write an entire article about the best rooftop bars in New York City, so here I've decided to include just one – arguably the best one in town!
The Press Lounge is at the Ink48 Hotel, not far from the Hudson River piers in Hell's Kitchen. The rooftop terrace is quite large, accommodating up to 100 guests, and cocktails and nibbles from the menu are always excellent (but a tad on the small side).
Best Views in New York – Brooklyn
12) Brooklyn Bridge
How Much: FREE – Getting There: A, C trains to High Street-Brooklyn Bridge on the Brooklyn side / A, C trains to Brooklyn Bridge–City Hall or R train to Chambers Street station on the Manhattan side
This is one of NYC's main sights, and the most scenic way to travel between Manhattan and Brooklyn.
You can cycle down the bridge, or walk down the pedestrian walkway located in the centre, elevated from the cars. On the Manhattan side, you can get great views of the Downtown skyscrapers framed by the bridge's cables; while on the Brooklyn side, you can see the entire Manhattan skyline.
Make sure you don't miss walking down the Brooklyn Bridge, especially if it's your first time in town. Visit in the early morning to avoid the crowds, or walk all the way to the centre of the bridge, as most people tend to stop near the two ends to take pictures.
13) Brooklyn Heights Promenade
How Much: FREE – Getting There: A, C trains to High Street-Brooklyn Bridge
To be honest, I think the best views of New York City are the ones from Brooklyn. When you're in Manhattan, you're right in the middle of it all, while across the East River is the best way to get the grand 'Manhattan skyline' overview.
There are plenty of nice places to get scenic view of the skyline in Brooklyn, but my favourite is the Brooklyn Heights Promenade, a 550-meter elevated walkway between the Brooklyn Heights neighbourhood and Brooklyn Bridge park just below.
Just sit on one of many benches facing Lower Manhattan as night falls, and get ready to fall in love!
14) DUMBO
How Much: FREE – Getting There: F train to York Street, A, C trains to High Street
This place is only 15 minutes walk away from Brooklyn Heights, meaning you can check out both these wonderful New York views with just one trip!
DUMBO (short for Down Under the Manhattan Bridge Overpass) is an upscale Brooklyn neighbourhood, home to organic eateries, hipster bookstores and cool shops. But really, we are here for THAT VIEW of the Manhattan Bridge, made famous by Woody Allen in Manhattan and by countless Insta stars.
You'll find the view on the corner of Washington and Water Streets. Trust me, it's easy to find, with people queuing up for pictures at all times of the day and night! Top photographer tip – see if you can frame the Empire State Building between the bridge's pillars!
15) Domino Park
How Much: FREE – Getting There: J, M, Z trains to Marcy Avenue
From one of the best known photo spots in NYC, to an offbeat one in Williamsburg! Domino Park is a 6-acre public park on the Williamsburg waterfront, located right opposite the former Domino Sugar Refinery.
You can get views over Manhattan from the park on river level, or walk up the elevated walkway for even better views. All over the park you'll find artefacts salvaged from the factory, making Domino Park a great place to learn about industrial history in Brooklyn.
16) Marsha P. Johnson State Park (East River State Park)
How Much: FREE – Getting There: L train Bedford Ave
Williamsburg is one of our favourite NYC neighbourhoods, and you can't go wrong anywhere along the Williamsburg banks of the East River when it comes to Manhattan views.
I've already told you about Domino Park, but if you want a little bit more space, or if you don't dig the industrial influence, you can also head to the Marsha P. Johnson State Park – formerly known as the East River State Park.
The park is 11 acres in size, including grassy and sandy sections. It is located on the site of a 19th century shipping dock, and you'll find interpretive signs about its historical background.
Best Views in New York – Other Places
17) Staten Island Ferry
How Much: FREE – Getting There: South Ferry Station (1 line)
The Staten Island Ferry is probably NYC's best known local secret, a 24 hour huge orange ferry connecting the little visited borough of Staten Island to Battery Park.
The ferry is free, and on board locals definitely outnumber tourists. Make sure you sit in the open, on the upper deck – as the ferry pulls out of the Battery Park docks, you'll get scenic views over the Downtown Manhattan skyline.
Then, you'll pass Liberty Island, the reason why most tourists opt for a ride on the ferry in the first place. But this is not all – you'll also get a great view of the Verrazzano-Narrows Bridge, connecting Brooklyn with Staten Island.
18) Liberty Island
How Much: $30/40 – Getting There: Ferry from Battery Park
Book your Liberty Island Cruise here!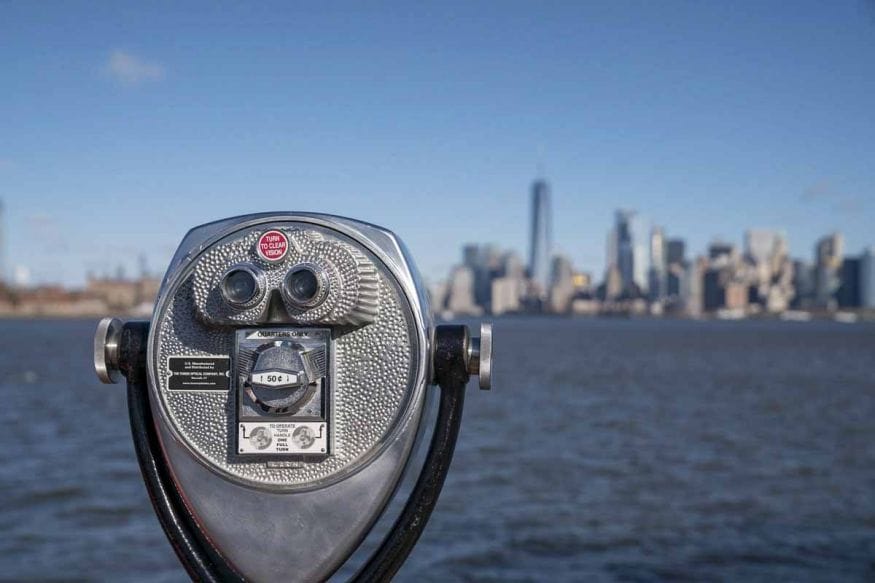 I know, I know, most New Yorkers have not even been to Liberty Island. However, you can't miss seeing the Statue of Liberty, probably the most American of all American icons.
True, you can see the statue from elsewhere in New York for free, with the Staten Island ferry being probably the best option. However, we highly recommend splashing out on a Liberty Island cruise, or booking a ticket to visit the island – possibly with pedestal access, to get really close to Lady Liberty herself.
Normally, tickets to Liberty Island also include passage to Ellis Island and a visit to the Immigration Museum. The Island and museum will remain closed during Phase 4 of the NY State reopening plan, we'll update you when they open again.
19) Liberty State Park (Jersey City)
How Much: FREE – Getting There: PATH to Hoboken Station, Hudson-Bergen Light Rail to Liberty State Park Station
This amazing park is located in Jersey City, right at the mouth of the Hudson River. Jersey City is in New Jersey, but it's so close to NYC it may as well be treated as one of its neighbourhoods, with many people commuting back and forth every day.
The park is really big, and popular with New Yorkers visiting for the day, for a picnic or a stroll along the river front. It's also a great place to see the Statue of Liberty, clearly visible from the riverfront, and you can also hop on cruises to Liberty and Ellis Island from there.
Don't miss the Empty Sky Memorial, dedicated to victims of 9/11. The monument is made of two stainless steel blocks lying on their side, representing the two towers. The empty space in between the blocks aligns to the spot where the towers once stood.
20) Helicopter
Book your NYC helicopter flight here!
Last but not least! I know, it's pricey, but a helicopter flight over the city is probably the ultimate best way to get amazing views of New York City. It's definitely a once in a lifetime experience, one I hope we'll be able to have ourselves, the next time we visit the city!