Looking for the best unusual things to do in New York City? Look no further. After spending two weeks in the city last November, we've come up with this collection of quirky New York activities – if you have any more to add, just let us know!
What's at the top of your New York City wishlist? Visit Central Park? Climb to the top of the Empire State Building? Or maybe you're looking for more unusual things to do in New York City – like visiting Coney Island, or Brooklyn to look for the best brunch in town?
Well, whether you're after regular or quirky things to do in New York City, the Big Apple doesn't disappoint. I remember my first ever trip to NYC in 2005 – it was my first ever trip outside of Europe, the journey that sparked my love for travel and my thirst for exploration.
I spent 10 days visiting New York in Winter and enjoyed every single moment – I'll always remember Times Square, the first place I saw, and how familiar yet incredible it looked at the same time, with all those neon lights and yellow taxis driving back and forth.
In November 2018, I returned to the city, with Nick this time. We spend a whole two weeks touring NYC, checking out not just the main sights, but also some quirky New York City sights and destinations like Roosevelt Island and New York's smallest museum.
According to Samuel Johnson's famous quote, 'When a man is tired of London, he is tired of life.' Well, the same thing can be said about New York. The city offers an incredible variety of unusual things to see and do, that it's impossible to get bored. True, you may want to escape the bustle of Manhattan – but there's a lot more to New York City than just Manhattan!
As I sit here daydreaming about my next trip, here are some of the coolest unusual things in New York City – including Manhattan, Brooklyn, and the other three boroughs!
Don't forget to arrange travel medical insurance before you leave for your trip! We recommend SafetyWing, especially aimed at long-term travellers and digital nomads. SafetyWing offers medical assistance all over the world, including your own country!
Get your Travel Insurance Quote Here!
Unusual Things to do in Manhattan
1) North Central Park
If you are only going to see one place in New York City, make sure it's Central Park. You may be wondering why I'm including Central Park in this list of quirky things to do in New York, since it's a very well known place?
Well, the park is absolutely HUGE. It's 4 km long from the southern boundary at Columbus Circle to the northern edge, and 800 meters wide, measuring 315 hectares in total – the size of over 300 football fields!
Most tourists just stick to the southern end of Central Park, bordering Midtown. Places like Cleopatra's Needle located in front of the Metropolitan Museum and the amazing Bethesda fountain and Terrace are absolutely must-sees – but it can be hard to find your way among tourists and locals, especially if you're visiting on a weekend.
Another cool place to see is Strawberry Fields, the memorial dedicated to John Lennon, located right in front of the Dakota building, where he used to live when he was murdered in 1980.
Continuing north, you'll find the Belvedere Castle, a 19th century Gothic/Romanesque castle located on the park's highest point, and the Reservoir, an artificial lake that was used to provide New Yorkers with drinking water. Don't miss walking around the Reservoir, for wonderful views over the fancy Uptown buildings.
Most tourists only make it as far north as Strawberry Fields and the Reservoir. Very few explore the northern part of Central Park, heading towards Harlem. Yet, this is arguably the most interesting section of the park – don't miss exploring the North Woods, covering the north-western corner, where nature is left to its own devices and there's next to no tourist in sight.
Another interesting section is the Ravine, the section of the park included between Huddlestone Arch and Glen Span, with a stream cascading through the rocks creating five small waterfalls. See if you can find them all – definitely an unusual thing to do in New York!
A good way to explore the park is joining a Central Park rickshaw tour – the three-hour tour is terrific value at $135, covering all of Central Park from top to bottom.
Otherwise, check these other Central Park tours!
2) The High Line
On my recent visit to New York City, the High Line was my first stop. I love finding nature in cities, and I love trains, so what can be better than a park on a former elevated railway line? The High Line was opened in 2009 after New Yorkers opposed the idea of demolishing the abandoned railway line, and turning it into a city park instead.
Nowadays, you can walk the 2.3 km length of the High Line, from 34th street near Penn Station to Gansevoort street, in the Meatpacking district. Naturally, the views over New York City are the main draw, especially at sunset, but there are also some cool examples of street art, and some stunning residential buildings. Don't miss this new, unusual New York attraction!
3) Elevated Acre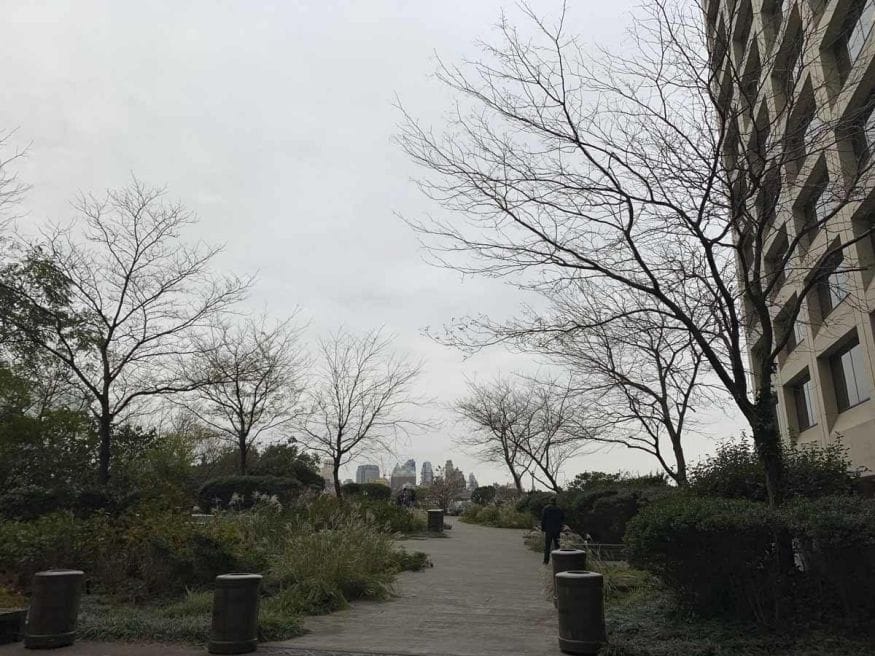 The High Line is amazing indeed, but it has one drawback – it's anything but a hidden gem, and it's often full of locals and tourists. If you want to find a true hidden New York garden, head downtown to 55 Water Street and climb the stairs or escalators heading one storey up – where you'll find the Elevated Acre.
The Elevated Acre actually predates the High Line by about 30 years, having been completed in the 1970s. It's (yes, you guessed it) about an acre in size, and you'll find a lawn surrounded by a seven-tiered amphitheatre, with views onto Brooklyn and the East River.
We visited on a Sunday, when the High Line was chock full of people, and the Elevated Acre was deserted. That's reason enough to include it in your list of unusual things to do in New York!
4) Mmuseumm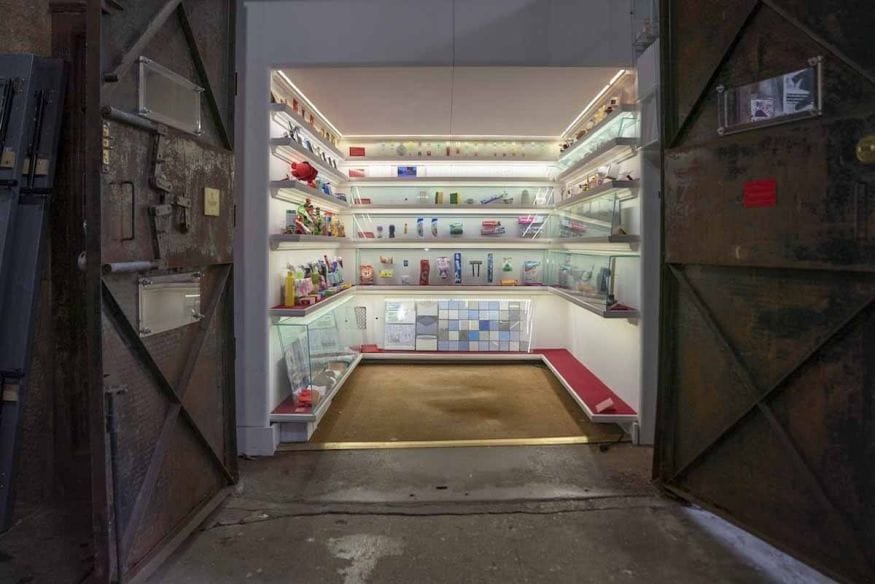 This is definitely at the top of my list of quirky things to do in New York – and it also happens to be FREE! Mmuseumm is a tiny museum in a freight elevator, specialising in the 'overlooked, dismissed, or ignored' – seemingly random objects, curated to reveal stories about the modern world.
Exhibitions are organised on the shelves, with pocket guides detailing the reasoning behind each of them. When we visited, objects on display included counterfeit items from Venezuela, bread clips and border wall prototypes. Definitely include it in your unusual NYC list!
5) Ghostbuster Firehouse
There are thousands of film locations in NYC, but one of the coolest ones to visit (especially for Eighties kids like moi) is definitely the Ghostbuster Firehouse, found in the heart of Tribeca in Downtown Manhattan.
The Ghostbuster headquarters are an early 20th century building, which also happens to be a real life firehouse – Hook and Ladder Company 8, one of the first firefighter groups to reach Ground Zero on 9/11.
For this reason, you can't enter the Ghostbuster Firehouse, but you can stop and take pictures of it from the outside – but make sure you don't get slimed!
If you're into movie locations, check out these tours!
6) Join a Harlem Food Tour
I've always believed that one of the best ways to discover the intricate web of culture and history that makes a city unique is through a food tour – and when it comes to food tours (or even just food in general), New York doesn't disappoint.
Harlem is one of the most culturally vibrant parts of Manhattan, and still one that is largely overlooked by tourists, save for the weekly pilgrimages to gospel churches for Sunday mass.
A Harlem food tour is a great (not to mention delicious) way to discover the area – you'll get to taste some of the soul food specialties that Harlem is famous for, like fried chicken and collard greens, as well as Mexican, Italian and Porto Rican food. The tour also includes visiting a local market, selling street food, textiles and African handicrafts.
Check out this Harlem food experience – or if you'd rather discover other parts of Manhattan, have a look at one of the unusual food tours below!
7) Roosevelt Island (and Tramway!)
I'm a die-hard cat lover, and I'm also crazy about abandoned places – this is why Berlin is one of my favourite cities – so I loved visiting Roosevelt Island, the thin island in the East River between Manhattan and Queens. Not only is there an abandoned smallpox hospital, it is also home to a cat colony that inhabits the ruins of the hospital.
There are plans to open the hospital ruins to the public, but nothing is yet fixed. The ride to Roosevelt Island is also one of the most scenic in New York, thanks to the Roosevelt Island aerial tramway, easy to access with a swipe of your Metro Card! Definitely a budget friendly and quirky place to visit in New York City!
8) Grand Central Terminal
Even though I'm firmly convinced that the most amazing station in the world is Stazione Centrale in my hometown Milan, the Grand Central has to be at least in the top 5 best stations in the world.
I love sitting in the Grand Concourse watching the world go by, and next time I visit I'll make sure I'll stop at the Oyster Bar, the oldest business within Grand Central, dating back to 1913.
9) City Hall Subway Station
From a working station, to an abandoned one. The City Hall subway station was one of the most beautifully decorated in the whole of NYC, with vaulted ceilings and glass tiles and chandeliers. It operated between 1904 and 1945, when it was closed because its platform was too short for modern subway trains.
For decades, it wasn't possible to see the station – until a few years ago, when the New York Transit Museum started running tours. However, you must be a member to attend. Otherwise, your best bet to catch a glimpse of the grand station is staying on the downtown 6 train after the Brooklyn Bridge station.
As the train loops before making its way back uptown, it goes through the abandoned City Hall subway station – and if you visit during one of the days when tours are held, the lights vill be on! Visit the New York Transit Museum website for info.
10) Drink at a NYC Speakeasy
There are lots of Prohibition-inspired bars in New York City, but one of the coolest and most secretive is definitely Please Don't Tell, known locally as PDT – a speakeasy in the back of a hot-dog restaurant, which you enter via a telephone booth.
PDT is strictly reservation-only (unless you're lucky and there are cancellations) and reservations open every day at 3 pm for the same night. You just have to try and call, call, and call again, and it can take up to an hour.
Here's the phone number – +1 212-614-0386. Good luck!
The Best Quirky Manhattan Hotels
You can't go searching for unusual things to do in New York City and then stay at any old Hilton, right? Here are six quirky hotels in Manhattan!
Unusual Things to do in Brooklyn
11) Coney Island
If you've watched the TV show Mr.Robot, you'd understand why I'm including Coney Island in this list of unusual things to do in New York City – I'd love to see those retro video game arcades and amusement rides!
Coney Island is still functioning as an amusement park, roughly from Easter to Halloween – but it's the shadow of what it used to be in the early 20th century, when the crazy 'Dreamland' amusement park was up and running.
We loved visiting Coney Island in November, when the rides were closed and the atmosphere on the boardwalk was of forlorn abandon. There were only a few others save for us and a few Russian elderly men playing cards and soaking up the last of the Autumn sun.
12) Brooklyn Pizza Tour
Another borough, another food tour! One of the things that surprised me the most about New York was how good pizza was – I'm from Italy so I'm allowed to be picky when it comes to pizza, and in NYC I was totally impressed.
Once again, navigating the array of pizza options all through Manhattan and Brooklyn is likely to be a formidable task, that's why joining a pizza tour is a very good idea. We joined the Brooklyn Pizza Tour run by Dani, a fellow blogger with a deep love for Brooklyn and a slight obsession for pizza.
Dani's tour is three hour long, and takes visitors to five different pizza shops offering traditional cheese slices and pizzas with creative toppings, while sharing the story of how pizza became popular in Brooklyn.
13) Best Manhattan Skyline Views from Brooklyn
Brooklyn is also the place to go for top views over the Manhattan skyline. Start from the Williamsburg Bridge, from where you can get top Midtown views, and walk north along the front of the East River until you get to Domino Park, a recently-opened park opposite a former sugar refinery, designed by the same team that created the High Line.
Then, make your way south to DUMBO – you can't miss the iconic view of the Manhattan Bridge from Washington Street, made famous by Woody Allen in Manhattan. For views over downtown, a good bet is the Brooklyn Heights Promenade.
Looking for scenic New York views with no crowds? Check our post about the best views in NYC!
14) Bushwick Street Art
During our pizza tour with Dani we also visited Bushwick, a true up and coming – or shall we say gentrified? – Brooklyn neighbourhood, home to warehouses and depots until a few years ago and now one of the best street art hotspots.
Bushwick became a cool place to be almost single-handedly thanks to the Bushwick Collective, organisers of a street food festival that turned a derelict district into an open-air street art gallery.
You can visit Bushwick street art independently, or join a tour to understand the work of the Bushwick Collective and how it shaped the area. Here are some tours!
15) Brooklyn Breweries
Another amazing unusual way to explore Brooklyn is going on a beer tour. If you decide to do it yourself, make sure you visit the legendary Brooklyn Brewery – its days as a microbrewery may be long gone, but it's still a great place to start to explore the craft beer scene in the borough.
Other microbreweries and craft beer bars we visited (and liked) are Other Half Brewing Company in Carroll Gardens, Kings County Brewing Collective (KCBC) in Bushwick, and Hops Hill in Clinton Hill, plus lots more in Manhattan and Long Island City.
Otherwise, join a Brooklyn beer tour to explore the borough with an insider!
16) Jazz in Bed Stuy
If you want to enjoy jazz in NYC, Harlem and the Greenwich Village seem to be the place to go to – and you'll indeed find lots of New Yorkers, but also many tourists.
To see a kickass jazz show in a super-local bar, we recommend heading to Bedford-Stuyvesant, a Brooklyn district that still retains a kind of local atmosphere – even though gentrification is already happening. Our friend Dani took us to LunÀtico, a tiny bar owned by three musicians with live music every night, including lots of jazz performances.
The Best Quirky Brooklyn Hotels
As NYC's centre of all things hipster, Brooklyn doesn't disappoint when it comes to quirky hotels! Here are four great options:
Unusual Things to do in Queens, The Bronx and Staten Island
17) Long Island City
Long Island City has nothing to do with Long Beach! This neighbourhood is located on the western tip of Queens, facing Midtown Manhattan. I had no idea of what to find in Long Island City (LIC for short), or even where it was, until our recent trip to New York City – but we liked it so much that we decided to include in this list of unusual things to do in New York.
LIC is one of the most culturally and artistically vibrant areas in town, with a sculpture park and two contemporary art centres, as well as being the former home of 5 Pointz, the famous street art hotspot. It is also home to great breweries like Alewife and Transmitter, and to MoMA PS1, an exhibition space curated by the famous Manhattan museum showcasing cutting-edge art from the US and beyond.
Long Island City is also a great option if you're looking for killer views of the Manhattan skyline.
18) Staten Island Ferry
Die-hard New Yorkers have never been to Liberty Island – and given you can enjoy excellent views of the Statue of Liberty without spending a single penny, why would you?
The Staten Island ferry travels 24/7 between Battery Park on the southern tip of Manhattan and Staten Island, one of the five NYC boroughs, passing by Liberty Island en route.
The ferry is mainly used by commuters, and it's also a great and inexpensive way to see the downtown NYC skyline for free, without having to pay for a pricey sightseeing cruise. This definitely deserves to be included in the list of quirky NYC places to see!
19) Hip Hop Tour of The Bronx
Have you watched the Get Down TV series? If you have, or if you're a hip hop connoisseur, you can't miss joining this hip hop tour of the Bronx (and Harlem), with hip hop artists as your guides.
You'll be taken to some of the most iconic hip hop performance venues and guided through the history of hip hop and its significance for New Yorkers. This is right at the top of my list of unusual things to do in New York City for my next visit!
The Best Quirky Hotels in Queens
Queens is the new Brooklyn, so it comes as no surprise that NYC's largest borough is also full of quirky hotels! Check out these unusual accommodation options:
Pin it for later?