We love Penang so much we can't stop writing about it. Why is that? We have already shared our favourites with you in our Five Quick Tips Penang and in our Butterfly Farm photo story. The reason why we love the island so much is one, pure and simple. Food.
As an avid traveller and a massive foodie, I am sometimes asked what is the best food destination in the world. My answer is always Penang. My time on the island was largely spent eating my way around the array of hawker dishes that make Penangite cuisine one of the most famous in Southeast Asia.
In this post, I am going to try to offer an overview of Penang in ten hawker dishes. Ten specialties that represent the soul of the island, its culture and traditions. The colourful, spicy mix of Indian, Chinese and Malay culture that becomes tangible in the fragrant aromas and flavours of hawker dishes. I have chosen ten, and the last one is not actually a dish, but it's my favourite food ever.
Where to eat these dishes? Check this great blog post for info on addresses and some great food pics. Whenever I am in Penang, I only ever eat street food. Hawker culture in Penang rules, with food carts on every street corner specialising in single dishes. My Penangite friend said that even starred restaurants head to the streets to get that special curry mee or char kway teow, which is then passed off at theirs at ten times the price.
There is only one way to start this: char kway teow. It's a typical Penang dish of fried noodles, not dissimilar to a pad thai in look. In taste, it's miles superior. None of that Khao San Road nonsense; char kway teow is a delicious, multilayered dish that reveals itself with every bite. One bite, you get the noodles and the tofu, then cockles, Chinese sausage, the crunchiness of beansprouts. All infused with a delicious salty-spicy sauce.
It is much more than a hawker dish. It is one of the symbols of Chinese culture in Penang. Chinese culture is everywhere you look in Penang; smoke floats from Taoist temples, trade goes on into the old shophouses; many of the languages spoken in this multicultural city are Chinese dialects. 40 per cent of Penang citizens are of Chinese descent. The dish arrived to Penang with Southern Chinese immigrants who worked as labourers, farmers and cockle-pickers. The dish is very high in fat, so it was filling and so easy to throw together that many Chinese began to hawker char kway teow in the evening to supplement their wages.
A salty-spicy char kway teow leaves you in need of something refreshing. You could go for fragrant coconut, a glass of sugarcane juice, or maybe teochew cendol, which is something in between a drink and a dessert. Imagine a mountain of shaved ice sitting atop colorful jelly cubes, sweetcorn and sweet beans, drizzled with palm sugar syrup. Sweet yet refreshing, it's the perfect relief to the heat of Penang.
Teochew Cendol is a typical Nyonya dish. Nyonya culture is unique to the Straits area of Malaysia, born from the marriage of Chinese tradesmen and sailors with Malay women. Nyonya cuisine is famous for its desserts, beautiful colorful morsels infused with coconut and sweet bean flavours.
3. Hokkien Mee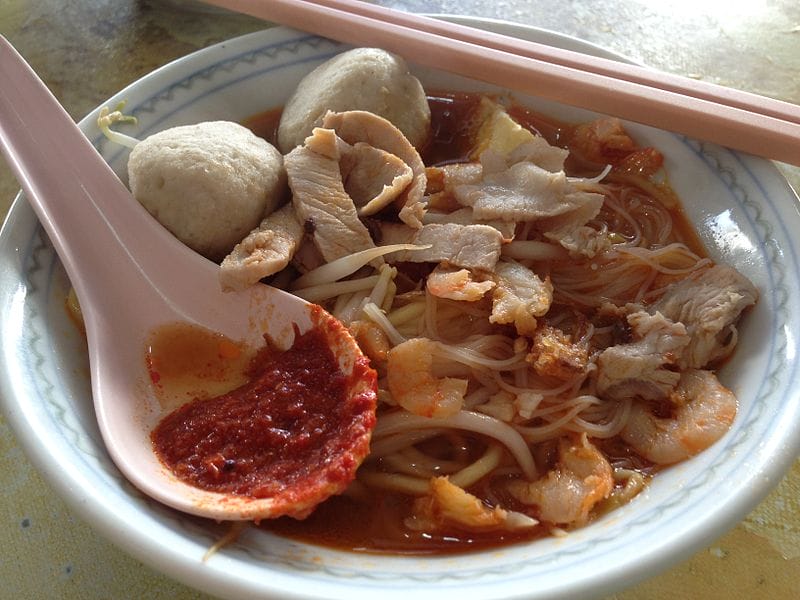 Let's get onto soups. In order to celebrate Chinese heritage, it's essential to talk about soups. Noodle soups are staple food in Chinese culture; I have chosen two delicious soups for this list,  but I could have chosen twenty. The first one is Hokkien mee. To be precise, the same term is used across Malaysia to denote a rather bland dish of stir fried noodles in thick soy sauce. That's not what I'm talking about. I am talking about a huge bowl of steaming prawny stock, enriched with the chilli paste that is almost always served on the spoon (so you have to add it in order to be able to use the spoon to eat). A mixture of yellow noodles and thin rice noodles, prawns, boiled egg and pork falling from the bone.
4. Curry Mee
The second one, curry mee, is another example of a successful marriage between Malaysian and Chinese culinary traditions. Once again, thin white and yellow noodles are mixed together, alongside prawns, tofu, squid and maybe others; all of the above swimming in a curry-coconut soup reminiscent of Malaysian laksa, but much spicier.
There's another ingredient to tantalize courageous souls; congealed pig's blood. After observing the cubic lump of blood sitting on my spoon for about ten minutes, I gave in and swallowed the morsel. Now you would expect me to start talking about how amazing it was, about the depth of flavour and supreme texture. To be honest with you, pig blood tastes of nothing.
5. Roti Canai
How can we forget Malaysian and Tamil heritage? I have chosen two breakfasts, perhaps not unique to Penang itself, but more representative of the whole of Malaysia. One is roti canai, essentially South Indian roti with some curry sauce for dipping. My friend said the price for roti canai is controlled and cannot be more than RM1 per piece; that's pretty much all we ate when we visited Langkawi. Perfect in its simplicity; moist, ghee-infused roti mixing with the deep earthy flavours of curry.
6. Nasi Lemak 
The traditional Malay breakfast couldn't be more different; the flavours of nasi lemak are sweet and spicy. A portion of rice cooked in coconut milk with a side of fiery sambal, a boiled egg, peanuts and crispy anchovies.
We ate nasi lemak several times during our stay in Penang and the rest of Malaysia, wrapped in banana leaves from hawker stalls and from hotel buffets, in bus stations and on the beach, even once on a plane. It never had the same flavour twice. Nasi lemak is one of those dishes that changes from shop to shop, from family to family. The basics are always the same, sweet coconut rice and spicy sambal. Sometimes it came with cucumbers, others with chicken or beef curry.
7. Teh Tarik
All this food, you need to wash it down with a drink. A frothy, milky glass of teh tarik would be my usual choice. Teh tarik translates as 'pulled tea'. What is is? Walking around a Penang hawker centre, you'll definitely notice sellers pouring tea from one jug to another, raising and lowering their hands to create metre-high tea streams. The milky tea is whipped into a delicious frothy drink, silky to the taste.
8. Oyster Omelette
This is the ultimate guilt food. Delicious indeed, but so rich in fat that a couple of bites will leave you stuffed. As a European, I had only ever eaten raw oysters, so when my friend suggested I tried oyster omelette I wasn't convinced. Walking around the hawker centre, he led me to a stalled manned by an elderly lady who was whipping eggs at lightening speed and mixing them with fat, chunky oysters. The oysters were deliciously plump, complementing the crunchy egg perfectly. Trouble is, I spent the rest of the afternoon sleeping.
9. Asam Laksa
Hands up if you haven't tried laksa. The spicy, coconut-milky Malaysian soup needs no introduction, being featured on menus from London to LA. Asam Laksa is another story. The colour is not sunset-orange but red-brown, the flavour is pungent, loaded with tamarind paste. It is lighter and more refreshing than regular laksa, but the tamarind tanginess might be a bit of an acquired taste.
10. Durian
If char kway teow was the only way to begin, durian is the only way to end this exploration of Penang cuisine. Durian is a basketball sized fruit covered in spikes revealing custardy pods wrapped around a seed. Loved or hated, feared or revered, it is a unique Southeast Asian delicacy. It gives a pungent smell, that has been described by non-durian lovers as 'rotten pig spleen', 'fermented septic tank' or simply 'shit'. To a durian lover, the flavour is pure heaven. It is absolutely, hands down, my favourite food on the planet. Durian flesh is creamy and rich, sweet but earthy at the same time.
Penang is heaven for a durian lover like me. Penangites are crazy about it and have developed several durian varieties; from sweet, deep yellow durians to a smaller pale pink variety with a faint bitter aftertaste. Durian sellers are artists in carving out the fleshy pods from the spiky casing. Have a look at the hawker in action in this video!