Would you like to go on a safari? If the answer is yes, you should definitely consider visiting Kenya! Let's have a look at the 5 best places to visit in Kenya for a safari to get your wanderlust going!
Kenya has long been known as one of the best safari destinations in the world. This is not simply due to the multitude of diverse wildlife and environments on offer, it's also because Kenya is easy to get to, is well set up for tourism, and the service on offer is five stars.
But the wildlife is what it is really about in the end. Kenya is home to a variety of landscapes, including savannah, desert lakes, tropical forest, and mountain highlands.
It is travelling through all of these diverse lands, while looking out for animals around every corner, that makes Kenya so special.
Here I will take you through the best places to visit in Kenya for a safari – after many visits to Kenya I managed to come up with 5 national parks and reserves to visit, but I'm sure many more could be added!
1) Amboseli
Amboseli National Park is one of the most famous safari destinations in the world, and it is found in south-central Kenya, near the Tanzanian border.
It is most famous for the incredible views of Mt Kilimanjaro, the largest free-standing mountain in the world. Within the park, there are some diverse habitats to explore, ranging from the savannah, sulphur springs, wetlands, woodlands, and the dried-up bed of Lake Amboseli.
This national park is a great place to visit in Kenya for a safari because of its wide-open plains. There is very little cover for animals to hide behind, which makes it very easy to spot game whilst driving around. The animals you are likely to see include zebra, crocodile, leopard, buffalo, giraffe, lion, cheetah, wild dogs and of course elephants.
Amboseli is home to a huge population of elephants, and some of the biggest bull elephants in Kenya. It is one of the best places in Kenya to visit if you want to get up close to these giants, and that is thanks to its conservation efforts.
In Amboseli, the elephants are used to people thanks to the Amboseli Elephant Research Project. The history of the positive elephant and human interaction means that elephants are not concerned when they see people or a vehicle, as they have learned that there is nothing to fear.
The elephants let you get very close (within reason, of course!) and you can have unforgettable encounters with large family groups, cute babies and huge bulls.
Where to Stay in Amboseli
One of my favourite lodges in Amboseli is Tortilis, a beautiful tented camp with views of Mt Kilimanjaro and is found in a private conservancy connected to Amboseli.
There is a large benefit to staying in this private conservancy, as the game drives will be quiet and without other vehicles. You will truly have the place to yourself, and can easily pop into Amboseli when you need to. The tents are spacious, elegantly decorated with an ensuite, the Italian cuisine is delicious and the hospitality is warm and friendly.
Tortilis also offers a range of safari services including game drives, Masai guided walks and cultural visits to local Masai villages.
2) The Masai Mara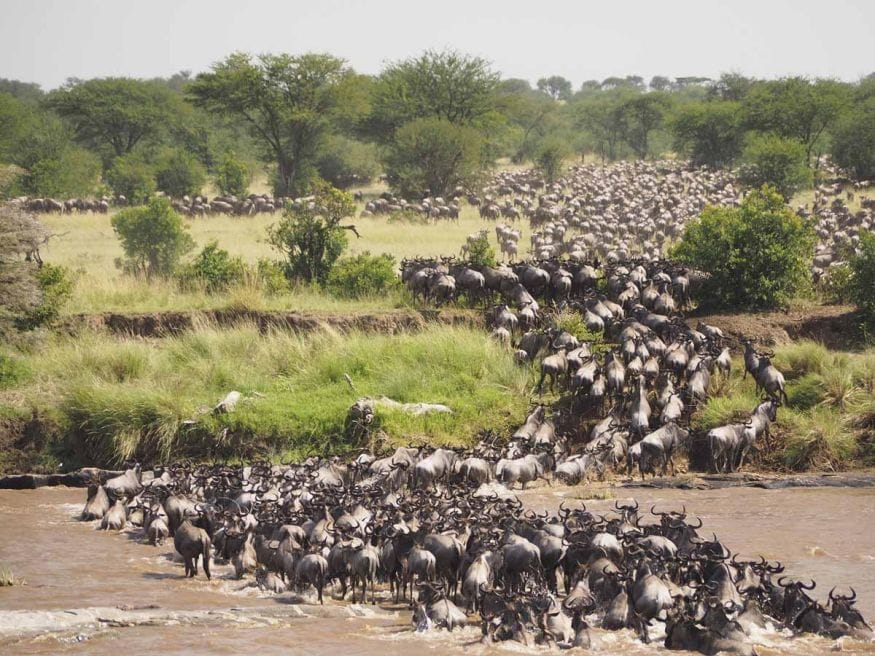 The Masai Mara is definitely one of the best and most famous places to visit in Kenya, and this is thanks to the Great Migration, that happens between late July and early September every year.
Thousands of animals leave the Serengeti National Park and make their way to the Masai Mara. One of the most iconic images of the Mara is the crossing of the Mara River, where the animals have to take a chance to get across without being snapped up by hungry Nile crocodiles or other predators.
The migration, however, is not all that is great about the Masai Mara. It is one of the best parks in the world to see big cats, wild dogs and more. If you are not interested in the migration, then the best time to go is between December and March.
This is when the dry season runs which reduces the foliage, so it is much easier to spot animals as they wander the plains.
Where to Stay in the Masai Mara
Another great thing about the Masai Mara is the accommodation on offer, and I would recommend Rekero Camp.
Rekero Camp is seasonal, and it is only set-up from June to March. It is a traditional tented style camp that sits in the middle of the Masai Mara reserve, overlooking the Talek River. It is a perfect base to explore the park from.
The annual migration passes through the area and it's also close to some resident hippo, giraffe and cheetah, as well as the Big Five, which are never far away. Each of the eight tents overlooks the river, the food is excellent, the service impeccable and the guiding even better.
3) The Lewa Downs
The Lewa Wildlife Conservancy is in central Kenya, just north of the foothills of Mt Kenya. It started off as a cattle ranch, then it was a black rhino sanctuary and today it is a non-profit wildlife conservancy.
Lewa takes conservation seriously, and not only tackles the issues through anti-poaching and protecting the wildlife, but also with education and community collaboration.
Lewa is a stunning park, full of savannah and forest and the views go on forever. It is home to over 150 critically endangered black rhinos, and the world's largest population of the endangered Grevy's zebra.
There are also white rhinos, wild dogs, the Big Five and over 400 species of bird that call the park home. Lewa offers camel safaris, horseback safaris as well as traditional safaris in a 4×4. Definitely deserves to belong in your list of places to visit in Kenya!
Where to Stay in the Lewa Downs
One of the best camps to stay at is Sirikoi, sitting on a private concession in the middle of Lewa.
The camp is set under the shade of acacia trees and overlooks a watering hole created by a mountain spring, offering some of the best wildlife viewing in Kenya. The accommodation is unique and African chic, and hospitality unparalleled, and the activities on offer are run excellently.
You can go on day and night game drives, take a helicopter flight up to Mt Kenya, get involved in the culture, swim in the blue pools of the Ndare Ndare forest, and ride horses across the plains. A trip here is something you will never forget.
4) Lumo Community Wildlife Sanctuary
The Lumo Community Wildlife Sanctuary is found near the coast, just next to Tsavo West. It was put in place as a game corridor to preserve the elephant migration from the Tsavo ecosystem to the Shimba Hills.
It is one of Kenya's lesser-known parks, and is full of rocky savannah, thick brush and views that sometimes stretch to Tanzania and Mt Kilimanjaro.
One of its biggest charms is that it is very quiet, making it a wonderful place to visit in Kenya for a safari. There aren't many tourists around compared to the more famous national parks, so you can have a safari in peace. Lumo truly is a hidden jewel.
It is also convenient to get to and the drive is easy from both Nairobi and Mombasa. In fact, it is the perfect stopover for if you were travelling between the two.
The park is home to zebra, buffalo, impala, gazelle, elephant, eland, waterbuck, reedbuck, giraffe, vervet monkey, lion, cheetah, wild dog, leopard, jackal, and prolific birdlife – so you can be sure you'll see plenty of animals!
You can visit all year round and the best time to visit is from July to October or December to March. One of the secrets is to be there in June. This is not the best time to see animals but you will witness all the wildflowers in bloom, the savannah turns into a multicoloured-almost-Alice-in-Wonderland dimension.
Where to Stay in Lumo
The best place to stay at in Lumo Community Wildlife Sanctuary is undoubtedly Lions Bluff Lodge. It is a short drive from the park entrance, and sits on the top of a huge hill that gives you unparalleled views across the plains to Tanzania and Mt Kilimanjaro.
The lodge is very well put together, with 12 or so tented rooms each with its own verandah overlooking the view. They offer game drives, bush breakfasts and guided walks with park rangers where you learn about the edible foods of the savannah, how to track animals and get quite close to the safer ones.
5) Tsavo East
Tsavo East is one of the largest and oldest national parks, and a truly great place to visit in Kenya for a safari.
To make things even better, Tsavo is very close to the coast. Just a few hours drive from the beach and you'll be at the park gate, perfect if you planning on getting some sun before or after your safari.
Tsavo East's habitats mainly consist of grasslands, savannah, the Galana River and the red soil of Tsavo. The soil is a deep burnt red colour, and is quite famous due to the elephants dusting themselves off with it, turning themselves red. Have you ever seen a red elephant?
The park itself is huge and easy to get lost in, in a good way, you can feel alone while on your safari, as if you were actually exploring untrodden ground.
It is known as one of the world's biodiversity strongholds and it most popular thanks to the huge amounts of the diverse game on offer including lion, hippo, crocodile, black rhino, buffalo, elephant, leopard, and a lot more.
Where to Stay in Tsavo East
Satao Camp is inside the park, it is unfenced, and has its own private watering hole.
The camp is is beautifully put together – each of the tents has an ensuite bathroom, and overlooks the watering hole, so you can enjoy some armchair game viewing. Imagine enjoying lunch under a tamarind tree with antelope strolling past and elephants bathing in the watering hole in the distance!
Satao camp truly puts you close to the life of Tsavo while providing incredible accommodation, hospitality, safari activities, and guiding.
Best Time to Visit Kenya for a Safari
The best time for a safari in Kenya is the dry season, between June and October. Within these months, the time to visit if you want to see the Great Migration between the Masai Mara and the Serengeti in Tanzania is between late July and early September – the downside is that it does get busy.
If you want to avoid the crowds, visiting Kenya in the low season also has its benefits – prices drop, the scenery turns green, and it's the best time to see migratory birds and newborn animals. The rainiest months are March and April, so avoid those if you can!
For more safari inspiration, take a look at our posts about Overlanding in Namibia, and visiting Etosha National Park!
This guest post was written by Mike Jensen. Mike is addicted to both adventure and travel, so decided to combine the two to form TheAdventourist. There he shares his journey from one adrenaline rush to another, always exploring new places as he goes. You can also find him sharing his travels on Facebook.