Visiting Etosha National Park was definitely the highlight of our time in Namibia, and one of the best wildlife experiences we've ever had. You know how much we love wildlife photography –  so we decided to tell you the story of our Etosha safari through pictures!
Now I can reveal the truth. Up until our visit to Etosha National Park, our wildlife encounters in Southern Africa had been somewhat disappointing. That may have been due to our (somewhat unrealistic) belief that the African savannah is some kind of real-life Nat Geo documentary, and that we would have been surrounded with wildlife the moment we set foot into any national park/nature reserve. Or maybe we were just unlucky, and just had many 'slow' days, when wildlife retreats into the thick of the bush and you're just left driving, and looking, and driving, and looking…
True, we did have some amazing wildlife sightings prior to Etosha – wild dogs chasing warthogs, and a very quick leopard sighting during our week-long safari in the Greater Kruger Region. We also visited the largest rhino sanctuary in South Africa, which was an amazing and inspiring experience.
Yet, one specific animal seemed to elude us – lions. We saw no lions during our entire time in South Africa – which is really weird. We spent an entire day following lion tracks in a private nature reserve, and another day driving around Kruger National Park looking for lions. By the time we got to Etosha National Park, we started thinking we'd been hit with a kind of curse and we'd never see a lion.
Etosha is one of Namibia's most famous points of interest, alongside the red dunes of Sossusvlei, the Fish River Canyon and Swakopmund. All sights were part of the amazing overland Namibia safari we joined together with 10 other adventurous souls. We travelled with Wild Dog Safaris and opted for the 23-day African Odyssey, also venturing into nearby Botswana and visiting Victoria Falls, but for those that have less time the 14-day Namibian Experience is a great introduction to the country.
What to see in Etosha National Park
In any case, Etosha cannot be missed – and we recommend dedicating at least two or three days to it. The total surface of the park is 22,000 square kilometres – about the same size as Israel – and speed limit on the national park roads ranges between 20 and 60 km/h. Not that you'd be going faster anyway, because half the time you'll be hanging out the window taking pictures of animals.
Etosha is famous for two reasons. The first and foremost is wildlife. Four out of the Big 5 live in the park – there are no buffaloes, as it's too dry, but there's a healthy chance to see rhinos. The second reason is the Etosha Pan, a massive salt pan taking up a quarter of the surface of the park – it's so large that it can be seen from space. The name 'Etosha' actually refers to the pan – in Ovambo language, it means 'Great White Place'. The pan is completely devoid of vegetation, and the rest of the park only has sparse bushes and trees, making wildlife-spotting much easier compared to Kruger, for example.
Etosha National Park has very little water – as a result, animals tend to congregate around waterholes, especially in the driest winter months. Some waterholes are busier than others, and you'll see most of the action early in the morning and after sunset – but I guess that's always the case with wildlife.
We spent three days/two nights in Etosha National Park, camping both nights. We entered the national park from the eastern side, and spent the first night at Namutoni Camp. The first day we drove along the eastern edge of the Etosha Pan, and had some great sightings including sleeping lions (FINALLY!) and two black rhinos.
The second day we drove west along the southern edge of the pan, heading towards Okaukuejo Camp, stopping at Halali Camp and the Etosha Pan lookout. We highly recommend spending at night (or even two, if you can) at Okaukuejo. The reason is simple – the Okaukuejo waterhole is simply spectacular, and you can have watch animals come and go while sitting on a comfortable bench and enjoying your sundowner.
We got to Okaukuejo just before sunset, and as soon as we sat by the waterhole we saw an elephant coming out of the bush to drink, with the setting sun behind him. At night, the Okaukuejo waterhole is floodlit – you can just keep sitting and watching wildlife all night long. We saw zebras, giraffes, impalas, a herd of about 40 elephants – and then we spotted 7 black rhinos (including a baby) and a brown hyena. Sadly, we missed lions – they got to the waterhole just after we went to sleep.
Etosha Camping & Overlanding
We loved camping in Etosha National Park – it's the most affordable way to stay in the national park, and the campsites were all excellent, not too crowded and with facilities in good condition. You can eat at the restaurant or cook for yourself, and all the campsites we saw even had a swimming pool to relax in the afternoon, when wildlife activity is slow.
If camping is not your thing, there are also chalets and double rooms available – we highly recommend splurging on the Waterhole Chalets at Okaukuejo. They are located right next to the Okaukuejo Waterhole, perfect to check out wildlife from the comfort of your own verandah.
Overlanding is a great way to explore Etosha. Our vehicle was perfect for game driving – it had large windows and a pop-up roof. On top of that, our guide knew the park well and was able to communicate with rangers to get last-minute info on animal activity. Prior to Etosha, we visited Addo and Kruger in regular rental cars – the overland truck was a lot more comfortable and convenient to spot animals and take pictures.
We loved our time around Etosha National Park. Before we show you what we saw, here are some quick practical tips to help you have the best time ever (and see as much as possible) when you visit Etosha. 
Visit Etosha National Park – Practical Tips
Getting to the Park – it's about 540 km from Windhoek to Von Lindequist Gate (close to Namutoni Camp), and about 510 km from Swakopmund to Anderson's Gate (not far from Okaukuejo)
Namutoni and Okaukuejo Camp are about 140 km away – driving slowly between the two camps looking for animals is a wonderful way to spend a day in Etosha.
You are only allowed to drive around the park between sunrise and sunset – times change weekly, refer to the official Etosha site for more info.
You are not allowed to leave your vehicle at any time while in the park, with the exception of authorised rest stops. No, you can's sneak off for a quick wee in the bush, not even for a minute.
There are toilets and rest stops not just at the camps, but also in other locations throughout the park.
Every camp has a bar and restaurant, as well as a small grocery store where you can buy essentials.
Stock up with water and snacks, especially if you're planning to drive around for the whole day.
If you're serious about wildlife photography, make sure you have a camera with a good zoom (even if it's just a point and shoot).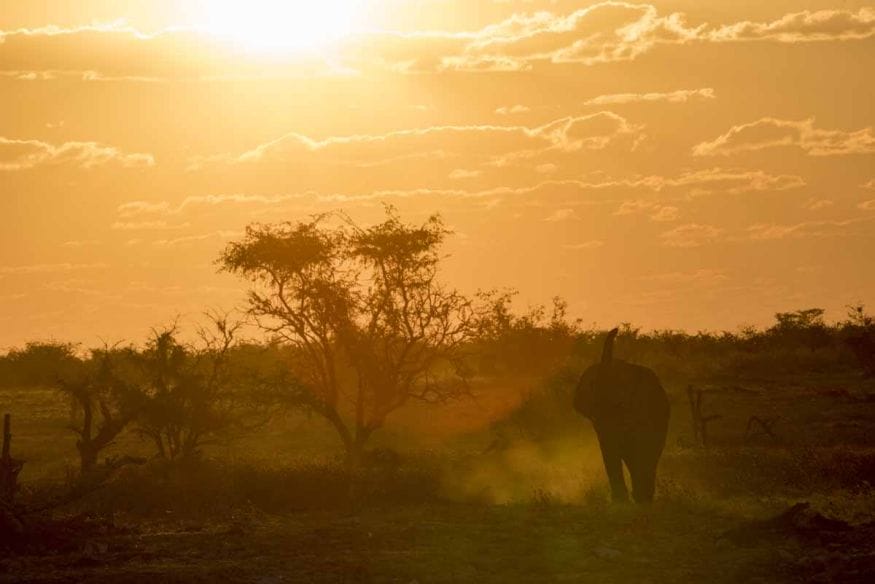 Many thanks to Wild Dog Safaris for welcoming us on their African Odyssey tour.
Pin it for later?