Are you planning an overland Namibia safari? For our 10th wedding anniversary last June we decided to do exactly that, and spent over three weeks on an overland safari in Namibia and Botswana, ending in Victoria Falls.
Namibia holidays have something to offer for everyone – here's why you should choose a Namibia safari for your next adventure in Southern Africa!
Before deciding on our Namibia holiday, I knew next to nothing about the country. I knew it was located right next to South Africa, and it was home to amazing desert landscapes, and to the spectacular Etosha National Park. That's it.
I assumed Namibia would be similar to South Africa, and the logistics of a South Africa road trip could also applied to Namibia, when in fact this is definitely not the case – planning a Namibia safari is a completely different story.
Namibia is a vast country, and it's second only to Mongolia when it comes to countries with low population density. Distances are vast, and roads are often in questionable state. So, what to do? Opt for a road trip and just wing it, or choose something different?
This is when we found out about Wild Dog Safaris, a company organising small-group overland safaris in Namibia,Botswana and Victoria Falls. In case you've never heard of 'overlanding', it's a form of travel that usually involves purpose-built trucks to cover long-distances in a self-reliant manner, taking all necessary equipment to camp and prepare meals on the road.
Want to explore a different safari destination? Check our post on places to visit in Kenya for a safari!
Overlanding in Namibia – What is This all About?
Overlanding is a very popular backpacker activity – we had an overlanding experience in South America ourselves, during our early travel days, and loved it. There were over 25 of us, a mixed crowd ranging in age from 18 to 50, and we spent two months making or way from Ecuador to Chile, enjoying unforgettable experiences along the way – and a fair amount of drinking.
This time we were after something different. Travelling in a large group, you often find yourself stuck in a 'bubble' – you end up eating, sleeping and living the day with the same people, and interactions with locals or other travellers become difficult. Not to mention that we're really not interested in drinking and partying every night anymore.
For this reason, Wild Dog seemed to be the ideal solution for the overland Namibia safari we were looking for. Group size is capped to 15, and the average age is considerably higher than on other overland trips. The emphasis of the tour is on nature, adventure and cultural experiences, not partying – even though no-one will berate you for enjoying a glass of wine under the stars at the campsite, after a long day on the road.
We loved our overland Namibia holiday with Wild Dog, and we are very glad that we chose to travel overland rather than planning our own road trip. On top of that, Namibia is the ideal destination for this kind of journey – here we've collected our top 19 reasons to choose an overland Namibia safari for your next holiday, complete with some amazing pictures from all over Namibia!
Overland Namibia Safari – Why It's Such a Good Idea!
1) Hassle-Free Planning
Planning a trip to Namibia is not that simple. As I said, the country is sparsely populated, and there are vast distances between Namibia points of interest – roads are very often unpaved, and driving at night is best avoided, therefore you need to plan your route carefully.
On top of that, wild camping is not advised, and campsites tend to fill up in high season. If you opt for an overland Namibia safari rather than self-driving, all the hassle of planning is taken care of. I'm not much of a planner – I often forget stuff, or book for the wrong week or month – and as much as I love travelling independently, I also enjoyed not having to worry about logistics for three weeks!
2) Fantastic Views
Landscapes are Namibia's #1 asset. Nature in Namibia is truly spectacular, and not a day goes by without seeing amazing views – from the red dunes of Sossusvlei, to the coastal desert near Swakopmund, the Etosha salt pans, the rock koppies of Damaraland, the hills of the Kalahari… and may more. While overlanding around Namibia, you'll be surrounded by stunning landscapes pretty much at any time – and no, these views don't get old!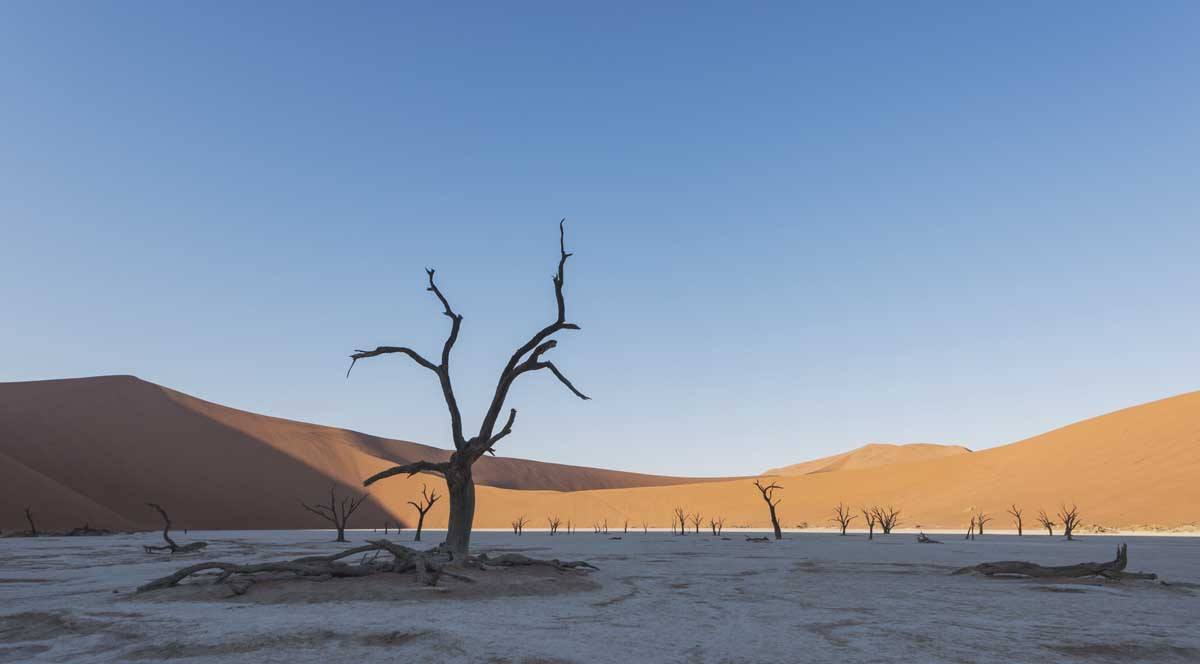 3) No Need to Stress About Roads
I heard horrible things about driving around Namibia – a friend of ours who visited the country a few years ago punctured 7 tires in a two-week period! Most of Namibia's roads are unpaved, and many can only be covered with a 4×4 – which can be very expensive to hire in high season. Talking to fellow travellers we also learnt that the state of roads changes constantly according to the weather and road upkeep – some roads might be marked as fine for all vehicles on paper, but poor maintenance means this, in fact, is not the case.
If you opt for an overland Namibia holiday, you don't need to worry about roads. Drivers are very familiar with the roads of Namibia, from top to bottom, and they cover the same itineraries frequently, getting up-to-date information at all times.
4) The Journey Becomes the Destination
This is what I liked most about overlanding Namibia. Normally, travelling means getting from A to B – A and B are the points of interest, and what's in between doesn't matter. On an overland Namibia safari, the journey becomes the destination. True, you may find yourself in a vehicle for the best part of the day – not every day, of course – but does it really matter, when mountain and desert landscapes unfold outside of your truck window?
We spent the best part of our overland safari staring wide-eyed in excitement outside our window, and fighting the urge to ask for the 30th photo stop of the day – or else, we would never reach our destination!
5) Local Guides
When we travelled South America overland 8 years ago, we were lucky to have a guide that spoke fluent Spanish and knew South America well. Sadly, this is not always the case. Many overland trucks we crossed paths with over the years seemed to be guided by twenty-something Westerners, with little or no knowledge of local language and culture.
Wild Dog groups are led by a guide/driver, who has the task of driving the vehicle and coordinating logistics, and an assistant, who takes care of cleaning and meal preparation. Both guide and assistant are locals, speaking excellent English as well as Afrikaans and many local languages. We always felt in very good hands with local guides, who also gave us an insight into local culture and were always happy to answer questions.
6) Get Lost in the Desert
If you're a desert lover, there's no better place for you than Namibia. Most of the country is covered in desert – the Namib desert runs all along the coast, from north to south, and the Kalahari desert covers the eastern part of the country, as well as most of Southern Botswana and some of the Northern Cape.
The two deserts appear completely different – the Namib is stark and primal, with soaring sand dunes seemingly devoid of life. I say 'seemingly', because if you look closely you'll see beetles, spiders, animal tracks criss-crossing the canvas of the earth. In contrast, the Kalahari supports vegetation – thorny acacia trees, grasses and bushes, and it's easy to see wildlife like springboks, oryxes (Namibia's national animal!), ostrich and more.
7) Visit Locals
Our overland Namibia safari included a visit to a Himba village, a night in a Khoisan community lodge in nearby Botswana and a village visit near Kwando, in the Caprivi strip. Now, I'm not saying that a half-day visit was a deep cultural immersion, but we appreciated the fact that all visits were led by a community member in addition to our local guides, and it never felt as if we were intruding in people's lives.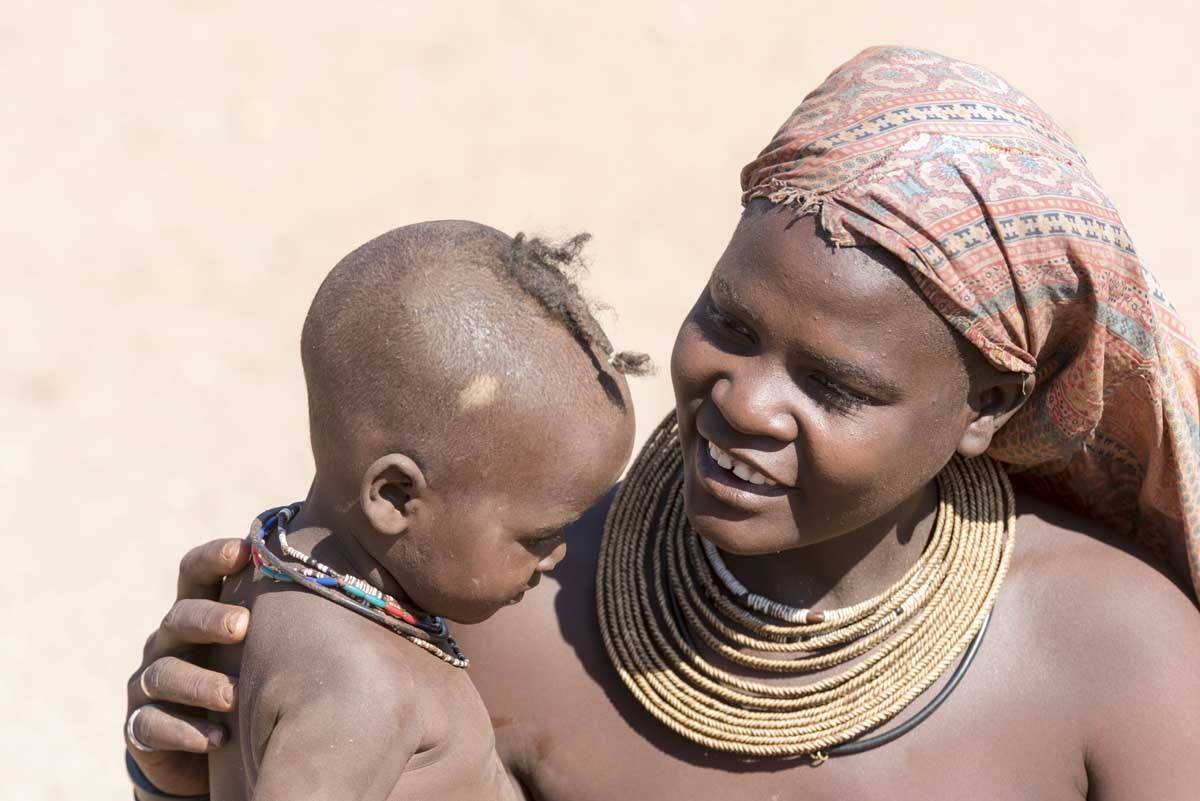 8) Perfect to Visit National Parks
In Namibia, you can't visit national parks where wildlife is found – like Etosha, for example – on foot. Walking around is strictly prohibited, for obvious safety reasons. Our overland truck was the ideal vehicle for game drives – it was large and comfortable, with large windows and even a sunroof that could be popped open, making wildlife-viewing possible for everyone.
Before that, we had been game driving in Addo, South Africa, with a regular car – needless to say, we didn't see half as much as we did in Etosha, firstly because our vehicle wasn't ideal, and secondly because we had no idea of what we were doing and just spent the day driving around randomly. On the other hand, our Namibia guide knew all the best places to spot animals in Etosha, and we had some wonderful encounters, like the fierce lioness below.
9) Enjoy Wonderful Campsites…
When we announced people that we would be camping pretty much for three weeks straight, with the exception of a few nights in hotels when we got to cities, our friends and family thought we were crazy.
Can you even shower? And what about if you need to go to the toilet during the night – a lion might eat you? I could go on… but you get the gist. Well, let me tell you – unless you have very deep pockets, camping in Namibia is the way to go. Staying in lodges is very expensive, making camping a very popular option, which explains why campsites fill up quickly and often need to be pre-booked.
However, campsites in Namibia are excellent. You always have toilets and showers, and hot water is available 9 times out of 10. There are often swimming pools, as well as laundry facilities, and wonderful views are always included free of charge. Our favourite campsite in Namibia was Okaukuejo inside Etosha National Park, adjacent to a spectacular waterhole where we saw elephants, rhinos, zebras and even a black hyena.
10) …and Comfy Tents!
Now, I won't lie and say that sleeping in a tent is as comfortable as sleeping in your own bed, but the tents we used during our Namibia safari were excellent – you could even stand up inside, and they could be put up or taken apart in five minutes flat.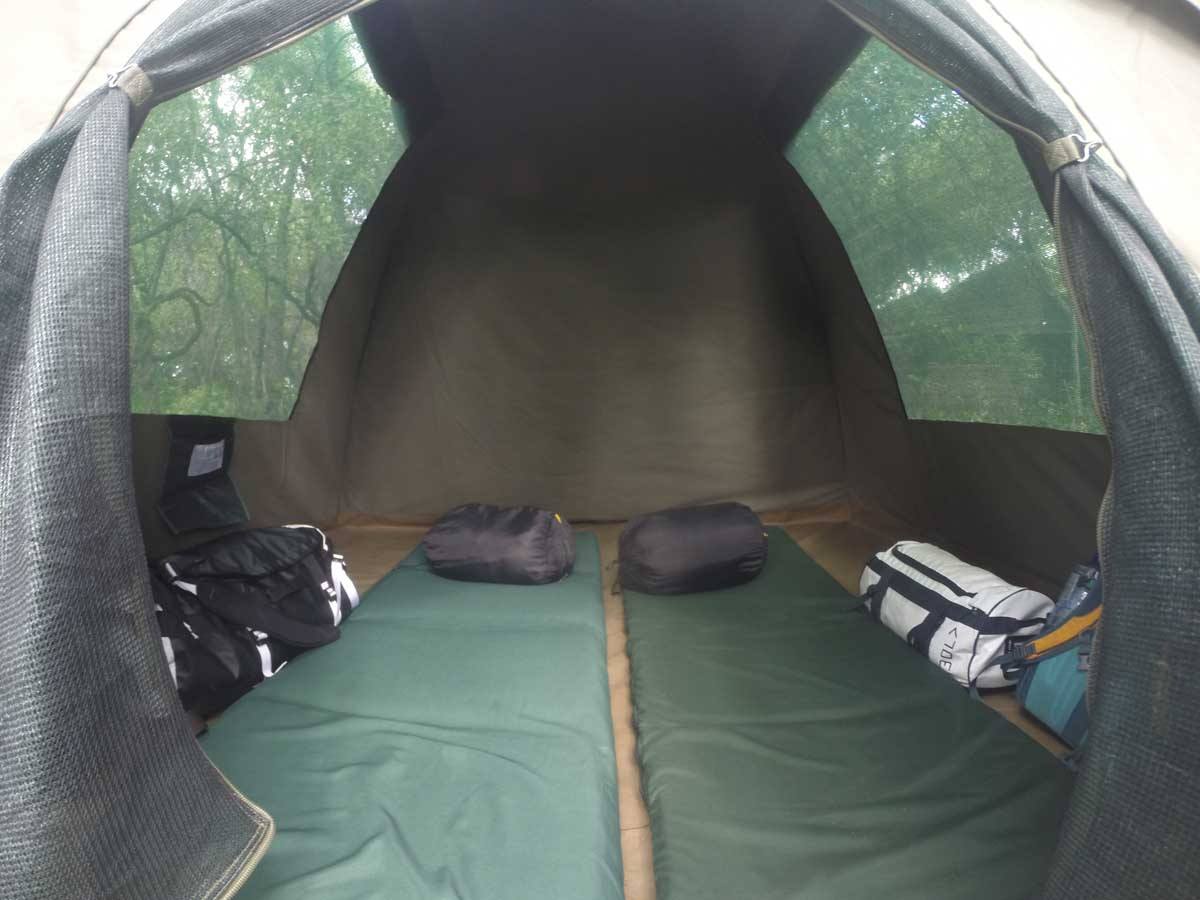 Besides tents, Wild Dog also provided thick foam mattresses – none of that thin, blow up stuff! We also rented some sleeping bags from them as we hadn't taken our own, and they were wonderful quality.
11) Sundowners!
If you've already been to Africa, you'll be very familiar with the concept of sundowners – basically, a fancy name for drinks to be enjoyed while watching the sunset, making those wonderful African sunsets so much better!
While camping around Namibia, we had plenty of opportunities to enjoy sundowners – even passable wine in a tin cup tastes delicious, when you're surrounded by beauty.
12) Sitting around the Campfire
Just like sundowners, sitting around the campfire never got old. Our camp assistant made a fire each night – sometimes to cook, sometimes to warm ourselves up (we camped around Namibia in winter, and it DID get cold!), sometimes to do both.
Watching the night fall while sitting around a fire, swapping jokes and stories under the Milky Way, before falling asleep surrounded by the sounds of nature… I'm already longing for another Namibia safari!
13) Getting up Early is Easy
If you know me, you'll know I hate mornings – and Nick does too. There needs to be a very good reason to get us out of bed before 9 am (or even 10!)
Well, while overlanding around Namibia we saw the sunrise almost every day. Remember we travelled during the Namibian winter, and by 6 pm it was already pitch-black. That means dinner around 6.30, in bed around 8, asleep by 9.30 or so. At 6 am, we were awake and rested – and up in time to enjoy the best part of the day!
14) Travel off the Beaten Track
Travelling around Namibia overland allowed us not only to check out the big-name Namibia sights, like Etosha, Sossusvlei and Kolmanskop Ghost Town, but also some lesser-known places. We drove across the Caprivi strip on the way to Botswana, and visited Mahango, one of Namibia's least-visited game parks, home to the sabre antelope and many other animals. We also stopped in Garub, near Aus, to spot wild horses, the descendants of German cavalry horses escaped during World War I.
Another place we loved visiting was the evocatively-named Solitaire, a desert town with a great bakery and lots of abandoned classic cars, making for great photo opportunities.
15) The Perfect Digital Detox
Mobile connectivity in Namibia is spotty, to say the least. If, like us, you make a living by working online and you're planning to travel and camp around Namibia, I'll strongly recommend making alternative arrangements and letting your clients know you might be unavailable. Remember, what locals define as 'good connectivity' may be enough for phone calls or WhatsApp, but not enough to send files or edit Google Docs.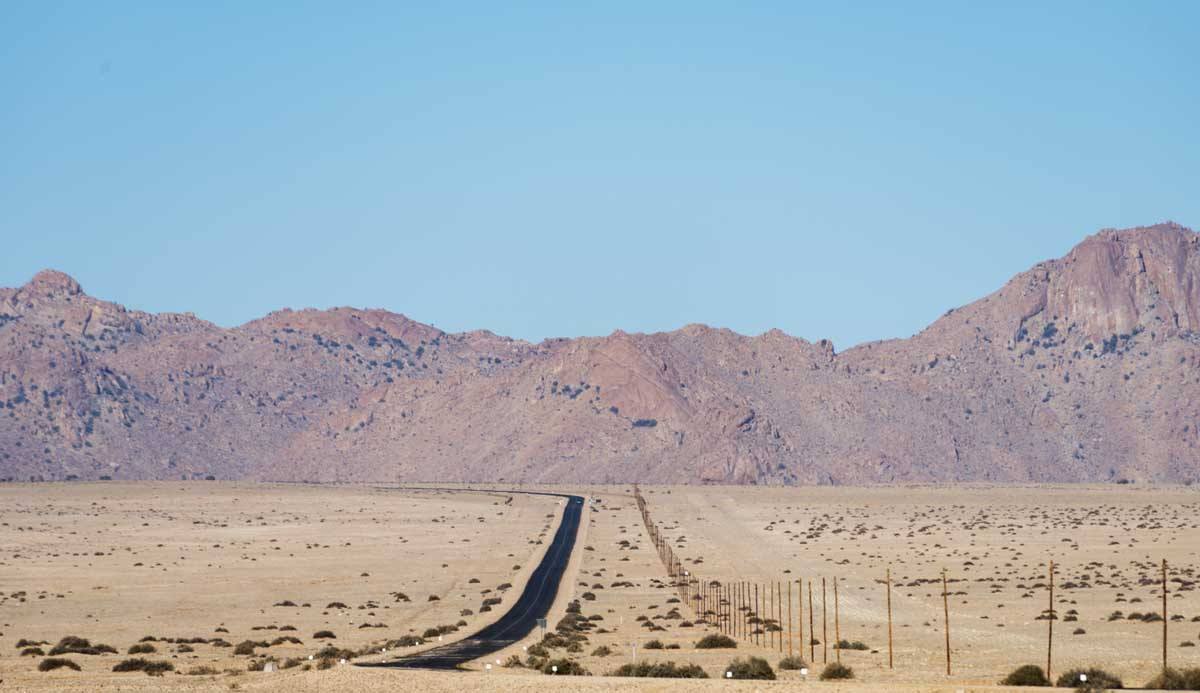 What does that mean? A Namibia holiday is the perfect digital detox. After a couple of days, we stopped worrying about getting online every chance we could, and enjoyed savouring every moment of our Namibian adventure – something we hadn't done for a long time.
16) A Budget-Friendly Option
A Namibia overland safari is also a fairly affordable option to travel the country. If you were to calculate how much it cost to rent a vehicle, camping equipment, pay for campsites, meals and fuel, the price will definitely exceed what you'd pay with Wild Dog. Not to mention, you'd miss out on the knowledge of local guides, and having your meals prepared every single day.
17) Epic Adventures
If you love adventure activities, then Namibia is the place for you. You can go on game drives in Etosha and many other parks and game reserves, visit Kolmanskop, a ghost city in the desert, hike the Fish River Canyon, take scenic flights over the Namib desert, go skydiving near Swakopmund, go on quad rides in the desert, go sandboarding… you name it.
Not to mention, Botswana is just next door, with incredible sights like the Okavango Delta, Chobe National Park and more. Check out our Botswana one week itinerary, also with Wild Dog!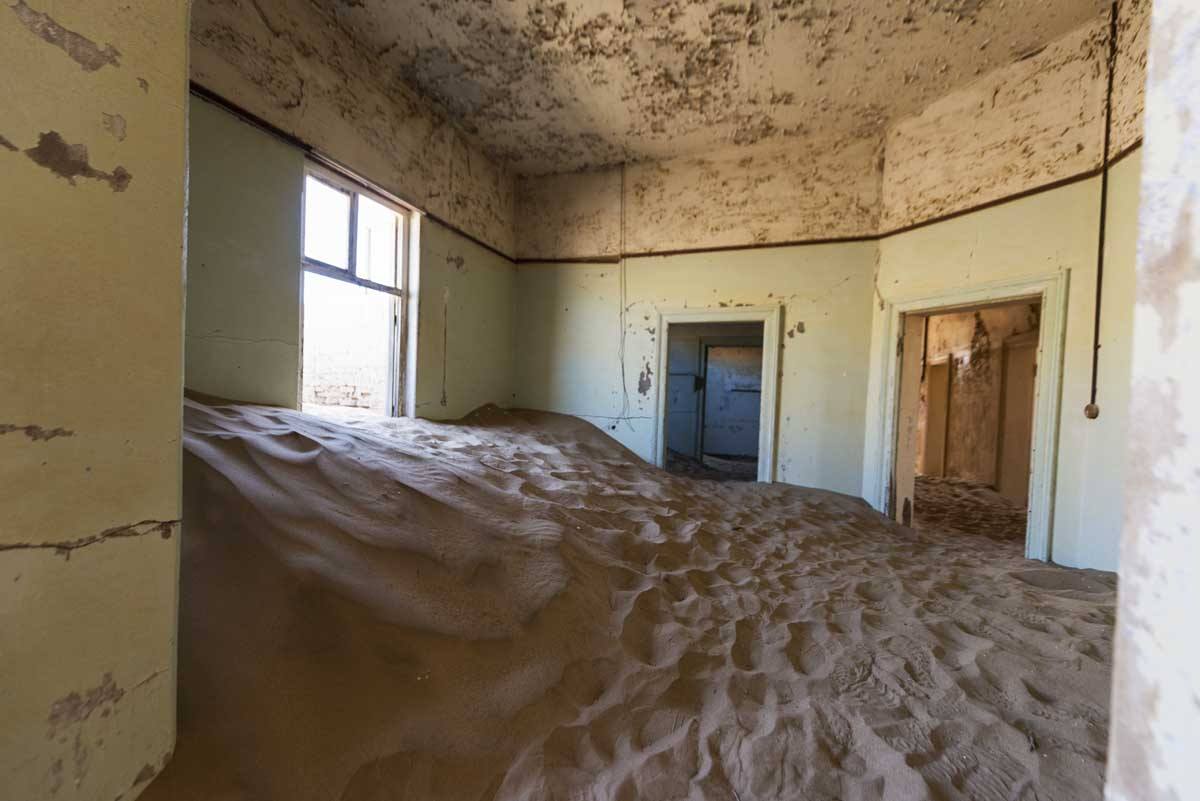 Namibia is definitely one of the best destinations in Africa when it comes to adventure – besides Namibia, Victoria Falls is another hotspot, as is the Plettenberg/Tsitsikamma area in South Africa – make sure you include these places in your itinerary!
18) Make Friends
An overland Namibia safari attracts a certain kind of people – especially if you choose a small group expedition like those that Wild Dog organises. Our companions on the truck were all seasoned travellers, mostly in their 30s or 40s, lovers of nature and adventure. The group clicked from day 1, and we are still in touch with several of them – hopefully, this is just the beginning of many beautiful friendships.
19) Namibia – The Ideal Overland Safari Destination
To be honest, I can't think of a better destination for overlanding than Namibia. It's the kind of place that lends itself to travelling slowly, camping and being surrounded by nature. If you're a die-hard independent traveller, don't forget that Namibia can be expensive and hard to explore independently – by joining an overland expedition, you'll be able to switch off and just enjoy the destination. After all, isn't it what travel is supposed to be about?
Many thanks to Wild Dog Safaris for welcoming us on their African Odyssey tour.
Pin it for later?