Have you ever heard of Piacenza? It's the northernmost town in Emilia Romagna, only 45 minutes by train from Milan. We visited it for the first time last month and it was a great surprise – here are 7 reasons to visit Piacenza!
One of the things I love most about long-distance hiking is that it allows us to visit places we normally wouldn't get to. Let's take the Via degli Abati that we hiked last year, for example. Some of our best memories along the trail include not just hiking through the woods and summiting mountain passes, but also exploring some of the best small towns in Emilia Romagna, like Bobbio and Bardi.
Would we have visited these towns, had we not hiked through them? Probably not. Another example of a town we discovered thank to a hike is Piacenza, the departure point of our adventure along the Via Francigena in Emilia Romagna.
Piacenza is the northernmost town in the region, and it's only 45 minutes by train from Milan. My parents have even lived there for a few years in the late Seventies, and told me great things about the place – yet, for some reason, visiting Piacenza never really occurred to us.
After spending 2 days in Piacenza last month, we both agree that the town was a really pleasant surprise, really worth visiting as a day trip from Milan, while hiking the Via Francigena, and/or as part of a longer tour around Emilia Romagna.
The town is compact, and easy to discover on foot or by bike – it's right in the middle of the Po Valley, so it's super flat. Food and wine are incredible (this is Emilia Romagna, after all), and you'll find some local dishes that are near impossible to find anywhere else.
If you want to explore more, you can also combine your Piacenza visit with a short trip to Cremona, just half an hour away, or head south to Fidenza and Salsomaggiore Terme for some relax and more good food.
Here we've collected 7 reasons to visit Piacenza – this cool little town is definitely worth a short detour if you're in the area!
1) Visit Palazzo Farnese and Its Museums
As you leave the Piacenza train station behind and head into the centre, you'll notice a huge, unique building, looking halfway between a castle and a military fortress – it's Palazzo Farnese, once home to the rulers of the city, and now housing an eclectic collection of museums.
What is now Palazzo Farnese was first built as a military fortress in the late 14th century by the Visconti, lords of Milan, whose possessions also included Piacenza. A century later, Piacenza passed to the Farnese family, becoming an autonomous duchy.
The ruling family needed a place to stay, and fortress was the only suitable place – therefore, they undertook an ambitious project to extend it and turn it into a noble residence. The extension was never completed, and to this day only three out of four walls exist.
Nowadays, Palazzo Farnese houses several civic museums, set up in the former ducal quarters. To visit all the museums you'll need several days, so if you have just a few hours or half a day to spare, I will recommend my two personal highlights – the Carriage Museum in the basement, with a collection of carriages of all sorts, shapes and sizes, and the 'Fasti Farnesiani', a pictorial cycle to celebrate the noble family.
2) See an 'Etruscan Liver'
There's also one more reason to visit Piacenza located inside Palazzo Farnese – the Fegato Etrusco (Etruscan Liver), definitely one of the coolest exhibits we've ever seen!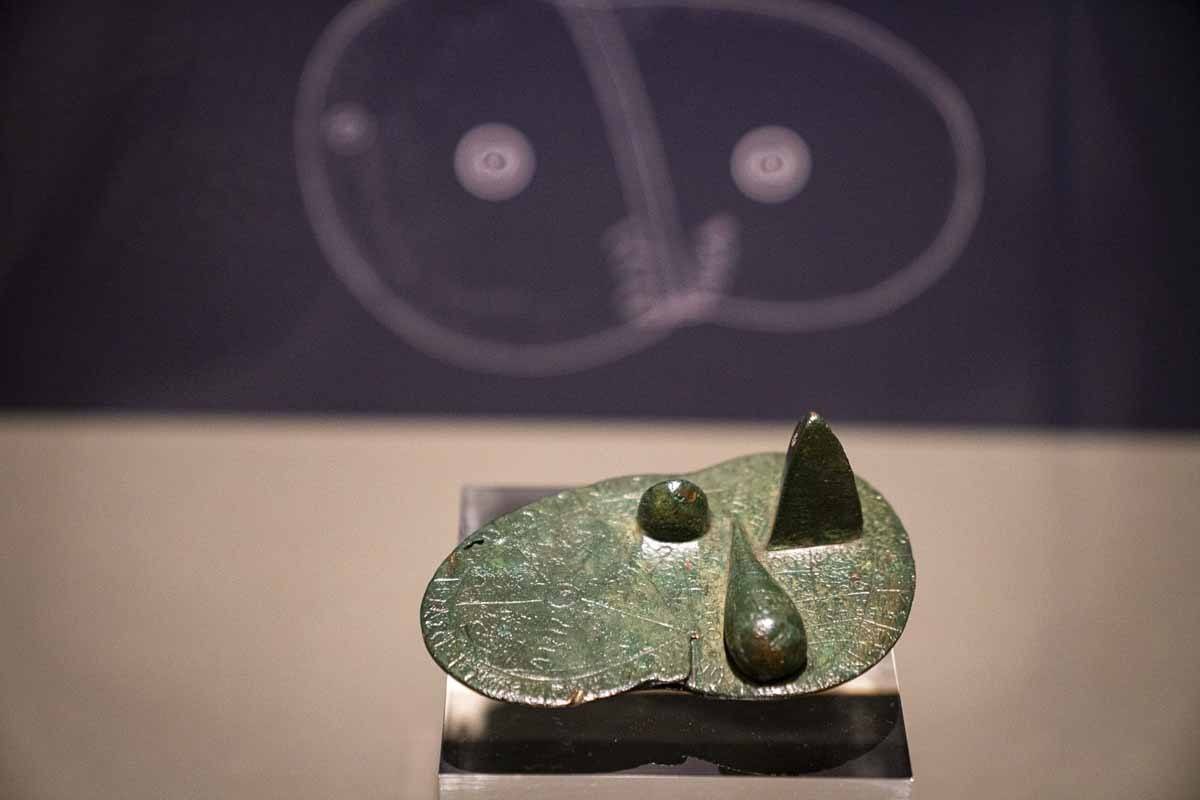 In case you've never heard of it, the Etruscan civilisation in Italy predates Roman times. Not much is known about the Etruscans, since their language has only been partially deciphered. The main exhibit of the archaeological museum in Palazzo Farnese is a bronze model of a sheep liver, divided into 38 compartments, each containing the name of an Etruscan god.
It is not known for sure what the object was used for. Some scholars argue it was simply an anatomic model, whereas according to others it was aimed at aruspices, priests who used animal innards to predict the future – a typically Etruscan custom that was later absorbed into Roman culture.
3) Tour '100 Churches'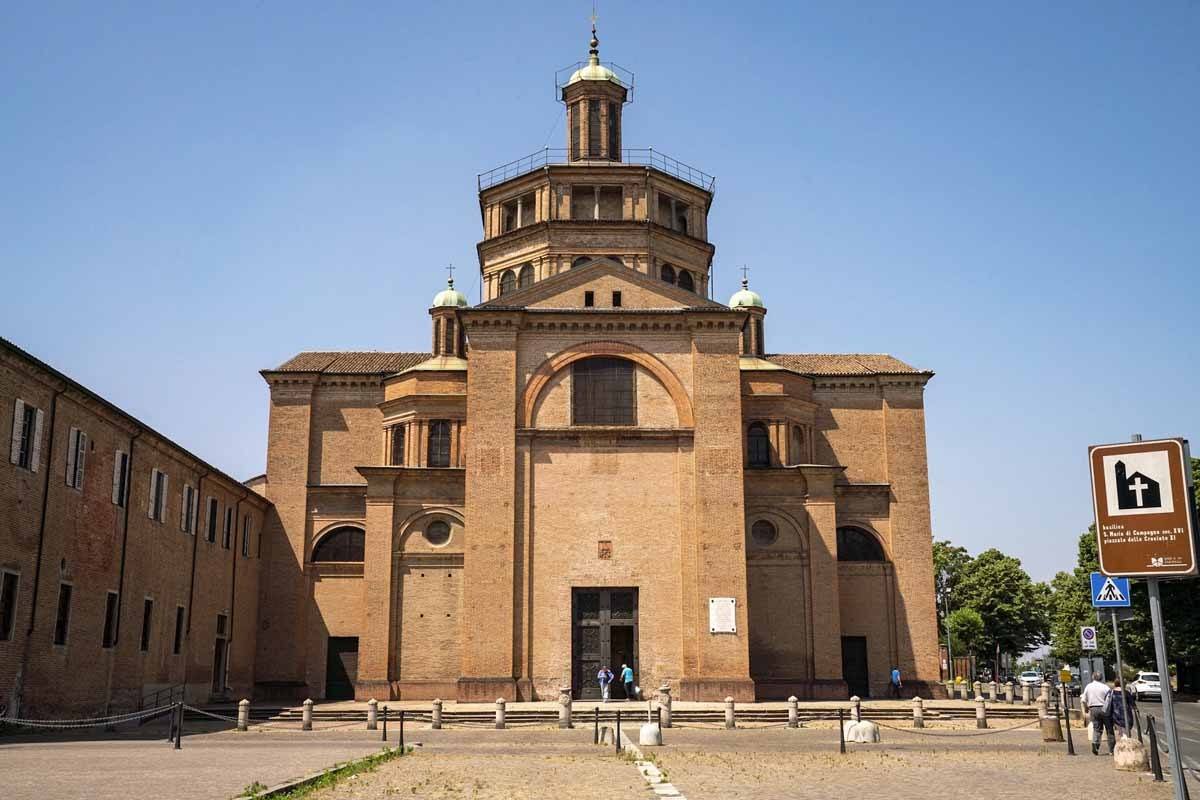 Piacenza has two nicknames – it is known as 'Primogenita d'Italia' (Italy's firstborn), as it was the first city to vote in favour of annexation to the Kingdom of Sardinia, which would then become the Italian Kingdom.
It is also known as 'La Città delle Cento Chiese' (the city of 100 churches). Throughout the centuries, some churches have disappeared, other have been deconsecrated and now have other uses – like Santa Margherita, turned into an auditorium.
These days, there may not be 100 churches in Piacenza anymore, but there are still many that can be visited. Santa Maria di Campagna is the furthest from the city centre, it is a Renaissance-style church with a stunning painted dome and a brick façade. With the exception of the cathedral and a couple others, many of Piacenza's churches were built with bricks, as they're the easiest and most convenient building material in the Po Valley.
Santa Maria di Campagna is one of three Renaissance churches planned by local architect Alessio Tramello – the other two are San Sepolcro, now an Orthodox church, and San Sisto, famous for having commissioned Raphael's famous altarpiece Madonna Sistina, now in Dresden.
Two other churches worth visiting in Piacenza are San Francesco in Piazza Cavalli, the main square in the city, and the Romanesque Cathedral – if you visit inside, make sure you visit the chapel where a baptismal font is displayed right next to a Last Supper painted just a few years ago.
4) See Stunning Mosaics
If you have time to visit just one church in Piacenza, make sure it's not one of the above – instead, head to San Savino, located not far from the station, opposite the public gardens known locally as 'Merluzzo' (meaning codfish – I have no idea why!)
The church doesn't look like much from the outside – the real treasure is concealed inside, where you'll find Romanesque capitals depicting plants, animals and geometric shapes, plus two stunning black and white mosaics dating back to the 11th century.
The first mosaic is located in the presbytery, and it depicts Jesus as the Lord of Time, surrounded by the Cardinal Virtues. The second mosaic, in the crypt, is even more spectacular – the entire floor is covered in 12 medallions portraying the 12 months of the year and the zodiac signs, surrounded by a stormy sea.
5) Walk along the Via Francigena
Unlike most cities in the Po Valley, developed in concentric circles, Piacenza extended lengthways through the centuries, since it was hemmed in by two boundaries – one natural, the Po River, and one manmade, the Via Emilia.
The 'original' route of the Via Francigena used to follow the Via Emilia, running just south of the city walls. Nowadays, the Via Emilia is a busy state road and the Via Francigena route has been changed to allow pilgrims to avoid traffic.
Hiking the urban section of the Via Francigena is a great way to see the main sights of the city. Start in Piazza Crociate just opposite the Santa Maria di Campagna Church and continue straight, passing San Sepolcro Church with its imposing brick façade.
Keep going until you get to the Stucchi stationery in Corso Garibaldi and look up – it's one of Piacenza's unique tower houses, built by wealthy merchants to protect their wares.
Continue straight – you'll reach Piazza Cavalli (Horses Square), named after the two equestrian statues of Ranuccio and Alessandro Farnese – facing away from one another, as they disliked each other in life. From there, you can visit San Francesco Church and the Cathedral, located just behind.
If you have time for a detour you can also check out Sant'Antonino Basilica, housing the remains of the saint. Otherwise, the official modern Via Francigena from Piazza Cavalli continues down Via XX Settembre, the main pedestrian shopping street, then turns right into Via Chiapponi and then Via Scalabrini, which turns into the Via Emilia as soon as the city centre is behind you.
6) Explore Two Rivers
Did you know that Piacenza has not one, but two rivers? You can't miss the Po, Italy's longest river, flowing just 500 meters north of the city centre, marking the border between Lombardia and Emilia Romagna.
A cycle/pedestrian path runs over the Po riverbank, making it a great option if you want to run or cycle during your Piacenza visit.
If you're visiting in summer and it's hot, we don't recommend swimming in the Po. I am not even sure if swimming is even allowed – we did see people in the water, but to be honest it didn't look inviting at all.
Luckily, there's an alternative! Just head southwest of the city to the Trebbia river, looking much nicer with its fresh, pristine blue waters. You'll need a car to reach the nicest beaches like La Chiesetta, located near Bobbio – there's no better place to be on a hot day!
7) Enjoy Local Food and Wine
Last but not least, food! Trying the local cuisine is reason enough to visit Piacenza, especially considering that many dishes are super local and hard to find even in nearby cities.
Most meals will start with a spread of cured meats like coppa, made with pork neck, and some 'torta fritta', fried dough eaten alongside the meats. Then, let's move onto first courses – you can have some tortelli (large ravioli) with a variety of fillings, like pumpkin, or ricotta and spinach, but the real iconic Piacenza pasta dish are pisarei e fasò, tiny homemade bread dumplings with a thick tomato and borlotti bean sauce.
If you're still hungry, why not share a secondo as well? The most traditional Piacenza options are coppa al forno (roasted pork neck) and picula di caval, horse meat stew with peppers and vegetables. Yes, I said horse – it's totally normal around here.
As you notice, most of these dishes are quite heavy, so best enjoyed in winter. Make sure you order some local wine to go along – really typical wines are Bonarda and Gutturnio, sparkling red wines best served chilled. If you prefer whites, opt for Malvasia, available both still and sparkling.
How to Get to Piacenza
-By Plane
There's no airport in Piacenza. The closest airport is Milan Linate, just over an hour away, connected by Flixbus with 4 daily departures. The second closest is Bologna – you can get there by bus and train, with several daily departures, but it takes over two hours.
-By Train
Piacenza is located on the Milan/Bologna rail line, with frequent connections to both cities. Travel time to Milan ranges between 45 minutes and one hour, depending on the train, and getting to Bologna takes between one hour and a half and two hours.
There are also two daily Frecciarossa trains stopping at Piacenza, one in the morning and one in the evening, connecting the city to Rome and Florence.
-By Car
If you're travelling around Italy by car, getting to Piacenza is super easy – the city is located on the A1 motorway, connecting Milan to Rome and Naples.
A car will make it easy to travel around the city, but be warned that the city centre is mainly pedestrian!
Where to Stay in Piacenza
During our various trips around Emilia Romagna we stayed in many nice places, but our Piacenza accommodation was truly special! B&B Palazzo Malaspina is right into the city centre, only a few minutes walk from Piazza Cavalli.
You stay in rooms or apartments, all in the same period building, arranged around a central courtyard surrounded by porticoes. Inside, all spaces are tastefully furnished, with vintage furniture in excellent conditions, including precious details like colourful chandeliers and art on the walls.
To make things even better, Palazzo Malaspina is fairly budget-friendly – starting from about €75 for a double room. If you want to stay right in the centre of town, this is a great option!
Get the Best Prices for B&B Palazzo Malaspina!
Our trip was sponsored by Turismo Emilia Romagna. We would like to thank Luca, Irene, Elena, Sami, Micol, Fausto and Gianni for showing us around!
Pin it for later?