Are you looking for the best small towns in Emilia Romagna? We've got you covered – after many, many trips around the region, we'd like to share with you one of our favourite Emilia Romagna highlights!
Would you like to explore more Italian villages? Download the FREE Viaggio Italiano eBook with stories from all Italian regions!
Let's play a game. If I say 'Italy' and 'small towns', what comes to mind? I bet you'll be thinking of Tuscany, first of all, and maybe of other Central Italian regions like Umbria or Le Marche. What about Emilia Romagna, though?
The region is well known for its food tradition, and for being the birthplace of the best luxury cars in the world – Ferrari and Lamborghini, anyone?
The large cities of Emilia Romagna are very well known – during our last trip to Bologna we found out that tourists are increasing exponentially from one year to the other, and so we decided to pen this guide of non-touristy things to Bologna.
Other large towns like Parma, Modena, and Rimini are also very well known and often included in the Italy itineraries of food-loving visitors.
Then there is Ravenna with its mosaics, a little bit more offbeat, but still often visited by art lovers.
Over tourism may still be a long way away in Emilia Romagna – or not, if what we saw in Bologna is anything to go by. That's why we've decided to put together this guide to the best small towns in Emilia Romagna – because many charming villages and towns throughout the region only see a trickle of visitors, yet offer the same storybook atmosphere that attracts visitors to Tuscany and Umbria.
We'll be adding periodically to this list of best small towns in Emilia Romagna – if you have any to recommend, feel free to get in touch and let us know!
Want to escape the crowds? Check out these 18 fun day trips from Bologna!
1) Bobbio
All the towns in list are roughly arranged from north to south – so let's start with Bobbio, which is located in the province of Piacenza, in the northernmost part of Emilia Romagna. We visited Bobbio in June 2018, before hiking the Via degli Abati, and one afternoon was not nearly enough to appreciate all there is to see and do in this small Emilia Romagna town.
Bobbio is located in the heart of Val Trebbia, called by Ernest Hemingway 'the most beautiful valley in the world' according to a popular 'urban legend'. The River Trebbia with its crystal-clear waters runs right next to the town, spanned by the beautiful Ponte Gobbo, a Medieval bridge that is believed by some to be the one portrayed in the background of Leonardo's Mona Lisa.
The Ponte Gobbo is one of many 'Devil's Bridges' found throughout Europe – the legend goes that builders were commissioned to build the bridge, but couldn't find a way to do it, and the Devil offered them a deal. The bridge would appear overnight, but the Devil would receive the first soul who would cross it. In the Bobbio version of the legend, the builders were able to trick the Devil by making him a dog cross the river first.
The history of Bobbio is linked to the life of St. Columban, an Irish monk who settled in the town in the 7th century and opened an abbey, whose scriptorium was one of the most important in Europe for several centuries. You can still visit Bobbio Abbey and its crypt, the Cathedral, and Malaspina Castle, overlooking the town since the 14th century.
Where to stay in Bobbio
2) Busseto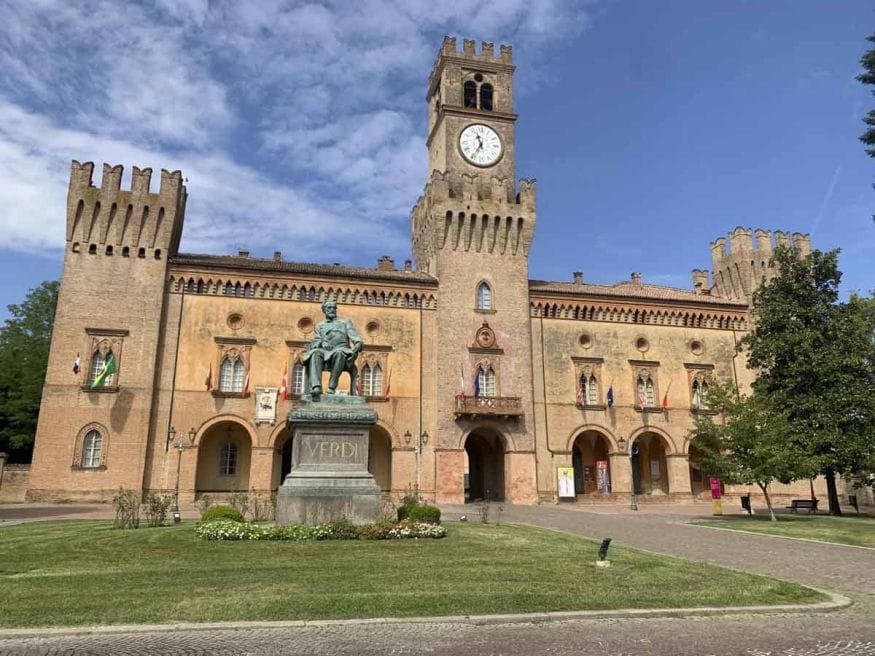 Most Emilia Romagna small towns included in this article are on top of hills, surrounding hills, or overlooking hills – Busseto, in the Parma province, is a notable exception.
Busseto lies in the bassa, the flatlands surrounding the Po river, and there are no hills for miles. The town is a must-visit for opera and classical music lovers – it was the hometown of Giuseppe Verdi, one of Italy's most famed composers, and it includes various sights and points of interest related to the life and work of the great Maestro.
Start your visit in the aptly-named Piazza Verdi, with a large statue of everyone's favourite Giuseppe. You'll no doubt notice the large castle-like building just behind – it's Busseto's Palazzo Comunale (Municipal Building).
If the idea conjures images of dust-filled corridors with bored bureaucrats, you couldn't be more wrong. Inside the Palazzo Comunale you'll find Teatro Giuseppe Verdi, a tiny gem of a theatre seating only 300 people, which Verdi himself never visited during his life.
Those on a Verdi pilgrimage shouldn't miss Casa Barezzi, housing a museum dedicated to Verdi's early years, and the larger Museo Verdi in the stunning Villa Pallavicino. As of September 2021, the museum was closed, but it's possible to wander in the gardens and admire the villa.
Busseto is located right in the heart of the culatello-producing region, and one of the best places to try this delectable specialty made with cured pork rump is Salsamenteria Baratta, a historic restaurant specializing in cured meat platters. Don't miss it!
Where to stay in Busseto
3) Bardi
Bardi is a small town in the province of Parma, and one of the intermediate stops of the Via degli Abati. Its name is rooted in legend – from 'Bardus' or 'Barrio', the last of Hannibal's elephants, that died there on the way to Rome after crossing the Alps.
Bardi used to be home to about 30,000 people until the first half of the 19th century – after that, most of the population emigrated to the US, France, Switzerland and the UK, specifically Wales. Nowadays, the town is home to just 2500 souls year round, but the number rises in summer when the descendants of former migrants return home to visit family.
There's a lot to see and do in Bardi – the town is right next to the confluence of the Ceno and Noveglia streams, in the centre of a wide valley, with many opportunities for day hikes. Bardi itself conceals many tourist attractions like the Santa Maria Addolorata Church, with a beautiful altarpiece by Parmigianino, the tiny San Siro Chapel built in Romanesque style, and naturally Bardi Castle, built atop a red jasper rock.
Bardi castle is one of the best preserved in Italy and it's worth a visit – its covered walkways and 'torture rooms' are especially interesting. Like all the best castles, it's believed to be inhabited by a ghost, that was also photographed by a journalist in the Nineties. Join the daily guided tour at 4 pm to know more!
Where to stay in Bardi
4) Borgo Val di Taro (Borgotaro)
This is definitely one of the best small towns in Emilia Romagna for foodies! Borgo Val di Taro, usually referred to as Borgotaro, is right next to the river of the same name and is also an intermediate stop of the Via degli Abati.
Borgotaro is not as picturesque as Bobbio or Bardi, but it's still worth a visit – there's a pleasant pedestrian historic centre lined with locally-owned shops, a farmer's market every Monday, the Romanesque Sant'Antonino church, and Palazzo Boveri, with impressive stucco decorations.
Yet, if you're a foodie visiting Italy in autumn, you can't miss Borgotaro. This small town is famous for the excellent quality of its porcini mushrooms, which can be bought fresh in autumn, and dried or preserved in olive oil during all the other seasons.
If you want to taste Borgotaro's famous porcini, you can visit in occasion of the Sagra del Fungo Porcino happening during two weekends in September – a festival dedicated to porcini mushrooms, and to local culture, music and history.
Where to stay in Borgotaro
5) Comacchio
This is one of Emilia Romagna's true, offbeat highlights. Comacchio is a small town in the province of Ferrara, in the heart of the Po Delta – where land and river mix, and land crumbles away in a water wonderland. Comacchio is built on thirteen islands, and just like Venice, it has canals instead of streets.
Wandering around Comacchio at sunset on foot or onboard a batana, a traditional narrow boat, is a true delight – with barely a soul to be seen. You'll definitely notice the Ponte dei Trepponti, the best known landmark in town, the ancient 'town gate' for those arriving by boat from the sea. A little further down the canal there's the Ponte degli Sbirri, taking its name from the fact that it was built right next to the former prison.
Things to do in Comacchio include two great museums – the Museo Alternativo Remo Brindisi (MARB for short), the summer house of artist Remo Brindisi, with his excellent contemporary art collection, and Museo Delta Antico, about the history of this stunning little town.
Yet, the true reason to visit Comacchio lies just outside its doors – the amazing (and little visited) Po Delta, a huge wetland area where it's possible to spot flamingos, wild horses and dozens of bird species. Here's our Comacchio in 1 Day guide, helpful to plan the perfect day trip!
If you're heading to the area, have a look at this article about 8 reasons to visit Cervia, Italy!
Where to stay in Comacchio
6) Dozza
This town makes for a perfect day trip from Bologna, just 40 km away. Dozza has all the trademark features of cute small towns, like cobbled streets, a hilltop location and pastel-coloured façades, but also offers something extra – street art!
From 1965 onwards, Dozza has hosted a biennial street art festival – artists from all over the world are invited to visit this town and leave their mark. As a result, the walls of more than 100 buildings across town have been painted by contemporary artists, turning this small town in Emilia Romagna into a true open-air museum. The subject of art varies, from comic-inspired to abstract, landscapes and more, but the result is certainly unusual.
Another reason to visit Dozza is the Enoteca Regionale, a wine shop located in the cellars of the Rocca Sforzesca, the town's castle, with wines from all over Emilia Romagna.
Where to stay in Dozza
7) Brisighella
Another stunning small town just a quick hop from Bologna, Brisighella is built atop three gypsum hills, with scenic views over the hills of Emilia Romagna.
It's probably better known than many of the other small towns included in this article, but it's worth a visit for its unique setting and sights – I especially loved the 'Via degli Asini', a covered walkway on which was once the fortified town wall.
The three hills overlooking Brisighella are topped by three notable buildings – the fortified Rocca Manfrediana castle, a great example of military architecture, with a path leading to the Clock Tower on the top of another hill, from which you can enjoy a spectacular view all over town.
On the top of the third hill there's the Sanctuary of Monticino, popular with local devotees. Gypsum used to be extracted from the Brisighella hills, and events like concerts and shows are sometimes organized in the former quarries.
Finally, you can't leave Brisighella without paying a visit to the cooperative, where you can pick up local products to bring back as souvenirs – first and foremost Brisighella's local olive oil, but there are also excellent wines like Sangiovese, and cured meats made with the local Mora Romagnola pork breed.
Brisighella is also one of the main stops along Dante's Way, a long-distance path covering places the great poet visited during his life, as well as locations included in the Divine Comedy.
Where to stay in Brisighella
8) Modigliana
Modigliana is probably the most offbeat of this collection of small towns in Emilia Romagna. I know it because a friend of mine is from there, and the first time I visited her I thought that Modigliana deserves far more visitors.
First of all, it's surrounded by beautiful hills, with lots of hiking opportunities – and if you want some more serious hiking, the Casentinesi national park is just a short drive away, with the famous Foreste Sacre Trail (one of my dream hikes!) and hippie communities like Zappatori senza Padrone that call these mountains home.
Modigliana itself is also worth a visit – the Tramazzo river runs all through town, and there are lots of interesting things to see including Piazza Pretorio, which can be entered through an arch, the Rocca dei Conti Guidi overlooking the city, and Ponte san Donato (aka Ponte della Signora) crossing the river with a steep slope and three arches. In September, Modigliana hosts the Tableau Vivants festival, a reenactment of life in the 19th century.
Lovers of quirky sights shouldn't miss checking Monte Busca in nearby Tredozio, with a flame on the top that's been burning ever since the 17th century. It's sometimes called 'the world's smallest volcano', but in fact it's not a volcano at all – just a small gas crater, kind of a (much) smaller version of the famous 'Door to Hell' in Turkmenistan.
Where to stay in Modigliana
9) San Leo
San Leo was built surrounding an impressive wedge-shaped rock, atop which San Leo fortress stands. This town is very close to San Marino, the micro state that's visited by thousands of people every year for its sprawling mountain vistas, hilltop fortress and to get a passport stamp.
San Leo offers the same views, but it's not a micro state, just an ordinary – albeit beautiful – small town in Emilia Romagna, and as a result it's only visited by a handful of people.
San Leo will also be part of one of the Tour de France 2024 stages in Emilia-Romagna, don't miss it if you're around!
Would you like to know more about cycling in the region? Here's our guide to the 2024 Tour de France stages in Emilia-Romagna!
Besides the vertigo-inducing fortress, in San Leo there's also a pretty historic centre with a maze of backstreets, a Romanesque cathedral with no foundations as it's built right into the rock, and Santa Maria Assunta Church, the most ancient building in town.
Where to stay in San Leo
Our trip was sponsored by Turismo Emilia Romagna as part of the Blogville project. The article was later updated with further info.
Looking for more Emilia-Romagna inspiration? Here are some of our articles!
Pin it for later?