Have you always dreamed to go shark cage diving in Australia, but want to do so responsibly? Follow us as we tell you about ethical shark cage diving in Port Lincoln, and discover more South Australian wildlife!
Did you know great white sharks like AC/DC? Of course, you wouldn't expect them to like Adele or Celine Dion – Guns 'n Roses, Metallica, Nirvana and Foo Fighters are some of the bands listed on 'This Month's Shark Top 10', aboard the Shark Warrior boat in Port Lincoln, South Australia – and AC/DC are at the top.
On board the vessel, a sharp wind blew from the Antarctic and choppy waters anticipated a rough ride ahead. I was in Port Lincoln, a small town in South Australia famous for its great seafood, and for being one the best place in Australia to go on a responsible cage shark dive.
Pin it for later?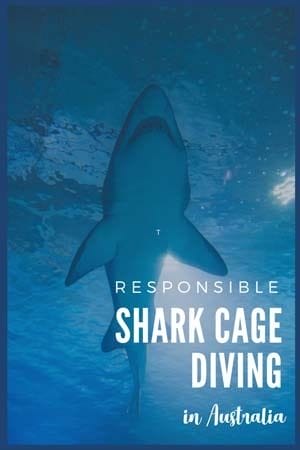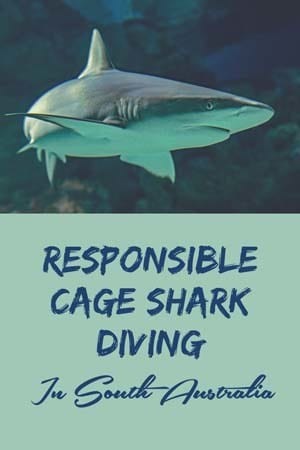 The Ethics of Responsible Cage Shark Diving
I'm pretty sure most of you will heard of cage diving with sharks – a hair-rising activity that sees you submerged in an underwater cage, protected by iron bars while sharks circle all around you. It is the best and safest way to get up close to these great predators of the oceans.
Shark cage diving is common in South Africa, and in locations as far afield as Australia, New Zealand, Bahamas and California – it's one of those 'bucket list' activities that many of us would like to have.
But how do shark cage diving operators find great whites in the wide open sea? That's where a serious environmental issue comes into play. Most operators around the world use 'chumming', the practice of throwing foul-smelling buckets of blood and fish entrails into the sea to entice sharks to come close to the boat. Some boats even feed the sharks.
The practice has been linked to an increase in shark attacks on humans – have a look at this Guardian article to know more about the chumming debate.
Marine biologists are still divided on the issue – but as responsible travellers, we don't want to take the risk and support a practice that has the potential to disrupt the ecosystem and cause damage for the entertainment of tourists. I very nearly said no to the cage diving experience – until I learnt about Adventure Bay Charters and their revolutionary approach to ethical cage diving with great whites.
How Can You Dive Responsibly With Great Whites in Port Lincoln?
'Wildlife is wild' said our skipper Alex. 'They are not monkeys in a zoo. We don't believe in feeding them for our entertainment'. For a few years now, Adventure Bay Charters have been using music to entice sharks – and not just any music. Sharks seem to have a penchant for rock and heavy metal, due to their low frequency beats.
Bustling with excitement, I jumped into my wetsuit, still queasy from the rough crossing from Port Lincoln to Neptune Islands, the sharks favourite playground – or shall I say dance floor?
Before I was even ready, somebody screamed 'shark!' and we all climbed to the top of the boat, and saw the silhouette of a large great white circling around us a couple times, before diving deep.
The Shark Warrior only had six guests that day – and with the cage holding six people, we were free to jump in and out at will. We expected a shark frenzy after that first sighting – but truth is, other boats that did feed sharks were moored a short distance away, and they got most of the action. I spent about an hour in the boat that morning, shivering in the 16 degree waters – and no other shark appeared.
Alex tried his best – he played all the sharks' favourite tunes, swished the speakers around the boat, banged on the cage – but it just wasn't meant to be. Yet, diving in the cage was an unforgettable experience. We were suspended in the middle of the great, deep blue, while schools of tuna and trevally zipped all through the depths, like a massive underwater highway at rush hour.
I'm a diver and I'm no stranger to the mysteries of the abyss – but a couple of fellow boat passengers had never been underwater before and were mesmerised by the life of the ocean. Ok, maybe sharks wasn't meant to be that day – but honestly, I didn't care at all. Ok, maybe a little. Just a little.
I was ok with that – a bit disappointed, but ok. Wildlife is wild, Alex had said – they're not there for our entertainment, and we shouldn't interfere with their life and behaviour patterns for one epic selfie. I was rolling these thoughts in my head and dozing in the sun after lunch, when I heard it again. SHAAAAARK! Shaaaaaark!
I threw myself off the stairs, grabbed a mask, weight belt and regulator and jumped into the cage, just in time to see a magnificent 4 meter long great white shark circle around the boat. He dwarfed the tuna, the trevally, the kingfish – yet he seemed uninterested in them. A ghostly shape, floating in the darkness. I managed to glimpse briefly into its eyes, just long enough to see that indeed they are not black and dead-looking, but deep blue, powerful and fierce.
I was standing face to face with one of the fiercest predators in the animal world, yet I wasn't scared. The moment had a strange kind of otherworldly calmness – there were no great mouths open agape, no bloody jaws or dramatic, jerking movements. I barely managed to snap this picture, before the great shark, with a flick of his tail, made for the depths.
You'll probably be wondering what tune was playing when the shark came. It wasn't AC/DC this time – it was 'Writings on the Wall' by Parkway Drive, a metal band from Byron Bay.
South Australia Wildlife: The Eyre Peninsula
The Eyre Peninsula, that triangle looking like a miniature India just west of Adelaide, is one of the best places in South Australia for wildlife. We were on a three day trip across the peninsula, on a wildlife-themed trip organized by Peterpans Travel and operated by Nullarbor Traveller, a super fun family-owned company offering trips across Australia.
Responsible diving with the great whites was to be the highlight – but there's a lot more to see and do in the area.
One day, after a long but scenic journey from Adelaide, we drove the Whalers Way, a panoramic route across the southernmost tip of the peninsula, with stunning, windswept landscapes of rocky cliffs and lagoons. It was even more impressive than the Great Ocean Road, in my opinion.
We looked at waves crashing onto the rocks, drawing cathedrals of spray. We saw sea lions laying on the rocks, sunbathing and then diving into the ocean, lithe and nimble despite their hefty frames. The views of Whalers Way were those kinds of landscapes that leave you speechless – because they are crafted by nothing but the power of nature, and the age-long dance between land and sea.
Then, we drove a little further to Mikkira Station, a farm owned by an 83 year old woman with dozens of resident koalas. We wandered around a patch of gumtrees as the sun was setting, spotting the little critters as they dozed on the branches. 'If you ate as much eucalyptus as they do, you'll be drunk as well, all the time' joked our guide Jo.
Another day we sailed to Hopkins Island and spent one and a half hours swimming with sea lions. Hopkins Island is a protected nature reserve, and nobody is allowed to set foot on the island – and a group of sea lions chose it as their playground. Sea lions are kind, inquisitive creatures – they love playing, tumbling and diving in the ocean, and they'll copy your movements just like a child would.
They're not aggressive or threatening – and if they do like you, they may even give you a kiss. I wasn't so lucky, but one sea lion did come up to me, holding a rock in his mouth, and dropped it onto the sea floor. Perhaps he wanted to play fetch? I understood why sea lions are called 'the puppies of the sea'.
South Australia Practical Info
The jump-off point for your South Australia wildlife adventure will probably be Adelaide, the state capital, a chilled-out city that offers enough sights and activities for a day or two. You can fly directly into Adelaide from several airports in Australia and overseas.
Australia can be a very pricey destination and Adelaide is no exception. If you're looking for somewhere offering great value for money, look no further than YHA Adelaide Central, that has convenient ensuite doubles in addition to dorms. The hostel organizes a series of activities like free walking tours and pancake breakfasts, it's centrally located and staff is more than happy to help you plan jaunts around the city and beyond.
Otherwise, here are other great budget-friendly hotels in Adelaide – click on the link to get exclusive discounts!
And here are some option for budget-friendly stays in Port Lincoln, the world capital of ethical cage shark diving – which should definitely be on your list of top things to do in Australia!
We would like to thank South Australia Tourism for having welcomed us on this trip. All opinions remain our own!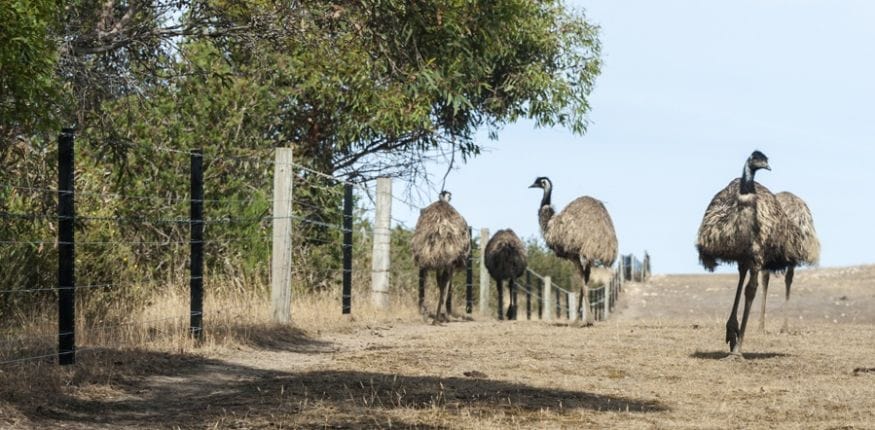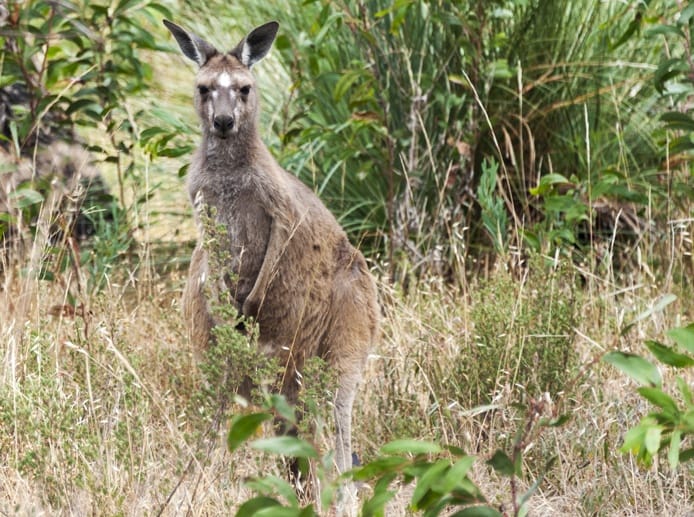 Pin it for later?