Planning to spend 36 hours in Mexico City… or 72? After visiting Mexico City for the first time in May, we've put together two Mexico City 36 hours itineraries, which could be combined to create the perfect 72 hour city break!
How much time do I need to visit Mexico City? As one of the world's great megacities, the Mexican capital could be explored for years on end – just like London, Moscow, Tokyo and many others.
Yet, many travellers avoid Mexico City in favour of destinations like Oaxaca, the Riviera Maya and ever-popular Tulum, believing the capital to be a crowded and dangerous place.
Well, Mexico City does indeed have some problems with traffic and petty crime – like most big cities around the globe. It also has an incredible street food scene, stunning architecture, wonderful museums, vibrant culture, and so much more. In 2016, the New York Times defined it 'a metropolis that has it all', and named is as the year's top travel destination, while in 2018, Travel + Leisure listed it as one of the world's top 15 cities.
If this doesn't make you want to visit, just take my advice – go and see Mexico City for yourself. True, the city could be explored for weeks and weeks, but even just 36 hours in Mexico City are enough to get an idea of what the city has to offer. And if you have longer, that's even better!
Here are two 36 hour Mexico City itineraries, perfect for first timers to enjoy the city with no rush. You can follow one or both if you can spend 72 hours in Mexico City (or more), or just pick and choose what you like best, and fill the rest of your time with tacos and tequila!
Itinerary #1 – 36 Hours in Mexico City for First Timers
Day 1 Morning – Historic Centre Tour
Getting to a new, large city can be daunting. There's so much to see, and if you just have 36 hours to spend in Mexico City, it could be hard to choose. For this reason, we recommend starting with a tour like Context Travel's Making of Mexico, a three-hour tour run by a local historian and especially aimed at Mexico City first timers.
The tour starts in the Zocalo, the huge square at the centre of the city, and takes in several sights around the Historic Centre, starting with the Templo Mayor, an Aztec temple located right next to the Metropolitan Cathedral.
After discovering how Mexico City developed between pre-Hispanic and Colonial times, you'll be heading to the National Palace to see some murals by Diego Rivera, while learning about the independence movement and subsequent Mexican Revolution.
Three hours later, the tour ends by the Palacio de Bellas Artes, one of the city's most famous landmarks, also housing some murals by Rivera and other artists. By this stage, you'll have developed a clearer understanding of how Mexico City – and the whole of Mexico – developed over the centuries, turning into the modern metropolis it is today.
Lunch – Street Food
The Making of Mexico tour ends around 1 pm, so I bet you'll be hungry by now. Luckily, the Palacio de Bellas Artes is just a short hop from one of Mexico City's best street food haunts – El Huequito, which literally means hole-in-the-wall.
This place has been in business since the Fifties and has been credited as the inventor of tacos al pastor, one of Mexico's most beloved street snacks, made with achiote-marinated pork cooked on a spit, then sliced thinly and layered on tortillas with pineapple, onions and cilantro. Make sure you order at least four!
If tacos al pastor don't satiate your hunger, a few steps away from El Huequito you'll find El Caguamo, a street food joint specialising in seafood. Get an octopus tostada, or any of the ceviches – and that doesn't fill you up, check this Guardian article for more Mexico City's street food tips!
Afternoon – Torre Latinoamericana
After lunch, you'll have some hours to kill before the start of the Lucha Libre tour – if it's a nice day, you could take the opportunity to get to the top of the Torre Latinoamericana, the tallest high-rise in the Historic Centre of Mexico City, from where you can get a wonderful view over the rooftops, the Zocalo and even the mountains surrounding the city.
The Torre Latinoamericana has 44 storeys and it is 181 meters tall, including two indoor observation levels and one outdoor deck, on the very top. Entry tickets are only $110 MXN per person.
Evening – Lucha Libre
Even if you're spending just one night in Mexico City, we warmly recommend joining the Lucha Libre Experience with Mexico a Pie – it was definitely one of the best and most hilarious tours we've taken in a long time, and a great way to catch a Lucha Libre game and actually understand what's going on!
The tour begins between 3.00 and 6.30 pm on Sundays, Tuesdays and Fridays by the Palacio de Bellas Artes. The first stop is a mezcal tasting in a nearby distillery, where you'll have the chance to try this famous Mexican spirit while nibbling on some guacamole and chapulines, a famous Mexican snack of (wait for it) dried crickets!
Then, it's time to walk to the Lucha Libre arena, which is approximately 20 minutes away. On the way, our guide introduced us to the rules of the game (or lack thereof) – he was also a former luchador, and shared some anecdotes about his days in the ring.
In the arena, you'll be spending between two and three hours laughing, shouting, cheering for your favourite tecnicos (the good guys), rudos (the bad guys) or microstars (the little guys).
You may not understand what's going on at all times, but that's all part of the fun – Lucha Libre means 'free fight', and besides choreographed fighting there are also some moments when opponents tease or mock each other, cheered on by the audience.
Two words of warning about the Lucha Libre experience – large cameras are not allowed in the arena, but phones are, so leave your camera in your accommodation or check it in at the entrance. Also, Colonia Doctores, the Lucha Libre arena neighbourhood, is dangerous after dark. The Mexico a Pie guide will help you take an Uber or taxi to get home safe.
Day 2 Morning – Coyoacan
We recommend dedicating the rest of your 36 hours in Mexico City to Coyoacan, a district in the southern part of the city that was once a separate village, and still retains a kind of 'village' atmosphere, with lots of trees and green spaces.
Coyoacan is famous for having been home to Mexico's most famous couple, Frida Kahlo and Diego Rivera. Don't miss visiting the Casa Azul, the couple's former home now turned into a museum dedicated to the life and art of Frida Kahlo.
If you don't want to miss the Frida Kahlo Museum, book your tickets in advance via the museum website, or else be prepared to queue for hours. It takes between one and two hours to tour the beautiful colonial interiors of the house museum. There aren't many Frida artworks, but you'll be able to see the original furniture and some of Frida's dresses, as well as learn more about the artist's life.
After touring the Frida Kahlo Museum, you should be having just enough time to stroll around Coyoacan, checking out the Jardin Centenario with the drinking coyotes fountain that gave the neighbourhood its name, and heading to Coyoacan Market for lunch – a popular choice is Tostadas Coyoacan, a popular stall selling crisp tortillas piled with ingredients like pollo con mole and ceviche.
If you only have 36 hours in Mexico City, that's where you'll be making your way to the airport. If you have 72, keep reading! There's so much to do in Mexico City!
Itinerary #2 – 36 Hours in Mexico City for Foodies and Hipsters
Day 1 Morning – Chapultepec Park and the Museum of Antropology
Start your day in Mexico City with a relaxing walk or run in Chapultepec Park, the local version of Central Park, a huge green space with lots of things to see and do – the most famous of which is the Museum of Anthropology, the most visited museum in Mexico.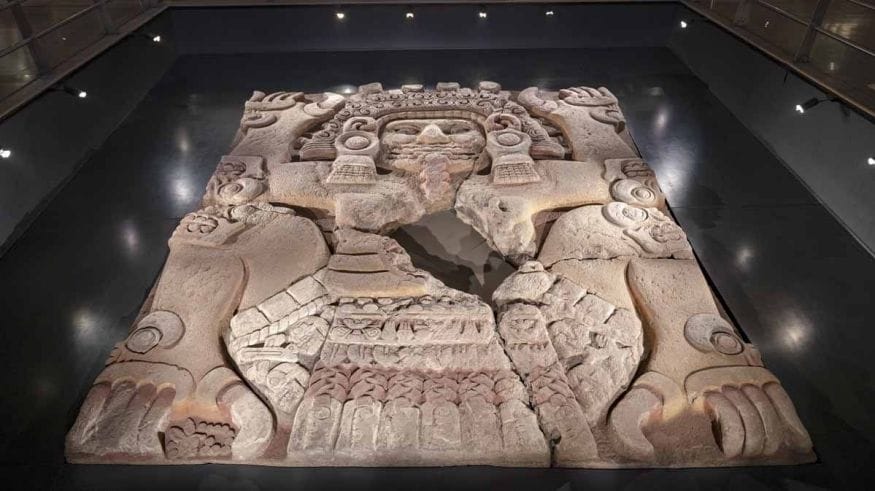 If you're planning to visit Teothiuacan, Palenque or other archaeological sites around Mexico, it's a good idea to get started with this museum to understand the cultural complexity of pre-Hispanic Mexico, their symbolism and cosmology. The only issue is that the museum is absolutely huge, with 23 rooms filled with exhibits – if you're only have limited time or very specific interests, we recommend going with a guide.
Museum of Antropology Tours
Lunch/Afternoon – Roma Food Tour
Colonia Roma is one of my favourite places in Mexico City, a lively neighbourhood with lots of parks and a great food scene – and a walking food tour is a great way to experience it!
We spent an afternoon exploring Colonia Roma with Tasty Bites, a company offering food tours around Mexico City. We chose this tour because it was one of the few that didn't focus on street food and tacos, of which we ate plenty during our 6 weeks in Mexico, but included instead craft beer, artisan bakeries, delicious cocktails, and samples from high-end restaurants.
I won't reveal too much though – check out our Colonia Roma Food Tour post for a full review!
Evening – Condesa
After the food tour you'll probably be so full, you won't even be thinking of dinner! You could spend the rest of the day checking out Condesa, a neighbourhood right next to Roma, with a similar bohemian/hipster vibe but a classier feel.
The heart of Condesa is Parque Mexico, an Art Deco park built in 1927, with walkways, fountains, ponds with swimming ducks and lots of trees. Wander around at leisure looking at well-heeled Condesa residents jogging or walking their miniature dogs, or try and find the examples of Art Deco architecture all over the park.
If you are a little hungry, we recommend heading to Paramo, a cool bar near the border between Condesa and Roma Norte, with craft beers and gourmet tacos.
Day 2 Morning – Biblioteca Vasconcelos
If you're combining these two itineraries to spend 72 hours in Mexico City, we recommend heading to Biblioteca Vasconcelos on the afternoon of your third day, to close your Mexico City experience with a true architectural delight. This giant library was opened in 2007, and integrates a futuristic-looking library with hanging shelves and a botanical garden.
In a busy, polluted place such as Mexico City, a place like Biblioteca Vasconcelos is a true oasis of peace. When we visited, there was an orchestra practicing under the whale skeleton sculpture hanging in the main corridor, followed by an impromptu concert by an opera singer. Not to mention, the garden surrounding the library is a pleasure to walk around. And the building is eco-friendly.
Is there anything better to end your 36 (or 72) hours in Mexico City? If there is, feel free to let me know!
Mexico City Practical Info
Getting To and From Mexico City Airport
Mexico City International Airport is located just 5 km east of downtown Mexico City, surprisingly close given how big the city is! As a result, getting to and from the airport is very easy.
If you land during the day and only have hand luggage, you can take the subway – there's a subway stop right outside the terminal, and trips anywhere in town cost just $5 MXN!
If you land at night and/or have heavy luggage, it's best to take a prepaid taxi. You'll see several taxi company booths at Arrivals – prices depend on where in town you're going, but usually range between $200/250 MXN. Just let the attendant know where you're going, pay the fare, get the slip and hand it to a driver outside.
You may want to specify to the attendant you want a sedan unless you're in a big group, or else you may be charged for a (more expensive) minivan ride.
Getting Around Mexico City
We travelled all over Mexico City by subway and had absolutely no problems. A single journey is super cheap at only $5 MXN – head for the taquilla found in each station, get your paper ticket and insert it in the slot next to the turnstile. Your ticket won't be returned, the machine 'swallows' it while unlocking the turnstile.
There are few subway maps around the stations and on platforms, so it's a good idea to know what lines and directions you need before you get in the subway station.
Another great way to travel around Mexico City is UBER – there are plenty of drivers, and prices are very reasonable.
Altitude in Mexico City
You may feel a little tired and dizzy while in Mexico City – that's because the city is at 2250 meters above sea level! Take it easy if you're only planning to be in Mexico City for 36 hours, and make sure to stay hydrated at all times.
Where to Stay
There are thousands of excellent hotels in the city, as well as some great deals on Airbnb, ideal if you're staying longer than 36 or 72 hours in Mexico City – if you've never used Airbnb before, grab a €30 discount here!
Otherwise, just pick one from these stunning boutique hotels to make your Mexico City stay truly special!
Historic Centre
Roma/Condesa/Polanco
Pin it for later?