After visiting the UNESCO-listed Suomenlinna fortress in summer, I returned in January. Did anything change? Have a look at our photo essay to discover Suomenlinna in winter and summer!
There's nothing more spectacular than looking at a city from above. When we visited Finland in summer, we were lucky to be landing on a bright afternoon, and appreciate the marriage between sea and land that made the Finnish capital the stunning place it is.
Then, I returned in winter. A cloud-stacked sky and a few hours of sunlight made my landing an unremarkable one. But a couple of days later, I was able to enjoy an amazing experience – a sunrise helicopter ride over Helsinki.
Dusted by snow, surrounded by half-frozen sea and lit by the rising sun, Helsinki from above was nothing short of spectacular. The helicopter circled the city, showing me and the other enthusiastic passengers how well nature and urban spaces are combined in the city. Trees, garden and parks are everywhere, even right in the city centre.
Then, the helicopter started flying over the frozen harbour, and onwards to the open sea. There were islands and islets, some no bigger than a few dozen meters across, with summer cabins hidden beneath the snowy trees.
Onwards, I spotted Suomenlinna. This sea-fortress was a truly amazing sight. Built on six islands to protect Helsinki and the coast, it stretched over the entrance to Helsinki's natural harbour like a sleeping giant, ready to rise and defend the city from invaders coming from the sea.
So, what is Suomenlinna all about? I'm not going to bore you with details on the military strategy behind its construction by the Swedish rulers of Finland in the mid-18th century, or with its history. This time, we want to tell you about our Suomenlinna experience in two seasons, about the two faces of this island that is a lot more than a sea fortress – it's a haven of peace, nature and history a short ferry ride from the city, a place to relax, unwind, and enjoy the famous Finnish silence.
Suomenlinna in Summer
During our stay in Helsinki in summer, not only did we visit Suomelinna, we actually stayed there. Hostel Suomenlinna is a great budget option and an atmospheric accommodation choice, housed in a former Russian elementary school. Even though our stay on the island was only two days long, we had the chance to experience the island beyond the usual 'tourist trail' of museums and fortifications.
We spent long summer twilights walking around the island, climbing over hills to get stunning views of the Helsinki skyline. Meanwhile, Suomenlinna locals returned home on the ferry, after a day's work in the city. Yes, because Suomenlinna is a lot more than an open-air museum. It's home to 800 people, and what a home. There are excellent gourmet restaurants and cute cafés in painted wooden houses, serving home made cakes and sandwiches.
And nature. So much nature. Children growing up in Suomenlinna run freely among trees and across meadows, swim at the island's tiny beaches and play pirates in a place where naval battles actually happened.
Once the museums closed, and the tourists returned to 'mainland Helsinki' with the 24 hour ferry, we had the trails to ourselves. We just let our steps guide us. One turn took us to a small bay with a submarine anchored off the shore, a path led us to a Hobbit-looking military bunker (that's what we guessed it was) under a hill, with great views all around and the beautiful Nordic sky above us.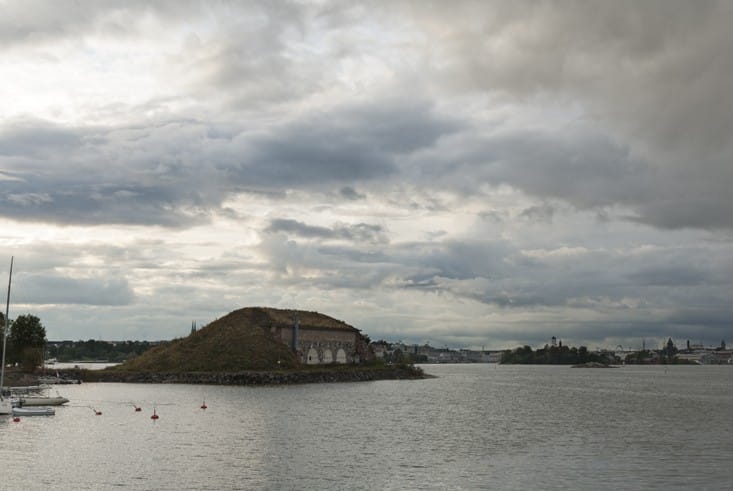 Suomenlinna in Winter
I loved Helsinki is winter. I adored it. It was magical – the blue twilights, late sunrises and that light, clear and bright and precious, only for a few hours a day.
Helsinki is actually two cities in one, I thought. In summer you get to enjoy the wonderful urban nature, outdoors life and the long summer nights. But it is in winter, that the snow-dusted streets and the frozen harbour look their picture-perfect best. It's the time for steaming saunas and chilly dips in the sea, the time to eat blinis (a Finnish winter tradition) and gaze at the night sky, hoping to catch a glimpse of the Northern Lights (as it happened last St Patrick's day).
And Suomenlinna? In winter, it looks frozen in time. As if it was hibernating, catching up with sleep in preparation for the never ending summer sun. Nary a soul was out. No one walking the frozen paths, no one running across the snow-covered meadows. Maybe because it was a weekday, and the weather was far from ideal – but when I visited in winter, Suomenlinna was a ghost town.
So, am I saying you should not visit? Far from it. If anything, it's an even better time to visit. Suomenlinna in summer lets you take a break from traffic and stress, breathe in some fresh air and spend some time outdoors. Suomenlinna in winter allows you to take a break from yourself.
The peace and stillness of the deep winter have a meditative charm. You count your steps, concentrate on your breaths, and forget who you are. All around you nothing moves, nothing stirs. You are at one with nature.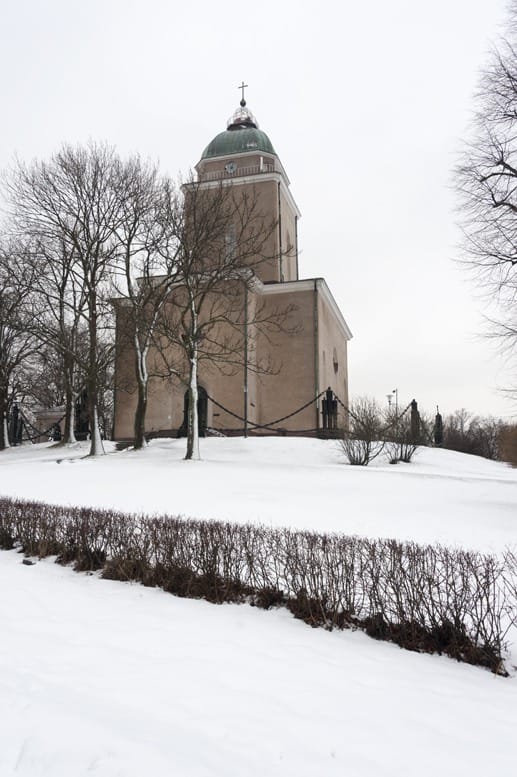 And when you're ready, just head for the ferry, and jump back into the city.