Have you ever heard of Burgos, a city in the region of Castilla y Leon in Central Spain? We spent three days on a truly unique Burgos visit, discovering the city through the eyes of its women. Here are 12 amazing things to do in Burgos!
Have you ever heard of transformative travel? I'll try to explain what it is in a few words. Transformative travel is travel that changes you, creating positive, long-lasting consequences you take home with you, in the form of new habits, realisations or inner changes..
The Skift report on transformative travel reads as follows –
Travelers today are increasingly drawn to travel as a form of self-actualization and personal transformation and growth. They want more than a simple visit to a new destination or days spent relaxing on a beach. Instead, the travel they're seeking is an experience of the world that goes deep — one that changes them in ways they may not even be aware of.
What does Burgos have to do with transformative travel, you may ask. Burgos was the first stop of a four-part journey we took in July 2020 across former European Capitals of Culture, with the aim of testing and promoting new transformative travel experiences. You can read more about the idea on the Cultour is Capital website.
The four cities we visited were Burgos, Matera, Rijeka, and Košice. In each of them, the idea of transformative travel was developed around a specific theme – in Burgos, the idea was exploring the city through the lives of past and present women.
More often than not, history is told through the eyes of men. History books are full of kings, warriors, popes, priests, and (male) politicians, whereas women are relegated to the sidelines, their existence justified only by the 'wife of' label.
Burgos – A City Made by Women aims to flip this script. Women take centre stage – as protagonists of history, and game changers of the present.
Here we'll tell you about things to do in Burgos, including some women-led experiences you can have, making the city an ideal destination for a female empowerment city break!
Would you like to know more about our other transformational journeys? You'll find them here!
Burgos – A City Made by Women
1) Burgos Cathedral
Let's start our list of things to do in Burgos with its most famous attraction – Burgos Cathedral, UNESCO-listed, dominating the skyline of the historic centre with its slender Gothic silhouette.
A 'traditional' Burgos Cathedral tour generally highlights the building's eclectic architecture, with Romanesque, Gothic, and Renaissance elements, and include elements found inside, like the stunning chapels and the 'Papamoscas' (flycatcher) clock, opening its mouth every hour at the sound of the bells.
Our women-themed tour of Burgos Cathedral, led by city guide Rosalia, took us through the cathedral sharing storied about famous local women – like Margarita de Austria, who famously wrote her own epitaph as her ship was hit by a storm:
Here lies Margaret, the willing bride,
Twice married – but a virgin when she died.
Plot twist – Margarita did not die, and she went on to marry in Burgos Cathedral.
Another woman we learned about was Mencía de Mendoza, a patron of the arts without whom the most luxurious chapel in the Cathedral, the Capilla de los Condestables, would not exist.
2) Museum of Human Evolution (MEH)
From the recent past, we travelled to the very ancient past, when Burgos and even Spain did not exist. The Museum of Human Evolution is another one of the main things to do in Burgos, a state of the art museum housing findings from the nearby Atapuerca Paleolitical site.
We had the privilege of visiting the museum with Aurora Martín, the curator, and one of Spain's best known archaeologists. Aurora was leading the team that discovered homo antecessor, a hominid living in Europe 900,000 years ago, much earlier than previously thought.
We recommend starting your visit to the MEH with the hominid gallery, where you can see an artist's reproduction of hominid species, from australopitecus to homo, symbolising human evolution.
Then, head to the four artificial 'hills' in the main halls – under two of those, you'll find fossils and bone fragments from Atapuerca. One of the best known findings is the skull of Benjamina, a 10-year old girl with a cranial deformity, evidence that even early hominids were caring for disabled people.
3) The Camino de Santiago
Burgos lies on the Camino Frances branch of the Camino de Santiago, probably the best known pilgrimage in the world.
You may glimpse dusty hikers ambling through the city, shells swinging from their backpacks, and be tempted to join them. Guess what – you can experience the Camino for a few days, or even a few hours, thanks to Sara Hernando of Camino Travel Tours.
Sara is a local, and the Camino has always been her playground. She specialises in creating bespoke Camino travel experiences, providing every traveller with a personalised guidebook full of her personal tips.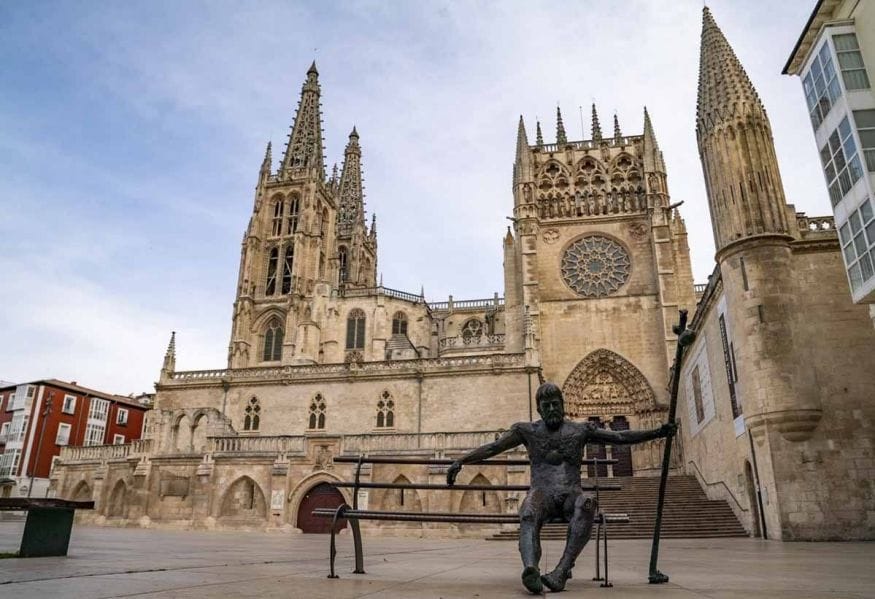 You may ask Sara to show you Camino-related sights around Burgos, like the pilgrim's statue located opposite the cathedral, or the albergue in the city centre.
Or else, she can share her favourite places where you can get a pilgrim's menu, or even plan for you to hike a stretch of the Camino, staying in beautiful boutique accommodation rather than a stinky dorm (trust me, I've been there!)
4) Audiocassette Workshop in the Contemporary Art Museum
If you love art and unique experiences, make sure you book a cassette workshop in the CAB – Centro de Arte Caja de Burgos, a contemporary art museum in the city centre.
The workshop is led by artist Sarah Rasines, who works mainly with sounds. The aim is discovering the city through sounds, and recording them on a cassette.
You'll start by creating the cassette artwork – if you think OMG! I cannot draw, I'll leave you with the answer Sarah gave me. Once you put pencil to paper, you're already drawing!
Then, you'll be invited to close your eyes and listen the soundscape surrounding you. Sarah said it's amazing what people notice, when visual distractions are taken away. All these sounds will be recorded and mixed into a cassette, your personal work of sound art and a fantastic souvenir to take home!
5) Wine Tasting Casino
Burgos lies next door to Ribera del Duero, famous for its Tempranillo, an iconic Spanish red wine. It's also close to Arlanza, home to aromatic white wines. If you want to know more about Burgos wines, there are plenty of wine shops and wine bars – or you can opt for something different, and opt for a wine tasting game with Pilar from Lust for Wine!
Pilar is a Burgos local, madly in love with wine. Her passion and charisma shine through as soon as you meet her – she's the kind of person you can't help but have fun with.
Lust for Wine organises unusual wine-related experiences – one of them is the 'wine casino', where your knowledge of Burgos wines is tested on a casino board with a variety of games. This game is especially fun for groups, and the winner gets a wine-related prize!
6) Las Huelgas Monastery
If I say 'nuns', what comes to mind? If you asked me before my Burgos visit, I would have said tiny older ladies, who spend their day praying, baking and maybe making liqueur.
The idea of nuns and power didn't really go together, in my mind at least.
Until I visited Las Huelgas Monastery, that is. Las Huelgas Monastery was built to become a royal pantheon, and at the height of its power, its Abbess was said to be the second most important person in the Christian world.
Nowadays, the Monastery is still owned by the Spanish Crown, and the only way to visit is on a tour. The Monastery still houses royal tombs, including that of Berenguela, who joined the kingdoms of Castille and Leon.
You can also see a stunning Mudejar chapel, example of the unique architectural style combining Moorish and Christian elements, and visit the Museum of Medieval Textiles, to see rare examples of perfectly-preserved Medieval clothing.
7) Paleolitico Vivo
Our journey of things to do in Burgos through the eyes of its women comes to an end with Paleolitico Vivo, a project that aims to reintroduce large herbivores like Bison, Aurochs (Prehistoric cows), and Przewalski Horses, a species of prehistoric horse, back to Spain.
The headquarters of Paleolitico Vivo are in Salgüero de Juarros, not far from Atapuerca. You'll start your experiences with a drive on an open safari truck, led by Fanny, in search of these animals – if you visit at the right time of year, you may see some babies!
Afterwards, you'll be taken to the reproduction of a Paleolithic village, and given a demonstration of activities like tool and fire making, hunting with a spear, and painting.
In case you were wondering, Paleolithic women did all of these activities – hunting, gathering, making tools, cooking, AND they raised children. Yes, we've always been great at multitasking!
Other Things to Do in Burgos
8) Paseo del Espolón
Burgos is a wonderful place to wander around, and the most pleasant place to do so is probably Paseo del Espolón, a riverside promenade lined with trees – if you look closely, you'll notice that their branches are all linked with one another. Definitely a not-to-be-missed thing to do in Burgos!
Paseo del Espolón is worth a visit both during the day and at night. In the daytime, you can see some historic shops like Librería del Espolón and Casa Venancio García, while cooling off under the shade of the trees. In the evening, you'll see locals enjoying dinner and drinks at the many outdoor tables all over the promenade.
One of the best restaurants in Burgos along Paseo del Espolón is En Tiempos de Maricastaña, run by chef Isabel Alvarez, offering an eclectic menu including quick bites and creative dishes made with local ingredients.
9) Mirador del Castillo
Do you love viewpoints? You're in luck! The Mirador del Castillo definitely deserves to be in your list of things to do in Burgos – it's only 10 minutes walk from the cathedral, and it offers a great bird's view of Burgos and its surrounds.
Look closely once you approach the edge of the terrace – you'll see copper signs detailing what buildings you're looking at. On clear days, you can see as far as the Atlantic Ocean!
(Just kidding. Not quite – but you do get a wonderful view over the hills surrounding Burgos!)
10) San Pablo Bridge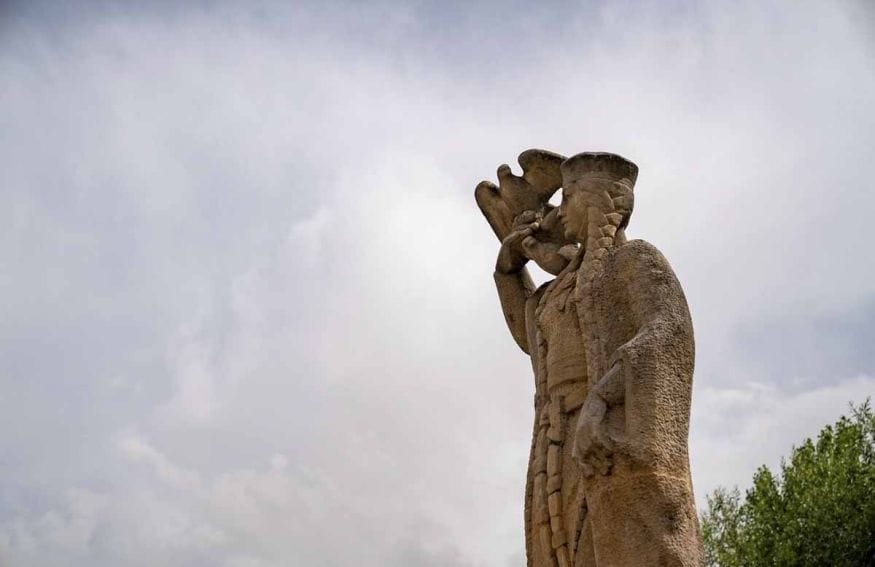 The Puente de San Pablo (San Pablo Bridge) is the most famous in Burgos, crossing the Arlanzón River in the spot where the San Pablo gate to the city used to stand.
The bridge was first erected in the 13th century, and over time it was decorated with statues of nobleman and warriors from Castille. The statue of the town's most famous son, El Cid Campeador, is located at the end of the bridge.
Looking closely, you'll notice there is one statue of a woman – it's Jimena, wife of El Cid. Or shall we say, El Cid was Jimena's husband? Jimena was a formidable woman, who ruled the city of Valencia after El Cid's death, and defended it from an Almoravid attack.
When the city finally fell, Jimena returned to Burgos with her husband's body, now buried in Burgos Cathedral.
11) Arch of Santa Maria
Like all Medieval cities, Burgos also used to be ringed by walls with entrance gates. Only a small stretch of city walls survive, and only one entrance gate – the grandiose Arco de Santa Maria, a castle-like gate decorated with statues.
You'll notice the statue of Saint Mary, patron saint to the city, plus statues of El Cid, Emperor Carlos I, and Diego Porcelos, the city's founder. The Arch of Santa Maria definitely deserves to be on your list of things to do in Burgos – you'll certainly walk through it, reaching Burgos Cathedral from the Arlanzón river!
12) Plaza Mayor
Plaza Mayor is the main square in the Burgos city centre, and you're bound to pass by sooner or later. It once used to be the market square – nowadays, it's the centre of city life, where events are being held and people meet for a drink after work.
It's a great place to visit at any time of the day, but it gives its best during the evening. Make sure you dedicate some time to sitting in Plaza Mayor around sunset, watching city life go by. It's a wonderful way to end your Burgos visit!
How to Get to Burgos
-By Plane: the closest major airport to Burgos is Madrid Barajas (MAD), about 2 hours drive south. There are also four daily direct buses connecting Burgos to Madrid Airport, taking about 2 hour 45 each way.
Burgos also has a small regional airport, with flights to Barcelona, Madrid, and Palma de Mallorca in summer.
-By Train: Burgos train station is located 5 km from the historic centre. There are frequent railway connections to Madrid, stopping in Valladolid, from where you can connect to other Spanish cities.
-By Bus: you can also reach Burgos by bus from most Spanish cities and towns. Have a look at the Alsa website for info on routes and tickets.
-By Car: Burgos is well connected by road to Madrid and other Spanish cities. It's hard to park in the city centre, both most hotels will have agreements with garages, so you can just leave your car and enjoy your time in town.
Our visit to Burgos was part of the TraCEs – CultourIsCapital project, funded by the European Commission under the COSME programme. We would like to thank Raquel from Turismo Burgos, and all the local operators we met during our time in Burgos!