Have you ever heard of Latgale, the easternmost of Latvia's 4 regions? More than likely the answer will be no. If you're intrigued, read on to find out about historic towns and fortresses, lakes, forests and many more amazing things to do in Latgale, Latvia!
During the long, dark lockdown months in early 2020 I had a recurring dream. I was sitting on the edge of a lake. The water was blue and still, dotted with water lilies. A bright green dragonfly hovered on the saffron-coloured petal of a lily, before flying off.
All around me, everything was silent.
This dream revisited me over and over again, during those restless nights. I thought the place was somewhere in my memory, perhaps a location I had seen as a child, and forgotten about.
Or maybe it was an inner manifestation of 'peace' – my personal sacred space, where I feel safe, and I retreat with my subconscious during stressful times.
Little did I know, that the place I dreamed about was actually real, and I would visit it within a few months in Latgale, Latvia.
Where is Latgale?
Latgale is one of Latvia's four administrative regions, located in the far east of the country, north of the Daugava river. The largest city in Latgale is Daugavpils, and other sizeable cities include Rēzekne and Ludza.
The region changed hands several times throughout history – before becoming part of Latvia, it was annexed to Russia, Lithuania and Poland.
This created considerable religious and cultural diversity – there are significant Russian, Belarusian and Polish minorities living in the region, and the main religion is Catholicism, in contrast with the rest of Latvia which is mainly Lutheran. About a quarter of the population is Russian Orthodox.
The region also has its own language, Latgalian, spoken fluently by about half of the population.
Besides its cultural peculiarities and diversity, Latgale is also worth visiting because of its wonderful nature. Remember my autumn in Latvia post, where I said that more than half of Latvia is covered in forests? Latvia is one of the few countries in the world where the amount of forest territory is increasing, and you can find plenty of forests in Latgale.
Then, there are lakes. There is the lake of my dreams (read on to discover where to find it!) plus Latvia's largest and second largest lake, Latvia's deepest lake, and many more.
Most importantly, Latgale is a wonderful place to be alone in nature, the perfect place to travel in times of social distancing. The region is sparsely inhabited, and visitors are mainly Latvians – crowds are light years away, and you may even hike or cycle for hours without passing a single person.
In case this wasn't enough to convince you to visit Latgale, keep reading! After spending a week exploring the region in August, we've come up with 13 fun things to do in Latgale, Latvia.
All Latgale sights and points of interest will be shared in the same order as we visited them, so you can easily follow this post as a Latgale itinerary!
Things to do in Latgale
1) Ice-Cream Meal in Skriveri
Driving time from Riga Airport: 1 hour 30
Ok, technically Skriveri is not in Latgale – it's located in Zemgale, Latvia's southernmost region. However, I still decided to include it because it's a perfect intermediate stop between Riga and Latgale, so you may want to consider visiting!
Skriveri is a small village, but it's home to one of the most amazing ice cream shops on the planet – Skriveri Maja Saldejums. Owner Lelde and her family have been running the shop for over 30 years, offering an amazing ice cream selection with unique Latvian flavours.
So, don't come to Skriveri Maja Saldejums looking for pistachio or cookies and cream – instead, you can choose between a rainbow of berry sorbets, as well as linden, lemon buttermilk, cottage cheese ice cream with fresh berries and many others.
At Skriveri Maja Saldejums, ice cream is also added to soups, salads and main dishes. We enjoyed a tasty beetroot and anchovy salad with horseradish ice cream (much better than it sounds!), Latvian cheese with tarragon ice cream, and a tomato soup with potato ice cream. A must for all ice cream lovers!
2) Visit Koknese Castle
Driving time from Skriveri: 20 mins
**Warning – Google Maps will lead you to the opposite side of the river compared to where the ruins actually are. Use Waze instead or just stay on the A6 until AFTER it crosses the Perse River, then follow the signs.***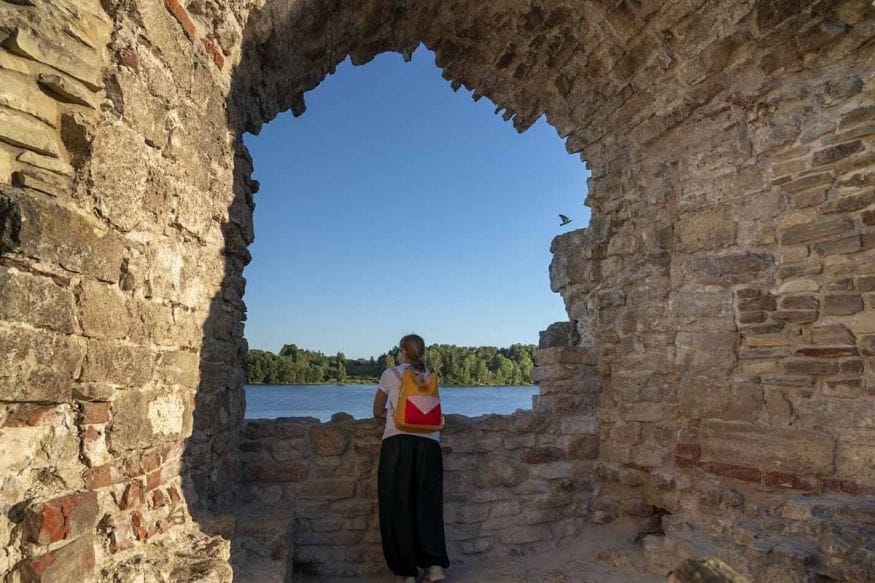 A short distance from Skriveri you'll find Koknese Castle, dating back to the 13th century and set on a bluff at the confluence of the Daugava and Perse rivers.
The castle was fought over between Russian, Swedish and Polish forces in the 16th and 17th century, and it was finally blown up in 1701.
In 1966, a power plant was built nearby, and the entire river valley was flooded. Nowadays, the castle is no longer high on a clifftop, it sits right on the water's edge.
It's possible to visit the castle ruins, which include a medieval 'torture chamber'. You can walk freely and photograph the castle's crumbling walls and arches, which framethe surrounding forests and rivers really nicely.
You can also take home a unique souvenir – the castle seal, which you can hammer yourself on a coin!
3) Go Paddle-Boarding at Sunset
Driving time from Koknese Castle: 5 mins
Visiting the castle is great fun, but seeing it from the water is truly breathtaking. And if you do that at sunset, in summer… you're in for a memorable evening.
About 10 minutes up the road from Koknese, you can rent kayaks and paddle boards from SUP Koknese, an outdoor water sports centre in a location marked on Google Maps as 'Persejas'.
It takes less than an hour to paddle to the castle ruins and back. Depending on how much time you have, you can also spend some time paddling up and down the Daugava river, and even go swimming for a bit.
Before or after your paddle, make sure you ask owner Ita to play the video showing how the landscape changed after the power station was built, and the river valley got flooded.
4) Go Birdwatching near Lake Lubāns
Driving time from Koknese Castle: 1 hour 50
We spent our first night in Latgale at Stikani Guesthouse, not far from Lake Lubāns, Latvia's largest. Stikani is walking distance from the banks of an artificial lake, originally built to breed carp, which also happens to be one of the prime birdwatching locations in Latvia.
This part of Latvia is on the migration route between Scandinavia and Southern Europe, with up to 200 different bird and waterfowl species visiting the area. One of the greatest 'nature shows' is the annual gathering of thousands of cranes, passing through Lake Lubāns in late September, en route to warmer climates.
You can enjoy birdwatching straight from Stikani guesthouse, alone or with a guide – something we highly recommend, unless you are a birding expert. You can contact Dabas Tures for info on tours.
Alternatively, you can plan a tour of the surroundings including stops at nearby observation trails – we especially loved the one at the Water Tourism Development Center Bāka, where I saw the lake of my dreams.
5) Hike the Teirumniku Bog Trail
Driving time from Stikani Guesthouse: 10 mins
I already mentioned that over half of Latvia is covered in forests, but did you know that 10 per cent of the country is made of bogs? Going bog-walking is a typical Latvian experience, allowing you to get up close to an ecosystem that is rarely seen elsewhere in Europe.
There are some 'wild' bog stretches that can only be visited with 'bog shoes' (aka snowshoes), and others where platforms have been built to make the experience accessible to everyone.
The Teirumniku Bog Trail is a short drive away from Lake Lubāns and the Water Tourism Development Center Bāka. There's an elevated bog trail, 800 m long, also passing by the shore of a small lake – which looked very inviting to jump into!
Bogs are also popular places for berry-picking – when we visited we saw lots of blueberries, and cranberries were just about to get ripe.
6) Visit Rēzekne
Driving time from Stikani Guesthouse: 45 mins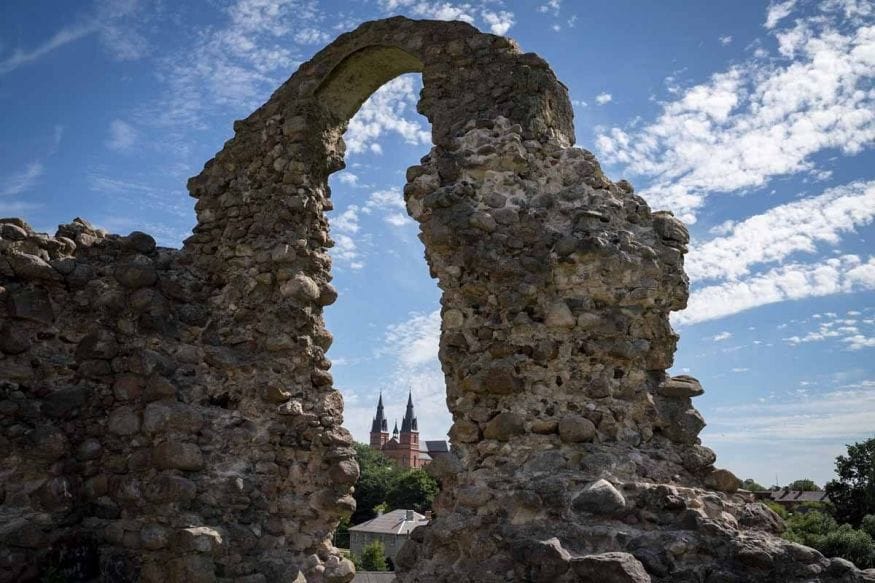 Rēzekne is sometimes referred to as Latgale's cultural heart, as Latgalian is still widely spoken. The Latgale Culture and History Museum is a great place to get acquainted with what makes this region unique. There's also a vast exhibition of Latgalian pottery, with some centuries-old pieces.
The most photographed place in Rēzekne is the Castle Hill. Not much is left of the former Livonian Order castle, just an arch, which just happens to be framing the Cathedral quite perfectly.
Down the road from Castle Hill, you'll also probably notice the synagogue, a brightly-pained green wooden building. A sizeable Jewish minority inhabited Latgale for centuries, until the Holocaust. Nowadays, only about fifty Jewish people remain in town.
It's worth taking a couple of hours to explore Rēzekne. If you are in town for lunch, we have two recommendations – Ausmena Kebab, where you can taste delicious home made doner kebab platters, or Cafe Mols, traditional Latvian food in an antique shop.
7) Sleep in Daugavpils Fortress
Driving time from Rēzekne: 1 hour 20
Rēzekne may be the cultural heart of Latgale, but the largest town in the region is Daugavpils, located about two hours south, by the Belarusian border.
The main attraction in Daugavpils is the Fortress, built in 1810 and preserved pretty much with no alterations until the present day. It's a true citadel within the city, ringed by 3 km of walls, and bordering the Daugava River.
You can freely walk around the fortress – there is no entrance fee, and it's open 24/7. However, we warmly recommend arranging a guided tour with the visitor centre. Guides will be able to take you to casemates and storerooms, which may be dangerous to access independently.
Did you know that you can also stay overnight in the fortress? The Mark Rothko Art Center has rooms available for visiting artists and tourists. The rooms are comfortable, and prices are really fair – plus, you get to enjoy walking around the fortress in the early morning, with no one else in sight!
8) Visit Mark Rothko Art Center
Most of Daugavpils Fortress is still unrestored, with buildings and storerooms lying in a semi-abandoned state. There's one exception to that – the Mark Rothko Art Center, located in the historic artillery arsenal building within the fortress walls.
Mark Rothko Art Center is named after Daugavpils' most famous son, the famous Latvian-American artist known for his abstract paintings with colour-filled rectangles.
In this contemporary art centre you can see a few of Mark Rothko's pieces, but most of the 2500-meter space is dedicated to temporary exhibitions. At the time of our visit, there were exhibitions dedicated to painters Hsiao Chin and Hunt Slonem, plus an entire wing dedicated to works by Latgalian artists.
If you are staying overnight in the fortress, you can visit the Mark Rothko Art Center for free – don't forget to ask for your tickets when you check in!
9) Have Shots at the Šmakovka Museum
There's another unmissable Daugavpils attraction – the Šmakovka Museum, dedicated to Latgale's favourite strong drink.
Pretty much every place in Europe has its very own distilled liqueur – from vodka to grappa, slivovitza and schnapps. Latgale's tipple of choice, šmakovka, is distilled from rye, wheat or barley grains, or even directly from bread.
The Šmakovka Museum takes visitors on a journey through the drink's history and making process. You'll see original millstones used to grind grains, and distillation equipment, with a diagram explaining how it works. There are also some smakovka bottles on display, including one where a snail is added for extra flavour!
The exhibition also includes information about the dangers of excessive alcohol consumption. You end your tour with a sample of this unique beverage, and you can always buy some more to take home.
10) Go Mountain Biking along the Daugava River
Driving time from Daugavpils to Naujene: 25 mins
Latgale is also perfect mountain biking territory. The region is hilly, and full of forests, with plenty of single and double track paths through the trees.
Our half-day tour started at the Naujene Historical Museum, where you can see the reproduction of an ancient Latgalian house.
After a quick ride on a dirt road, we reached Dinaburg Castle, considered to be the first founding site of the city of Daugavpils. Nowadays, not much of the castle is left – but you can see a model of how the castle used to look like, and enjoy a great view of the Daugava River.
If it's views you're after, you'll really like our second stop, the Vasargelišķi Sightseeing Tower. You see, Latvia does have lots of forests, bogs and wonderful nature, but it doesn't offer much in terms of mountains.
Instead, you'll find lots of sightseeing towers – and Vasargelišķi is truly one of the best. To give you an idea, the panorama over the Daugava River from the top of the tower used to illustrate the 10 LVL note!
After the tower, the ride continues through a forest, with lots of ups and downs. part of the track is wide and easy, part is narrow and a lot more challenging.
You can book a mountain bike tour getting in touch with Rolands at rolands.gradkovskis@dnd.lv – make sure you mention how comfortable you are on a bike, to help him plan the best tour for your needs!
11) Visit an Old Believers Village
Our mountain bike tour ended at Slutiški, the largest Old Believers village near Daugavpils. Old Believers are a Russian Orthodox religious minority, who rejected reforms of the faith that took place in the 17th century.
Old Believers usually live a self-sufficient life in the countryside, and communities are settles all over the world – from Russia and Latvia to Australia, South America and the US, where they are known as 'Russian Amish'.
Slutiški is inhabited by about 10 Old Believers families, and there's a museum dedicated to Old Believers culture in a wooden house, with exhibitions of household and farming tools.
It's also possible to book a traditional Old Believers lunch – we had soup with freshwater fish, a vegetable stew and some delicious apple pastries for dessert. Just what we needed after the bike ride!
12) Go Kayaking on Latgale's Beautiful Lakes
Driving time from Daugavpils to Lost in Latgale HQ: 1 hour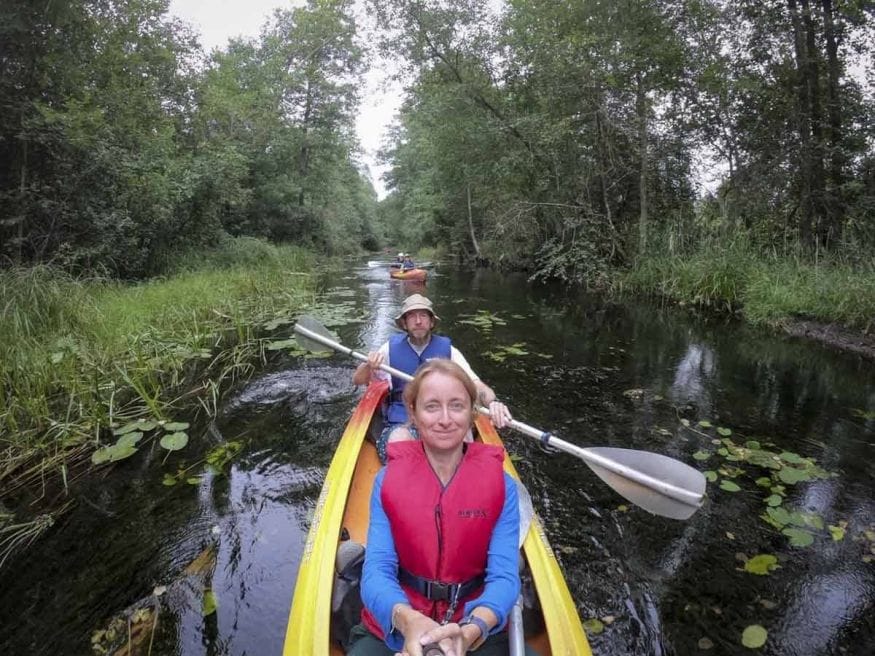 If you are looking for one unmissable thing to do in Latgale, make sure you book a kayaking tour with Lost in Latgale, a local company organising day trips discovering Latgale's beautiful lakes.
Latgale is also known as 'the land of blue lakes', as it includes several of Latvia's over 2000 lakes. Many of Latgale's lakes are interconnected by rivers or canals, and it's possible to cross several lakes on a single outing.
Our trip with Lost in Latgale started on the banks of Lake Drīdzis, the deepest in Latvia. After a short paddle across the steel-coloured waters of the lake, we reached the first channel, connecting Lake Drīdzis with Lake Ots (meaning bear – sadly, there were no bears in sight!)
Paddling through the channels was quite challenging, as you had to make sure the kayak wouldn't get stuck between the reeds or across a bend, but you truly had the feeling to be deep in nature.
After Lake Ots, we visited two more lakes – Lake Ārdavs and Lejs, connected by a river. Lake Ardavs is also known for being one of the few lakes in Europe where you can find the slender naiad, a plant that only lives in extremely clean water.
Sadly, on the day we visited the sky was cloudy, so we didn't get to appreciate the clarity of the lake waters. However, we truly had the feeling of being 'Lost in Latgale' – we didn't see a single person for the entire day!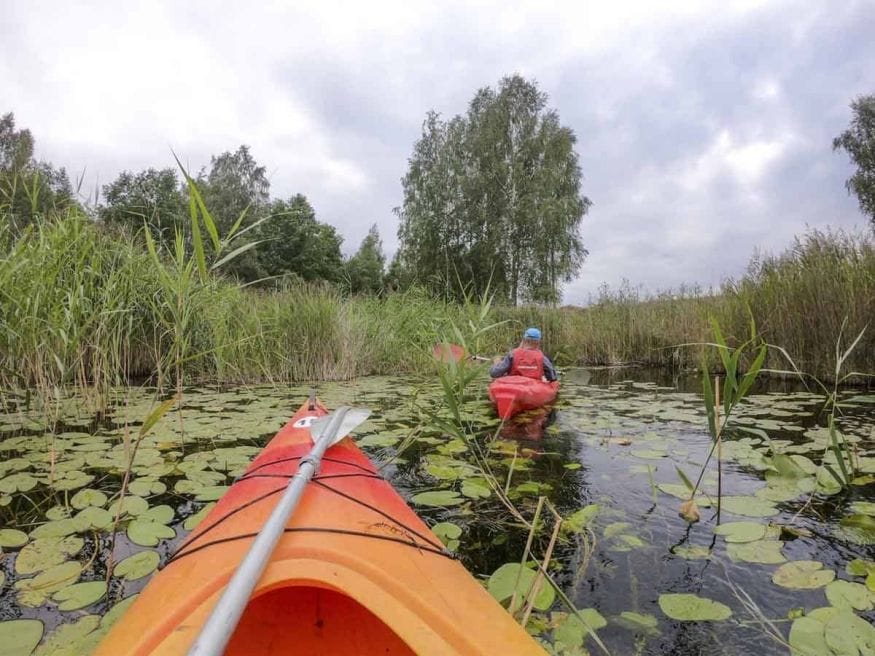 13) Ride a Horse in the Countryside
Driving time from Daugavpils: 1 hour 20
Horse riding is another iconic thing to do in Latgale! The region even has its very own horse breed, the Latgalian Trotter, which is taller and stronger than regular horses – to give you an idea, we needed a bench to get on the horse!
You can go on horse riding trips at Rudo kumeļu pauguri, a horse farm not far from Rēzekne. Owner Kristina will lead you on an hour-long ride in the surrounding countryside, selecting the perfect horse and itinerary for your needs.
You can get in touch with them on draiving@inbox.lv, but they speak no English. For this reason, we recommend visiting with a guide!
14) Stay in a Cabin
During your time in Latgale, we recommend spending at least one night in a lakeside cabin, surrounded by nature. We have three suggestions – two budget-friendly, and one midrange.
For a budget-friendly stay, we recommend Sventes Rasa, on the banks of Lake Svente about 20 minutes drive from Daugavpils. You get to stay in fun, barrel-shaped cabins merely steps away from the lake, with prices starting as little as €25.
These cabins have no toilet or running water – there's a long-drop shared toilet, and no showers. If this is an issue for you, fear not, we have an alternative!
Rudzupukes is not far from Lake Svente, surrounded by an orchard. Accommodation options include rooms in the main guesthouse, or a self-standing cabin with a traditional Russian banya in the middle of nature, perfect for a group of friends.
Rudzupukes is also worth visiting for breakfast or to buy some bread in their bakery – all their bread is made with organic flour and natural yeast.
Pazust Latgale offers three cabins on the edge of Lake Ildza, not far from Kraslava. The aim of the owners was to offer a true nature escape – there's no wifi on purpose, instead you'll find huge glass windows overlooking the lake, cozy chairs and blankets, and a fully equipped kitchen and bathroom.
Try staying at Pazust Latgale for at least one night – it was our favourite place to stay in Latgale!
Visit Latgale Practical Info
-When to Visit Latgale
Latgale can definitely be visited year round, but expect very different experiences in different seasons. Summer is definitely a great time to visit, especially if you want to go kayaking or paddle boarding.
We spent 5 days in Latgale in mid-August and temperatures reached 25°C during the day, dipping to 15°C at night.
Autumn is also a nice time to visit Latgale. In September and October, daytime temperatures decrease to 10-15°C, and around 5°C at night. October is the best time to visit to see the Autumn colours, but if this is your main interest, we recommend heading to Aluksne or Sigulda instead.
Winter in Latgale is cold, but it doesn't always snow as it's also the driest season. From December to February, the thermometer is often below zero. Temperatures warm up again from March onwards, and May is also a great time to visit, to see wildflowers and migrating birds.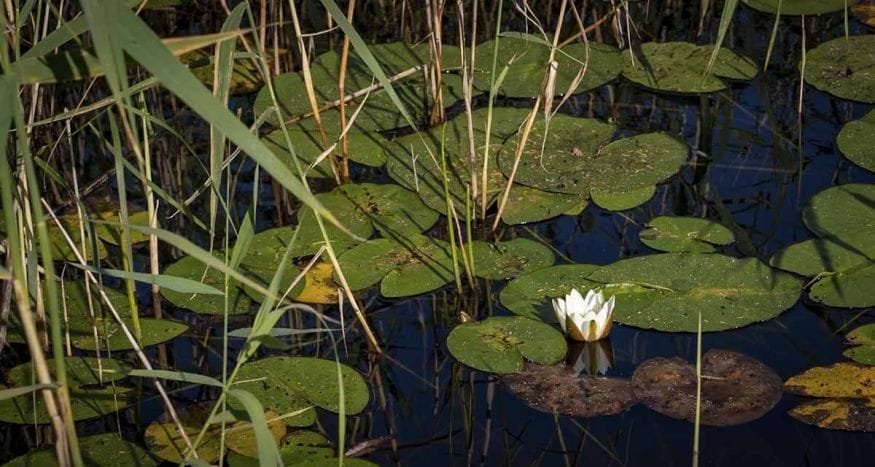 -Getting To Latgale and Getting Around
The best way to get to Latgale is flying to Riga, then renting a car. If you don't drive, you can also reach both Daugavpils and Rezekne by bus or train, but then you'll be stuck in the cities. Most attractions mentioned within this article can only be reached by car.
To get an idea, driving time from Riga airport to Daugavpils is 4 hours, and about 3 hours 15 to Rezekne. Don't forget there are no large highways in Latvia, and maximum speed limit is 100 kph!