Welcome to Kosice, fourth (and final) stop of our transformative travel journey across European Culture Capitals. Keep reading to discover 12 fun (and unusual) things to do in Košice, Slovakia, and the theme of our experience!
Sometimes it's great not to have expectations. We're in between the 'planner' and the 'spontaneous' traveller categories – throughout our travelling lives, we've rocked up at destinations with no ideas of what to expect, and other times we had big long lists of things to see and do.
We believe there are positive and negative sides in both approaches. 'Going with the flow' sometimes leads you to miss really cool things, and having everything 100% planned makes holidays feel like a chore.
There is one time when I do prefer not having plans or expectations – when you're visiting with locals. That was the idea behind our visit to Košice, the fourth European Culture Capital we visited last summer.
Košice is located in Eastern Slovakia, not far from the Hungarian border, and 400 km east of capital Bratislava – basically, on the other end of the country.
Each of our four visits to former European Culture Capitals followed a specific theme – female empowerment in Burgos, active relaxation in Rijeka, community in Matera.
In Košice, the theme was 'travelling through time' – over the course of three days, we would immerse ourselves in the history of the city, jumping across eras through a series of experiences.
On top of that, our Košice itinerary and all specific activities were not revealed to us. This allowed us to have an open mind, and every moment felt like a surprise – just have a look at my face below to know what I mean.
Košice was European Capital of Culture in 2013. Contemporary and street art projects were promoted all across town, including the transformation of a swimming pool into a contemporary art museum, and military barracks were turned into culture centres.
Things to do in Košice included a blend of 'contemporary' sights and attractions, and some activities that made us feel as if we were travelling through time – we dug for Neolithic artefacts, played Medieval dress up in a castle, visited a 16th century brewery, and more.
Keep reading if you also wish to time-travel, and learn more about things to do in Košice!
Travel Through Time – Things to do in Kosice
1) Alternative City Tour
To be honest, we weren't 100% new to Košice. We did visit the city briefly in 2015, during our Europe Interrail journey. We were switching trains and had about 6 hours to kill, so we took a quick walk across town – I remember it was a very, very hot day, so we wandered around for a bit, sat by a fountain, and had a lemonade.
This is just to say that having the right guide can really transform your experience of a place. Our first visit was unremarkable – but half an hour into our alternative Košice city tour with Igor from Local Nomad, we knew we were going to love the city.
Local Nomad organises fun city tours, either on foot or by retro bike. Forget the usual 'tour guide' monologues with dates and names of historical figures, that often leave the audience yawning.
Igor will introduce you to the city through a series of unusual sights – for instance, in front of the statue of Hungarian nobleman Francis II Rákóczi we learned about Košice's connection with Hungary. Košice is very close to the Hungarian border and was part of Hungary for centuries, and as a result Hungarian is still widely spoken in town (especially by older people).
We also visited Crafts Lane (Hrnčiarska), a cute backstreet with artisan workshops, one of the projects by Rudolf Schuster, Košice mayor in the Nineties and the visionary mind behind several city development projects.
Local Nomad's itineraries are not set in stone – Igor will prepare for you a customised tour, depending on your interests. Get in touch with him directly to know more!
2) Visit the Oldest Brewery in Town
If you've been to Slovakia before you'll know all about it – beer is excellent and really good value for money!
If you're a beer lover, definitely add Hostinec Brewery to your list of things to do in Košice. True, there are plenty of places to have beer in town, but Hostinec Brewery is special for two reasons. First of all, it's the oldest pub in Slovakia, operating non stop since 1542, and second, it was the venue for one of the largest weddings in Europe.
You'll learn all this by taking a tour with Peter, the owner and CEO at Hostinec Brewery. Tours include a historical overview on the history of beer making and of the brewery itself, with a visit to the oldest section of the building, where a 'treasure' was recently unearthed.
Depending on the time of your visit, you may also see the master brewer at work.
Your tour will end in the cellar, where you'll get to taste beer straight out of the fermentation vats. Make sure you try BB Love Garden Party, a zesty wheat beer made with the addition of fruit. The 'BB' in the name honours Brandeburská and Bethlen, the two houses joined by the famous marriage.
3) Street Art in Socialist Neighbours
Looking at images of Košice from above, you'll notice that the historic centre is ringed by a seemingly endless expanse of concrete blocks, built during Socialist times to house workers moving to the city from the countryside.
These neighbourhoods are found in pretty much every town east of the former Iron Curtain – and save for a few Brutalism aficionados, they are rarely visited by tourists.
That is where Košice is different. Ever since 2008, street art projects have been commissioned to brighten up these areas – this is a time when street art projects were not yet mainstream. In 2013, the OMG-Open Mural Gallery project was launched, commissioning 30 large-scale pieces in neighbourhoods surrounding the city centre.
Nowadays, street art hunting is one of the coolest things to do in Košice. There are about 50 street art pieces through the city, including the 30 part of OMG and the ones created beforehand.
It's impossible to see them all in a day or two – just pick your favourites on this handy interactive map, and plan your own walking tour!
4) URBEX and Street Art Workshop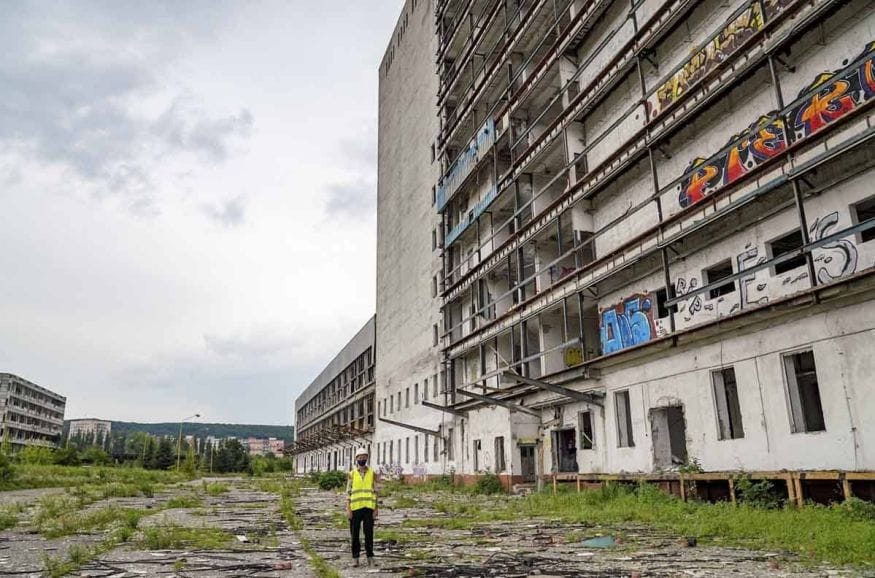 Who else love URBEX? We did it a few times in Berlin, and really, really enjoy it – but I have to admit, that I much prefer going with somebody who knows the place!
Košice's industrial boom during Socialist times was followed by a period of recession, during which many industrial buildings closed their doors. They now stand empty, many unguarded – a true URBEX paradise.
Igor from Local Nomads took us on a really cool URBEX adventure. We explored a 13-stories abandoned silo, climbing all the way up to the rooftop, from where you got a wonderful view of Košice's former industrial area.
Then, we wandered around this post-apocalyptic scenario for a bit, before trying our hand at painting with stencils on a nearby wall. This tour was by far our favourite thing to do in Košice, but don't attempt trying to go on your own – it's really, really dangerous!
5) Dig for Neolithic Artefacts
Ok, so far we didn't really travel that far in time, but the next experience will take you back to tens of thousands of years ago.
Nižná Myšľa is a sleepy town south of Košice, known for its Neolithic archaeological site and museum. Don't expect a flashy museum – the entire place is run by volunteers and works with a limited budget.
Visits generally start at the museum, where you can see a selection of Bronze age tools, jewellery and pottery, and also some really beautiful children's toys. If you get scared easily, skip the second room, which includes some exhibits about human sacrifices.
After the museum, it's time to drive a few kilometres to the archeological site, where you can see the reproduction of a Neolithic village ringed by a defence wall. There's also a pottery oven, and you can choose to join a workshop to make your own Neolithic pottery, without the use of a wheel.
During your visit, you'll also get the chance to lend a hand to archaeologists and do some digging – I found a jaw bone!
6) Medieval Experience at Kosice Castle
All list of things to do in Košice include a visit to Košice Castle, but as you approach the city you may very well be wondering where the castle is.
Košice Castle is unique for two reasons – it was never finished, and all that remains is hidden by vegetation on a hilltop, so it's hard to see from afar. Also, very little is known about the castle itself. So, why visit, you may ask?
That is because you can join a range of immersive Medieval experiences, making you travel back in time on the grounds of Košice Castle. First, everyone is invited to dress up in full Medieval garb, including shoes!
Then, depending on your interests, you can choose from a range of activities. You can visit a herb garden, prepare a Medieval meal, help a blacksmith in his workshop, or learn sword fighting Medieval style.
This was also one of my favourite things to do in Košice – really a wonderful way to feel as if you were 'living' history, rather than just observing it!
7) Ride on the Children's Railway
Have you ever heard of Children's Railways? During Socialist times, there was one in most cities. They are actual rail lines, completely run by children, established to teach railway professions and values like the importance of teamwork.
After the collapse of the Eastern Bloc, many Children's Railways have closed down, or have been turned into regular sightseeing railways (run by grownups).
The Children's Railway in Košice is one of the few surviving ones, alongside the famous one in Budapest – all activities are carried out by children, with the exception of train driver, station and ticket manager.
The railway is 4.2 km long, connecting Kosice to Alpinka, a popular destination for excursions and picnics. The journey only takes 20 minutes – try to time your visit on the weekend, when steam engines are operating!
8) Escape to the Countryside
Košice locals love spending their weekends in the countryside. Some have cabins or homes in small countryside villages, others just head to the region for day trips, to go hiking or simply spend some time outdoors.
City dwellers in most cities around Europe do the same, so why do I feel the need to mention that? Because for Košice locals, heading to the countryside it's not just a way to leave the stress of daily life behind – it also has a deeper meaning.
During Socialist times, the threat of being seen or heard doing the wrong thing was very real indeed. These 'spies' were not just members of the secret police, they could also be your friends and neighbours. In the city, you could be seen and heard at all times – in the countryside, you were a little bit more free.
In the words of our guide Lubos, 'in the countryside, we could truly be ourselves'. Socialist times may be over, but the habit remained – and if you are spending the weekend in Košice, we recommend spending at least one day in the countryside.
We visited Haj, a tiny village where the movie 'Behind Enemy Lines' was filmed. We hiked to a viewpoint over a karst valley, then a storm rolled in, so we spent the rest of the day having lunch and visiting the home of a local family.
Depending on your interest, there's plenty to see and do in the Košice countryside – you can go rafting or kayaking, visit a farm to see fresh cheese being made, go on hikes or bike rides, and more.
Get in touch with Lubos – he'll help you plan the perfect day in the countryside!
Other Things to do in Kosice
9) Climb on the Cathedral's Bell Tower
All the things to do in Košice mentioned so far were part of our transformative journey program – but the city offers a lot more to see and do!
The number one unmissable Košice tourist attraction is St. Elizabeth Cathedral. It's easy to spot – it's located right in the historic centre, with its Gothic spires towering above the surrounding buildings.
Make sure you visit it both outside and inside, and if it's open, climb to the top of the bell tower for a bird's eye view over the city centre.
The immediate surroundings of the cathedral also include other interesting Košice points of interest – St. Michael Chapel, originally built as a cemetery chapel, now often housing concerts thanks to its perfect acoustics; the Singing Fountain playing a tune every hour, and St. Urban Tower, a separate bell tower erected in the 16th century.
10) Views from Cerveny Breh Hill
Next up is a real unusual place to see in Košice! Cerveny Breh is a small hill just north of the town. In winter, the hill turns into a ski slope, and in summer the ski lift remains in use, as the hill turns into a bike park for downhill mountain bikers.
There's also a chalet where you can get drinks and quick bites, and in summer they regularly host events – we visited on a Friday afternoon, and saw a concert and did some wine tasting.
Check @BikeParkCerveny-Breh before your visit, to get info on events. If no events are on at the time of your visit, fear not – Cerveny Breh is still worth visiting for the amazing views over Kosice!
11) Run the Kosice Peace Marathon
Any runners out there? If you've read our post about the Great Ethiopian Run you'll know we are very much into running. If you are too, we're just about to give you the #1 reason to visit Košice – run the Košice Marathon!
The Košice Peace Marathon is the oldest marathon in Europe, and the second oldest in the world after the Boston Marathon. It takes place each year on the first Sunday in October, and includes two laps around the city centre. The course is flat and quite fast, perfect if you wish to improve your PB!
If you're not in town at the right time but wish to 'pay homage' to the spirit of the Košice Peace Marathon, you can visit Marathon Square (Námestie Maratónu mieru), where you can see a plaque with the names of previous marathon winners.
There's also a half-marathon option if you're not quite up for covering the full distance, taking place in May.
12) Enjoy Slovakian Cuisine
So, what do you know about Slovakian cuisine? Personally, I knew very little before visiting the country, but I was pleasantly surprised.
Meals traditionally start with a soup – my favourites were garlic soup and kapustnica, with sauerkraut and smoked meat.
Main dishes are often meat-heavy, including lots of pork, bacon and smoked sausages. A dish I really enjoyed was halusky, potato dumplings served with sheep's cheese and topped with crispy fried bacon.
Our favourite restaurant in Košice was Med Melina, also serving specialties from nearby Poland. We also loved the fact that every restaurant in town served their very own version of lemonade, often including not just lemons, but also a blend of berries and fruits!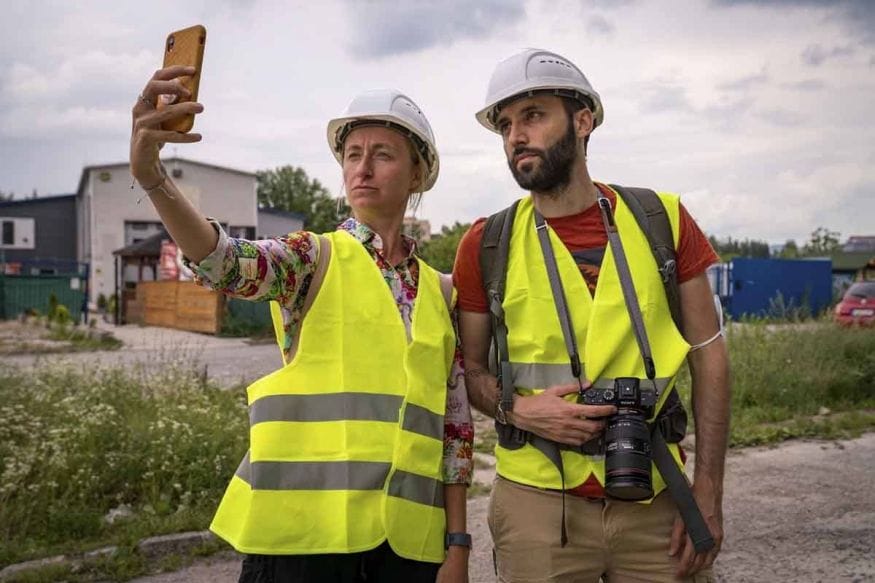 How to Get to Kosice
-By Plane: the closest airport to Košice is Budapest, located 260 km away. The most convenient way is taking a shuttle bus directly from the airport, taking 3 hours for a price of about €40 per person. Otherwise, you can make your way to the centre of Budapest and take the train.
-By Train: Košice is connected by rail to several other European cities. There are two daily trains to and from Vienna, taking 7 hours each way, and about 5 to Bratislava, 5 and a half hours away. You can also travel to Budapest by train – travel time is 3 and a half hours.
-By Bus: Flixbus and ALSA connect Košice with several European cities. Fares are usually marginally cheaper than trains, but travel time is often longer.
Our visit to Košice was part of the TraCEs – CultourIsCapital project, funded by the European Commission under the COSME programme. We would like to thank Nika, Lubos, Laci Baci and all the other people we met during our stay!