Have you ever heard of Cadaqués? This pretty town in Costa Brava is famous for having been home to many great 20th century artists… read on to find out why, and to discover 8 fantastic things to do in Cadaqués!
It's easy to fall in love with a place when you see it on a glorious, sunny day, under a clear blue sky. However, when you first see a place after a storm, still battered and bruised, and find it beautiful nonetheless – well, you know you're somewhere truly special.
I am talking about our first encounter with Cadaqués, a beautiful coastal town we visited during our recent trip to the Alt Empordà. Our aim was to cover a variety of hikes, but sadly our plans had to change due to a two-day storm that hit the region, causing flash floods and widespread damage.
When we first arrived, the storm had just passed. The roads were flooded, the sky still stacked with menacing clouds, thunder claps roaring in the sky.
It probably wasn't the dreamy Mediterranean village we imagined, but it was still breathtaking. We loved how the polished pavement stones shone in the rain, how the whitewashed buildings stood out against the deep grey sky.
The sea was the colour of quicksilver, and waves smashed into the shore incessantly, throwing cylinders of spray in the air.
It was then, when nature all around us was showing its might, that we understood how this once-forgotten fishermen village became such an artist hangout. The best-known artist to choose Cadaqués as his home was Salvador Dalí – but he wasn't the only one.
Over the years, many painters and writers moved to Cadaqués for short or long periods – Joan Mirò, Federico Garcia Lorca, Pablo Picasso, Andrè Breton and Niki de Saint-Phalle are just some of a long list of notable names.
Nowadays, Cadaqués still retains plenty of the charm that beckoned so many to its shores. You'll find beautiful nature, scenic coastal hikes, great views, world-class restaurants, and a chilled, understated atmosphere – especially if you visit off season.
After spending three days exploring the town and surroundings, we've come up with 8 fun things to do in Cadaqués – perfect for all seasons!
1) Sample Innovative Costa Brava Cuisine at Compartir
If you haven't lived under a rock for the past 20 years, you'll know that the Girona/Costa Brava region have been home to some of the greatest, most creative restaurants on the planet – El Bulli and El Celler de Can Roca are just two examples.
These are restaurants that don't just serve truly delicious dishes – they experiment with textures and colours, creating dishes that evoke memories and reinterpret tradition, taking diners on a journey one course after another.
In Cadaqués, you can have a similar experience at Compartir, a restaurant opened by three chefs that worked at El Bulli. The name means 'to share' in Catalan, as all dishes served are meant to be enjoyed by the whole table – a modern take on the ubiquitous tapas.
Over the course of an unforgettable lunch, we had a 'caprese' made with foamed mozzarella and olive spheres, 'cannelloni' wrapped with raw tuna, Meuniere razor clams topped with wild fennel, a delicious dessert served in a hollowed-out banana, and more!
My personal favourite was the creative take on mel i matò, a popular Catalan dessert made with cheese and honey – Compartir's version is savoury, made with homemade almond milk, topped with olive oil, olive powder and toasted pine nuts, and served with Cadaqués anchovies.
This should be right at the top of your list of things to do in Cadaqués – but make sure you book ahead!
2) Roam the Streets of Cadaqués
That goes without saying! Wandering around Cadaqués is a great way to spend the time, admire some of the town's sights, and maybe even make new friends – even though they often happen to be sleeping!
For a nice mini-walking itinerary, we recommend starting at the seafront. Head to the Mirador along Avinguda Victor Rahola for a wonderful view over the whitewashed historic centre, then start walking down the seafront promenade.
Depending on what time of the day it is, you may want to stop at the wonderfully quirky Sa Botigueta for shopping, or have some vermouth at one of the bars along the promenade.
You'll pass two small beaches, and then you'll reach the Platja Gran, the largest beach in town, where you'll find a statue of Salvador Dalí.
At this stage, you'll be very close to the historic centre – walk down the narrow street that appeals you the most and start making your way towards the Church of Santa Maria de Cadaqués, famous for its intricate baroque retablo.
This entire walk should take you about half an hour – if you want to continue walking, keep reading below!
3) Hike to the Far de Cala Nans
If you want to kill a couple of hours doing something amazing, and/or you want to try a coastal hike that's not too challenging, I have the perfect option for you – take the coastal trail from Cadaqués to the Far de Cala Nans and back!
You can find the first trail markers near the Church of Santa Maria, hand-painted on black slate. Follow them – you'll hike past some of the beaches on the western side of Cadaqués, before starting to climb up on the coast, with scenic views around every turn.
There is a fair amount of ups and downs, and the path can get rubbly and slippery, especially after bad weather. You'll be hiking over steep, narrow coves, impossible to get to on foot – you'll understand why Costa Brava was used to be full of smuggler hideouts!
Once you reach the lighthouse, just let your gaze wonder for a while across the sea, looking how it whips and crashes over the stunning, dramatic coastline. Then it will be time to make your way back to Cadaqués!
4) Hike and Explore Cap de Creus
Cadaqués is located in the heart of the Cap de Creus peninsula, the easternmost point in Catalunya. If the coastal hike to Far de Cala Nans left you longing for more, you can find many more hikes around Cap de Creus, lasting from a few hours to a whole day.
One of the best is the loop trail connecting Port Lligat to the Cap de Creus lighthouse. The trail is about 16 km long and covering it would take most of the day, considering you'll be stopping to enjoy the views and maybe enjoy a dip at some of the secret coves you'll be passing it along the way.
Finding your way is very simple, thanks to the yellow Itinerannia signs found all over Cap de Creus. Itinerannia is a project collecting over 2500 km of trails all over Costa Brava and the Pyrenees in a single network – you can browse their website to see various hike options in Cap de Creus if you want something shorter or longer.
5) Art & Nature at Paratge de Tudela
If you do decide to spend time in Cap de Creus, make sure you also pay a visit to Paratge de Tudela, a protected nature reserve located just to the north of Cadaqués.
This is the place to visit if dramatic coastal landscapes are your thing – the salt-laden air and the tramuntana wind have eroded the rocks over the ages, turning them into true abstract sculptures.
Wandering around, you may indeed think this all looks familiar – and you'll be right, as Salvador Dalí himself was inspired by the surrealist landscape of Paratge de Tudela, an area he regularly visited as a child.
The artist liked naming the rock formations, and nowadays there are identifying placards next to some of them – let's see if you can guess what Dalí thought they looked like!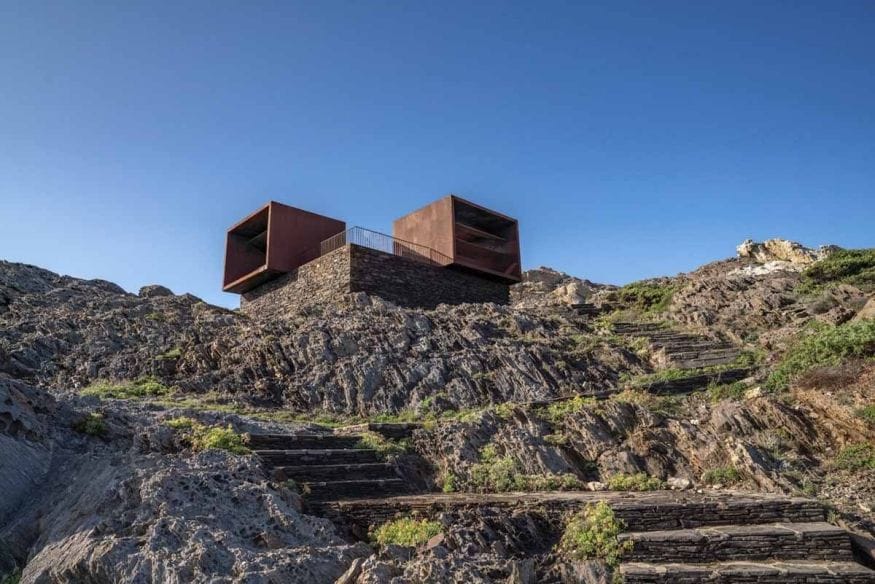 You may also notice some quirky outdoor structures – these are the remains of a former hippie Club Med, open from the Sixties to 2003. When Paratge de Tudela was turned into a nature reserve, the resort was 'unbuilt' brick by brick, turning the foundations that couldn't be removed into platforms and viewpoints.
6) Visit Salvador Dalí's House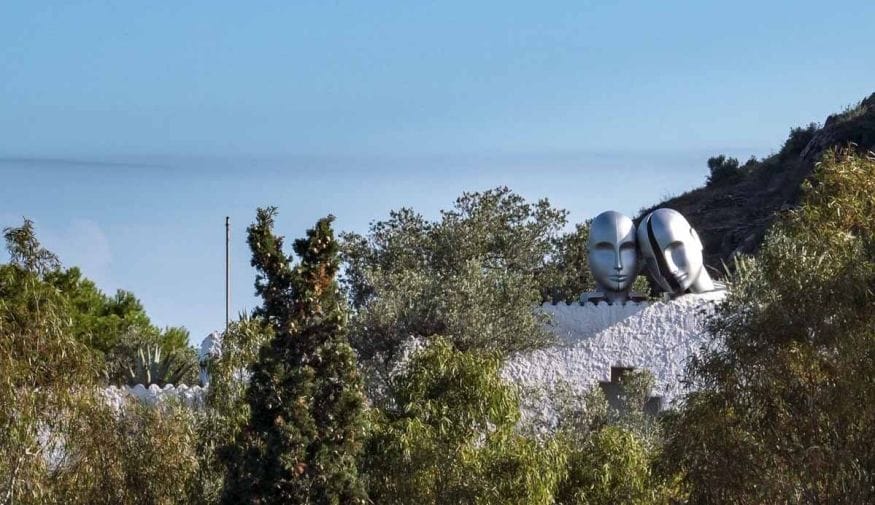 I'm sure that, by now, you'll have understood that Dalí and Cadaqués go pretty much hand in hand. So now you've seen his statue, you've seen the landscapes he was inspired by, you may as well go and visit Dalí's house in Port Lligat!
The house is whitewashed, overlooking a cove just north of Cadaqués. From outside, you can't see much, save for a couple of oversized faces and eggs in the garden, a recurrent theme in the houses and castles designed by the artist.
The artist lived in the house for over 30 years with his wife Gala, and it's every bit as quirky as you can imagine – from lip-shaped couches to stuffed animals on shelves and silver heads on the roof, you'll feel as if you walked into a Dalí painting.
7) Swim or Sunbathe on the Beach in Cadaqués
Hey, after all Cadaqués is a beach town, so it makes sense that you may want to spend some time on the beach too!
There are plenty of beach options in and around Cadaqués – the best ones right in town are Platja Gran, right in the centre of town, Es Llane and Es Llane Petit, and Platja Es Sortell, just a few minutes walk away.
To escape the crowds, head out a little – Platja Sa Conca is about 10 minutes from Cadaqués on the way to Far de Cala Nans, and it's famous for its crystal-clear waters and for the fact it's popular with nudists.
Cala Portalò on Cap de Creus is also a great, secluded option, while divers should take note of Platja d'es Caials, where you can see the wreck of the British ship Llanishen, sunk by a Germans submarine in 1917.
8) Stay at Carpe Diem
Cadaqués is stunning indeed, but it's hardly a secret. You may have its streets to yourself in October, but in high summer you'll be rubbing elbows with hundreds of holidaymakers and day trippers from Barcelona.
The solution? We always recommend avoiding the high season, but regardless of when you visit, make sure you stay at Carpe Diem, a hotel offering both suites and apartments overlooking Cadaqués. If you're lucky, you'll be able to enjoy THIS VIEW right from your private balcony!
Carpe Diem also has a restaurant serving a wonderful breakfast, and a swimming pool, perfect if you want to sunbathe without having to fight for towel space at the beaches.
And if you want to go out for dinner or explore Cadaqués, you'll only have to walk 10 minutes!
How to Get to Cadaqués
-By Plane – the closest airport to Cadaqués is Girona, about an hour away, followed by Barcelona/El Prat, two hours away. You can ask your hotel to arrange an airport transfer, or rent a car and drive yourself!
-By Car – having your own car will give you the freedom to explore around Cadaqués, and even make it as far as the Girona Pyrenees if you wish. From Girona and Barcelona, you can easily drive to Cadaqués along the AP-7/E-15 road bound to France until Figueres, from where you'll have a further 45 minutes along smaller roads to reach the town.
-By Public Transport – there is no train station in Cadaqués. Your best bet to get there by public transport is by train until Llançà or Figueres, and then can connect to a Cadaqués-bound bus.
We would like to thank the Patronat de Turisme Costa Brava Girona for having welcomed us again. Moltes gracies Dunia! Many thanks to Itinerannia for putting together such a wonderful itinerary for us!