A few years ago, we spent four months in India. We travelled the country from top to bottom, from the mountains of Ladakh to the ghats of Varanasi and the marvels of Rajasthan – ending the trip with three weeks in Kerala.
I still remember the day we reached Kerala. As we landed, we saw posters welcoming us to God's Own Country. We couldn't wait to explore the backwaters, enjoy the laid back charm of Kochi, learn about Keralan culture and cuisine – and over the next few weeks, we did do all that.
However, to this date, if you ask me what the best surprise of Kerala was, I would say without a doubt it was its people.
Fast-forward to the present day, and when the Kerala Tourism Board got in touch asking us to promote their latest campaign, Human by Nature, we were more than happy to say yes.
Here's the campaign video!
The people of Kerala were the highlight of our trip – and if you visit, I'm sure you'll agree.
Kerala's Diverse Culture
Kerala truly is a place of its own. Yes, you'll find the glistening temples found in other parts of India, but there are also many churches – 20 per cent of Kerala's population is Christian.
If you're lucky enough to visit in August, like we did, you'll be able to enjoy Onam, the yearly harvest festival, the most important of the year. The festival lasts for 10 days, and includes a variety of celebrations.
The first one you'll notice will probably be pookalam, intricate flower arrangements placed outside homes. More than likely you'll be invited to try a sadya, a vegetarian feast traditionally served during Onam – a dozen or more dishes served on a banana leaf, including curries, dahl, pickles and poppadoms, displaying the variety of flavours of Kerala cuisine.
Onam also included a number of street parades and performances – for us, the most unforgettable was Pulikkali, taking place in the town of Thrissur. Hundreds of men in a full tiger body paint parade through the town, dancing and jiggling their painted bellies in a fun and humorous way.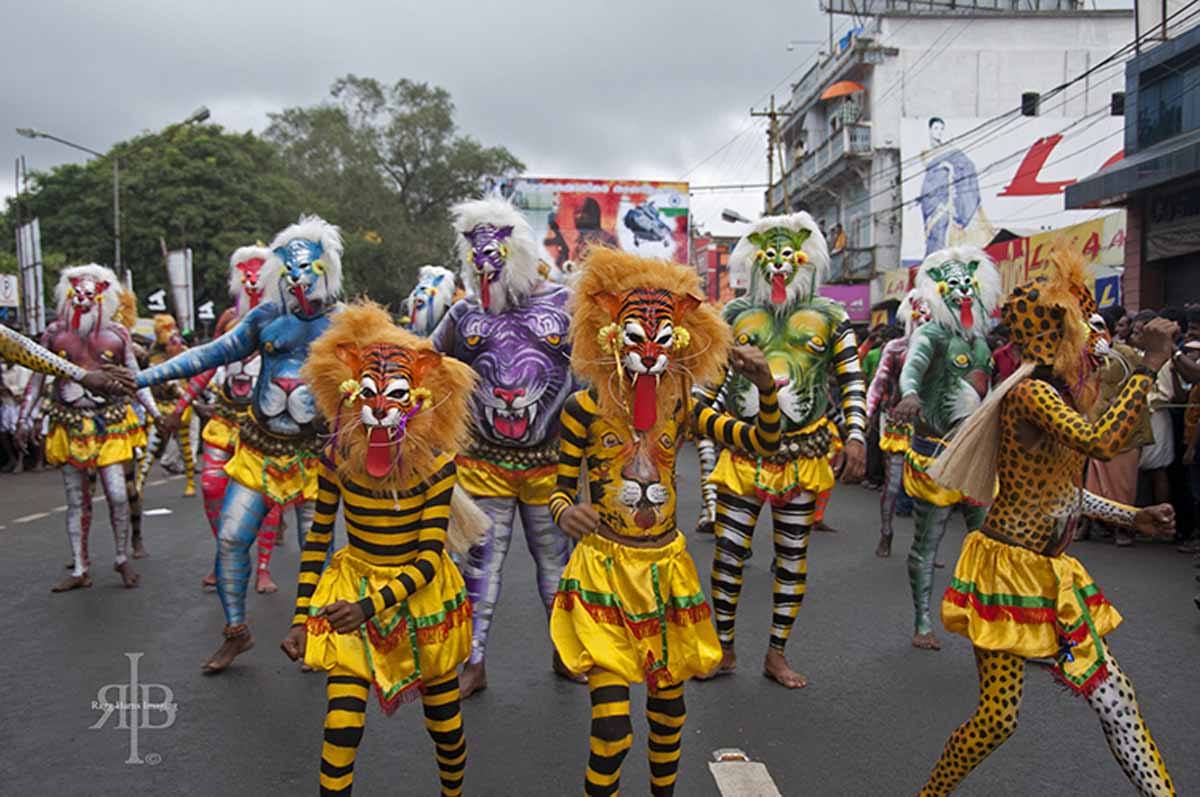 Other Onam performances include snake boat racing, street dancing, tug of war and martial arts display.
If you're visiting at a different time of the year, you'll still have the possibility to enjoy traditional performances like Kathakali, where actors in colourful costumes and elaborate make-up narrate stories about gods and demons through dance, acting and gestures.
Performances traditionally last several hours, but you're likely to find shorter versions in places like Kochi.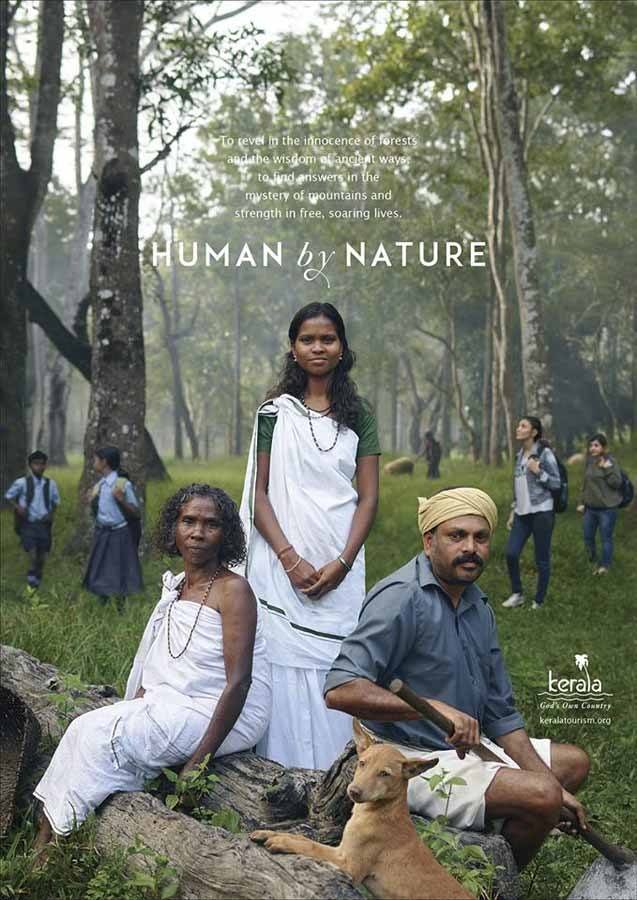 Kerala Way of Life
'Human by Nature' refers to the unique connection between the people of Kerala and their land. In an increasingly urbanised, overpopulated world, the connection between people and nature is just about lost – but in Kerala, nature is still part of people's daily lives.
One of the first things you'll notice is that the rhythm of life is slower than elsewhere in India, probably because of the intense heat, or because water is crucial to transportation.
Kerala is criss-crossed by backwaters, still the main way to travel between remote villages. A backwater cruise is one of the top tourist activities in Kerala, and a wonderful way to admire wonderful landscapes and sunsets.
Sadly, during our visit, our budget didn't stretch far enough to book one of these cruises, so we opted for the DIY version – we took the backwater ferry from Aleppey to Kollam, and spent an entire day cruising surrounded by locals.
We have great memories of that day, playing with children on the boat, chatting to their parents, and seeing life in remote villages as we cruised by.
I remember seeing a group of local men toasting at a local toddy shop, beckoning us to join them, and a little girl sitting on a swing with her puppy, waving until our boat disappeared from view.
Even now, so many years later, I sometimes think about that day when I'm feeling tired and anxious. I visualise the water flowing slowly, the smiles of children and the palm trees gently swaying in the breeze, and promise myself I will return one day.
The Kindness of the People of Kerala
The people of Kerala are kind and welcoming. You are (literally) thousands of miles away from the hectic experience of Rajasthan and big Indian cities, with touts and rickshaw drivers vying for your business.
People will wave and smile at you – and if you need their help, they'll go out of their way to make sure you're ok.
During my time in Kerala, I was suffering from a stomach parasite that made me severely dehydrated. One day, as I was queuing to buy ferry tickets, I passed out. I came to a few moments later, surrounded by women who gently cradled my head and gave me water from a bottle.
One of them stayed with me for the next hour, as we boarded a rickshaw together and we went looking for my guesthouse – I had completely forgotten where I was staying, and it took ages to find it!
There are so many more stories about the people of Kerala. I could tell you about a woman in Varkala, one of Kerala's best beaches, who invited us for an unforgettable meal with her family.
Or about that day in Munnar, when we went to hike around the tea plantations and were surrounded by smiles all around – and we were even taken for a sneak peek of the processing plant, which is normally closed to tourists.
I could tell you many stories, but my recommendation is going to experience Kerala for yourself. I have no doubt you'll love it as we did – and you'll understand the deep, timeless meaning behind the phrase 'Human by Nature'.