Welcome to our first post about hiking in the Girona Pyrenees! Here we share with you all you need to know if you're planning to hike the GR1, focusing on the section of the trail crossing the Girona province!
Ever since we hiked the Camino de Santiago in 2013, we promised to ourselves we would go on a long-distance hike every year. And so we did – we climbed Pic Boby in Madagascar, hiked the Via Dinarica, trail-blazed across Southern Finland, hiked in the remote Tien Shan mountains of Kyrgyzstan and we are currently covering GardaTrek, three loop-shaped paths around the northernmost part of Lake Garda.
For our latest adventure, we went hiking in the Girona Pyrenees for a whole month, covering an epic section of the GR1 long-distance path that crosses the whole of northern Spain. The entire length of the path is 1250 km but we only hiked the first 150, the part of the trail crossing the province of Girona.
Here is our full guide about hiking the GR1 in the Girona province, and here is an article about places to see along the GR1!
Meanwhile, here are our practical tips on how to plan a Pyrenees hiking adventure – including when to go, what to take and how to get ready. The info included in this article are especially relevant to the Girona region and section of the GR1, but they will be helpful to anyone planning to go walking in the Pyrenees, in Girona and beyond.
Feel free to get in touch if you need more practical info about the GR1, hiking the Pyrenees, or if we forgot something!
Click below to jump to the relevant section!
Hikes in the Girona Pyrenees, Costa Brava & Around
When to Hike the Girona Pyrenees
What to Pack for a Pyrenees Hike
Do I Need to be Fit to Hike the Pyrenees?
Dangers & Annoyances in the Pyrenees
Where to Stay in the Girona Pyrenees
Where to Eat in the Girona Pyrenees
Hikes in the Girona Pyrenees, Costa Brava & Around
The province of Girona offers countless hiking opportunities, both in the Pyrenees and along Costa Brava, and neighbouring provinces also offer plenty of options to explore on foot for one day or longer.
Here are a few hiking ideas:
GR1 Sendero Historico
The Girona section of the GR1 includes the first (or last, depending which way you look at it) 150 km of the trail, starting from Empuries in Costa Brava and ending in Ripoll, in the heart of the Pyrenees. The hike can be easily covered in 8-10 days and crosses several different landscapes and historical sights.
Cami de Sant Jaume/Camino de Santiago
The network of routes leading to Santiago de Compostela in ancient times also crossed the Girona province on their way to the Montserrat monastery, one of the traditional 'departure points' for the pilgrimage.
The Girona section of the trail starts either at the San Pere de Rodes Monastery or La Jonquera border with France and takes three days to reach Girona, from where it's another week across the Pyrenees to Montserrat – and much much longer to reach Santiago. The Girona branch of the Camino has the benefit of being one of the least frequented by hikers, making it ideal to enjoy the landscapes and spiritual atmosphere of this popular pilgrimage trail.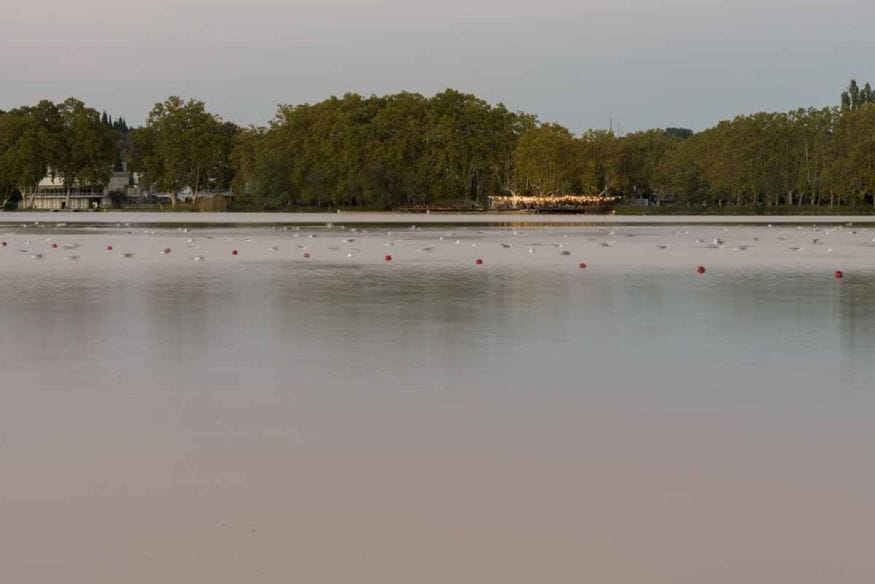 Cami de Ronda
If you prefer Costa Brava to the Pyrenees, you can opt to hike the Cami de Ronda, a 200+ coastal path originally built to control the coast and prevent smuggling. The trail connects Blanes with Portbou on the French border, and it takes about two/three weeks to complete, crossing coastal villages and enjoying cliff-top paths and relaxing time in deserted beaches.
Ottsworld has written extensively on the topic, and you can also download her ebook for free here.
Cami dels Bons Homes
Another great hike nearby (even though it is not entirely in the Girona Pyrenees) is the 'Walk of Good Men', retracing the migration routes of the Cathars who fled to France to escape religious persecution between the 12th and 14th century. The trail starts in Berga and heads northwards across the Cadì-Moixero National Park to the French border at Puigcerdà, and then continues in the French Pyrenees until Montsegur.
The total distance is about 150 km, half in France and half in Catalunya, and it takes about 10 days to cover the entire distance.
Aiguestortes National Park
If you are looking for single-day hikes in spectacular surroundings, the Aiguestortes National Park in the Lleida province is the place for you. The national parks covers altitudes between 1500 and 2000 meters – summer and autumn are the best time to hike, as snow can last all through spring. Espot is the best access point – to find out more about Aiguestortes, check this post about our visit.
Alta Garrotxa
Another wonderful area to hike in the Girona province is Alta Garrotxa, a region of volcanic origin located in the Pyrenees foothills. The La Garrotxa Volcanic Zone Natural Park includes 40 volcanic cones that can be explored thanks to an extensive network of walking trails.
El Ripolles
El Ripolles includes the charming town of Ripoll and surrounding region, with some truly wonderful high-altitude hikes in the heart of the Pyrenees.
We've put together a full guide to El Ripolles, including our 5 favourite hikes – have a look if you're planning to visit!
When to Hike the Girona Pyrenees
Autumn and Spring are the best time to hike in the Girona Pyrenees, and the best time to visit the whole Costa Brava/Pyrenees area. I know that making weather-related predictions is getting increasingly harder, but generally speaking April/May and September/October are ideal because the weather is largely dry and sunny, and you'll see few tourists about.
The summer months also have sunny and stable weather, but temperatures are too high to hike comfortably – you'll need to be carrying your body weight in water, since you won't always find water sources along the way. Not to mention that accommodation is usually fully booked – and you definitely don't want to be stranded with nowhere to sleep after a long day on the trails. Conversely, winter can be wet and chilly, and you may encounter snow and ice at higher altitudes.
We hiked for the whole of October and the weather was just ideal, ranging between 18 and 25° during the day at the beginning of the month, and between 15 and 22° at the end. We only had one morning of rain, and clear blue skies the rest of the time.
What to Pack for a Pyrenees Hike
Let's start with good news – if you're planning to hike the GR1 or other long-distance trails along the Pyrenees, you don't need to carry camping equipment as there are plenty of mountain villages and refuges where you can spend the night. That means your backpack will be much much lighter!
We always recommend looking at our long-distance hike packing list for a detailed explanation of what we carry on long-distance hikes. Otherwise, here's a list of what each of us carried in our backpacks for our Girona Pyrenees hike:
[easyazon_link identifier="B00L1RC5I6″ locale="US" tag="thecrowdedpla-20″]Zip-off hiking trousers[/easyazon_link]
[easyazon_link identifier="B01HC7CQVO" locale="US" tag="thecrowdedpla-20″]Microfiber t-shirts[/easyazon_link]
[easyazon_link identifier="B016YKL66G" locale="US" tag="thecrowdedpla-20″]Lightweight hoodie[/easyazon_link]
[easyazon_link identifier="B019437Z4C" locale="US" tag="thecrowdedpla-20″]Fleece[/easyazon_link] (we didn't really need it, as the weather was always warm)
[easyazon_link identifier="B07117PVS8″ locale="US" tag="thecrowdedpla-20″]Hiking socks[/easyazon_link]
[easyazon_link identifier="B005BXY318″ locale="US" tag="thecrowdedpla-20″]Goretex rain and windproof jacket[/easyazon_link] (which we used for about 10 minutes)
Naturally we also carried our toiletries and electronics – please refer to the packing list I linked above for detailed lists.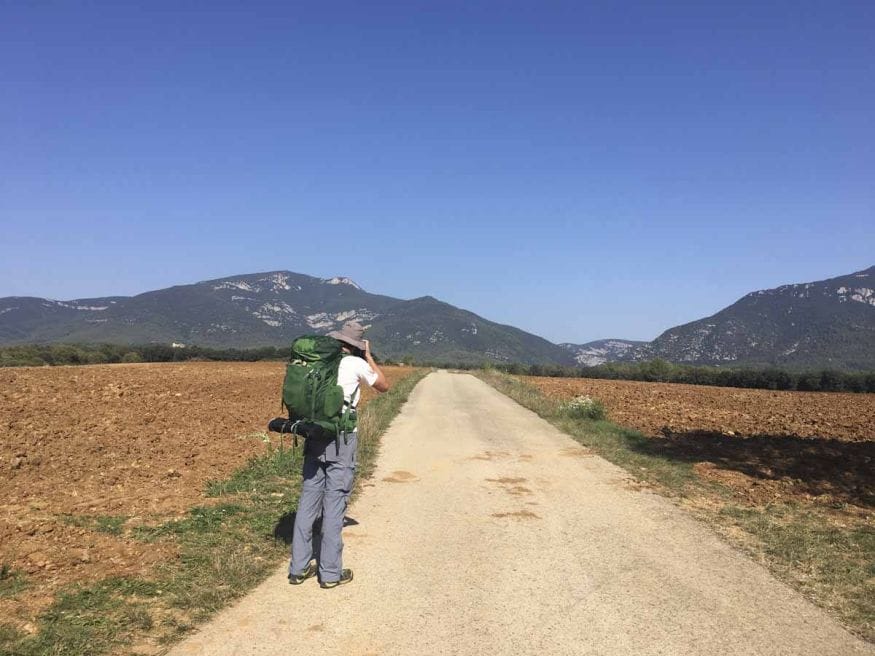 We carried our Osprey backpacks, our favourites when it comes to hiking – the [easyazon_link identifier="B014EBZCI0″ locale="US" tag="thecrowdedpla-20″]Kestrel[/easyazon_link] for Nick and the [easyazon_link identifier="B019FT5BSC" locale="US" tag="thecrowdedpla-20″]Kyte[/easyazon_link] for me. In terms of shoes, Nick used his usual [easyazon_link identifier="B00MBG5NO4″ locale="US" tag="thecrowdedpla-20″]Salewa hiking shoes[/easyazon_link] whereas I had hiking boots – I was still concerned about my ankle after my injury in Kyrgyzstan. I also had hiking poles, but didn't really need them.
I also recommend carrying a [easyazon_link identifier="B01G7SQBPQ" locale="US" tag="thecrowdedpla-20″]water bottle with a filter[/easyazon_link] – there are water fountains in towns and villages with drinkable water, but a filter will come in handy to fill your bottle from the streams you'll encounter in the woods.
Do I Need to be Fit to Hike the Pyrenees?
When we tell people we hiked 150 km in the Pyrenees, the usual reply is 'wow, I can't believe it'. Well, let me tell you – you don't need to be a hiking junkie to tackle the GR1 or other long-distance hikes. If the idea of hiking over 20 km a day scares you, you can break the hike into smaller stages – for instance, some days we only hiked for 10 km, or less, in order to enjoy the landscape and take pictures and videos.
Another way to make your hike more bearable is introducing 'rest days' between 'hiking days' – which is a great idea, as the Girona Pyrenees are full of spectacular historical cities.
If you don't want to carry your backpack day in, day out, you may want to book a luggage transfer service. There's an operator offering this on the Cami de Ronda – as far as we know, the GR1 and other routes do not offer 'official' luggage transfer services, but you can always ask your accommodation to take care of that for you, or negotiate locally with taxi drivers.
Pyrenees Orientation Tips
Major hiking routes like the GR1, the Cami de Sant Jaume and Cami de Ronda are well signposted, but we also recommend carrying a GPS loaded with a gpx trail, as well as paper maps and a compass if possible. You can never be too careful!
Please don't rely on Google Maps or other online services, as mobile coverage is little to non-existent when you reach the heart of the Pyrenees.
Dangers & Annoyances in the Pyrenees
To be honest, there's little or nothing to worry about when hiking the Girona Pyrenees. We didn't encounter snakes or other dangerous animals, and there are no crime issues along the trails or in the towns we visited – Catalunya is a very peaceful area, and locals are friendly and welcoming.
There are only two things to be aware of – dogs and electrified fences. Guard dogs are often kept by farmers or locals living in remote areas. More often than not they'll be tied, but sometimes they might approach you barking and growling when you cross their 'territory'. We never had issues with any of them attacking, but we found that pretending to pick up a rock and throw it towards them usually kept them at a safe distance.
Electric fences are widely used in the Pyrenees to prevent livestock from running away. Avoid touching them, and when you're at an electrified gate make sure you open it by holding on the rubber handle – never touch the wire directly. It's unlikely the shock will kill you, but it will probably be unpleasant.
Where to Stay in the Girona Pyrenees
The GR1 and most other multi-day hikes in the Girona Pyrenees cross towns and villages, so you won't have to camp along the way. Larger towns like Banyoles and Besalù will offer lots of accommodation options, whereas smaller places like Tortellà and Sant Pau de Seguries only have one or two hotels to choose from.
Another kind of accommodation you might encounter in the Pyrenees are 'refugios', mountain huts run by family or volunteers that are usually only accessible on foot. Refugios usually have shared sleeping quarters and facilities, and food is on offer, but don't expect the same levels of comfort and service of a hotel. However, the main benefit of staying in a refugio is that you'll be surrounded by nature and if staying at a family-run refugio, you'll enjoy wonderful Catalan hospitality.
Where to Eat in the Girona Pyrenees
What I said about hotels can also be extended to food – expect lots of food options in larger cities, not so many in small places. Most places where we stayed offered a menu del dia with prices ranging between €10 and 12 for lunch, and €15 and 18 for dinner, including a primero (usually a choice of salad, soup, cannelloni or cured meats), segundo (meat or fish with sides – vegetarian options were really rare) and postre (dessert). Water, wine and sometimes coffee were also included.
If you're vegetarian, vegan or have dietary requirements, inform your hotel as early as possible if you're planning to eat there, otherwise bring supplies, especially when travelling in remote Pyrenees locations.
One last word of warning – when hiking in the Pyrenees, sometimes you won't encounter restaurants before the end of your hike. Make sure you carry snacks, fruit or sandwiches, or you'll be starving by the time you reach your destination!
We would like to thank the Patronat de Turisme Costa Brava Girona for having helped us make this wonderful project become reality. Gemma and Jaume, moltes gracies a vosaltres!
Pin it for later?