Are you looking for an offbeat destination in Italy, amazing in all seasons, with cultural and outdoor activities plus lots of good food to eat? Keep reading to discover 12 amazing things to do in Fidenza!
Guess what? I think Emilia-Romagna is my favourite Italian region, by far! These were Nick's words on the train back home, after having spent 4 wonderful days in and around Fidenza.
It's hard to pinpoint why we love it so much. Perhaps because it's so varied – you'll find beaches, flatlands, forest-covered mountains, and hills, with countless trails to explore it all on foot or by bike. There's also an incommensurable cultural heritage, super-friendly people, and truly delicious food. The best food in Italy, in our opinion.
Over the years, we visited the region countless times – to hike Via degli Abati, see the mosaics of Ravenna, ride on a Ferrari around a race track, explore Bologna's offbeat attractions, and more.
This time we were headed to Fidenza, a little town not far from Parma, in a strategic location between the Po Valley and the Apennine foothills, ideal for a short break or a long weekend.
Here we've collected 12 things to do in Fidenza and its surroundings, showcasing the variety of sights and experiences you can enjoy in the area!
Things to do in Fidenza and Around
1) Urban Trekking in Fidenza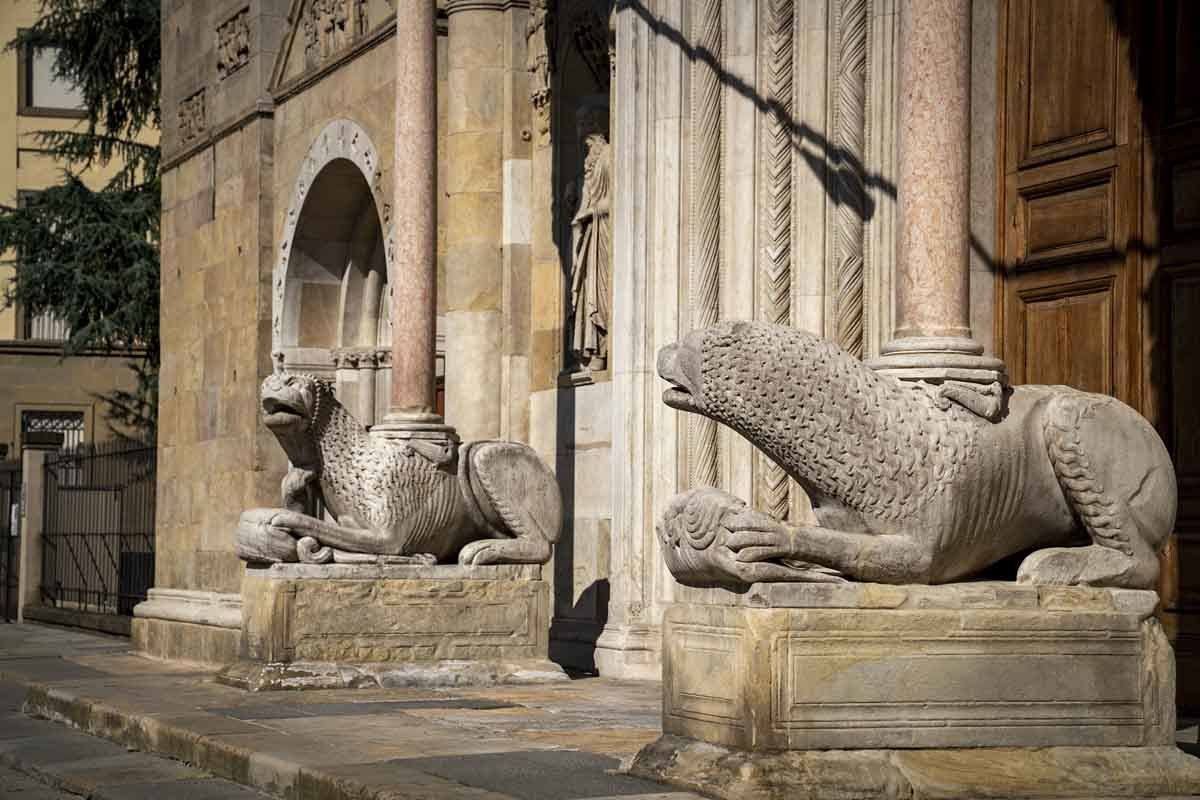 We recommend starting your itinerary to discover all there is to see and do in Fidenza with an 'urban trek' of sorts around town.
From the train station (where you can also park your car), make your way to Torre Cremonini, the headquarters of the local tourist info office. The tower is the only remaining part of the Medieval city walls, and it's located right next to the ruins of a Roman bridge that once crossed the Stirone stream.
A few steps away you'll see the stunning Romanesque Duomo, dedicated to San Donnino (Saint Domninus). On the front of the church, you'll find a bas-relief narrating the story of the saint's martyrdom – he was beheaded a short distance away, just across the Stirone, but picked up his own severed head and walked to the location where the cathedral now stands.
Walk a short distance away to Piazza Garibaldi, where you'll notice the Neo-Gothic frame of Palazzo Comunale. The real gem is just around the corner – Teatro Magnani. Its neoclassical façade conceals a truly opulent interior, with three orders of boxes, golden stucco and frescos on the ceiling, plus lots of red velvet.
If you have time, walk a little further to Palazzo delle Orsoline, where you can relax in the inner courtyard, visit the library or one of two museums – one dedicated to fossils, one to Italy's independence.
Finally, all this walking will have made you feel like an ice-cream! The best one in town can be had at Magritte-Gelati al Cubo, offering a creative selection of flavours plus all the usual suspects. I really loved mine – butter and wildflowers!
2) Escape to the Hills in Salsomaggiore Terme
Salsomaggiore Terme (Salso for short) is just 10 km away, connected to Fidenza by frequent trains.
Fidenza and Salso are kind of 'sister cities', very close to one another yet completely different – the former lies in the flatlands, along the busy Via Emilia, with a typical Roman/Medieval city plan, whereas the latter is located higher up in the hills, with lots of parks and green spaces, plus fanciful Art Nouveau buildings.
Salsomaggiore rose to fame in the 19th century thanks to the beneficial effect of its salsobromoiodic thermal waters, with a high concentration of sodium, bromine, and iodine, making them perfect to treat skin ailments.
There are two wonderful buildings dating back to the early 20th century, the 'heyday' of thermal tourism. The first is Terme Berzieri, a giant thermal complex right in the centre of town, built in Art Nouveau style and decorated with frescos by artist Galileo Chini.
The same artist also decorated Palazzo dei Congressi, a former thermal hotel now turned into a conference centre, with some spectacular frescos inspired by the artist's experience in the Far East.
Terme Berzieri are now being renovated, and cannot be visited inside. To take a look at the wonderful interiors, here's our Salsomaggiore post from our first visit in 2019!
3) Visit Tabiano Castello
Have you always wanted to visit a castle? Not one of those dusty castles turned into a museum, but a real-life castle, where people still live?
Tabiano Castello is just a quick drive from Salsomaggiore, near Tabiano, another famous thermal resort. The name 'Tabiano Castello' refers to a tiny village, with a collection of houses, overlooked by a castle.
The castle was built in Medieval times by the Pallavicino family, rulers of the region, to protect their land from outside invaders. Looking at the view from the walls, you'll immediately understand why – there's a stunning 360° view!
The castle fell into disrepair until the 19th century, when it was purchased by a Swiss family who made their fortune in London selling ice cream. Their descendants still live in the castle, and welcome visitors for guided tours.
The interior decoration is still original, and we loved that the castle looked and felt like a home, not a museum. The part I liked best was the cellar, with old wine and cheesemaking equipment, and the kitchen, where the family still cooks and eats to this day.
4) Mountain Bike Ride along the Stirone
The territory surrounding Fidenza and Salsomaggiore is ideal to be discovered on two wheels! You'll find a variety of itineraries for road and mountain bikes – and if you are not feeling super fit, you can always opt for an ebike!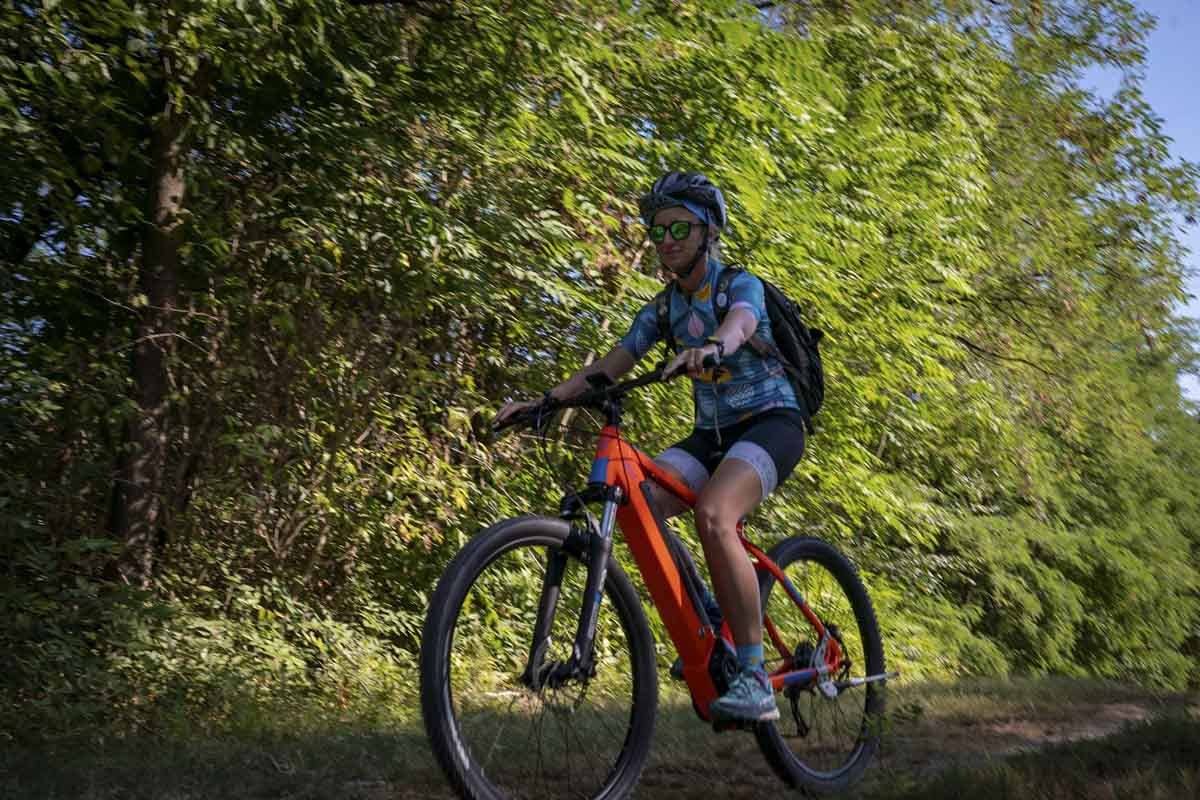 We followed an easy 15 km itinerary along the Stirone, alternating farmland to small patches of forest and some sections where we rode on the banks of the stream.
The first part of the ride followed a loop-shaped route connecting Fidenza to MuMAB – Museo Mare Antico e Biodiversità (more about it in the next paragraph!), and afterward we rode uphill all the way to Salsomaggiore – there were some steep sections where the electric motor definitely came in handy!
For ebike rental, contact La Comoda Bike 2 – they also offer bike delivery and pick-up wherever you like.
5) Visit MuMAB – Museo Mare Antico e Biodiversità
The miraculous Salsomaggiore waters are the remains of a Prehistoric sea, that once covered all the Po Valley. For this reason, a great variety of marine fossils were found in the area surrounding Fidenza and Salsomaggiore – including ammonites, turtles, and even dolphins and whales!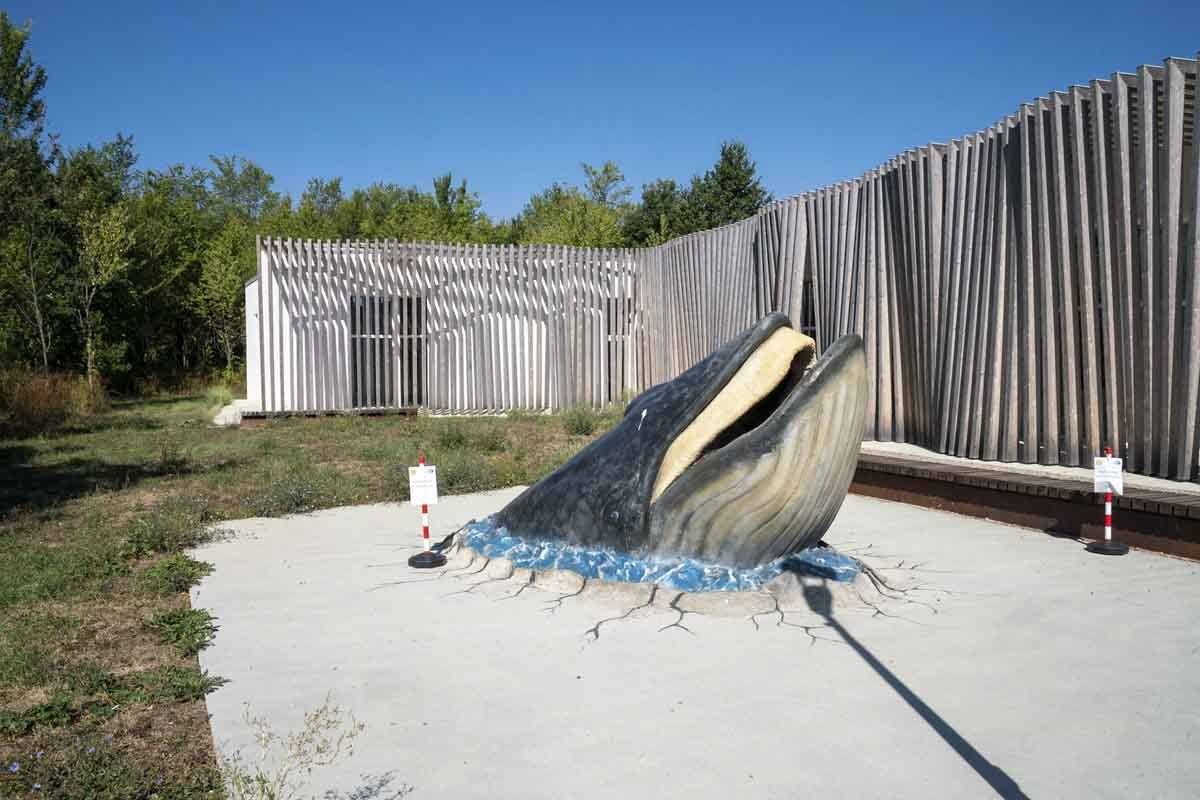 You can learn about the geological history of this region at MuMAB – Museo Mare Antico e Biodiversità, set in a farmhouse halfway between Fidenza and Salso. Many of the fossils on display were found by Raffaele Quarantelli, a local electrician and paleontology lover.
The most impressive specimen on display is definitely Giorgia the Whale, which was later found to be a yet-unknown species.
Walking around the museum you'll see some intricate shells, shark teeth and information about Prehistoric marine biodiversity, and its evolution to the present day.
6) Walk One or More Stages of the Via Francigena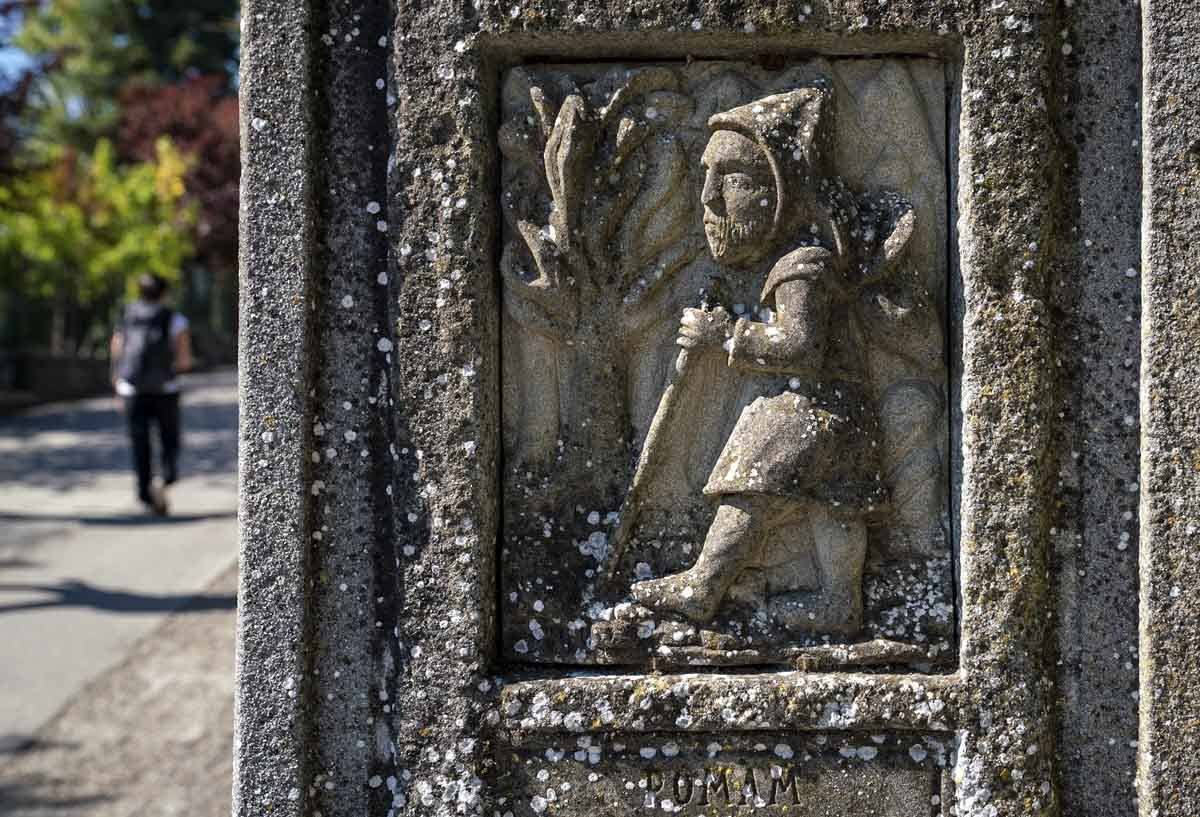 Walking around Fidenza and surrounds, you might see some ragtag hikers with backpacks and sticks – they are Via Francigena pilgrims!
The Via Francigena is a long-distance hiking/pilgrimage path connecting Canterbury to Rome, and it also crosses Fidenza, where the headquarters of the Via Francigena association are also located.
If you wish to walk along a stage of the Via Francigena, we recommend two options. The first (and easiest) is the flat 20 km section from Fiorenzuola to Fidenza, passing two stunning Romanesque churches en route – the abbey of Chiaravalle della Colomba, and the former monastery of Castione Marchesi.
If you are up for a challenge, why not tackle the 20 km stretch from Fornovo to Cassio, defined by our guide Luca 'the hardest of all Italian stages'? The route crosses Apennine forests and picturesque villages before ending in Cassio, where you can keep hiking towards the Cisa Pass and onwards through Tuscany.
For more info about hiking these two stages, here's our guide to the Via Francigena in Emilia Romagna!
7) See Parmigiano Reggiano Being Made
Let's move on to a very important topic, food! Fidenza is in the heart of the Parmigiano Reggiano producing region, and if you have a knack for waking up early, you can see how Italy's 'king of cheeses' is produced!
The cheesemaking process starts at around 8 in the morning. We headed to Parma 2064, one of the largest manufacturers, where 80 wheels of cheese are produced daily!
The tour took us to a room where milk and rennet are stirred together in copper vats, until the cheese curdles and sinks to the bottom – the resulting 'cheese mass' is divided in two parts and set into moulds, who are first pressed, then left in brine for up to 3 weeks.
The entire process is overseen by the casaro, the head cheesemaker, able to determine with a quick stir how the cheese will turn out. We found it really cool that at Parma 2064, the former 82-year old casaro works alongside the current one, his son!
The visit ended in the maturation room, where we saw shelves upon shelves of Parmigiano in various stages of their aging process – which also make for some pretty cool pictures!
8) Visit Busseto, Giuseppe Verdi's Hometown
Are you an opera lover? You'll be pleased to know that Fidenza is only 20 minutes away from Busseto, the birthplace of one of Italy's most famed composers, Giuseppe Verdi – not to mention, one of the prettiest small towns in Emilia Romagna!
Busseto locals honour the memory of Giuseppe Verdi to this day. You'll find a big Verdi statue in the main square, which is called (yes, you guessed it) Piazza Verdi. There's a museum dedicated to the composer's youth right in the square, and a larger one in Villa Pallavicino, a short walk from the city centre.
Even if you are not a Verdi/opera nerd, we recommend trying to visit Teatro Verdi, a tiny opera theatre hidden within the municipal palace. There's a royal box meant for the maestro himself, but funnily enough, he never actually visited!
During your time in Busseto, make sure you have lunch at Salsamenteria Baratta, a historic eatery specializing in cured meats – don't forget to try the culatello, a local delicacy made from cured pork rump.
9) Explore Villa Verdi
Another must-visit location for Verdi lovers (but not only) is Villa Verdi in nearby Sant'Agata, where the composer lived for 50 years of his life. Despite enjoying incredible fame during his life, he still defined himself as a 'un contadino delle Roncole', a farmer, and loved looking after his park.
Before visiting the villa, you can walk around Verdi's English-style park, complete with artificial grottos, statues, and a pond with a little red bridge. The park said to be especially beautiful in Autumn, when the gingko biloba trees turn a vivid yellow, carpeting the paths with leaves.
The villa is still owned by Verdi's heirs, who also live there. You can visit Verdi's room, with his iconic hats and piano where he used to compose his music, his wife Giuseppina's bedroom, and another room with the reproduction of the Milan hotel where he died.
Verdi was also an animal lover, and his best friend was his Maltese puppy Lulu. There's a portrait of Lulu in the maestro's bedroom, and you can visit his grave in the garden, with the dedication 'Alla memoria d'un vero amico' (to a true friend).
10) Walk along the Po, Italy's Longest River
Driving north from Busseto and Villa Verdi, you'll soon come across the Po, Italy's longest river, marking the border between Emilia Romagna and Lombardia to the north.
The Po river has an unmistakable charm. Along its banks, you'll feel suspended between earth and water – life moves slower, floating between dream and reality, especially if you are visiting at sunset or on a misty morning.
You can drive to Polesine Parmense and go for a walk or bike ride around the river bank, or even treat yourself to a special lunch or dinner at Antica Corte Pallavicina – a Michelin-starred restaurant right on the river, with rooms and probably the world's only culatello museum!
11) Enjoy the Local Cuisine
Talking about food, I can't fail but mention the #1 thing to do in Fidenza and around – EAT! From parmigiano to culatello and more, this is one of Italy's greatest gastronomic hotspots, and one thing is certain – you won't go hungry!
Local specialties include cured meats – not just prosciutto and culatello, but also coppa (made with cured pork neck), strolghino (a salami made with culatello offcuts) and spalla cotta (cooked pork shoulder).
First courses include anolini (tiny ravioli filled with cheese, usually served in broth) and tortelli di erbetta (ravioli with swiss chard). Close to the Piacenza border you may also find pisarei e fasö, dumplings with a tomato and bean sauce.
Second courses are usually meat-heavy – slow-cooked beef cheek and anything pork-related is usually a good choice, but make sure you save some room for dessert!
Here are some restaurants we tried (and enjoyed) during our time in the area!
Ristorante Podere San Faustino (Fidenza)
Osteria Numero 1000 (Fidenza)
Ristorante Vecchio Mulino (Roncole Verdi)
Locanda del Colle (Tabiano Castello)
12) Stay at L'Alba del Borgo
To make the most of your time in Fidenza and around, skip the city centre and stay in the hills out of the city!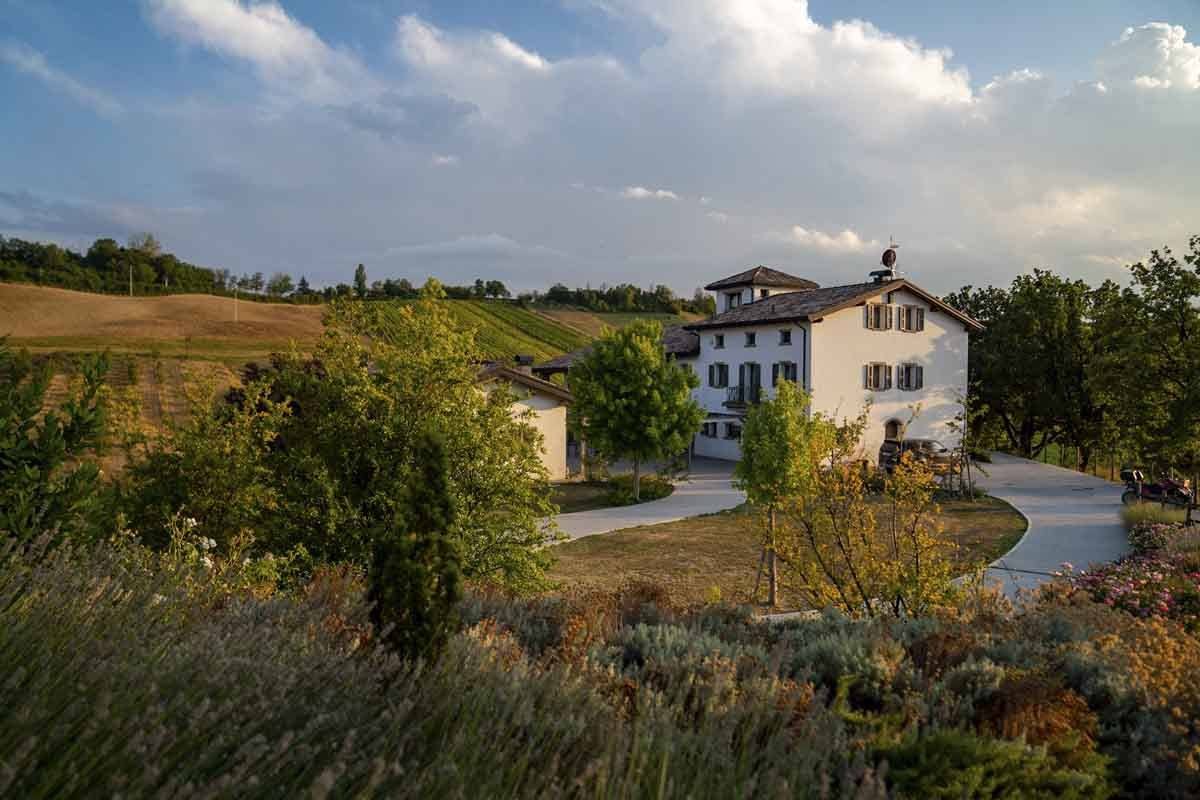 L'Alba del Borgo is an agriturismo barely 10 minutes drive out of town, surrounded by nature and silence. There's a larger farmhouse, where you'll find the restaurant and reception room, but accommodation is in a separate building just up the hill to ensure a comfortable night's sleep for all guests.
All rooms have a balcony with a scenic view over the hills, facing sunrise. If you really feel like relaxing, there's also a spa in the basement with a sauna and heated pool. Breakfast includes sweet and savoury specialties, with homemade juices and creative cakes – who knew zucchini cake could be so delicious!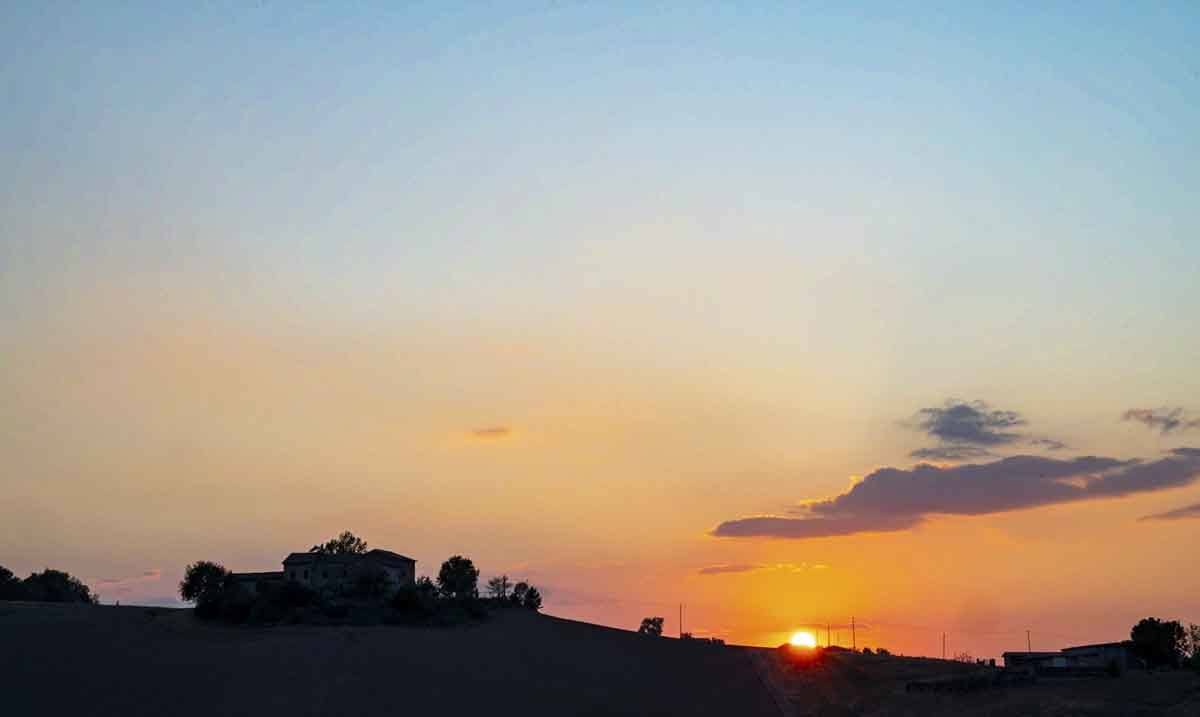 If you like hiking, this is the place for you. In the hills surrounding L'Alba del Borgo there are plenty of paths to explore – just ask Andrea, the owner, to point you in the right direction!
Getting To Fidenza
By Plane: the closest airports to Fidenza are Milan Linate and Bologna, both about an hour away by car.
By Train: Fidenza is on the Milan-Bologna train line, about half way between the two cities. Intercity trains stop in Fidenza, but high-speed trains usually don't.
By Car: Fidenza is located right along the A1, the motorway connecting Milan to Rome and Naples. The Fidenza/Salsomaggiore exit is just a quick drive from town, and a car will come in handy to check out all the things to do around Fidenza!
Our Fidenza visit was part of the #EccoFidenza project. Many thanks to Daniela for having us and teaching me how to do crosswords!