We're heading back to Australia! Here is all you need to know about the best things to do in Canberra – 16 fun activities including alternative, active, and free things to do in Australia's capital!
First things first – did you know Canberra is Australia's capital? Australians will go 'well, of course it is', but trust me, many first-time international visitors still think that the capital of Australia is either stunning Sydney, or coffee-loving Melbourne.
Canberra is a planned city, conceived and built by architect Walter Burley Griffin in the 1920s, exactly to be Australia's capital. Its location is not unplanned – Canberra is almost exactly half-way between Sydney and Melbourne, the two main Australian cities who were both vying to become capital of the country.
For decades, Canberra was dismissed as a not very interesting place, with nothing much besides embassies and institutional buildings. Yet, guess what – that's all completely untrue. Canberra is full of things to do, including lots of free museums, memorial buildings, markets, a vibrant brewery and café scene, and stunning nature all around.
Book your Canberra accommodation and keep planning your trip with the best free, active, and alternative things to do in Canberra!
If you're also heading to Sydney, check our article about the best day trips from Sydney!
Free Things to do in Canberra
1) Bridge to Bridge walk around Lake Burley Griffin
One of the most popular things to do in Canberra, especially for locals, is the central circuit around Lake Burley Griffin, an artificial lake built in the centre of town.
This 5km walk is known as 'Bridge to Bridge' because it runs from Commonwealth Bridge to Kings Avenue Bridge, passing a lot of picturesque sights, local attractions, and plenty of shops and cafés en route. The most recommended approach it is to start and end in Commonwealth Park. That way, you'd get to relax at the end in the most pleasant attraction in the route.
The Bridge to Bridge walk is a great way to get an introduction to the city – alternatively, you can always join a Canberra tour. Below are some recommendations:
2) Parliament of Australia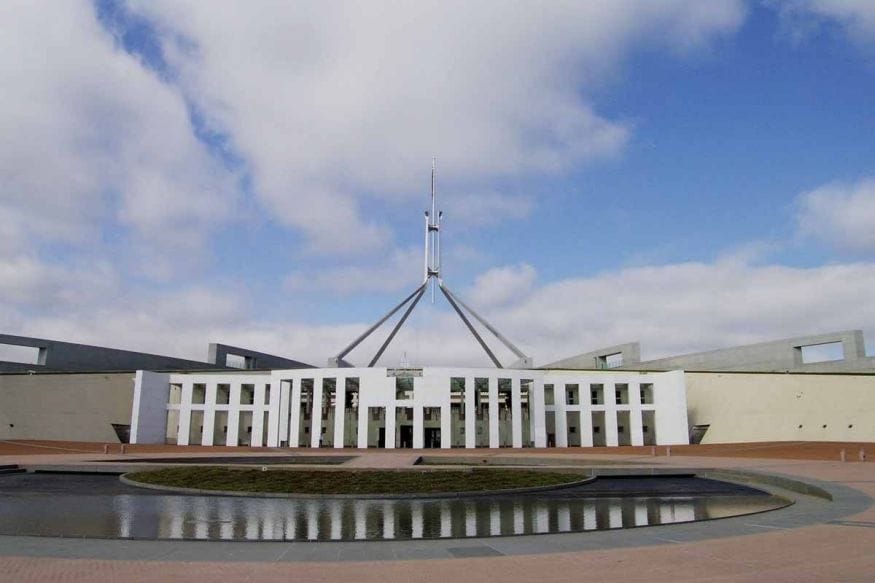 The Parliament of Australia is open for the public all year round except for Christmas. It definitely deserves a mention on this list of free things to do in Canberra, because of its memorable blend of cool architecture, unique art pieces, and the chance to see debates and law-making in real time.
You can get a guided tour that will show you around the building, and the extra curious ones can even book a question session to ask questions about the Parliament and Australia in general. Once you're done, you can go to the Queen's Terrace Café for some refreshments.
3) National Museum of Australia
As one of the most fascinating places in Canberra, the National Museum is dedicated to cataloguing and researching Australia's history – and like most Canberra museums, it's totally free!
One of the best things about it is that almost everything is interactive, and its exhibits include several subjects. Here you can learn about Aboriginal history and culture, modern-day Australia, Australian environment and geography, subjects like lifesaving and bushrangers, and so much more. There is even a program for kids to build and design a robot!
On top of that, the museum's architecture is worth paying attention to, and its waterfront setting is just spectacular.
4) Royal Australian Mint
The Royal Australian Mint is one of Canberra's true gems and best free attractions. This is place where Australian coins are being produced on a daily basis.
When visiting the mint, you'll get to see robots creating all sorts of coins, from regular ones to artistic creations and even to quirky collector's coins. The mint also has a collection of rare and unique coins, each of which has its own particular tale, and you might even get to snag a quirky coin yourself.
5) Australian War Memorial
Like many other countries, Australia too had its share of wartime victories and losses. The Australian War Memorial is dedicated to the lives Australians lost during all wars Australia has ever participated in.
The museum was planned at the end of WW1, but construction didn't begin until 1941, with subsequent additions remembering the role played by Australia in all recent conflicts. Sections worth visiting include the Commemorative Area, with the Pool of Remembrance and the Hall of Memory, housing the Tomb of the Unknown Australian Soldier. It's a somber place where the atmosphere plays an important role in the experience.
Don't miss the Last Post Ceremony each day at 4.55 PM, just before the museum closes, when the Australian anthem is played followed by the story of an individual fallen soldier, and then the Last Post played on the bugle. It might be a difficult place to visit for some, but it's a small price to pay to understand Australia's history and the way it helped shape the world.
6) Canberra Glassworks
The Glassworks are a one of a kind attraction, and one of the coolest free things to do in Canberra. It's a place where you get to see professional glass artists at work, and you can try your hand at shaping glass.
The Glassworks are housed in the historic Kingston Power House, which used to be one of the most important buildings in Australia. It provided a lot of things for Canberra — from employment to housing for the entire telecommunications system, and it powered the development of the city. A lot of that history and heritage can still be found in the building.
7) Deep Space Communication Complex
This is the de facto best spot for those with a penchant for exploring the stars. This complex ran by NASA just outside Canberra, is an international network of antennas that provide support for spacecraft on interplanetary missions.
The enormous antenna sends and receives information constantly, to and from spacecrafts in the solar system. Here you'll find a piece of the moon, the latest photos of space, and the latest information about anything related to the outer space. Don't miss this free Canberra attraction!
8) Questacon
Canberra is a great destination for museum lovers – many deserve to be in this list of free things to do in Canberra, but we need to make a selection as they would be too many to include. I love hands-on science museums so we couldn't fail to mention Questacon, the National Science and Technology Centre.
Here you'll find over 200 interactive science exhibits for young and grown-ups alike, including caged lightning with a Tesla coil, a gravity well, an earthquake lab, and many more!
Alternative Things to do in Canberra
9) Old Bus Depot Market
This peculiar market has become one of Canberra's best alternative things to do throughout the past couple of decades. It originally began as an idea by two locals to have a spot where people could sell and buy high quality merchandise on a weekly basis.
Today, it has become a huge weekly event that happens every Sunday where you'll find over 200 stalls selling all sorts of things. From handcrafted jewellery, to clothing, to the best street food in Canberra, this award-winning market is the best way to spend a Sunday in the capital.
10) Telstra Tower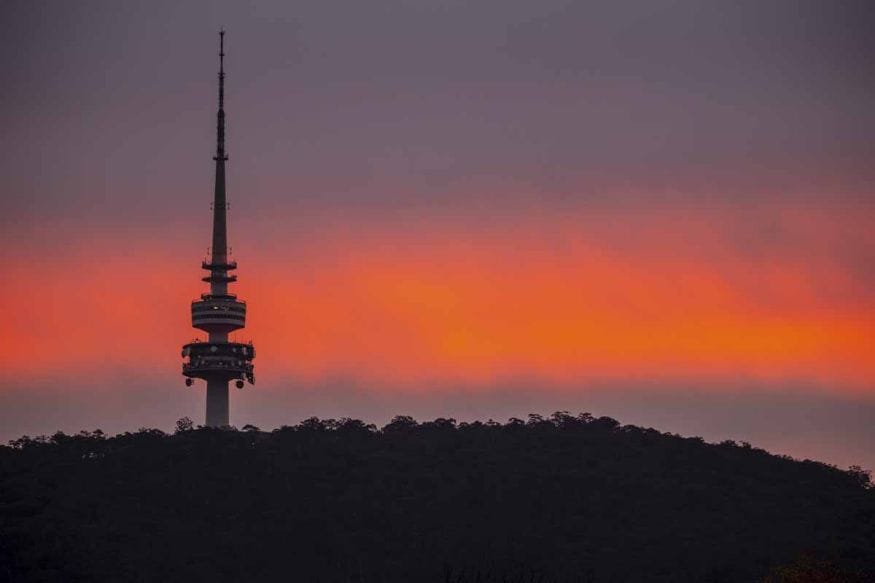 Sitting high on the summit of Black Mountain, this 195-meter tower is a beacon for Telstra, the Australian mobile carrier. However, there's much more to it, because the Telstra Tower isn't a mere telecommunications tower – it is also the best observation deck in Canberra.
Located a short drive away from the city centre and surrounded by a patch of splendid nature where kangaroos roam free, the Telstra Tower offers the best views of the city, and it's one of the best secret things to do in Canberra! Actually, it might not be the true 'hidden secret' it used to be a few decades ago, but it still definitely is something that every visitor to Canberra should experience.
11) Mount Ainslie Lookout
Canberra and its surrounding region are a place of great natural beauty, and there is no place better to take that all in than the lookout on the top of Mount Ainslie. From there you'll have a vantage point over the entire city, Lake Burley Griffin and surrounds.
That's also the exact spot where famous architect Burley Griffin first came up with his plans on how to design Canberra a century ago. According to him, the lookout on Mount Ainslie is one of the best galleries that overlooks the irregular amphitheater that is Canberra.
12) Canberra Beer Tour
Canberra still has a long way to go before it reaches Melbourne as a craft beer destination, but it does have a few impressive microbreweries and brewpubs – so much so that you can make a day out of it!
Check out these Canberra beer tours – how's that for an alternative way to explore Canberra?
Active Things to do in Canberra and Around
13) Batemans Bay Tour
Batemans Bay is the favourite coastal escapade for residents of Canberra, and it's a great destination for a day trip from the city. You can rent a car and explore independently or join a guided tour including hiking, beach time, visits to oyster farms and historical towns. It's a truly offbeat part of Australia, and you're pretty much guaranteed you'll see kangaroos!
Here are some awesome Batemans Bay tours from Canberra!
14) Namadgi National Park
This entire open range is a diverse piece of land that offers some of the finest natural landscapes in Eastern Australia. It's a great spot to discover and explore old Aboriginal heritage, while you're hiking through unique trails.
You'll be surrounded by wonderful and unique wildlife, and you'll get a chance to make camp at some of the most scenic spots in Australia. You can even do some horseback riding on specifically designated trails, as well as discover Bendora Arboretum, the last high altitude arboretum in this part of the county.
15) National Arboretum
This vast arboretum is one of Canberra's most beautiful attractions. It's a 250 hectare site, which you can explore freely either by foot, cycle, or even horseback. The botanical beauty found in the National Arboretum is very diverse, and it includes an impressive collection of miniature trees, National Bonsai and Penjing Collection.
There are plenty of interactive displays to be found – playgrounds, open sculptures, picnic areas, and viewpoints where you'll get breathtaking views of Canberra. The arboretum is a spot where you can get lost in – sometimes even literally, because there are also some labyrinths you can explore in the Gallery of Gardens.
16) Jerrabomberra Wetlands
This unique natural attraction is strategically located in the heart of the city, at the edge of Lake Burley Griffin. The Jerrabomberra Wetlands were originally created in the 1960s, due to the damming of the Molongolo River to create the lake, which produced a wetland area as a result.
Today, it's a natural reserve filled with an incredible amount of biodiversity. Birds from all over migrate to find refuge here as well as water rats, turtles, water dragons, and even platypus. There are regular events taking place in Jerrabomberra Wetlands, that promote learning about the local wildlife.
These are just some of many fun things to do in Canberra – the city may be small in size, but it makes up for it in terms of natural beauty and cultural activities. Not to mention, the abundance of free museums and other free things to do in Canberra mean your visit to the city won't necessarily blow a big hole in your budget.
Canberra's status as a capital city means there is an ample choice of hotels – however, don't forget it's often necessary to book your accommodation in advance, as beds do fill up during special occasions and events. On top of that, booking early is the best way to get great deals!