Welcome back for another post about wonderful CDMX! After our 36 hours in Mexico City post, perfect for first-time visitors, we'll tell you about some really cool non-touristy things to do in Mexico City.
The authors of this post are my sister Caterina and Adriana from Homie House Press, an independent publishing house, sharing stories at the intersection between personal, political, and poetic, in the form of photo books.
Caterina and Adriana visited Mexico City in occasion of Zona Maco, Latin America's leading contemporary art fair. In their free time from the fair, looking for the best non-touristy things to do in Mexico City was naturally one of their priorities.
Here are their favourite Mexico City hidden gems, as told in their own words, followed by more picks of non touristy things to do in Mexico City!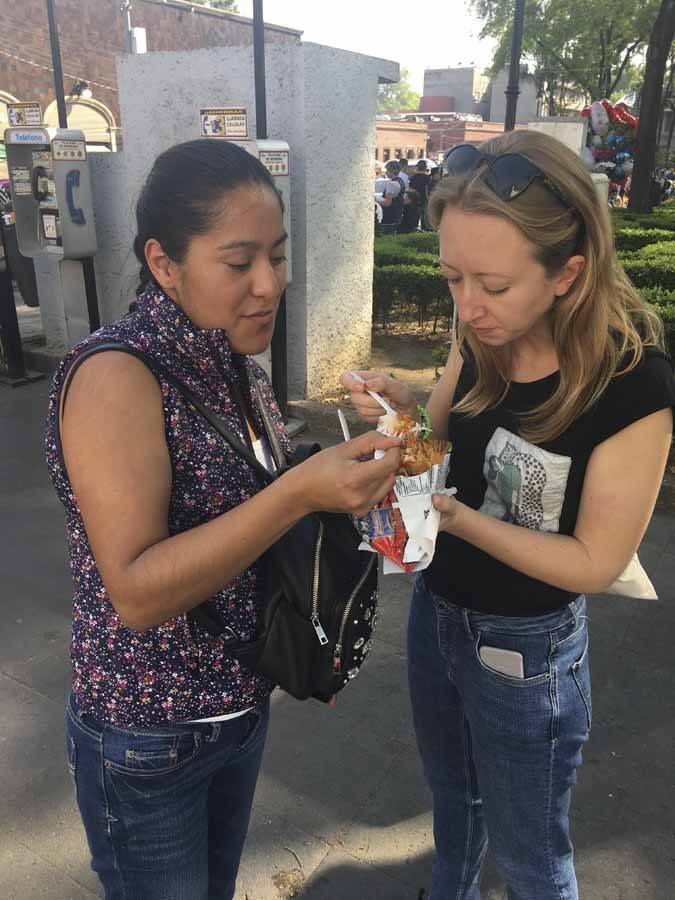 It's been a week since we left Mexico City, but the vibra is still with us, and will most likely continue to be until further notice.
From the moment we stepped out of the airport it was a whirlwind of smells, colours, cars, and dogs. It was our first proper vacation since starting our business, so we was more than happy to ease into a slower pace where the days melted into each other and we ate cheese at every meal.
El Borrego Viudo – Tacos in a Parking Lot
Our very first meal commenced minutes after landing as we headed straight for the best late night tacos in the district, El Borrego Viudo! The location is in a parking lot filled with layers of cars. The midnight eater has the option of staying in the car and having the tacos brought to them, or sitting in a small enclosed glass space within the parking lot and eating there.
We chose the latter, and rigorously enjoyed our first taste of tacos al pastor. We had 3 each, and then we went off to bed. Not a bad way to start our exploration of weird and unusual things to do in Mexico City!
El Patio 77 – The First Eco B&B in Mexico City
Our home in Mexico City was El Patio 77, an eco boutique B&B located in the Colonia San Rafael neighbourhood, not far from the historic centre. Once we reached El Patio, we were pleasantly surprised to find what seemed like a forgotten palace, hidden in the guise of a hotel.
The corridor was open with hanging plants and spiral staircases. We followed one two floors up to our room, Oaxaca. Each room had a different name, and I presume a different decor.
Our room was spacious with a queen size bed, that had a canopy laying over it. The room was crisp and cool, the perfect sleeping temperature. There were bright turquoise accents on the furniture dispersed throughout the room, and warm water in the shower with strong pressure – something that shouldn't be taken for granted in Mexico City!
The morning light was some of the most beautiful I have ever witnessed, the light played peter pan with the many mirrors hung on the wall. It was divine, to say the least.
The hotel has a strictly plastic free policy, so every day we were provided with a jar filled with freshly-filtered water.
Breakfast was plentiful and refreshing every morning. First, fruit with yogurt and then a hot plate of some delight would arrive. The first day we had soft pancakes, the second day we had enfrijoladas… which were one of the wonders of the world!
El Patio 77 proved to be an absolutely lovely place to stay, with the kindest and most generous hosts who had answers for any inquiry asked of them.
Getting Lost in Mercado Sonora
Another Mexico City hidden gem that was on our list of non-touristy things to do was Mercato Sonora, the city's largest esoteric market. We ended up getting lost for an entire day! There is a labyrinth of vendors, selling anything you could ever want and everything you can possibly think of. The mercado has sections that run into each other, so if you stay long enough, you can very well see the whole thing!
We started in the party item section, that led us into the meat section, and then the live animal section, and so on wondering through curiosities such as elixirs for adventurous lovers, or good fortune incense in the herbs section… needless to say, we bought many party items in large quantities and bargain prices.
Mercado Sonora is a must-see for all lovers of weird things to do in Mexico City, and a do-not-miss! Make a day of it, there is plenty of food everywhere so you really can stay all day.
Rrreplica Risograph Fair
We must have had the blessing of the Virgin of Guadalupe with us, because we happened to be in Mexico City at the same time as one of the best Risograph fairs, entitled Rrreplica, taking place every year in early February.
It was a total treat to visit the fair on a Saturday afternoon, and meet many zine makers, riso kids, and DIY publishers from Mexico City, Chicago, Brazil, and more. The space was small but felt very warm and inviting, and it was perfect for the traffic flow.
The fair was held in a structure called Archivo, a multipurpose space in Mexico City's western neighbourhood of Tacubaya. It was founded by Soumaya Slim, wife of Mexican magnate Carlos Slim, and Fernando Romero, one of Mexico's most famous architects. Archivo is an archive of all things related to Mexican design, and a space where exhibitions and events related to architecture, design and contemporary art are regularly being held.
It is worth visiting Archivo for its wonderful architecture, and to see how trees and their branches are integrated with the building structure. It was a wonder visit Archivo and Rreplica for a couple of hours, and a complete pleasure to witness such a gorgeous event in said space.
Feria del Tamal in Coyoacan
We also had a chance to visit the vibrant Coyoacan, a village inside the city, that most tourists visit for the famous house of Frida Kahlo. We picked a Sunday for our visit, and the queue was so long (always remember to book your tickets online) that we decided to visit the centre of Coyoacan instead.
We eventually found ourselves wondering in the Feria del Tamal, where stands for all different Mexican states were selling the specialties of their region. We had a Tamal de Mole, and a Torta de Tamal verde with salsa verde, a specialties from Mexico City region, that we ate with extreme pleasure while drinking an Horchata!
Feria del Tamal definitely belongs to this list of non-touristy things to do in Mexico City – it is held at the Museo Nacional de Culturas Populares in Coyoacan every year on the Dia de la Candelaria (Candlemas), which falls on February 2nd.
Other Non-Touristy Things to do in Mexico City
1) Spend a Night at a Lucha Libre Show
This may sound touristy at first – but trust me, it's definitely one of the best Mexico City unique experiences! Lucha Libre nights take place regularly at the arena in Colonia Doctores, and attending is a super fun experience, with lots of name-calling, laughing and shouting.
We highly recommend joining a lucha libre tour to get the most out of this experience, otherwise you may find yourself wondering 'what's going on' at all times!
2) Go on a Food Tour in Polanco
Mexico City is a wonderful destination for food lovers, with a myriad of options, ranging from street stalls (you'll soon notice they're EVERYWHERE!) to Michelin-starred eateries and anything in between.
A food tour is a great way to get accustomed to Mexico City gastronomy – there are million 'taco tours' you can take around the historic centre, but we recommend this Polanco food tour as a non-touristy option. Polanco is an upscale neighbourhood with many upscale restaurants, and walking around is really pleasant.
Otherwise, here are more Mexico City food tours!
3) Visit Puebla for a Day Trip
If you want to escape the chaos of Mexico City for a day, the nearby city of Puebla is a great idea. It is only two hours away, meaning you can spend your morning touring Puebla's delightful historic centre, have some authentic mole poblano for lunch, and then visit nearby Cholula with its iconic pyramid in the afternoon.
This Puebla day trip is a hassle-free way to see the best of Puebla and Cholula – and if you're lucky, the elusive Popocatépetl volcano might even make an appearance!
4) Visit Museo Soumaya
If you end up visiting Polanco, don't miss checking out the stunning Museo Soumaya, opened by Carlos Slim in honour of his prematurely-departed wife. The art museum is housed in a stunning building looking like a curved wave, covered in aluminium tiles.
Inside, you'll find works of European artists dating between the 15th and 20th century, as well as a great collection of Central American art pieces, from Pre-Hispanic times to the present day.
To make matters even better, there's no entrance fee, making Museo Soumaya definitely one of the best free things to do in Mexico City!
5) Explore the Museo del Juguete Antiguo (Antique Toy Museum)
This is another true Mexico City hidden gem! The Museo del Juguete Antiguo is made up of four floors filled to the brim with antique dolls, matchbox cars, toy soldiers, masks and many more. The emphasis is on Mexican toys from the 19th century to the 1980s, and there are also many examples of toys that were popular in other countries as well.
There is a vintage toy store just next door, and the rooftop terrace sometimes houses street art exhibitions. Enquire at the front desk if anything is on at the moment!
6) Check out the Futuristic Biblioteca Vasconcelos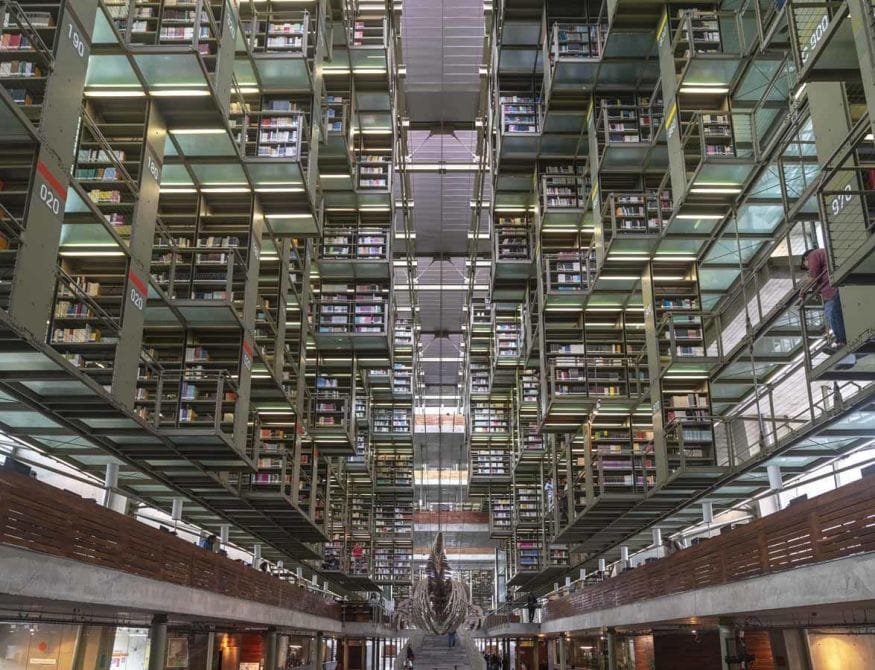 This is my very own favourite non-touristy thing to do in Mexico City! From the outside, this library doesn't look like much, but as you walk in get ready to be amazed by its architecture, with hanging shelves and a whale skeleton suspended above the main aisle.
Biblioteca Vasconcelos is a great place to while away the day, between books, the garden and city views from the terraces on the four corners of the building. If this isn't at the top of your list of unique Mexico City experiences, I don't know what should be!
7) Find Future Forest
Bosque Chapultepec is a wonderful destination in its own right, and it's so big (bigger than Central Park, in fact!) that you could easily spend the entire day wandering around.
When you visit, try to find Future Forest, an installation by artist Thomas Dambo. It was created with over three tons of recycled plastic, recreating a whimsical garden with trees, waterfalls and lots of plastic animals, with the aim of inviting people to reduce plastic waste.
You'll find Future Forest in the botanical garden in Bosque Chapultepec – definitely deserves a mention in this list of weird and non-touristy things to do in Mexico City!
8) See Art Deco Cine Opera
If you visit Mexico City soon, don't miss this hidden gem in Colonia San Rafael, as it may be gone very soon! Cine Opera is a crumbling Art Deco cinema, opened in 1949 and abandoned for more than two decades. It was once one of the largest cinemas in Mexico City, and its monumental entrance with statued depicting two muses is testament to its faded grandeur.
Cine Opera was damaged during the last earthquake and there are talks of its demolition. Let's just hope it won't happen!
9) Marvel at the Palacio Postal
Talk about hidden in plain sight! Palacio Postal is a true architectural marvel, that just happens to also be a working post office. It's right in the heart of Mexico City, located on a busy street, and most tourists just walk by without noticing.
If you do happen to walk in, admire the gilded gates and staircases, and imagine how this place must have looked on its opening day in 1907. The building was damaged during many of the earthquakes that rocked the capital over the last 100 years, but it never ceased to operate. Don't miss this truly stunning, unique Mexico City experience!
10) Go Insta-Crazy at Casa Gilardi
This is still to be classified as a non-touristy thing to do in Mexico City, but probably not for long, since it's already been discovered by the Insta crowds!
Casa Gilardi is one of the masterpieces of Luis Barragan, a Mexican architect famous for his masterful use of colour. The house is located just next door to Chapultepec, and it's easy to recognise thanks to its striking vivid pink façade.
Get in touch with the owners via Facebook to arrange for a guided visit, and prepare to be amazed, especially if the jacaranda tree in the courtyard is in bloom.
Special thanks to El Patio 77 for the kind welcome, and to Homie House Press for writing this article!