Planning to visit Australia? If so, you can't miss this post about the 9 best day trips from Sydney!
Sydney is likely to be near the top of the wishlist of many first-time Australia visitors – but did you know that there are many incredible destinations within day-trip distance from the city?
Just get into your car and drive for a couple hours, or book a day trip from Sydney and you'll be able to discover national parks, natural wonders, wide beaches, mountain caves and even a wine region.
As you all know Nick is a Sydney local, having lived in the city for 25 years before moving to Europe. If you want to know more about what to see and do in the city, check out our Sydney Insider Tips post – but if you prefer getting out of the city, keep reading to learn all about the best day trips from Sydney!
Royal National Park
This is one of the first national parks in the world, and it's a spectacularly beautiful destination. There's a lot to see and do, and definitely enough to spend a day out, as the park spans over 160 square km.
Here you'll find gorgeous beaches, bushwalking trails, Aboriginal heritage, unique and amazing wildlife, and rainforests. There are plenty of things to do in the Royal National Park, too. From fishing to exploration to watersports, you can easily spend an entire day in the park and feel like you've seen only a small fraction.
To make matters even better, Royal National Park is only 45 minutes south of downtown Sydney, making it the best Sydney day trip in terms of ease of access!
Here's a great option for a Royal National Park day trip from Sydney!
Hunter Valley
Not everyone is aware that Australia produces some of the world's finest wines. The Hunter Valley is one of Australia's best known wine regions, and besides the many excellent wineries, it's a land filled with impeccable beauty.
It's also found only two hours away from Sydney, ideal for a day trip from Sydney dedicated to wine and food. Here you can discover both traditional winemaking styles and interesting blends, plus you can also visit cheesemakers, craft vodka distilleries, and other small food producers.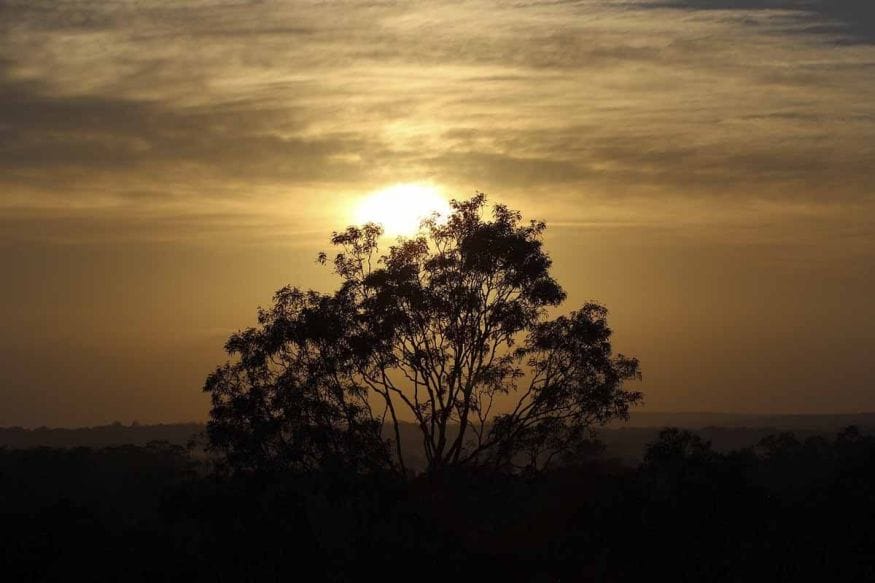 If you can, visit in occasion of festivals such as the Hunter Valley Wine Festival in June.
The Hunter Valley is one of the most popular day trips from Sydney, because of the variety of unusual things to see and do – hot air balloon anyone? Check out the best Hunter Valley day trips below!
Blue Mountains
The Blue Mountains are probably the best spot to witness dramatic beauty in New South Wales. They're found less than two hours away from Sydney – anywhere you go, you'll be surrounded by wonderful scenery. These mountains are millions of years old, and they form ancient gorges and underground caves.
Here you can go hiking through its many trails, or explore the Jenolan Caves, which are an underground maze of stalactite-filled limestone caverns. Picnicking is also an incredibly popular thing to do, especially at spots like Wentworth Falls.
Want to explore the Blue Mountains from Sydney? Here are some cool day tours!
Newcastle
This charming town located two hours north of Sydney has a very unique vibe. It has an artistic charm about it, and it's perfect for adventure lovers – surfing, sand boarding, whale watching and exploring nature reserves are only some ideas.
The world-famous Mereweather Beach is also located near Newcastle, and it was recently awarded the title of best beach in Australia, beating famous Bondi beach. The city also hosts many festivals and events, like concerts, motor racing, and the biggest surfing festival in the country, Newcastle has it all. No wonder it's called Australia's best kept secret – and it's a wonderful day trip from Sydney!
Take your pick from these awesome Newcastle day trips!
Would you like more about Sydney and surrounds? Read our post about the History of Australia!
Hawkesbury River
Despite not being one of the longest, it is one of the best-known rivers in New South Wales! The Hawkesbury River is one of the calmest and most relaxing spots to visit in the region. A good place to start is Windsor, one of the first British Colonial settlements on the continent.
The river passes near this historic town as it makes its way to Broken Bay, and then into the sea. From kayaking to captaining a houseboat, this is an ideal family-friendly day trip from Sydney. You don't even need a license to captain the boat. You're free to soak in the natural and calm beauty of the region.
Ku-ring-gai Chase National Park
This is Australia's second oldest National Park. It is named after the indigenous Guringai people, a tribe who inhabited the area for 40,000 years, until the arrival of the British colonisers.
It's a dramatically beautiful spot, and here you'll find gorgeous vistas, sandstone cliffs, and bushlands, as well as Broken Bay. It's located less than 25 km from Sydney's centre, and it is a great day trip from Sydney for adventure lovers – Canoeing, kayaking, bushwalking, mountain biking are some of the activities available.
It is also a wonderful place to learn more about Australia's Aboriginal art and culture – here are a couple of tours including visits to Aboriginal sites around the national park.
Kangaroo Valley
Located just two hours south of Sydney, this is one of Australia's most beautiful valleys, and one that's also rich with colonial history. The Kangaroo River passes through this valley, and the best way to experience it is canoeing and kayaking.
The valley itself is breathtaking, and it has a magical feel about it. There are a lot of verdant farms by the side of the river, and you can visit the Kangaroo Valley Pioneer Village Museum, a good and fun way to get accustomed with colonial history.
Another great way to discover Kangaroo Valley is on horseback. Once you're done with that, you can go for some wine tasting, as there are plenty of great vineyards in the region.
How about exploring another city not far from Sydney – which also happens to be the capital of Australia? Read our Things to do in Canberra post!
Wollongong
Wollongong is the third largest city in New South Wales, and it's a vibrant and buzzing destination, ideal for a Sydney day tour and as a base to discover the Southern Beaches.
It's a great artistic and cultural hub, as one of the main attractions is the Wollongong Art Gallery, which is found in the Arts District of the city. Here you'll find lively cafés and restaurants, as well as fantastic beaches – plus the opportunity to enjoy water sports like SUP, wake boarding, kitesurfing, kayaking and more. It's also one of the best places in Australia to learn how to surf.
Wollongong is located south of Sydney, and the road to it is one of the most scenic ones in Australia. A great idea for a DIY day trip from Sydney is renting a car, driving to the Southern Beaches and enjoying some adventures in Wollongong – like skydiving, for example!
Kiama
A beautiful seaside destination, the town of Kiama is most known for its blowhole, a unique rock formation found in the city that spouts seawater 20 meters up into the air.
Kiama is located south of Sydney not far from Wollongong, less than 2 hours from the city. The town is close to amazing beaches, farmers markets and charming coastal towns. Kiama's history is also quite interesting, and it can be easily learned about in Pilot's Cottage Museum.
Kiama is a great family-friendly destination, but it's also the perfect staging area for adventurous excursions to the beautiful surroundings, making it another great day trip from Sydney for adventure lovers.