Did you follow Nick's adventures in Dresden in winter? He spent one day being directed by Dresden and another exploring the Dresden street art scene, interviewing a local artist!
He loved the place so much that he vowed to return – and we did, together this time, and in summer! Here's our overview of things to do in Dresden in summer.
When Nick returned from his winter Dresden trip, he was ecstatic. Why you liked this place so much, I asked him. Because it's a schizophrenic city, he said. It's two cities in one.
Altstadt and Neustadt
On one side, you have the Altstadt – the old city that, in fact, is new. Risen from the ashes like a wonderful phoenix, rebuilt brick by brick after being the target of the disastrous Dresden firebombing of February 1945, the Altstadt is a Baroque-Rococo jewel, reminiscent of the times when, in Vonnegut's words…
'Every other city in Germany had been bombed and burned ferociously. Dresden had not suffered so much as a cracked windowpane… Steam radiators still whistled cheerily in Dresden. Streetcars clanged. Telephones rang and were answered. Lights went on and off when switches were clicked. There were theatres and restaurants. There was a zoo.' 
Across the Elbe, you'll find the Neustadt – the new city, that in fact is older. A largely working-class area, the Neustadt was left largely left unscathed by the firebombing, and now it's Dresden's alternative heart, a treasure trove of fin-de-siècle architecture and some of the coolest bars and street art in town.
After Nick explored Dresden in winter, we decided to focus on unique things to do in Dresden in summer. Was it still amazing? Oh yes.
Here's a brief overview of the post:
Altstadt
Some of the hipster tourists we met in Neustadt (where we were staying, at wonderful Lollis Homestay) didn't even visit Altstadt, saying that it was 'too touristy' and 'a bit like Disneyland'.
I disagree – first because it's a testament to the strength and determination of Dresdeners, who  rebuilt it to its former glory. Second, because it really is very pretty. Spend some time wandering around the sparkling fountains of the Zwinger courtyard, or marvel at the Fürstenzug, the largest porcelain artwork in the world, and you'll see what I mean.
The Altstadt isn't very large, you can walk around it in half a day or so, taking in the main sights like the Frauenkirche, the Semperoper and the Katholische Hofkirche, Dresden's Catholic Cathedral. For a more complete overview on what's to do around Altstadt, read this article!
But let's get to the point of our post. What's special about the Altstadt in summer?
Haselbauer – GDR ice cream
In case you didn't know, Dresden was part of the GDR until Germany's reunification in the Nineties. When we visited it was really hot, so we thought a GDR-style ice cream was a great idea to cool off.
We chose Haselbauer, an ice cream kiosk that achieved cult status in GDR times, when you had to queue for hours to taste their signature vanilla ice cream. A large serving a scallop shell cone, or sandwiched in a freshly-cooked waffle, only cost €2. Yum!
We visited the Haselbauer store on Dr. Külz Ring, just off the Altstadt. Later we discovered there's another store on Prager Strasse, Dresden's main thoroughfare and a great place to walk around between Communist and Eighties-style architecture. I don't know which one is the original shop, but I can guarantee that the ice cream on Dr. Kulz Ring is delicious!
UPDATE: from readers' comments we learnt that the original Haselbauer is the one on Prager Strasse. Also, the ice cream is not soft-serve as I thought, nor is it made from cream. It's actually water based, meaning it's suitable for vegans.
Grosser Garten
Grosser Garten is a short walk or tram ride from the Altstadt. The name means 'big garden', and when you get there, you'll see why! It's full of locals riding bikes, skating or rollerblading around, and we even saw some people on ski-rolls.
It's a great place to walk around and relax under the shade of a tree. The park's main sight is the Sommerpalais, another casualty of the Dresden firebombing, that was recently rebuilt and now sits pretty next to a pond.
Just next to Grosser Garten you'll find the Gläserne Manufaktur, a Volkswagen factory behind glass, allowing visitors to glimpse how the Phaeton car is produced. Head there before 3 pm to see the workers in action – you can also take behind the scenes walking tours, or just have a look for free from the foyer.
The roof of the Kreuzkirche
If you want to survey the pretty Altstadt from above, you have two choices: the majestic dome of the Frauenkirche, or the steeple of the smaller Kreuzkirche, a short distance away. The Frauenkirche costs a whopping €8 per person, so we opted for the Kreuzkirche, which cost €1.50 per person with our Dresden Welcome Card discount.
Being a bit further away from the river, the view from the Kreuzkirche is perhaps not as spectacular as one from the Frauenkirche, but it's still pretty good – see above if you don't believe me! Plus, it's a lot more budget friendly and you're likely to have the steeple to yourself.
Museums
Museums? Margherita, are you ok? An alternative travel lover such as yourself recommending MUSEUMS? Let me tell you, when the mercury reaches 35° as it did while we were in Dresden, a visit to a museum allows you to cool off in a nice air conditioned room! 
Not to mention, if you opt for a combined Dresden Museum Card and Dresden City Card, you'll gain free access to 14 museums! We spent a very hot day touring the Coin Museum, the Dresden Armory and Turkish Chamber (both located in Dresden Castle) and the Gemäldegalerie Alte Meister in the Zwinger, a gallery with amazing European paintings from the Middle Ages to Baroque times, that were hidden during the firebombing.
The Elbe
In summer, the Elbe is the place to be in Dresden. There are parks and bike lanes along the river, making it a locals' favourite for a sunset barbecue or  picnic, an afternoon bike ride or a trip on a paddle steamer all the way to Saxon Switzerland. There's even an open-air cinema, but unfortunately the films are all in German.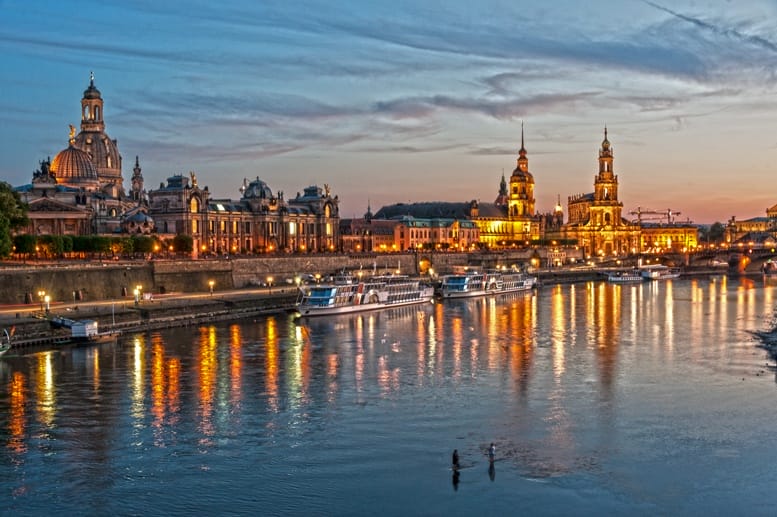 Sunsets are absolutely stunning. The best vantage point, we found, is from Carolabrucke – in late June-early July sunsets are around 9.30 pm. Get there early, find the place where all photographers have their tripods set up and snap away!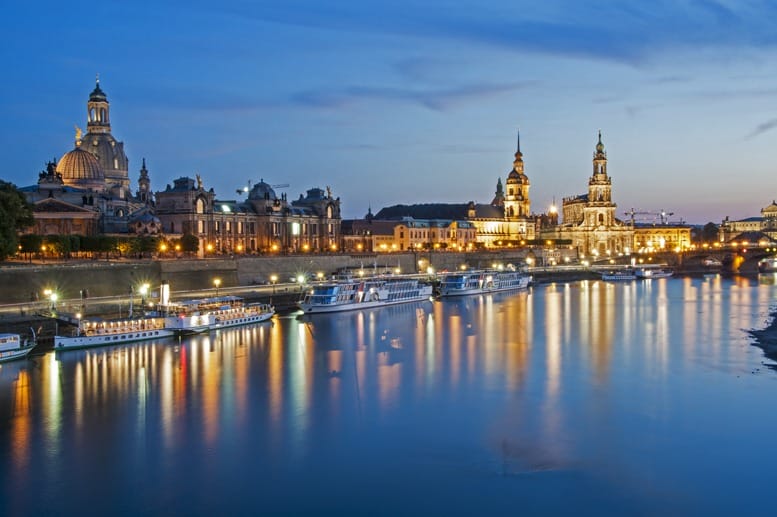 Neustadt
The Altstadt was fairytale-like pretty, the Elbe was a great place to chill out, but if you ask me where our heart is in Dresden, we'll tell you Neustadt. It was a place that instantly felt like home. Alternative without being pretentious, welcoming without being touristy, Dresden Neustadt ticks all the boxes.
Great street art, friendly bars, a park with people performing Capoeira at night, and a home-away-from-home hostel – we can tell you with absolute certainty that we left our heart in Neustadt.
Nick stayed at Lollis in winter, and loved it. In summer, we adored it. Why? Lollis is the perfect hostel –  it's called 'homestay' because it's a lot more than a place to rest at night. It's a magnet for the neighbourhood, a place where locals mingle with travellers, and no one never, ever wants to leave. As I said, it's a real home away from home.
The good people at Lollis organise activities every day – Monday is barbecue day, on Tuesday there's a free German lesson, on Wednesday a free veggie dinner, and so on. Every single member of staff we met at Lollis was incredibly kind and always available to help – we have rarely found such good customer service in 4 star hotels, not to mention hostels.
So, thanks guys! Thanks Martin, thanks Eike and all the other good people we met at Lollis!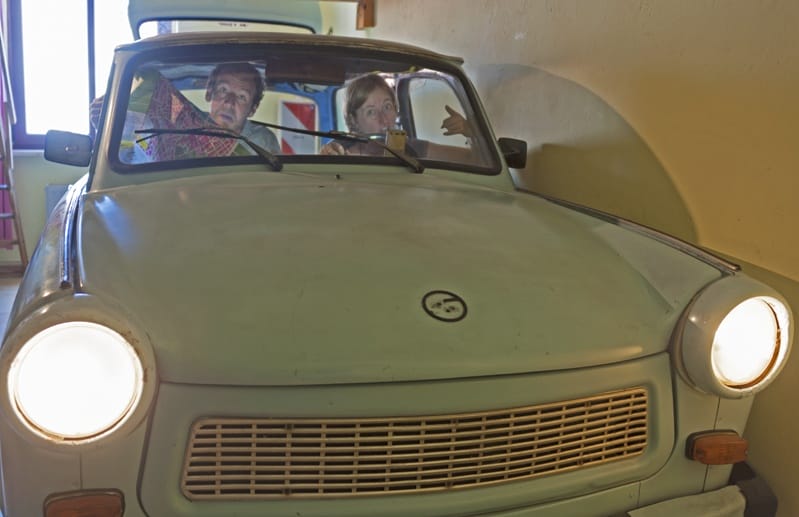 Top Tip – If you want to stay somewhere really special, ask for the Trabi room, that has a bed in a vintage Trabant, the GDR's iconic car. Yes, you understood right. You get to sleep in a vintage car – how cool is that?
If you want to know more about the history of Neustadt, we highly recommend taking a night tour with Danilo, a Neustadt local for 30 years, who will reveal secrets and curiosities about the neighbourhood – such as the symbolism behind the Court of Elements in Kunsthofpassage, the stories of some street art pieces and iconic bars and buildings in the area.
We spoke about Danilo and his tour in our Dresden street art post – so check it out if you're curious to know more about the tour, or about the unique street art pieces you'll find in the neighbourhood.
Danilo's tour is a steal at €15, including a stop at three bars, but if you join on Thursday night from Lollis Homestay, you'll pay only €5. However, the tour will be a lot more crowded than on other days, and as such you might miss out on Danilo's wit and insider's knowledge. So, our advice is to join the tour on another day, unless you're strapped for cash – the tour is great in any case.
Alaun Park
Grosser Garten is kind of like the Altstadt – pretty, manicured and orderly. Alaun Park is the Neustadt's own green lung, and just like the 'hood itself, is scruffy, alternative and creative in many ways.
Nick had already visited Alaun Park on a blustery January day, and was underwhelmed. In summer, especially in the evening, the place was packed with people having barbecues or just enjoying a beer, break-dancing or performing Capoeira, slack lining or just relaxing under the shade of the trees. It was lovely. I can't tell you why – it's just the vibe of the place.
Bunte Republik Neustadt
Walking around Neustadt you may notice a GDR flag with Mickey Mouse in the middle. It's the symbol of Bunte Republik Neustadt or BRN, Dresden's craziest festival taking place in Neustadt in mid-June. There are open air concerts, street art performances, and a lot more cool stuff.
During Danilo's night tour we learnt that during the first BRN in 1990 and 1991, the 'Neustadt Mark' was the only currency accepted during BRN – it was exchanged 1 to 1 with the East German mark, and 2 to 1 with the West German mark, a tongue-in-cheek 'revenge' after East Germans lost the value of much of their savings after reunification.
Sadly, we missed it by just one weekend, but we'll be sure to check it out next time we get the chance to be in the area – soon, we hope!
Bars and Restaurants
Curry & Co – the best currywurst in Neustadt. For something unusual, have it with prosecco!
Raskolnikoff – a Russian-inspired restaurant in one of Neustadt's oldest buildings, that narrowly escaped demolition thanks to Neustadt locals. Check out the beer garden!
Hotel Debotel – there are many bars in Neustadt, but this one was one of our favourites. We liked the unpretentious, local feel.
Katy's Garage – This is a Neustadt cult, named after the Range Rover of an Irishman who squatted the area to save it from developers. It's now a rock bar with dance floor and a beer garden. There are some food trucks just outside Katy's – go for the one offering falafel and halloumi rolls!
Saxon Switzerland
If you like nature and want to get out of town for a while, the Sächsische Schweiz (Saxon Switzerland) National Park is the place for you. It's a dreamlike landscape of sandstone pinnacles and forests, extending southward into Czech Republic. Climbers will love it, as modern sports climbing is said to have been born in Saxon Switzerland.
Bastei
There are hundreds of climbing routes and miles of hiking paths – but with a temperature of over 35°, climbing or hiking was not really on our radar. We opted for an easy hike from the village of Rathen to Bastei, about half an hour each way.
The Bastei is one of the most picturesque rock formations in Saxon Switzerland, rising 194 meters over the Elbe River. It is known for the views over the river and for Bastei Bridge, a sandstone bridge built in 1851 spanning across the pinnacles.
Neurathen Castle
On the Bastei you'll also find Neurathen Castle, a real life Game of Thrones Eyrie, a castle built in the 11th century using the existing rock pinnacles as towers. Rooms and passages were carved out of the rock.
Unfortunately, the castle is now in ruins, but you can still get an idea of how it was like thanks to an open-air museum, that costs only €2 to enter.
How to get to Saxon Switzerland
Saxon Switzerland is very easy to reach from Dresden – either by train, taking the S-Bahn southwards towards Bad Schandau, and alighting at any station after Pirna – we got off at Rathen-Kurort to see Bastei and Neurathen castle. The trip takes about 40 minutes.
You can also reach Saxon Switzerland on a paddle steamer from Dresden, or on a raft from Pirna – definitely a more scenic way to travel than the S-Bahn!
We were guests of Dresden Marketing and Lollis Homestay during this trip. As always, all opinions are our own. But we did indeed love the place, and we have no doubts we will return soon – perhaps we'll even move to Dresden one day! 
Pin it for later?