Welcome to our alternative Berlin guide! After visiting the city over 10 times in the past five years, we've collected the best alternative Berlin insider tips from our local friends here. Keep checking this space, we'll be adding to this list!
Looking for more inspiration? Check our post with 12 UNMISSABLE day trips from Berlin!
Love it or hate it, I'm sure you'll agree with me – Berlin is as alternative as it is unique. The city's recent history produced a counterculture unlike any other, making Berlin a place where what is quirky, weird and unusual elsewhere is celebrated as part of the city's urban landscape.
Every free moment we have whenever we are in Berlin, we go looking for alternative Berlin sights. You all know that Berlin is the alternative capital of Europe, with a vibrant street art scene, lots of craft beer bars, abandoned buildings, restaurants from all over the world and unusual museums – check our Berlin in winter guide for more weird museum info!
To compile this alternative Berlin guide, we searched high and low, asked friends, bloggers and Berlin lovers for their Berlin favourites, asked people on Twitter and stopped random people in the street – and here are the alternative Berlin insider tips we came up with.
For even more alternative Berlin tips, check our Berlin diary on Wowanders, including lots of cool places to eat and drink – rooftop bars, vegan restaurants, burger places and more!
Alternative Berlin Insider Tips
1) Teufelsberg
Recommended by the Berlin Tourism Board
Gone are the days when this alternative Berlin sight was the domain of intrepid urban explorers – now Teufelsberg is well known, but it's still worth a visit!
Teufelsberg translates as 'Devil's Mountain', and it's the highest hill in Berlin. It's a man-made mountain, 'built' from grassed-over WW2 debris. So far, nothing strange – there are loads of man-made mountains across Europe, like Montestella in Milan.
What makes Teufelsberg weird is that it was built on that precise site, in the heart of Grunewald Forest, to cover Wehrtechnische Fakultät, the Nazi technical college, so sturdily built that it couldn't be demolished with explosives.
In the Fifties, West Berliners went to Teufelsberg to ski in winter, as the hill's western side housed some ski slopes and ski jumps. Everything was closed down in the Sixties, when the NSA built a spying station on top of Teufelsberg – being the highest place in Berlin, it was the ideal location to gather East German intelligence. Those crazy-looking balloons are radomes, weatherproof structures built to protect American radars.
Teufelsberg fell into disrepair after the Wall fell. It was squatted, it became one of the chosen locations of Berlin's urban explorers and street artists, who painted the now-gutted building with colourful pieces.
Then, something weird happened. A group of squatters started organising guided tours, charging an entrance fee of €7 (for the so-called 'silent' tour) or €15 (for the once-daily 'history' tour). The silent tour means you get ushered around by a grumpy-looking squatter, who makes you feel like it's such a privilege for you to be there, and refuses to give any explanation whatsoever and answer your questions on account of 'you should have booked the history tour'.
Now, visiting Teufelsberg is a cool experience. The street art is great, the place is eerie to say the least, and the views over Berlin are amazing. The best part is entering the radomes with their crazy acoustics.
But I must say, my visit was spoilt by how rude the squatter that took us around was. I have nothing against them charging (they do maintain the place after all) – but refusing to answer a simple question and treating paying customers as if they were an inconvenience is just plain rude.
I hope the message will go through – because Teufelsberg is unique, and definitely deserves a visit.
Where to Stay – Quirky and Unusual Berlin Hotels
You can't explore alternative Berlin and just stay at a backpacker flophouse or chain hotel! Here are out eight favourite quirky places to stay in Berlin, each of them unique!
2) Berlin Graffiti Tour and Workshop
Recommended by Stok, psychologist and graffiti writer
Street art is plentiful in Berlin – you'll find great examples all over Warschauer Strasse, in Kreuzberg, around Tegel, in Wedding, and there's even Urban Nation, a new street art gallery in Schöneberg.
If you have a keen interest in street art, and besides looking at cool pieces you really want to understand the history, development and cultural significance of Berlin street art, we recommend joining this Graffiti Tour and Workshop.
The tour is divided in two parts – the first takes place in Kreuzberg, where a street artist takes you around, detailing how street art developed in Berlin from tags, to bubbles and finally to the amazing pieces you see these days, and telling you the stories behind artworks by famous artists like ROA and Os Gemeos.
Afterwards, the 'workshop' part of the tour continues in a Lichtenberg warehouse turned street art studio, where all tour participants try their hand at producing their own artwork using stencils and spray paint.
Here's mine – and if you want to know more about the Graffiti Tour and Workshop (definitely a top alternative Berlin attraction) check out our Art in Berlin post!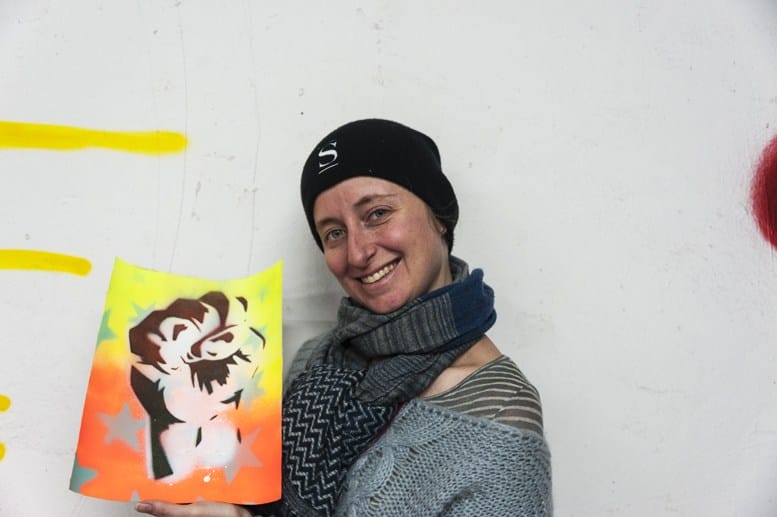 Looking for other Berlin Street Art Tours?
3) Urban Exploration
Recommended by the one and only Felipe and Marcela
For a long time, this was at the top of our alternative Berlin list. What could possibly be the coolest, most adventurous and craziest thing to do in Berlin? Urban exploration, urbex for short – basically breaking into abandoned places and seeing what they're like.
Teufelsberg above is 'urbex for beginners' – you're not actually breaking in as you're paying the surly squatters for the privilege, but as the place is hardly secure, it kind of feels like breaking in. In any case, we were eager to experience 'real' urbex.
In 2015, we were invited by Felipe and Marcela of amazing blog Fotostrasse to join them in exploring Blub, an abandoned water park in Neukölln. It's easy to get in – no need to climb over fences or cut through barb wire.
Once we were in, we felt as if we were in a zombie movie. It was thrilling and terrifying at the same time. The outdoor and indoor pools were littered with various kinds of debris, from broken glass to plastic lounge chairs, empty spray cans and planks of wood. The sides of the pool were covered in graffiti and some pretty cool street art pieces – but for the whole time, we half-expected an army of undead to come rushing to us with gaping mouths, ready to eat our brains.
We spent a couple of hours just wandering around taking pictures, down to the gym where machines laid stacked in a corner and to the 'oriental room' where Marcela and Felipe saw people stealing tiles during their first visit a few months back. It was incredible to believe that only 15 years ago, this place was named one of Germany's top 100 attractions, and that thousands of people visited its water slides and spa pools every year.
A couple of days later, always with Felipe, Marcela and a bunch of other friends, we went to another place, Krankenhaus Mariendorfer Weg – an abandoned hospital in Neukölln.
The trouble with urbex is that abandoned places are often demolished or burnt down to collect insurance and kick-off redevelopment. Blub burnt down a few months back, just after our visit, and the hospital is due to be demolished shortly.
In late 2018, the abandoned hospital no longer exists, and Blub was reported to be extremely dangerous to visit, because of crime and structural damage after the fire.
For more urbex ideas, check Fotostrasse – they have lots of articles on the topic, and you can get info of where it's still possible to experience urbex in 2019. Don't miss experiencing this side of alternative Berlin!
4) Tempelhof
Recommended by Katharina, chef and lover of detective novels.
Once upon a time, this was an airport. It was one of the oldest airports in the world, having been opened in 1923, and it was expanded and revamped by the Nazis, making it one of the few surviving examples of Nazi architecture alongside Olympiastadion.
In 2008, Tempelhof ceased operations. Any other European city would have probably sold such a large and profitable piece of land to investors and redeveloped it into luxury condos. But not Berlin.
After its closure, Tempelhof became the largest public park in Berlin. It is open every day from 6 am to sunset, it is now a local favourite for an afternoon stroll, frisbee match or bike ride – and if you're up to trying something a little different, you can have kiteboarding lessons.
If you can, it's also worth exploring Tempelhof Airport inside on a guided tour – here are two tour options!
5) The Soviet Memorial at Treptow Park
Recommended by Peter
I am a big fan of Soviet memorials, I must admit. I find them fascinating – from the iconography to the sheer size of their statues. In June, we decided it was time to visit the Soviet Memorial at Treptow Park, Berlin's largest.
Despite being huge, we couldn't find the memorial, well hidden by the trees of Treptow Park. We wandered and wandered, and was about to give up, when suddenly, the memorial appeared – huge, imposing, intimidating.
The memorial at Treptow Park was the largest in the Communist world, from its opening in 1949 until the Stalingrad memorial was completed in the 1960s. It was built to commemorate the Red Army victims of the Battle of Berlin. It is now the resting place of over 5000 fallen soldiers.
Unlike Memento Park in Budapest, that was created in post-Communist times, the memorial at Treptow Park is left exactly as it was when it opened. You enter through a red granite gate, symbolising Soviet flags.
A walkway lined by marble sarcophagi, engraved with scenes of the war against Fascism, leads to the centrepiece of the memorial – a gigantic statue of a Soviet soldier standing over a broken swastika. The statue is said to have been inspired by a Red Army soldier, who ran risked his life under machine-gun fire during the final moments of WW2 to save a 3 year old girl.
It was a chilly, overcast day. The atmosphere in the memorial was sombre and oppressive. It was as if the huge soldier standing over the swastika was watching over us – or just watching us.
6) Alternative Berlin Food Tours
We believe there's no better experience to get under the skin of a city than a food tour – and naturally, Berlin has a lot to offer when it comes to unusual food tours. Over the years, we've been able to join several different alternative Berlin food tours – our favourite were a Mitte food tour by bike and a Vietnamese food tour around Prenzlauer Berg.
We've also heard amazing things about the Cooking Across Borders experience run by Context Travel, where guests meet refugee families accompanied by a local historian and migration expert and conclude the experience by cooking all together. The experience seems to be on hold as of December 2018 – I will let you know as soon as it resumes (and I'll go try it myself!)
Here are some of the best food tours in Berlin, showing the city's alternative side through its cuisine!
7) Self-Guided Tour to Vegan Berlin
Recommended by Claudi, a vegan marathon runner
Keeping to its alternative soul, Berlin is also Europe's most vegan friendly city! Vegan bakeries, restaurants and patisseries are literally everywhere, offering a mouthwatering range of plant-based delicacies (including vegan döner kebab, if you can believe it!), and most regular restaurants will have some great vegan options to share.
So, where to go if you want to find Berlin's best vegan bites? Navigating options online is truly a daunting task, since every other vegan Berliner seems to have a different favourite vegan eatery. Once again, a local comes for help with some excellent Berlin vegan insider tips – just get yourself the Vegan Berlin Map, put together by Claudi, a lifelong Berlin resident and passionate vegan.
The map includes three self-guided tours – focusing on 'indulgent' vegan food around Neukölln, on 'conscious' establishments around Prenzlauer Berg and Mitte, and on all sorts of vegan delicacies around Warschauer Strasse. What sets this guide apart is that it doesn't just feature food, but also yoga studios, upcycle shops, urban gardens and more – pretty much, everything you need for a green alternative Berlin visit.
The map is just €5 and can be ordered via the GreenMe Berlin site.
8) Alternative Berlin Pub Crawl & Craft Beer Tour
You definitely don't need me to tell you how amazing Berlin nightlife is! Techno lovers will definitely know of alternative (and in some cases clothing-optional!) clubs like Berghain and Kit Kat, but to be honest clubbing has never been my thing, and to a night in a sweaty disco I've always preferred a relaxed night out in a microbrewery or craft beer bar.
Guess what – there are plenty of pub crawls to choose from in Berlin, and if you want a local to show you the best places, a pub crawl is the way to go. Skip the 'backpacker pub crawls' and opt for something more relaxed like the famous Anti Pub Crawl, taking visitors to low-key drinking spots around the city (stag and hen groups are NOT allowed!) or the Craft Beer and Brewing Discovery Tour, run by a brewing expert and taking you through a history of beer in Berlin before sitting down at three excellent brewpubs.
9) Liquidrom
Looking for an unusual way to spend a night – or even a day – in Berlin? Head to Liquidrom, a futuristic spa located in a former train station.
From outside, Liquidrom looks like a postmodern tent, while inside you'll find a range of saunas and baths. Yet, the real calling card of Liquidrom is the huge saltwater pool, where you can spend time relaxing and listening to music while different colour lights are projected over the arches surrounding the pool.
The effect is incredibly relaxing, almost out-of-body – especially if you're lucky to visit at a time when the pool is not crowded. Try to avoid weekend evenings and festive days, and enjoy this alternative Berlin gem for wellness lovers!
10) Clärchens Ballhaus
In a place like Berlin, where rave parties and techno clubs are everywhere, is there anything more alternative for a night out than ballroom dancing in a 19th century dancehall? Clärchens Ballhaus is exactly that – a 100 year old dancehall in the centre of Mitte, where the average age of guests is over 70 (but 20 year olds are not uncommon), spinning their brogues with tango, polka and cha cha tunes.
Clärchens Ballhaus also has a beer garden and old school restaurant, but the real deal is the dance room upstairs, with Baroque decor and faded chandeliers. It's amazing to imagine that you can still party at one of the hangouts of legendary 1920s Berlin. If you feel that you need to perfect your moves before hitting the dance floor, lessons are often held at the start of the evening.
11) Design Panoptikum
Freak show meets industrial machinery at this amazing oddball museum in Mitte. The Design Panoptikum is a self-styled 'surreal museum of industrial objects', where you'll find things like mannequins surrounded by old cinema reels, oddly-shaped alembics, vintage aviation and medical equipment assembled around dolls and eerie lights… trust me, it's weird.
Don't let the €10 entrance ticket stop you from visiting. If the owner is there, he'll gladly give you a tour or talk you through some of the objects, making the experience even more fun.
12) Subterranean Berlin Tour
Is there anything more alternative and (literally) underground than a Subterranean Berlin tour? The good folks at Berliner Unterwelten take visitors to air raid shelters, tunnels used to smuggle people out of East Germany, WW2 bunkers and more.
Their headquarters is near the Gesundbrunnen S-Bahn station, a place from where a network of secret bunkers and tunnels unfolds. Their flagship tour takes people through the history of Berlin via its underground passages and sewage tunnels, but there are also tours focusing on a specific time in Berlin history – a Cold War tour, visiting nuclear bunkers, and a 'Under the Wall' tour, retracing the steps of those who tried to escape.
Before or after one of the tours you can also visit the permanent exhibition about Hitler's Germania, the utopian plan for Berlin.
13) Subway Cabrio Tour
Every single time I'm in Berlin I try to book a spot on the U-Bahn subway cabrio tour, and always fail. I'm a public transport nerd, and the idea of travelling down the massive Berlin U-Bahn railway network on an open carriage sounds too good to be true! I guess this sentiment is shared by many others, that's why it's so difficult to snap tickets.
The open car is ideal to take a look at tunnels, station architecture, control rooms and how the railway works. The tour departs late at night from Alexanderplatz station and it's in German only. If you don't speak German you'd miss out on the historical info about the U-Bahn – but you can always visit the Berliner U-Bahn museum if you want to know more.
Hope to be able to score a ticket soon and join this amazing alternative Berlin tour – you can book tickets at this link, they go for sale each year in February and cost €50 per person.
14) Berlin Walking Tour from Below
This tour takes people to a truly alternative side of Berlin that is just about to disappear – the Berlin of squatters, punk people and alternative lifestyles, proudly resisting the gentrification wave sweeping through the German capital.
The tour takes place in Kreuzberg and is led by a social worker who used to live in a squat, providing a true insider's view of a side of Berlin that certainly contributed to making the city what it is today.
15) Tajikistan Tea Room
I honestly don't know why this place is not a must stop on everyone's alternative Berlin list. The Tadshikische Teestube (Tajikistan Tearoom) is located in the heart of Mitte, in a secluded location overlooked by most tourists. The tea room is actually a pavillion brought over by Soviet Tajikistan to the Leipzig trade fair in the 1970s. After the fair was over, Tajikistan donated the pavillion to the GDR, and the same was then transported to the heart of East Berlin.
Walking in feels like stepping into Central Asia. There are carpets on the floor, low tables and embroidered cushions, dozens of types of tea on the menu and delicious Russian dishes. On Mondays, tea ceremonies are held, with guests telling stories or giving lectures.
It's the ideal place to stop in the heart of Mitte before heading back to explore alternative Berlin!
Have you ever considered visiting the Berlin Dungeon? Find out the best ways to get Berlin Dungeon tickets here!
16) Neue Heimat
Recommended by Finn, a real history and German culture lover, tour guide at Context Travel.
This is one of those places that is so quintessentially Berlin. Just off Warschauer Strasse S-Bahn, walking away from the Spree and towards the back of the railway tracks, lost in a maze of warehouses, you'll find Neue Heimat – part street food, part cocktail bar, part biergarten in a former railway depot, with artists performing live music and a pop-up market every Wednesday.
When we visited, we had a White Russian and beers while all around food trucks offered snacks from all over the world, from Sicilian cannolo to Korean noodles.
17) Rosa Caleta
Recommended by Finn and about 10 other people
After we went to Neue Heimat during our night tour of Berlin with Finn, we walked to Kreuzberg, in search of a 'very special restaurant'. We walked for about half an hour, and I was famished, when we finally got to Rosa Caleta – a Jamaican-European restaurant in the heart of Kreuzberg, run by a formidable, super friendly guy (whose name I cannot remember). I was so happy we took the time to walk there!
I had super spicy jerk tofu, Nick went for the Jamaican classic jerk chicken, while other people in other group had creative dishes such as spätzle with coconut. What made the place special was the atmosphere – not only was the food creative, delicious and unusual, but the owner was so friendly that I would return in a heartbeat just to laugh at his jokes again.
18) Berlin Burger International (BBI)
Recommended by the unstoppable Felipe
These days, there are more probably burger joints in Berlin that hipster beards in Kreuzberg. OK, maybe that's an exaggeration. But if you want a choice burger, head to BBI in Neukölln, a hole in the wall that serves up the best burger we've had this year.
Their combinations are super creative. We went for an 'El Gordito' with guacamole, bacon and cheese, and an Italian-inspired one with grilled mozzarella, balsamic onions and toasted pine nuts. Every month there's a special burger on offer. If there's three of you or more, share a serving of chilli cheese fries, but beware – you'll be stuffed for decades!
Another Alternative place to stay – Pfefferbett Hostel, sleep in a former brewery!
If you've been following us, you'll know we enjoy staying in places that have character. Doesn't matter if it's a hostel or a luxury hotel, it's the experience that counts. Having said that, we do have a very soft spot for design hostels – Pfefferbett Hostel is a really good example of what we like.
First things first – location. Pfefferbett Hostel is in Prenzlauer Berg, one of the coolest neighbourhoods of Berlin. You'll find TONS of hipster stuff (pop-up store specialising in 80's vinyls, anyone?) but also some tasty falafel and doner joints, and a couple of restaurants that look right out of the GDR days. The hostel is in a place called 'Pfefferberg', a reconverted industrial site, where a former brewery used to exist. I love industrial archaeology, and when I first saw Pfefferberg, I went WOW. I just love the red-brick buildings and the chimney towering over it all.
The hostel itself is a really good place to stay. If you see the rooms, you'll be forgiven to think you're in a hotel, with fluffy duvets, TV and ensuite bathrooms. Common spaces are great too. There's a 24/7 bar at reception, with a big screen showing football matches, a back garden and some outdoor tables out front. The bar downstairs offers excellent lunch specials; we were surprised to see business people heading over to the hostel for their crispy halloumi salad or maultaschen!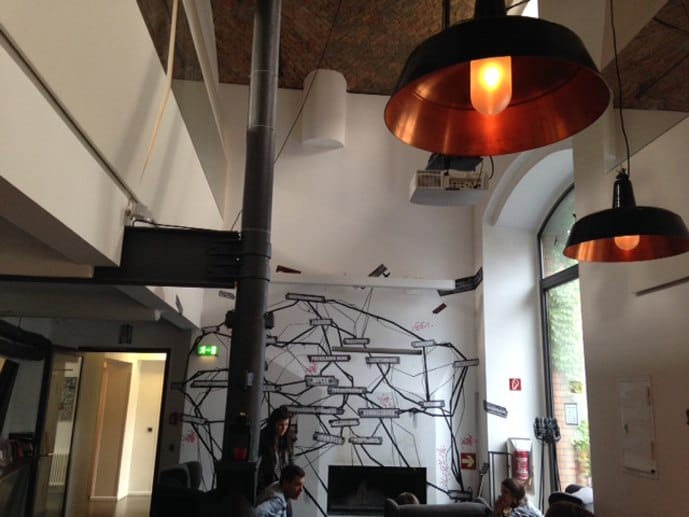 One remarkable thing about Pfefferbett is that they manage to keep the 'fun' part and the 'relax' part completely separate. There's no need of earplugs, like in many hostels. Pfefferbett is planned so that you can sleep like a baby upstairs while others party the night away at the bar. Believe me, I've had plenty sleepless nights in hostels!
There are two other things we really liked about Pfefferbett. First, they have a staff tips section on their site! We loved Marcel's tip of cycling the entire length of the Berlin Wall. It's at the top of our list for our next Berlin visit! Second – and perhaps most important – we learnt that the hostel is a wholly owned subsidiary of the VIA Verbund für Integrative Angebote Berlin, a social initiative to favour employment of disadvantaged people.
In fact, Pfefferbett Hostel is a non-profit integration company. More than 40% of employees are people with severe disabilities, and the hostel offers them the chance to enter the labour market in a relaxed yet exciting environment. Some of these people otherwise may never have a chance to work and be included in mainstream society.
Staying at Pfefferbett, you'll help support this initiative, and help change the life of a disadvantaged person.
Our Berlin trip was partly sponsored by Pfefferbett Hostel and Visit Berlin. All opinions remain our own.
Pin it for later?