After so many visits to Trentino, it's about time we wrote an article about things to do in Trento, the largest city in the province. There you are – including how to get there, where to stay, and day trips from Trento!
'Trento is not a touristy city'. These words, said by the CEO of Trentino Marketing during the opening keynote of Traverse 19, stuck with me. Indeed, in the era of overtourism, Trento seemed blissfully quiet and offbeat.
If you say 'Trentino', most people will think of nature – the blue waters of Lake Garda, the jagged peaks of the Brenta Dolomites, remote valleys, villages where time seems to have stopped.
On the other hand, Trento is a medium-sized city of over 100,000 people, lying at the bottom of a valley. Most tourists usually just see it as a transport hub – why would you spend time in a city, if you're travelling to Trentino for the mountains?
Walking around the city, I soon realised the CEO was right – there were very few tourists in Trento. Cafés in the squares and pedestrian streets were crowded indeed, but with locals. Restaurants didn't have 'tourist menus' displayed in half a dozen languages. There were no open-top buses, no Segway tours, no umbrella-toting free walking tours.
Does this mean Trento is not worth visiting? If you ask me, it means the opposite.
After having spent a week in Trento, I know of a few reasons to visit – 18 of them, to be exact. Things to do in Trento include squares, churches, towers, museums like MUSE, perfect for kids with lots of hands-on exhibits. There are also viewpoints, and lots of day trip opportunities to discover the beautiful nature Trentino is famous for.
People spending a minimum of 2 days in Trentino will receive the Trentino Guest Card for free, including free entrance to many of the Trento tourist attractions mentioned in this list, plus free transport around Trento and surrounds. Check this post for more info!
Here are 18 fun things to do in Trento – do you know of any more we should add to this list?
Things to do in Trento – Main Sights
1) Buonconsiglio Castle
In my opinion, the #1 thing to do in Trento is definitely visiting Buonconsiglio Castle. It dates back to the 13th century, and it was the residence of the Prince Bishops of Trento for over 500 years.
Over the centuries, the complex was extended, and new buildings, halls and decorations were added. The oldest part of the castle is medieval Castelvecchio, including the large cylinder-shaped tower, Magno Palazzo was added during Renaissance times, while the Giunta Albertiana dates back to the 17th century, and it is decorated in Baroque style.
Visiting Buonconsiglio Castle means taking a journey through history – not just in terms of art and architectural styles, but also because the castle now houses a museum on the history of Trentino, from prehistory to the present day.
Don't miss visiting the Torre Aquila, with its cycle of frescos illustrating the months of the year. Entrance is timed and requires an extra ticket at the cost of €2 per person.
Where: Via Bernardo Clesio, 5, 38122 Trento TN
Opening Hours: 10 am-6 pm, closed on Monday
How Much: € 10 (plus € 2 for Torre Aquila) – free with Trentino Guest Card
2) Walk through the Historic Centre
Like most Italian cities, Trento also has a compact, easy-to-walk historic centre. It roughly extends from Piazza Dante, just opposite the train station, to Buonconsiglio Castle, to a little further than Piazza Duomo.
Via Dietro le Mura marks the border of the historic centre on the eastern and southern side – the name 'mura' refers to the city walls, a section of which can still be seen in Piazza Fiera.
The historic centre of Trento possesses that charming blend of pedestrian streets and squares, colourful buildings, cafés and restaurants with outdoor seating, that many visitors immediately associate with Italy. To make matters even better, the city is surrounded by mountains, making for fantastic views anywhere you turn.
Take some time to walk around and explore the historic centre at your own leisure. Top tip – don't stick to the main streets, but also walk down the vicoli, narrow passageways connecting larger streets. Vicolo della SAT, Vicolo Adige and Vicolo Vo are three examples!
3) Find the Towers of Trento
Even though Trento is surrounded by mountains, it's located at the bottom of a valley, and it gets very hot in summer. Noble families in the past were well aware of that, and built towers attached to their city residences to escape the summer heat.
Some of these towers still survive – and trying to find them all is definitely a fun thing to do in Trento! Get started with Torre Civica, possibly the easiest to find of them all, Torre Tromba along Via Cavour, and Torre Verde, just outside the historic centre.
4) Visit Piazza del Duomo
Piazza del Duomo is the heart of the city, and no doubt you'll be walking through it many times during your Trento visit.
The 'Duomo' in the name is the city cathedral, dedicated to San Vigilio and built in Lombard-Romanesque style, notable for its horizontal development. The façade is dominated by a rose-shaped window, depicting the Wheel of Fortune. Entry to the cathedral is free, but if you wish to visit the foundations of the early Christian Basilica over which the cathedral was built, there's a €2 entry charge,
Besides the Cathedral, there's a lot more to admire in Piazza del Duomo! Another recognisable building is the Palazzo Pretorio, the former residence of the Bishop, and now home to the Diocesan Museum. Its tower, the Torre Civica, still houses the bell that was used for centuries to call the city to assembly.
At the centre of the square you can see a fountain dedicated to Neptune, and right opposite are the two Cazuffi Rella Houses, decorated with frescoes of Greek mythological scenes, and of the allegories of love, fortune and abundance – in contrast with the mainly 'religious' purpose of most surrounding buildings.
Cathedral Opening Hours: 6.30 am-12 pm, 2.30-8 pm every day. Visits are not allowed during celebrations.
5) Have a Hugo for Aperitivo
Now, let's make things clear once and for all. Aperitivo in Italy is not, and I repeat NOT, meant to include those huge spreads you see everywhere in places like Milan and Bologna! Aperitivo is a pre-dinner drink, accompanied by small snacks like crisps, olives, nuts and maybe some pieces of focaccia or slices of bread with spreads or cured meats.
Most places I saw in Trento did aperitivo exactly like that – a glass of wine, beer, spritz or other, accompanied by small, tasty snacks. Make sure you try a Hugo, a typically-Trentino cocktail made with elderflower syrup, soda water and Prosecco, sometimes with the addition of mint.
There are dozens of places serving aperitivo with outdoor seating all over Trento – my favourite was Panificio Moderno, in a pedestrian square just 5 mins from the Duomo. Having aperitivo is one of the best things to do in Trento – as you'll be sitting in the sunset, a spritz or Hugo in your hand, you'll see why!
6) Enjoy Trentino Cuisine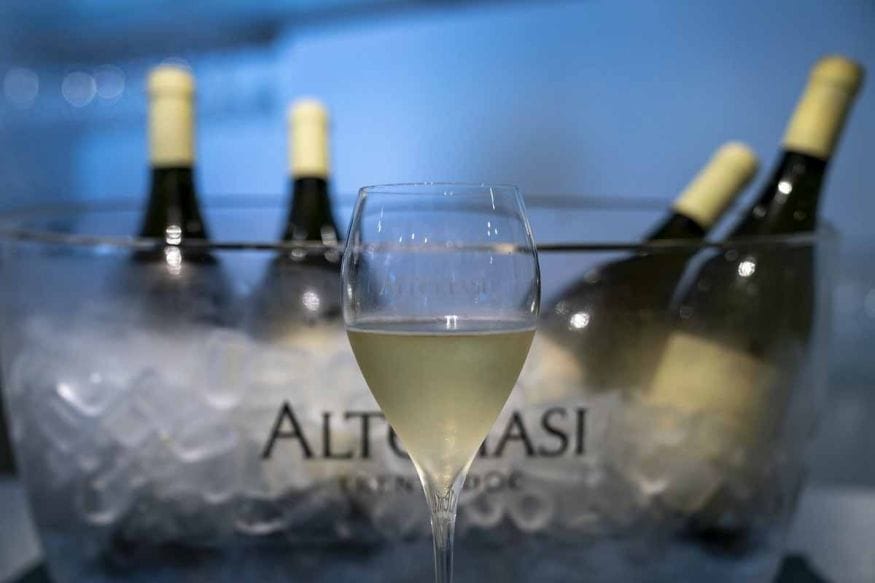 Italian food changes a lot from one region to another, and naturally Trentino has its own cuisine, which is completely different from what you'll eat in places like Milan, Florence or Southern Italy.
Just like you'll see Germanic influence in the streets and architecture of Trento, you'll find it in its dishes. You'll find canederli on all menus – these are the local version of Tyrolean knödel, bread dumplings with the addition of cheese and/or cured meat, cooked in broth or melted butter. A similar dish are strangolapreti, meaning 'strangle the priest' (don't ask me why), bread and spinach dumplings served with butter and cheese.
If you eat meat, don't forget to try carne salada, cured beef sliced thinly and served as a starter, and speck, a local smoked ham. Polenta is a popular main, served with deer or beef stews like goulash, or with mushrooms and melted cheese. Make sure you also try some Trentino wines with your dinner – sparkling TrentoDoc, Nosiola (white), Teroldego or Lagrein (red).
A great restaurant for traditional Trentino cuisine is Ristorante Al Vò. Alternatively, head to Pizzeria Uva e Menta, where you can have pizza topped with Trentino ingredients.
Best Museums in Trento
7) MUSE – Museo delle Scienze
The Museums of Natural Science (MUSE) is about 20 minutes walk from the city centre, in a large park surrounded by mountains. If you're with kids, MUSE is definitely one of the best things to do in Trento!
The museum has four floors – it is recommended to start from the top and work your way down. The second, third and fourth floors are dedicated to the Alps and their ecosystem, focusing respectively on geology, forests and glaciers; the first floor has exhibits about history, research and sustainability, while the ground floor is the real show-stopper, with plenty of hands-on exhibits about gravity, sound and other laws of physics.
Make sure you also spend some time looking at the garden outside MUSE, and if you have time check out Palazzo delle Albere next door, a 16th century residence now used for temporary exhibitions.
Where: Corso del Lavoro e della Scienza, 3, 38122 Trento TN
Opening Hours: 10 am-6 pm Tue-Fri, 10 am-7 pm Sat and Sun, closed on Monday
How Much: € 10 – free with Trentino Guest Card
8) Museo della SAT (Società Alpinisti Tridentini)
Mountain lovers should include this museum in their list of things to do in Trento! The Museo della SAT is dedicated to the history of Alpine exploration in Trentino, and the various Alpine society that summited peaks, traced paths and built mountain huts all over the Alps.
There's also a section about World War I, and the fights taking place in the Alps between the Italian and Austrian armies. If you want, there are plenty of opportunities to see WW1 forts and trenches in the mountains around Trento – if you're planning to do so, make sure you visit the Museo della SAT before going!
Where: Via Manci, 57, 38122 Trento TN
Opening Hours: 9 am-1 pm, 2 pm-6 pm Mon-Fri
How Much: free
9) Museo Diocesano Tridentino
Have you ever heard of the Council of Trento? It was one of the universal councils of the Catholic Church, and it took place during the mid-16th century as a response to Protestant reformation. If you want to know more about the council, the role of the church in Trento and about sacred art, you can't miss visiting the Museo Diocesano.
The Museo Diocesano is in Palazzo Pretorio, right next to the Cathedral. The collection includes two rooms dedicated to the Council of Trento, the treasure of the Cathedral, plus priceless works of art including Medieval manuscripts and Flemish tapestries. The Museo Diocesano is a great Trento attraction for history buffs!
Where: Piazza del Duomo, 18, 38122 Trento TN
Opening Hours: 10 am-1 pm, 2 pm-6 pm, closed on Tuesday
How Much: € 7 – free with Trentino Guest Card
Unusual Things to do in Trento
11) Piedicastello Galleries
In 2007, these two road tunnels were closed to traffic. Instead of lying forgotten as it often happens over the world, they were reconverted into one of the coolest exhibition spaces I've ever seen!
There are two tunnels side by side, one black, and one white. The Galleria Nera (Black Tunnel) is dedicated to large scale installation, often taking place all over the 300 square meter surface, whereas the Galleria Bianca (White Tunnel) is an event space, and it is also used for regular exhibitions.
If you're looking for a unique thing to do in Trento, definitely go and check out the Piedicastello Galleries! Exhibitions change regularly – in summer 2019 there's one dedicated to World War I, and another about Fabio Bucciarelli, a photojournalist and war photographer.
Where: Vicolo di Piedicastello, 24, 38122 Trento TN
Opening Hours: 9 am-6 pm, closed on Monday
How Much: depends on the exhibition
12) Sardagna Cable Car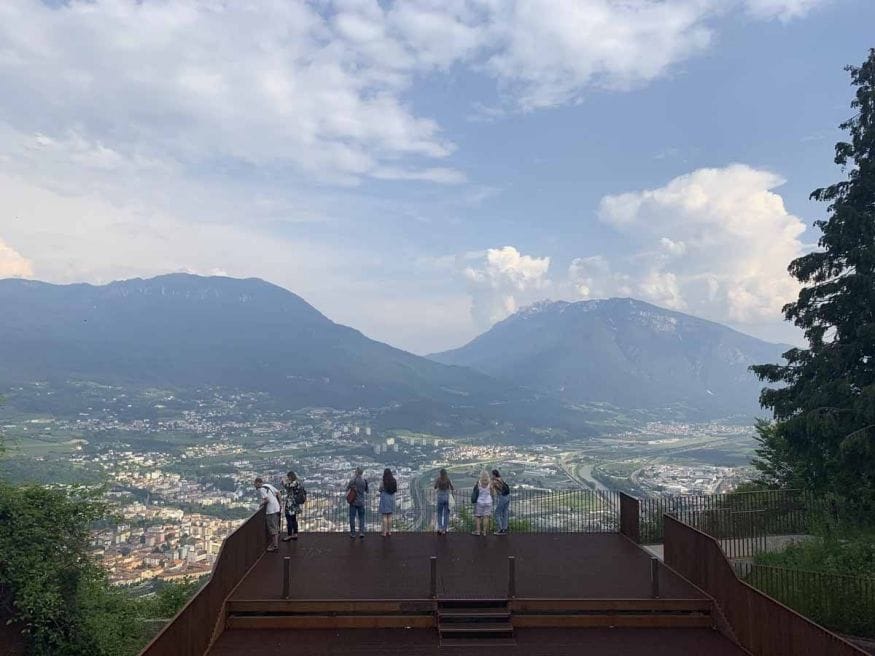 If you're visiting Piedicastello, another one of Trento's unmissable things to do will be just next door! Right next to the Adige River you can take a cable car all the way up to Sardagna on Mount Bondone, 600 meters above sea level, with a great view over Trento, the river, and surrounding valley.
There are a couple of places where you can have aperitivo with a view, and a lookout point known as Busa de l'Ors (Bear Hole), because in the past there used to be a concrete pool/cage, where a bear was kept. The bear is long gone now, but the place name survived – and really, there's no better place to see the sunset in Trento.
The cable car runs from 7 AM to 10.30 PM every day, and fares are included in your Trentino Guest card!
13) Cesare Battisti Mausoleum
Another unique place to see in Trento, located halfway up Mount Bondone, is the mausoleum dedicated to Cesare Battisti. He was an Italian patriot and hero of the Italian Irredentist Movement, who was aiming for the secession of Trento and Trieste from Austria-Hungary and annexation to the Kingdom of Italy.
The irredentist aim was finally achieved with Italy's victory of World War I, but sadly Cesare Battisti didn't live to see it – he was sentenced to death after his capture by Austrian forces, and died in 1916.
His mausoleum was inaugurated in 1935 at the top of Doss Trento, a hill overlooking the city – there are 16 marble columns arranged in a circle, surrounding the patriot's tomb.
Day Trips from Trento
14) Gorge of Ponte Alto
Would you like to add a fun and easy day trip at your list of things to do in Trento? Head to the Gorge of Ponte Alto, a spectacular canyon just half an hour by bus from the city centre.
The canyon was dug by the waters of the Fersina stream over thousands of years. In the 16th century the course of the river was altered to prevent flooding the city, creating two waterfalls. These are some of the earliest examples of hydraulic engineering anywhere in Italy, and they can still be seen.
It is compulsory to be accompanied by a guide during your visit of the Ponte Alto Gorge. Tours take place every weekend, and entry is €5 per person.
How to Get There from Trento: bus number 9, get off at 'Cognola Scuole' then walk for about 10 minutes.
15) Mount Bondone
When Trento locals want to escape the city, they head to Mount Bondone. Located just west of the city, this mountain is just over 2000 km high, and it offers adventurous things to do both in winter and summer.
In winter, the Monte Bondone Ski Area include 20 km of slopes and it's easy to reach in just over half an hour drive from Trento, meaning you can combine a city break with a day on the slopes.
In summer, Mount Bondone is a popular hiking and cycling destination, and you can also find some via ferrata, assisted climbing routes. If you've never done a via ferrata before, we highly recommend hiring a guide and spending a morning practicing your moves at the Mount Bondone Adventure Park, where you can find circuits including via ferrata, zip lines, and even a tibetan bridge.
How to Get There from Trento: you'll need to rent a car, or get in touch with Dolomiti Avventura if you need a mountain guide!
16) Rovereto
If you're into modern art, you have to include a day trip to Rovereto to your list of things to do in Trento. Rovereto is south of Trento, and it's a kind of 'miniature version' of it – it is also crossed by a river, it has a castle, and a walkable historic centre.
Rovereto is fun to wander around, but don't get sidetracked or you'll risk missing its star attraction – MART, a modern and contemporary art museum, with over 20,000 artworks from the late 19th century to the present day.
Exhibitions change regularly, including pieces of art from the permanent collection and temporary exhibitions. Yet, even if you're not into modern art as such MART is worth visiting for its stunning architecture – especially the central piazza surmounted by a glass dome with an oculus, reminiscent of the Rome Pantheon.
How to Get There from Trento: by train, there are several hourly departures and travel time is 15 mins.
17) Santa Massenza Power Station
This is one of the most unique things to do in the surroundings of Trento. The village of Santa Massenza is home to one of the largest hydroelectric power stations this side of the Alps, harnessing the power of water and glaciers to create clean, renewable energy.
The power station was built in the 1950s and it is still working. Tours include the access tunnel, dug by workers into the mountainside, and a visit to the turbine hall, where water becomes electricity, and control room. Sadly, photography is not allowed past the entrance tunnel, but the place is really, really worth visiting if you're into industrial sights.
After visiting the power station, you can walk to nearby Santa Massenza Lake to see its pristine aquamarine waters, or to the village of the same name, home to several grappa distilleries. If you need a little pick-me-up, head to Distilleria Francesco, open every day except Sunday.
How to Get There from Trento: by bus, there are hourly departures and travel time is 50 minutes. The stop is 'Due Laghi', and the same bus continues to Riva del Garda.
18) Lake Garda
Finally, how can we forget Lake Garda in your list of things to do in Trento? The town of Riva del Garda, on the northern shores of the lake, is less than an hour away.
If you're planning to visit Riva del Garda as a day trip from Trento, we recommend spending your morning exploring the town and lake shore, and the afternoon enjoying something more adventurous like a catamaran or e-bike ride. Check our article on things to do in Riva del Garda for more info!
How to Get There from Trento: by bus, there are hourly departures and travel time is 1 hour 20.
How to Get to Trento
-By Plane
There's no airport in Trento. The closest airport is Verona (about one hour drive), followed by Bergamo and Venice (about two hours drive from each).
If you're landing in Verona, the easiest thing to do is taking a bus to Verona Porta Nuova station, and then the train from there. From Bergamo and Venice airport you can take Flixbus.
-By Train
There's a train station in Trento, with regular connections to Verona and Innsbruck in Austria. Travellers coming from Milan or Venice should change trains in Verona.
Both Italian and Austrian/German trains travel to Trento, so make sure you buy the correct ticket and check whether or not you need to validate.
-By Bus
Flixbus connects Trento with destinations all over Italy, Germany, and Austria, as well as various airports, with frequent daily departures.
-By Car
The closest highway to Trento is the A22 – Brennero, connecting Modena and Verona to Austria and Germany.
Where to Stay in Trento
As a medium-sized city, Trento offers a variety of places to stay for all tastes and budgets. Here are a few options, for all tastes and budgets!