Are you planning to visit Bali for the first time? This 2 week Bali itinerary is perfect for first timers – including beaches, resorts, temples, volcanoes and practical tips on the best time to visit Bali and how to get around!
Come on, it's time to be honest now. Who hasn't dreamed of visiting Bali? Whether it's for surfing, for nature, to discover the unique Balinese culture, or because you – like millions of other – have fallen in love with Bali after reading THAT BOOK, this article is for you.
First things first – Bali is a big island, and it's also very diverse. And most importantly, Bali is not just about infinity pool villas, colourful walls, yoga retreats and 'Bali bowls', as Instagram might make you believe. The island measures over 1o0 km from north to south, and it's more than 150 wide.
It is also home to over 4 million people, mostly concentrated in the southern part of the island, where you'll find the airport and Denpasar, the main city. This is also the most developed area in terms of hotels and resorts, and the place where you'll find most tourists.
Ubud is also a busy tourist hotspot, but the rest of Bali includes some relatively offbeat places – including the northern and eastern coast, and much of the central part of the island.
We've put together this 2 weeks in Bali itinerary especially for first time visitors. It includes a mix of touristy destinations and quieter places, some of the sights that immediately spell 'Bali' in people's minds – temples, waterfalls, rice terraces, volcanoes and beaches.
What you won't find here are 'Instagrammable places' – that is because in my opinion Instagram has done more harm than good to Bali, but I'll save this topic for another post. Instead, we've included opportunities to discover Balinese culture.
Let's have a look – keep reading below for our 2 week Bali itinerary, or check out our Bali diary on Wowanders, with all the restaurants, bars, and sights we visited, and all the hotels we stayed at.
Wowanders is a new smart travel diary app, allowing you to create full diaries of everything you see and do during your holidays, with just a few clicks. If you're terrible with names like me, Wowanders is perfect! It's available for Apple and Android devices.
What to See in Bali – Two Week Itinerary
Seminyak (2 Nights)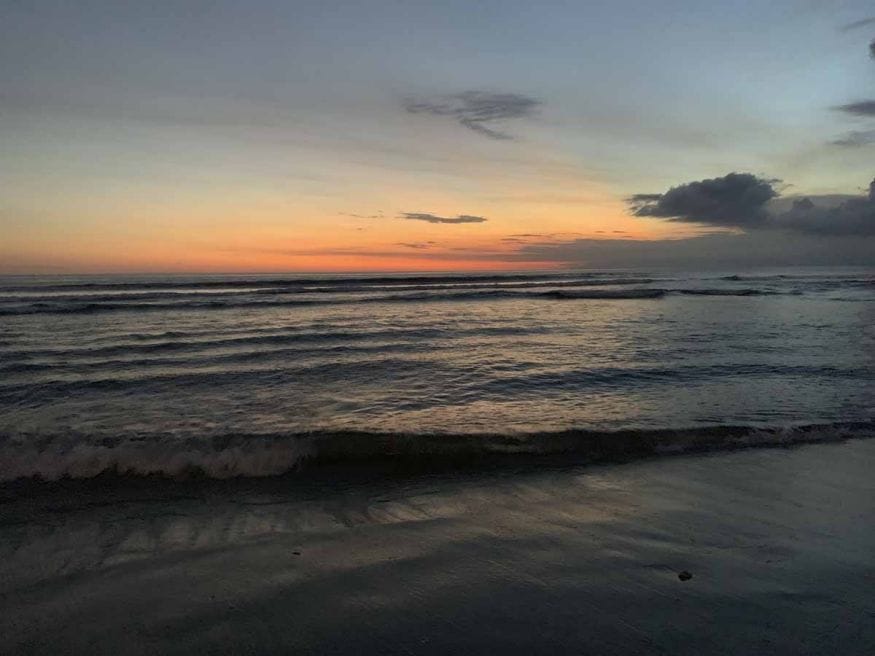 Chances are you'll be flying for several hours before reaching the island, so why not start your two weeks in Bali with a couple of days dedicated to some good old R&R?
The best known beach resort in Bali is Kuta, but over the years it has become overrun with drunken Australians and Americans on spring break. Another famous beach destination is Canggu, a favourite of digital nomads and long term Bali residents – but to be honest, the beach there is really average, and getting around can be stressful.
The solution? Head to Seminyak, located just north of Kuta and only 20 minutes from the airport. There are plenty of things to do in Seminyak, including some excellent hotels, as well as a wide array of restaurants and nightlife. It is also close to Double Six Beach, a wide, sandy beach where you can swim, surf, enjoy a sunset drink, or spend your day doing absolutely nothing!
Spend the first two days of your Bali itinerary taking it easy, and enjoying what you like best. Would you like a spa treatment? A Balinese cooking class? Have you ever wanted to learn how to surf? It's all possible in Seminyak – have a look at some of the best day trips to get some inspo!
Seminyak: Ultimate Culinary Experience Tour
Bali: Treetop Adventure Park Full-Day Tour
Seminyak: Brunch, Shopping, and Potato Head Beach Club Trip
Seminyak: Beginners Surf Private Lesson with GoPro Shot
Seminyak: Balinese Cooking Class & Market Tour
Where to Stay in Seminyak
There are hundreds of places to stay in Seminyak, ranging from backpacker flophouses to uber-luxury villas for several thousands a night.
We opted to stay at the Courtyard Marriott in Seminyak. It's a resort-style hotel, with a large swimming pool stretching all over the courtyard, and activities on offer like water aerobics, yoga lessons, and a 'street food festival' every Wednesday.
You can spend the start of your Bali itinerary simply lying by the pool and doing nothing, but if you want to get out and explore Seminyak, you're in the right place – Double Six Beach is just around the corner, and there are many cool shops and restaurants within walking distance.
One more reason to stay at the Courtyard Marriott in Seminyak – breakfast! The buffet display was truly one of the most impressive we've come across with anywhere in the world. Whether you fancy freshly-made eggs Benedict, fresh juices, noodles, Indian food or just bacon for breakfast, you're covered!
Get the Best Prices For Courtyard Marriott Here!
Book your airport transfer to Seminyak here to arrive with no hassle!
Ubud (3 Nights)
You can't possibly visit Bali and not go to Ubud, right? This town is about one hour north of Seminyak and it's often referred to as 'Bali's spiritual centre', due to the abundance of yoga studios and 'retreats' of pretty much anything.
Ubud town is very busy, and the traffic can be really too much – I found it way worse than in Seminyak. If it gets too much for you, fear not – there is a lot to see around Ubud! You can walk around rice terraces, look for your favourite waterfall, wander around the Monkey Forest and even take an early-morning tour with a shaman for a water cleansing ceremony in a locals-only temple.
We've written a full post on things to do in Ubud in 3 days for you to refer to if you want a detailed list on what to do each day. We also recommend dedicating one of your 3 days to hiking Mount Batur at sunrise – it was our favourite experience of our 2 weeks in Bali!
Otherwise, have a look at some of the best day trips from Ubud here!
Where to Stay in Ubud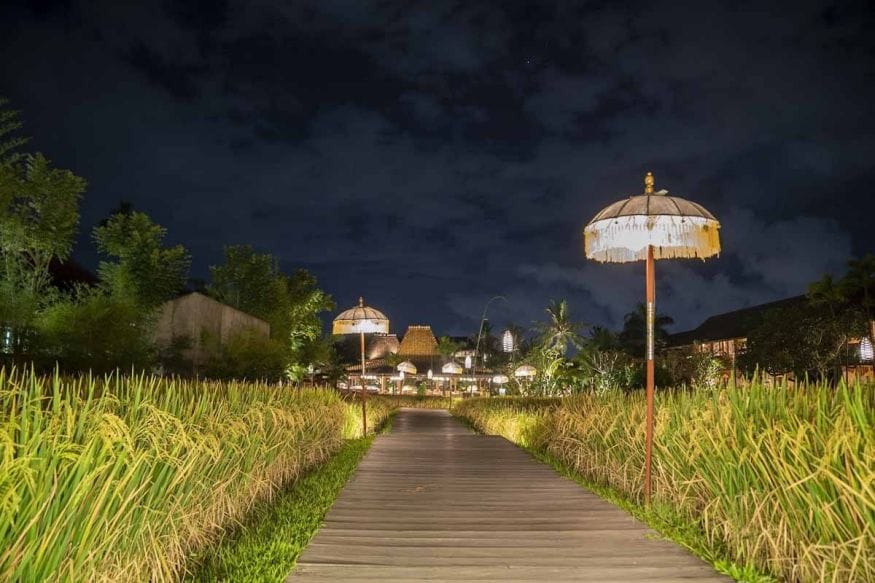 Ubud is a busy place, so we recommend opting for a nice, secluded hotel you can retreat to when everything gets a bit too much. Luckily, we have just the place for you – the stunning Alaya Resort!
Alaya is barely 10 minutes walk from the centre of Ubud, yet it feels secluded and surrounded by nature – it even has its own rice fields in the hotel grounds!
I spent a blissful afternoon at in-house DaLa Spa enjoying their signature Manis Klepon treatment, inspired from Balinese rice cakes. The treatment included a foot rub and massage, followed by a full scrub using fresh coconut and palm sugar, and a pandan-scented body wrap. Highly recommended!
Get the Best Prices For Alaya Resort Here!
Book your bus transfer from Kuta to Ubud here!
Central Bali (4 Nights)
After Seminyak and Ubud, you'll definitely understand what I mean when I say Bali is a busy place! I recommend spending the next 4 nights exploring Central Bali, my favourite part of the island! Forget busy tourist hotspots – here you'll find quiet local villages, and the opportunity to learn about Balinese culture.
When I say 'Central Bali', I mean the area including the mountains north of Ubud, up until Ulun Danu Beratan Temple. This part of Bali is much cooler and more rainy compared to the southern coast, making it a great place to escape the heat for a while.
Four nights in this region are a great addition to your two-week Bali itinerary. We got in touch with Evaneos, a company specialising in connecting travellers with local travel agents, and asked for an itinerary focusing on culture and ecotourism, while also visiting natural attractions in the region.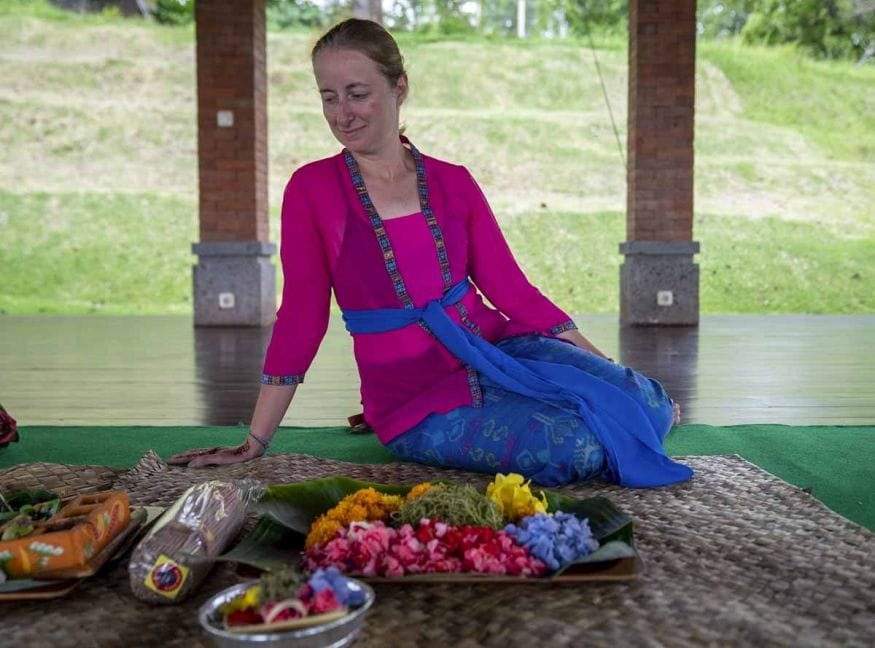 We started our time in Central Bali with a two-night stay at Rumah Desa, a cultural village set up by Wayan, a local man, who wanted to offer his family and fellow villagers the opportunity to get involved with tourism without having to move to the south.
We stayed in the main Rumah Desa homestead, set up like a real Balinese home with five separate buildings arranged around a central courtyard. Wayan spent most of the time with us, introducing us to his family and other members of the village, but he also gave us the chance to explore independently, offering tips on what to do in the area.
Many activities are on offer at Rumah Desa – during our stay, we toured the village's rice fields to lend a hand with ploughing and rice planting, visited a market and then learned to cook some Balinese dishes. It is also possible to join yoga classes and go on bike rides through the rice fields, but there was not enough time!
After Rumah Desa, we moved further north to Bagus Agro Pelaga, Bali's first organic farm and agro tourism. This is a luxury hotel, set on a hillside with scenic views over the mountains, dominated by the mighty silhouette of Mount Agung – which, alas, was covered in clouds at the time of our visit.
We spent an entire day walking through the grounds of Bagus Agro Pelaga, visiting the organic vegetable gardens and greenhouses, drinking freshly-roasted coffee grown on site and eating warm rice cakes topped with fresh coconut. We also got the opportunity to learn how to make canang sari, the traditionally Balinese basket-like offerings found everywhere on the island.
Bagus Agro Pelaga is also ideally located to visit other interesting, offbeat locations in Central Bali – like Nung Nung Waterfall, one of the best waterfalls in Bali that still sees relatively few tourists, and Jatiluwih rice terraces.
Where to Stay in Central Bali
We recommend contacting Evaneos and asking them to put together a custom itinerary based on your preferences. Alternatively, you can also book Bagus Agro Pelaga directly!
Uluwatu (2 Nights)
After spending one of your two weeks in Bali touring the interior, you may be looking for some serious beach time. Bali isn't really the kind of place where paradise beaches are plentiful and easy to access – you'd better go to the Philippines for that.
Having said that, the best place for beaches in Bali is the Bukit Peninsula, the southernmost part of Bali. We recommend adding to your Bali itinerary a couple of days in the Bukit, exploring what this part of Bali has to offer – not just beaches, but also clifftop bars, surfing hotspots, the Jimbaran fish market, and the famous Uluwatu Temple.
In terms of beaches, there's really a lot to choose in the area – this is why we recommend at least two nights in Uluwatu, so you can see more than one. Start with Dreamland Beach, a wide, sandy beach fronted by rugged cliffs. You can rent sun loungers and umbrellas, and get something to eat from the small warung just off the beach.
If you have time, on the same day you can also check out Suluban Beach, one of the best natural wonders in Bali, a small beach which can be accessed through a staircase leading down to a cave. On the right you'll also find Nyang Nyang Beach, famous for its shipwreck covered in graffiti lying on the beach. In the vicinity of Suluban there's also Single Fin, probably the best known sunset bar in Southern Bali.
Other beaches worth visiting near Uluwatu are Melasti Beach with its crystalline waters, Bingin Beach and its tree-topped boulder, and Padang Padang Beach, also known as one of the best surf locations in Bali.
Beaches aside, another not-to-be-missed location in southern Bali is Uluwatu Temple. This is one of Bali's most sacred temples, perched on a 70-meter cliff. The location is one of the main reasons to visit – if you can, plan to be at the temple at sunset, to see the daily Kecak dance performance. Local dancers will perform scenes from the Ramayana, a Hindu epic, with the setting sun as a backdrop.
Here are some day trips in the Uluwatu area to get around with ease – a great addition to your Bali itinerary!
Where to Stay in Uluwatu
If your budget can stretch far enough, we recommend opting for The Edge, a collection of dreamy Bali villas built on top of a cliff in Uluwatu. Each villa comes with its own infinity pool, and some even include butler service. If you are a group travelling in the low season, you may find offers for as low as €200 per person, per night – highly recommended if you want to treat yourself!
Get the Best Prices For The Edge Villas Bali Here!
2 Angels Homestay is budget-friendly alternative in Ungasan, about 15 minutes inland at the centre of the Bukit Peninsula. The guesthouse is owned and run by an Italian couple who fell in love with Bali, decided to move there and welcome travellers into their home. Breakfast is included in the room rate, and upon request, they will also cook dinner. Great if you want a break from Balinese food!
Get the Best Prices For 2 Angels Homestay Here!
Book your airport transfer here to reach your Uluwatu villa with no hassle!
Nusa Ceningan (3 Nights)
Would you like to travel to a place that feels like Bali 20 years ago, before travellers descended en masse? If the answer is yes, take the fast ferry to the Nusa Islands just south of Bali.
There are three islands in the archipelago – Nusa Lembongan and Ceningan, connected by the famous Yellow Bridge, and Nusa Penida, a short boat ride away. We opted to spend the last days of our 2 weeks in Bali in Nusa Ceningan, the smallest and least touristy of the three.
We spent one day diving, and one day touring both Nusa Lembongan and Ceningan by motorbike, checking out sights like the Devil's Tear water blow on Nusa Lembongan, and the Blue Lagoon on Ceningan, with bright milky-blue waters. It's easy to visit both islands in the same day, crossing the Yellow Bridge connecting the two on foot or motorbike.
If you just want to relax and do nothing during at the end of your Bali itinerary, Nusa Ceningan is the perfect place. You can kick back at one of the beach bars on the northern coast, each of them with their own makeshift swing, look for 'Secret Beach', or walk around the island – it's small enough that you won't need a scooter.
Mass tourism hasn't yet reached Nusa Ceningan. People do visit, but the majority only spends a few hours. You won't find traffic or noise – just peace and nature. Sure, it may change in the not too distant time, so get there while you can!
Where to Stay in Nusa Ceningan
If you're set to stay on Nusa Ceningan, make sure to check the address of your chosen accommodation on a map before finalising your booking, as places on Nusa Ceningan are often advertised as being on Lembongan, and vice versa.
We stayed at Kastilla Sunset, a locally owned, recently built resort about 15 minutes walk from the Yellow Bridge. Accommodation was in wooden bungalows with sea view, and rates included breakfast and view of the pool. Mega and his wife are lovely people and they will be happy to pick you up and drop you off at the bridge, and help you with anything you might need.
Get the Best Prices For Kastilla Sunset Here!
Book your ferry from Bali to Nusa Lembongan and Ceningan here!
Best Time to Visit Bali
Similarly to many other places in Southeast Asia, you'll find two main seasons in Bali – the rainy season, roughly lasting from December to April, and the dry season, between May and November.
Naturally, the distinction between the two seasons is not clear cut. The wettest month is usually January, then rainfall decreases gradually through to April, when it rains very little. Our two weeks in Bali were in April, and we did see some downpours, but not every day.
Dry season in Bali also coincides with summer in the northern hemisphere – June/September is when the island is at its busiest. If you want to do your best to avoid crowds (which can never be totally avoided in Bali) opt for the rainy season, or shoulder months like October/November and March/April.
If you're planning to visit Bali in March, don't forget to check when Nyepi is taking place. This is a Balinese celebration also known as the Day of Silence, a day of introspection and meditation. Bali airport is closed during Nyepi, and there is no Internet connection on the island – getting in or out is likely to be a challenge.
How to Get Around Bali
-Scooter Rental
This is definitely the easiest and most convenient way to get around Bali, provided you're confident on a scooter. Renting your own scooter is also very affordable, costing only 50-60K IDR per day, and between 600-700K IDR for a whole month.
However, please make sure your travel insurance covers scooter accidents, as we saw travellers with casts and bandages every single day.
-Ride-Sharing Apps
Ride sharing apps like Go-Jek and Grab are good alternatives to renting a scooter and getting around easily. Go-Jek is mainly used to ride on the back of motorbikes, whereas Grab is just like Uber, you get the whole car.
In both cases, you book via apps, and prices are set. Always double check once your ride arrives, as we've had a couple of instances where drivers tried to overcharge us. Try to have the correct change whenever possible, as drivers often don't have small bills.
-Taxi
The only issue, especially in places like Ubud and Seminyak, is that local taxi drivers promote boycotting Grab and Go-Jek, making it hard to find a ride. If this is the case, you may have to get a taxi.
If you hop on a random taxi on the street in Bali, you almost certainly will get ripped off. Use taxis from reputable companies like Bluebird – these are easy to recognise as all their cars are the same bright blue colour, but make sure the sign on the door says BLUEBIRD and not 'Blue Bali' or something similar, as there are plenty of copycats!
-Private Driver
Hiring a private driver for the day is a very convenient way of getting around that we used many times during our two weeks in Bali.
Rates are convenient at about 600K IDR for a day – if there is four of you, it means less than €10 each for the day! A 'whole day' means 10 hours, if you need your driver for longer it usually costs an extra 50K per hour.
You can also contact a private driver for rides to and from the airport, or between one place and another. Prices are usually set, slightly higher than what ride sharing apps would charge.
If you are looking for a reliable private driver, get in touch with Yung – her phone number is +62 811 5997 995