What's the #1 unmissable attraction in London? It's hard to choose just one, but if you ask me, the Tower of London is definitely up there! This post will guide you on the best ways to get Tower of London tickets, including how to skip the lines! ***UPDATED 2023
The Tower of London is the first place I remember wanting to visit as a child. My grandmother was obsessed with the Royal Family and Crown Jewels, so I remember listening to her tales of dark towers, sparkling gems, globes made of solid gold.
Naturally, when I first visited London at the age of 15, I went straight to the Tower of London. I remember heading out of Tower Hill station, eyes sparkling with excitement… only to be greeted by a snaking queue looping around the block.
Long story short – I did visit the Tower of London that day, and loved every minute. The Crown Jewels glistened more than I could ever imagine, and I found all the dark tales about prisoners and beheadings really enthralling.
Yet, I can still remember waiting in line forever. A few years later I moved to London and during the 5 years I called the city home, I don't think I ever saw the Tower of London without a huge line out front.
So, would you like to visit the Tower of London and skip the line? You're in the right place. Here we'll share with you 7 hassle-free ways to get Tower of London tickets, to make the most of your London visit!
No time to read it all? Get your Tower of London and Crown Jewels tickets here!
What to See at the Tower of London
Did you know the Tower of London is almost 1000 years old? It was built by William the Conqueror in 1066, as a fortification to protect the newly-conquered capital and its citizens. Nowadays, it is UNESCO-listed, as it's one of the best preserved original Medieval buildings in Europe.
Contrary to its name, the Tower of London is not a single tower, but a complex of over 20 separate buildings. It was the official royal residence until the 17th century, and served many other different purposes – Royal Mint, storage for government documents, place where the Crown Jewels were kept, observatory, prison, execution grounds, and even housed a private zoo.
At the centre of the complex you'll find the White Tower, the oldest structure, standing since 1078. Inside, you can see the Line of Kings, an exhibition of armour of all different kings with their weapons side by side. Make sure you check out Henry VIII's impressive codpiece!
A short distance away you'll see the Jewel House – yes, the name gives it away! Marvel at the impressive series of dazzling crowns, including St. Edwards Crown, used for coronation and made out of 5 kg of solid gold, and the Imperial Crown (Queen Victoria's favourite!) with giant sapphires, rubies and diamonds.
However, my very own favourite has to be the Queen Mother's Crown, sporting the legendary diamond Koh-I-Noor right in the centre – over 100 carats of pure light.
If you're like me, you'll spend most of your visit in the Jewel House. However, there's more to see – including the Royal Mint with an excellent coin and medal exhibition, the Medieval House with reproduction of Middle Age furnishings, and the Brick Tower, where you can learn about the zoo once kept behind these walls.
If you like creepy, dark tales, make sure you dedicate some time to the Bloody Tower, the prison housing the tower's darkest secrets. The most notable prisoners are probably Walter Raleigh, who voyaged to Guyana in search of Eldorado; and the 12-year-old Edward V and his younger brother, Richard, who disappeared in the Tower in 1483.
One of the best hidden gems in the Tower of London is Raleigh's Lost Garden, where he spent time during his 13-year imprisonment and cultivated some of the plants he brought back from South America.
Now you know what to see in the Tower of London, let's move onto the next topic – how to get Tower of London tickets and skip the line!
Are you planning to head to Northern Ireland? Here's our 16 Best Things to do in Belfast guide!
7 Ways to Get Tower of London Tickets
1) Buy Tower of London Tickets on the Official Website
You can buy Tower of London tickets on the official Historic Royal Palaces website. Tickets cost £33.60 for adults, £16.80 for children aged 5-15, and £26.80 for concessions – people ages 16-18, or 65+. There are also family ticket options available.
At first, this may sound like an easy option. You pick your preferred time and date, with a colour-coded system showing you how busy it's likely to be. You are also asked if you wish to make a voluntary donation to Historic Royal Palaces, the non-profit organisation conserving the Tower of London and other Royal Palaces.
Then, you select extras like guidebooks to the Tower or the Crown Jewels, and select your delivery method – if you're not in the UK, the only available delivery method will be 'print at home'.
This doesn't mean you are obliged to actually print your tickets at home – you can also display them on a mobile device.
Then, you'll be taken to a secure payment page, but the only payment methods accepted are credit cards. Alternative payment methods such as Apple Pay, Google Pay or PayPal are not accepted.
Buying Tower of London tickets on the official website sounds easy enough – provided you have a credit card. The only issue is that there is no mention of cancellations, refunds or booking modifications.
So, if you are 100% sure you can make it at a specific date and time, by all means go for it – otherwise, we warmly recommend buying through a third-party reseller.
2) Buy Tower of London Tickets Through GetYourGuide
This is definitely the easiest way to get Tower of London tickets and skip the lines! You can choose between many third-party resellers – the one we recommend is GetYourGuide.
First things first – getting Tower of London tickets through GetYourGuide is only marginally more expensive than buying them through the official site – £39 vs £33.60.
Buying tickets through GetYourGuide also comes with a host of added benefits – for starters, there are multiple payment options available, including Apple Pay, Google Pay and PayPal, plus all major credit cards.
However, the main advantage is added flexibility! You can cancel your tour up to 24 hours before your visit, and still receive a full refund. The GetYourGuide website is easy to use, and there's also an app available, allowing you to access your tickets on the go.
In our opinion, this is the easiest and most budget-friendly way to get Tower of London tickets. Otherwise, you can always opt for a tour – read on for a selection of some of the best London tours that include the Tower!
3) Visit the Tower of London and Tower Bridge
Would you like to combine your Tower of London visit with other nearby sights? The Tower Bridge is just a few steps away, making in easy to combine two sights in one tour.
If you're travelling with children, this tour is a wonderful option. Led by a Blue Badge guide specialising in family-friendly tours, you'll start visiting the Tower of London, focusing on tales of kings and queens, on the jewels and other fun stories your kids will like. No gruesome stuff, don't worry!
Then, walk a short distance to Tower Bridge, where you can climb one of the two towers to see the Thames flow beneath your feet before visiting the impressive Engine Rooms. Two of London's best sights in one go – book your tickets here!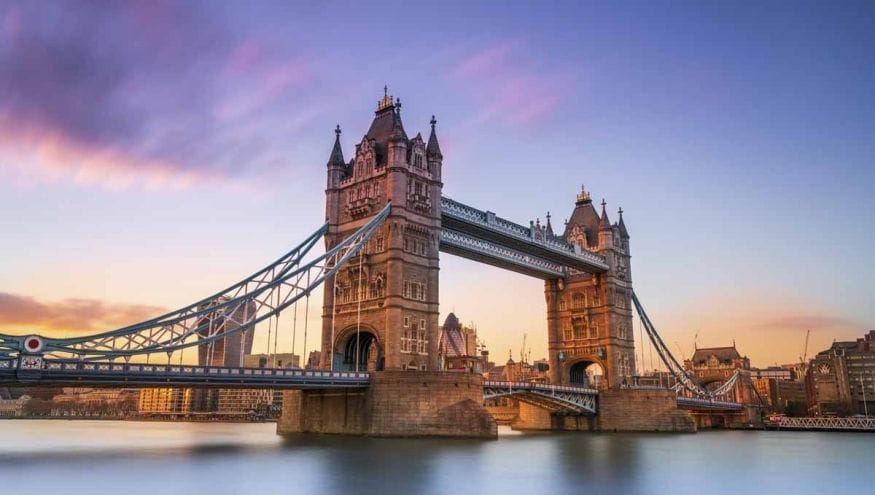 4) Take a Beefeater Tour
This is probably the best Tower of London tour if you want to skip the line and miss the crowds. The tour takes place before official opening hours and is led by the Yeomen Warders, also known as Beefeaters, the ceremonial guardians of the Tower of London.
The Beefeaters are usually retired gentlemen who know the Tower intimately, and will be happy to share secrets not included on other tours. For example, did you know that 6 ravens are always kept in the tower, as an old prophecy states that "if the Tower of London ravens are lost or fly away, the Crown will fall and Britain with it."
They will also tell you about the Ceremony of the Keys, taking place each day at closing time. Book your Beefeater tour here – definitely the most authentic way experience the Tower of London!
5) Visit the Tower of London and Westminster with a River Cruise
This tour is a wonderful way to combine the Tower of London with Westminster, home to some of London's most iconic sights – Westminster Abbey, Buckingham Palace, and naturally the Houses of Parliament with Big Ben!
The tour starts with a 3-hour walk around Westminster, checking out all the attractions mentioned above (and more!), before hopping on a river tour taking you all the way to the Tower of London. Along the way, you'll see more London attractions – the London Eye, Tate Modern, Millennium Bridge and – naturally – the mighty Tower Bridge.
Hop off the boat to enjoy a Beefeater tour of the tower and its secrets. This is probably the best comprehensive London for first timers experience – book your Westminster and Tower of London tickets here!
6) Get the London Pass
The London Pass is a great way to save money on attractions. You can choose between a 1, 2, 3, 4, 5, 6- or 10-day digital London Pass, including access to over 80 attractions plus an open bus tour.
The London Pass allows you to access the Tower of London for free, via a fast-track entrance – which also does get busy. You can pre-book a specific date and time via email, and if you want to do that for different attractions, you'll have to email each place individually – not really that convenient, if you ask me!
The London Pass is very convenient if you are planning to head to several attractions, or if you are visiting London in winter and you're unlikely to find queues.
7) Take a Walking Tour
You can also combine a visit to the Tower of London with a walking tour.
For instance, this full-day London walking tour includes Tower of London tickets and a Beefeater Tour in the morning, before hopping on a river boat and spending the rest of the day visiting other famous London sights like Whitehall, 10 Downing Street, Westminster, and Embankment.
It's a fun way to spend a day in London, but be prepared to walk!
Tower of London Visitor Information
Advance Bookings
At present, all Tower of London tickets are timed to avoid overcrowding. Make sure you book in advance via a trusted third-party website such as GetYourGuide.
Tower of London Opening Hours
Summer (March 1st to Oct 31st) – Wednesday-Sunday, 10 am to 6 pm (last access 5 pm)
Winter (Nov 1st to Feb 28th) – Tuesday-Saturday, 9 am to 4.30 pm; Sunday and Monday 10 am to 4.30 pm (last access 5 pm)
Getting to the Tower of London
The closest Tube station is Tower Hill, served by the District and Central Lines. The second closest is DLR station Tower Gateway – other Tube stations within walking distance are Aldgate, Aldgate East, Monument, Bank, and London Bridge.
London Bridge and Liverpool Street are the closest railway stations.
If you are travelling by bus, routes 15, 42, 78, 100, and RV1 stop near the Tower of London. All open-top buses also stop nearby.
How Long Should I Spend at the Tower of London?
We recommend allowing half a day to exploring the Tower of London – there is really a lot to see and do! Three hours is the absolute minimum, and if you have a keen historical interest, you may consider spending most of your day.
Photography
You can take pictures in all outdoor areas of the Tower of London, and most of its indoor spaces. Photography is not permitted only in the following places, for security and religious reasons:
The Jewel House
The Martin Tower
The Chapel of St. John
Inside the Chapel Royal of St. Peter ad Vincula
Security Checks
Visitors undergo a security check before entering the Tower of London. All bags and personal items are searched for forbidden items, including weapons, knives, fireworks, pepper spray and all other illegal items according to UK law.
Backpacks and bags are allowed as there is no luggage storage on the premises, and so are pushchairs and buggies.
Cloakroom and Luggage Storage
For security reasons, there is no cloakroom or luggage storage facilities in the Tower of London.
Facilities for Families
You can visit the Tower of London with buggies and pushchairs, but it may not be comfortable due to cobbled ground. There is a buggy park near the White Tower, and baby changing facilities in the Brick Tower accessible toilets. Wristbands for your children are also available at the entrance, free of charge.