Have you ever considered travelling to Guyana, South America's most offbeat and adventurous country? If you haven't, but you have adventure in your blood, you should! Here we share with you 14 reasons why Guyana is South America's best kept secret!
If I say Guyana, what do you think? Chances are many of you will never have heard of the country. When I announced my friends and family I would be travelling to Guyana, most people thought I was going to Africa, mixing up Guyana with Ghana or Guinea.
In fact, Guyana is in South America. The country is located in the north of the continent, bordering Venezuela, Brazil and Suriname.
Guyana is home to a wide variety of landscapes and ecosystems – coastal plains in the north, mountains and highlands covered in rainforests, and dusty savannah plateaus in the southern Rupununi region, running along the border with Brazil.
Guyana is unique in South America (and in the world!) for many reasons – and it's truly one of the world's best offbeat travel destinations. Would you like to know why?
Here are 14 reasons why Guyana is unique, and why it's South America's best secret!
Don't forget to arrange travel medical insurance before you leave for your trip! We recommend SafetyWing, especially aimed at long-term travellers and digital nomads. SafetyWing offers medical assistance all over the world, including your own country!
Get your Travel Insurance Quote Here!
Why Guyana is Unique in South America
1) It's English Speaking!
Are you worried about travelling to South America because you can't speak Spanish or Portuguese? Well, this is not a problem in Guyana – because people speak fluent English!
Guyana is the only country in South America with English as its official language, even though Guyanese Creole is also commonly spoken, a mix of English with Caribbean dialects, Amerindian and East Indian terms.
Even though accents change completely between the coastal area (where Georgetown is located) and southern part of the country, English remains widely spoken, and you'll be able to communicate in English even in the remotest Amerindian villages.
To make matters even better, Guyana people are incredibly friendly and welcoming – you'll see, it's very easy to meet new friends!
2) Guyana May Be in South America, But It Has a Caribbean Vibe
This is especially true in the northern part of the country, around the coast. Even though Guyana is geographically in South America, it has many features in common with the Caribbean – from music to food, architecture, markets and more.
However, unlike most Caribbean countries Guyana doesn't offer much in terms of beaches. The reason is there are several large river estuaries, carrying muddy flow to the ocean.
Being a former British colony, Guyana has a strong cultural and historical link to the nearby Caribbean islands. They are also one of the four founding members of CARICOM, an organisation of 15 Caribbean nations with the aim of promoting trade and cooperation, and coordinate foreign policy.
So yes, even though Guyana is indeed in South America, you'll feel as if you were in the Caribbean!
3) Guyana People are Diverse…
You'll notice one thing as soon as you land in Guyana – the country is incredibly diverse, in terms of cultures, races and religions.
The population of Guyana is made up of seven different ethnic groups – Amerindian (comprising of nine different tribes), East Indian (from India itself), African, Portuguese, European (mainly British), and Chinese, plus mixed race.
Portuguese are considered separate from Europeans because the first Portuguese migration was made up of indentured servants, who came to the country from Madeira after Guyana abolished slavery in 1834, and looked for alternative sources of cheap labour.
Indentured servants were different from slaves, because they were bound onto a household only for a set number of years, and their offspring were born free.
The majority of the Guyana people we met identified as mixed, tracing their heritage to two or more ethnic groups. This diversity translates into an incredible cultural wealth, with fantastic cuisine, religions coexisting right next to one another, and interesting festivals and celebrations.
4) …Also When it Comes to Religion!
You may be thinking that Guyana is not the only ethnically mixed place in South America – nearby Brazil is another example.
Yet, Guyana is unique in South America for other reasons – first of all, there seems to be far less separation between various groups, with interracial marriages happening for centuries and most Guyana people identifying themselves as mixed.
In Guyana, there's also much greater religious diversity – 65% of people identify as Christian (including syncretic Afro-Guyanese), 25% as Hindu, and 7% as Muslim, and the rest are either atheist or practice other beliefs including Baha'i, Rastafarianism, and Buddhism.
You'll see mosques right next to churches, and Hindu temples right across the road, whereas most other South American countries are primarily Christian.
5) Of Course, There are Many Festivals!
Religious diversity and the cultural diversity of Guyana people translates as lots of festivals throughout the year. Christmas and Easter are widely celebrated – the former with presents, Christmas trees and special food including 'black cake', a Christmas cake with rum-soaked dried fruit. During Easter time, schools are closed for two weeks and one of the most popular pastimes is kite flying.
Hindu and Muslim festivals are also celebrated throughout the country. One of the most picturesque festivals in Guyana is Diwali, the festival of light, when all households and city streets are decorated with lit-up candles. Phagwah, known in India as Holi, and Eid-ul-Fitr marking the end of Ramadan are also celebrated.
However, the main festival celebrated in Guyana is not of religious origin – it would be Mashramani, an Amerindian word translating as 'a job well done'. This festival, commonly known as 'Mash', takes place on Feb 23rd, Guyana's Republic Day, and it includes colourful parades down the streets, with steel drum bands and dances celebrating Guyana's African heritage.
6) The National Sport is Cricket
Unlike the rest of South America, where football reigns supreme, Guyana is the land of cricket – another legacy of Britain's colonial past.
However, Guyana doesn't have a national cricket team – Guyanese players compete with the West Indies, a multi-national team including players from 15 different Caribbean countries and territories.
7) It's 'The Land of Many Waters'
Have you ever wondered where the name Guyana comes from? It translates from an Amerindian word meaning 'Land of Many Waters', due to the abundance of fresh water in the country.
Guyana is named after the wider region where it is located, known as 'The Guianas' or 'Las Guayanas' in Spanish, and also including Suriname, French Guiana, the Guayana region of Venezuela and the state of Amapà in Northern Brazil.
In Guyana are three large rivers, the Demerara, Essequibo and Berbice River, which are also the names of Guyana's three counties. You'll also find lots of waterfalls, the best known of which is Kaieteur Falls, the largest single-drop waterfall in the world – much higher than Victoria Falls!
8) And Lots of Rainforest
Guyana should be on the list of everyone interested in nature and ecotourism for one simple reason – 80% of the country is covered in rainforest, mush of which is still unexplored and more than likely conceals species yet unknown to science.
90% of Guyana's population of 750,000 people lives on the coast, and the remaining is scattered around the interior, with some Amerindian villages so remote they can only be accessed on foot, kayak or following long, dusty 4×4 tracks.
9) Ecotourism and Sustainability Are Very Important
So, Guyana is incredibly pristine – but what sets it apart from other South American countries is that the government recognised the necessity of protecting its rainforests before causing irreparable damage.
In 2009, Guyana signed an agreement with Norway to protect its rainforests – the Scandinavian country would pay $250 million over five years, provided Guyana limited its greenhouse gas emissions and protected its rainforests.
The agreement was extended in 2018, and Guyana is now moving towards achieving 100% clean and renewable energy supply by 2025.
10) It's a Great Place to See Wildlife…
Travelling around the savannah and rainforest in the interior of Guyana, you're bound to come across some incredible wildlife. The rainforest is a great destination for birdwatchers and one of the best places to spot the harpy eagle, one of the world's most elusive birds of prey.
Kaieteur Falls is a good place to see the Guianan cock-of-the-rock, with its unique red half-moon crest. In the Rupununi savannah, you're pretty much guaranteed to spot anteaters, solitary animals wandering around the dusty plateaus walking on their knuckles.
That is not all – in Guyana, you can also see sloths, red spider monkeys, giant otters, manatees, armadillos and many more animals!
11) Including 6 Wild Cat Species!
Guyana is also a great place to the jaguar, which is also the country's national animal alongside the hoatzin, the national bird. Jaguars are the largest cat in the Americas and they are notoriously difficult to spot, since they are solitary animals and live and hunt in the rainforest.
If you can's spot jaguars in Guyana, fear not – there are six wild cat species in total! Besides jaguars, Guyana also has ocelots and pumas as well as jaguarundi, margay and oncilla, smaller wild cat species.
12) The Home of El Dorado
Guyana was believed to be home to El Dorado, a mythical city with a king covered in gold on the shores of a lake. Several adventurers, including the famous Sir Walter Raleigh, undertook expeditions to locate the lake – to no avail, of course.
It is possible that a lake did exist, but it disappeared because of an earthquake – or that the muddy runoff on the river was mistaken for gold. In any case, the search for El Dorado is one of the reasons behind British interest for this part of South America, which led to its colonisation.
13) …and the inspiration for UP!
The highest mountain in Guyana is Mount Roraima, the mountain made famous by Pixar movie UP. Roraima is a tepui, a kind of isolated table-topped mountain found only between Guyana and Venezuela. The summit of tepuis hosts a unique humid ecosystem that was the inspiration for Conan Doyle's novel The Lost World.
The summit of Mount Roraima is actually shared between Venezuela, Brazil and Guyana. It can only be climbed from the Venezuelan side, which is inaccessible at the moment. From Guyana, you can see Roraima and fly around it on a scenic charter flight – we flew around it en route between Lethem and Kaieteur.
14) Tourists in Guyana Are Still Very Few
Ok, so far I have shared some pretty good reasons why Guyana is such a special place in South America – but I forgot the most important of all. Guyana is also the least visited country in South America!
Airport arrivals only amount to approximately 250,000 a year, two thirds of which are Guyanese diaspora visiting family, and many are business travellers. You'll find very few other tourists in Guyana. Even hotspots like Kaieteur Falls only had a handful of people visiting, besides ourselves.
In a world crippled by overtourism, a situation like Guyana is extremely rare. However, tourists in Guyana have doubled over the past decade, and are forecast to increase further.
If you love nature and adventure, and you want to visit a place that few others have seen before, get yourself to Guyana, South America as soon as possible!
Looking for more reasons to visit Guyana? Here are our other Guyana articles!
10 Guyana FAQ
After publishing this post, we received lots of comments and questions from people interested to find out more about Guyana and Guyanese people.
We've already answered some throughout the article above – here you'll find the 10 most frequently asked Guyana questions, if you want to access them easily!
1) What is Guyana known for?
Many people have probably never heard of Guyana, but if you've read the article above, you'll have learned there's so much to see and do.
Guyana is known for its beautiful nature – you can visit the largest unspoiled rainforest in South America, the South Rupununi savannah, and see unique wildlife like the harpy eagle, giant anteaters and many cat species.
Guyana is also well-known in the cricket world – Guyanese cricketers compete in the West Indies team, made of players from countries all over the Caribbean. The West Indies is one of the best cricket teams in the world, and several cricket competitions have been held in Guyana.
There is also one more thing Guyana is famous for, the Jonestown massacre. However, dark tourists beware – access to the site is strictly forbidden, so don't even try.
2) Where is Guyana?
Guyana is located on the northern coast of the South American continent, bordering Venezuela to the west, Suriname to the East, Brazil to the southwest, and the Atlantic Ocean to the north.
3) Is Guyana an island?
No, Guyana is on the South American continent. However, Guyana does have some islands, in the estuary of the Essequibo river. Don't expect Caribbean paradises though, as the Guyanese coast is quite flat and muddy.
4) What continent is Guyana in?
I guess the title of this article gives it away! Guyana is in South America.
5) Is Guyana a Caribbean country?
Culturally and historically speaking, yes! Guyana is just southeast of the Caribbean sea, but it has close historic and cultural links to the Caribbean region, since it was also a British colony (like many Caribbean islands), and it was one of the four founding members of CARICOM, an economic and development organisation including 15 Caribbean countries.
Because of this close link to the Caribbean region, it comes as no surprise that Guyana has a strong Caribbean vibe, especially in terms of food, music, and celebrations.
This is more evident along the coast, in Georgetown and around – in the south of the country, this is less prevalent. Instead, you'll find a stronger Brazilian and Amerindian influence.
6)Is Guyana in Africa?
NO! I'll say that again – Guyana is in South America. The African country you're probably thinking of is Ghana, which may sound similar, but has nothing to do with Guyana. Sometimes people also get confused with Guinea, another West African country just south of Senegal.
7) What language do Guyana people speak?
English is the official language of Guyana. 10 more Amerindian languages are recognised as official regional languages – these are Akawaio, Makushi, Waiwai, Arawak, Patamona, Warrau, Carib, Wapishana, Pemon, and Mawayana.
The amazing thing about Guyana is that English is widely spoken even in the remotest communities, allowing visitors to be able to interact with Guyana people without the need of one or even two translators!
8) Is Guyana a Spanish-speaking country?
Even though Guyana is in South America, Spanish is not an official language.
However, Guyana is also home to migrants from Cuba and Venezuela, so you may find Spanish-speakers indeed – especially in Georgetown and surroundings. In Lethem and South Rupununi, virtually everyone also speaks Portuguese, given the proximity to the Brazilian border.
9) How big is Guyana?
The size of Guyana is 214,969 sq km, smaller than Italy, and about the same size as Great Britain. However, even though Guyana is a fairly small country especially when compared to its neighbour Brazil, it's not easy to get around – just keep reading the Guyana Practical Tips section below to find out more!
10) Is Guyana hot?
Bottom line, yes! Guyana extends between latitudes 1° and 9°N, very close to the Equator. The climate is tropical, with two monsoons – from May to mid-August, and from mid-November to mid-January.
Besides rainfall, Guyana weather remains largely hot throughout the year. To give you an idea, in Georgetown the coldest month of the year is January, with an average high temperature of 28.6°C (83.5°F), and the warmest months are September and October, with average highs touching 30.8°C (87.4°F).
Guyana Practical Tips
Getting to Guyana
Flying is the best way to get to Guyana. The country is well connected to the US (New York and Miami), Canada (Toronto) and the Caribbean, especially Trinidad and Tobago and Barbados.
If you're flying from Europe, you'll have to make your way to one of these countries first, as there no direct flights. Caribbean Airlines is the most convenient airline to use to reach Guyana, offering several daily departures to destinations in North America and the Caribbean.
International flights depart from Cheddi Jagan International Airport, about 45 km outside of Georgetown.
Those travelling overland can enter the country either from Brazil, at the Lethem/Bonfim border post, or from Suriname, with a ferry ride between Moleson Creek (Guyana) and South Drain (Suriname).
Getting Around Guyana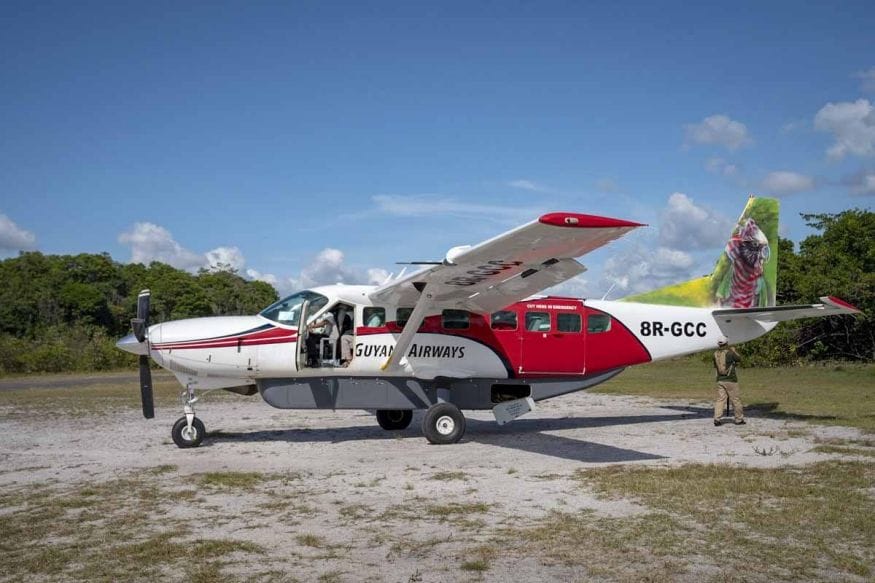 Getting around Guyana independently is extremely hard. There are minibuses travelling along the coast and between Georgetown and Lethem (a 600 km trip taking 24 hours!) but for most travellers, the best way to get around is a combination of chartered 4×4 and planes.
Charter flights depart from Ogle Airport in Georgetown, located much closer to the centre than the international airport. It's a good idea to get in touch with a local operator to arrange your transport and activities within Guyana – we travelled with Bushmasters, an adventure operator specialising in the Rupununi region.
Currency
The Guyanese dollar (GYD) is the local currency. USD are widely accepted and changed at 200 GYD a dollar.
Best Time to Visit Guyana
Guyana is very close to the Equator and as such, there's a wet and a dry season, and the temperature varies from very hot to unbearably hot. Temperatures exceeding 40°C are not uncommon, especially in the southern part of the country.
Rainy seasons along the coast and in the interior happen at different times – in the coastal region, rain comes between May and mid-July, and then again from mid-November to mid-January, whereas the rainiest time in the interior of Guyana is from May to August. During this time, unpaved roads and tracks often become extremely muddy and may be impassable.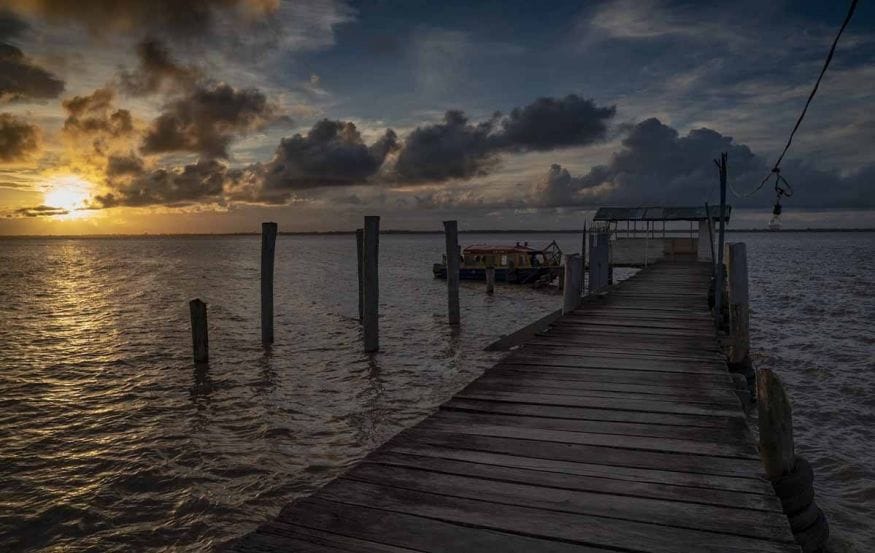 Internet in Guyana
In Georgetown, along the coast, and in other towns such as Lethem, it's easy to stay connected, as there is good phone coverage and hotels have Wi-Fi.
In the rainforest and Rupununi savannah, there's no connection whatsoever. Nothing. Zero. So, what to do? Take advantage for a digital detox, or contact Inmarsat, the best satellite internet provider. We had a satellite modem for the whole group, providing connectivity for up to 10 people.
Speed varies according to the chosen plan and how many people are connected. If staying connected is important for you, Inmarsat is the best option for Internet in the Guyana wilderness.
Is Guyana Safe?
Safety is often mentioned as a concern by tourists wanting to visit Guyana. Like many other places in South America, there's petty crime in the cities and it's recommended to take taxis at night. However, away from the coast Guyana is totally safe, and attacks on tourists visiting the rainforest or savannah are unheard of.
In terms of health, cases of dengue and malaria have been reported so caution is recommended, especially in the rainforest and during wet season. Proof of yellow fever vaccination is a requirement for all visitors entering Guyana.
For more info, check the official Guyana Tourism website!
I was a guest of the Guyana Tourism Authority during my visit. We would also like Caribbean Airlines for their kind assistance, and Inmarsat Global for allowing us to stay connected in Guyana!
Pin it for later?