Have you ever heard of Ventotene island in Italy? This tiny island offers lots of sustainable activities and things to do – let's discover more in this guide!
Imagine a tiny island 25 miles off the coast of Italy, looking like a raft in the middle of the Tyrrhenian sea. An island that, throughout history, became an imperial getaway, a place of exile for wayward women, a prison, and again a place of exile for political prisoners.
An island that, despite its diminutive size, hosts an incredible variety of marine and bird life, as well as Roman ruins, a colourful village, two spectacular beaches, and a museum dedicated to migratory birds.
But this is not all. The same island played a big role in defining what Europe is today, as it was the location where a manifesto highlighting plans for a 'free and united Europe' was first drafted, while the continent was still shivering under the long shadow of nazifascism.
I am talking about Ventotene in the Ponziane archipelago, a volcanic island that is only 2.5 km long, only 800 meters wide, and home to less than 700 full-time residents. The island is well known for the Ventotene Manifesto, a book written by political prisoners Altiero Spinelli and Alberto Rossi in 1941, that played a major role in the creation of what nowadays is the European Union.
Over the last few decades, the island became a popular holiday destination, attracting visitors from all over Europe. In 1999, Ventotene and nearby Santo Stefano Island became part of a protected terrestrial and marine reserve, to preserve the island and its surrounding waters from overfishing and exploitation.
My visit to Ventotene was part of DestiMED Plus, a project funded by the Interreg Med Programme. The project follows the ecotourism model designed by MEET Network, to create sustainable tourism itineraries in protected areas all around the Mediterranean. The ultimate aim is to establish the Mediterranean as a leading ecotourism destination, to benefit nature conservation, and bring development and much-needed tourism income to local communities.
In this guide to Ventotene Island you'll find sustainable activities we explored during our five-day stay on the island in May 2022, as well as information to plan your own Ventotene trip independently from Rome or Naples. Let's start with some basic info!
Where is Ventotene?
Ventotene is located 25 nautical miles from Formia/Gaeta, and roughly 20 miles from both Ponza, the largest island of the Ponziane Archipelago, and Ischia, an island in the Gulf of Naples. It is home to approximately 700 year-round inhabitants, but the population swells to 5000+ during the summer holiday season.
Santo Stefano Island is only 1 mile from Ventotene, and it is uninhabited. The main attraction of the island is the 18th-century Borbone prison – more about it later!
The island is only 2.5 km long and 800 meters wide, with a maximum altitude of 140 meters above sea level – be ready for lots of ups and downs when walking around. Cars are allowed, but most tourists don't take one since the island is so small. You'll find locals going around with their cars and motorbikes though, so be careful.
Ventotene is part of Lazio, the same region as Rome, but historically it has stronger ties to Campania and Naples, having been settled by the Bourbon (the house ruling Southern Italy before reunification) in the 18th century. For this reason, the Neapolitan dialect is widely spoken, and you may also find it on some street signs!
Sustainable Things to Do in Ventotene Island
You can indeed visit Ventotene independently and organize many of the things to do mentioned below, but for some you'll need a guide. Our trip was organized by Andrea and Valerio from K'Nature, a tour operator focused on birdwatching and wildlife experiences all over Europe.
Andrea has been visiting Ventotene every summer ever since he was a child, he pretty much knows everyone and can share all his local secrets. We called him sindaco, meaning the mayor of Ventotene. Jokes aside, we loved our experience and highly recommend K'Nature!
1) Visit Villa Julia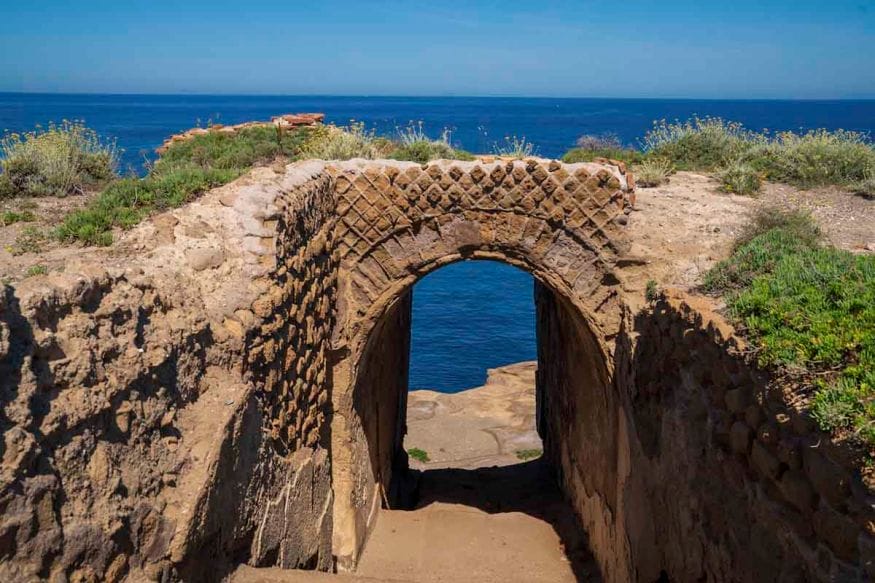 The first name of Ventotene was Pandataria, meaning 'giving everything' in Greek. It was used sporadically as a base by fishermen since the Neolithic, but the first permanent settlement dates back to Roman times, when Emperor Augustus decided to build a stunning holiday villa complete with baths, a waterfall, an aqueduct, and cisterns to collect rainwater.
However, it was Julia, daughter of Augustus, who ended up staying in the villa, after being exiled for adultery. After her, more noble Roman women were exiled to the same villa – Agrippina the Elder, (Julia's daughter, exiled by Emperor Tiberius), Claudia Ottavia (exiled by Nero for adultery), and finally Claudia Domitilla, who was sent to the island because she was a Christian.
Nowadays, you can visit the remains of the villa, set on Punta Eolo, the island's northernmost point. The visit begins with the quarters of enslaved workers, and then moves onto the residence itself. You'll need a guide to really make the place come to life – contact Cooperativa Terra Maris at a.terramaris@libero.it
2) Sail to Santo Stefano Island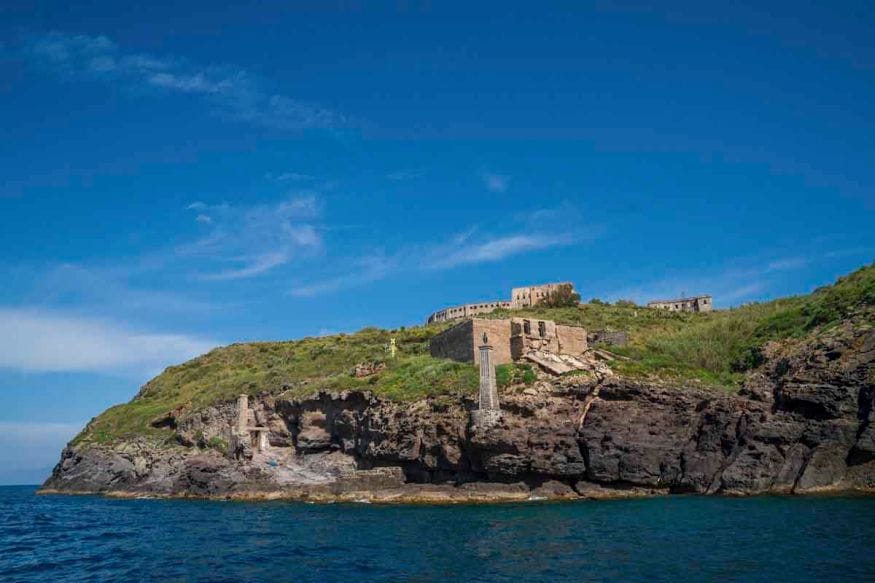 After the fall of the Roman Empire, Ventotene was uninhabited for centuries, save for a group of hermit monks who visited the island for prayer and contemplation. In the 18th century, the Bourbon king Ferdinando decided to settle the island, and sent a group of people and inmates from Naples to build the island's main (only?) town.
Meanwhile, Ferdinando started the construction of a maximum-security prison on nearby Santo Stefano Island. The prison opened in 1797 and was in use until 1965, housing many famous inmates, among which we can mention Gaetano Bresci, an anarchist who shot and killed Italy's King Umberto I in 1900.
The prison is now abandoned, but it's a really interesting building to visit because of its architecture – the horseshoe-shape was due to the need of having all inmates under control, and the shape of the windows was chosen to prevent them from looking at the sea, as it would harbour desires to escape.
During our stay in Ventotene, sadly we couldn't visit as the island was closed to restore the prison. It is set to reopen on June 1st 2022 – don't miss a day trip to Italy's Alcatraz!
3) Then Swim Back to Ventotene!
If you don't feel like sailing, you can retrace the steps (or strokes?) of the prison's famous escapees on Escape from Santo Stefano, an open-water swim race from Santo Stefano to Ventotene, for a total of 3 km.
The race takes place in early September, and the route travels along the shore of Santo Stefano before making the crossing to Ventotene. Maximum time is 1 hour and a half – so try not to get distracted by the marine life!
4) Walk Around the Town
There's only one town in Ventotene, where the majority of the island's inhabitants live. The town is a pleasant place to wander around – from the ferry landing, walk alongside the Roman harbour, dug into the island's tufa rock 2000 years ago, and then walk up the 'rampe' built in Bourbon times to reach Santa Candida's Church, dedicated to the island's patron saint.
A short distance away you'll find Piazza Castello, dominated by the castle-shaped town hall – inmates sent to Ventotene were housed there, and the three floors were built one after the other to house the increasing number of prisoners. This is Ventotene's beating heart, and at all times of the day you'll find locals drinking coffee, sitting on the park benches or simply wandering around.
It's impossible to get lost in Ventotene, as there are only a handful of streets – Via Olivi will take you all across the island, and Via Calanave heads to the best beach on the island.
5) Explore the Roman Cisterns
Another unmissable thing to do in Ventotene is visiting the Roman cistern known as 'Cisterna dei Carcerati' (Inmates Cistern). When the Romans left Ventotene, the giant cistern used to collect rainwater for the villa was emptied. For over a millennia, people sporadically visiting Ventotene (fishermen, hermits, smugglers and the like) sought refuge in the cistern during their time on the island.
When Ferdinando di Borbone decided to resettle Ventotene, he sent a group of approximately 100 inmates to build the town. The inmates were housed in the only structurally sound place in the island – the cistern, that was therefore named after them.
The cistern is worth visiting not just because it's a wonderful example of Roman architecture and engineering, still standing after 2000 years, but also because many of its dwellers left a mark on the walls throughout the centuries – you can see altars carved by monks in the Middle Ages, wall paintings and decorations done by the inmates, other signatures and graffiti.
You'll need to join a guided tour to visit – you can get in touch with Cooperativa Terra Maris for more info.
6) Learn about Ventotene's Role in Recent History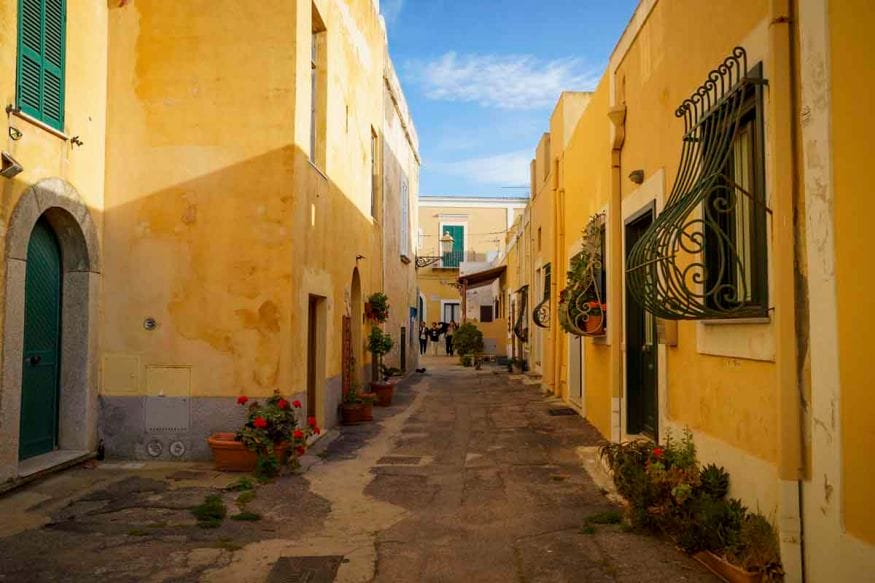 Due to its remote location, Ventotene was used as a place of confinement for political prisoners, most notably during Fascist times, when police chiefs all over the country had the power to send pretty much anyone into confinement.
Confined people had a little more freedom compared to 'regular' criminals housed in nearby Santo Stefano – they could wander around part of the island, but they had to take care of their own food, which led to the establishment of canteens run by the confined people themselves.
These canteens were often affiliated to certain political beliefs – so there was a Socialist canteen, a Communist canteen, and the like. They weren't just places to get food, but also places to gather and exchange ideas.
People met, new ideas were born, and with much effort, they were smuggled out of the island. This is what happened to the Ventotene Manifesto, penned by antifascists Altiero Spinelli and Ernesto Rossi. This text is believed to be one of the first to suggest and theorize a united Europe as a way towards peace – an idea which will come to light with the European Economic Community, later to become the European Union.
This is a very brief summary of the role that Ventotene played in shaping Europe during the 20th century. If this is something you might be interested to explore more, contact Cooperativa Terra Maris for a tour!
7) Go Birdwatching
Ok, enough with Ventotene and history, let's move on to our favourite topic – nature! Ventotene is a phenomenal birdwatching destination, being one of the main stops along the migration route of many species between Europe and Africa.
March/May and September/October are the best times to see birds. There's no set 'birdwatching location' on the island, literally anywhere is a good place to see birds. We spotted shearwaters on the ferry from the mainland, and saw a variety of species including golden orioles, flycatchers (so many!) and colourful bee-eaters just walking around the island.
Ventotene is surrounded by cliffs where birds nest, so a boat tour also provides excellent birdwatching opportunities – especially during migration time, where you might be lucky to glimpse rare species like European rollers, African stonechats, European nightjars, and various others.
It's always much better to go birdwatching with a guide, who will help finding and noticing birds, as well as providing info on their own behaviour. You can get in touch with Valerio and Andrea from K'Nature – they are both keen birdwatchers and really knowledgeable about bird life on the island.
Birdwatching will actually be one of the main activities on the sustainable DestiMED Plus itinerary – so if you decide to join one, an excellent guide will always be with you!
8) Visit the Migration Museum and Observatory
To understand more about birdwatching and bird life in Ventotene you can also visit the Migration Museum, with lots of exhibits (some of them hands-on!) about bird migration and the various species that visit the island along their migration route.
The top floor of the museum also has probably the best view in Ventotene! It's located close to the highest point on the island, and it allows to appreciate its tiny size, with the sea stretching on all 4 sides. Don't miss climbing to the top!
If you are visiting Ventotene with K'Nature or on a DestiMED Plus tour, you'll also have the chance to visit the bird observatory and ringing station, located on the southern tip of the island. A team of ornithologists operates the observatory year-round, placing tiny rings on the legs of migratory birds to monitor their journeys across the globe.
The observatory is normally closed to the public, but you can visit on a guided tour. It's a great opportunity to see up close how research on bird migration is carried out, and to ask as many questions ad you like to the resident ornithologists.
9) Relax on the Beach
Ok, I know what you might be thinking. Ventotene is an island, so there have to be beaches, right? What about the best beaches in Ventotene?
Ventotene is an island of volcanic origin, with a basalt base and cliffs made of tufa rock, very brittle and with a tendency to collapse. As a result, several small beaches all over the island cannot be accessed, and can only be seen on a boat tour.
However, there are two wonderful beaches where you can spend the day swimming or relaxing. The best is Cala Nave, located a short distance from the town, and right opposite Santo Stefano Island. The sandy beach overlooks a large rock called Nave (ship), and some smaller ones, which provide great snorkeling opportunities. I went on an hour-long swim around the rocks and saw lots of fish species, including a school of small barracuda!
The second beach is Cala Rossano, and it is located close to the port – from there, you actually see ferries coming in and out. The beach is sandy and the water is crystal clear, so it's also a great choice for a swim!
10) Go Diving or Snorkeling
Ventotene and Santo Stefano are part of a marine reserve, which usually means one thing – great diving and snorkeling opportunities!
Divers will find a variety of sites at various depths, including the opportunity to view two wrecks – a ferry that sunk during WW2, and remains of some Roman vessels. There is also a site that, according to local legends, corresponds to the spot where the Sirens of the Odyssey live, with interesting sea caves to explore.
Ventotene is also great for snorkeling. Even just casual swims offer opportunities to see fish, sea stars, and other marine species. Snorkeling opportunities are especially good around offshore islets and rocks, and around Santo Stefano island. The DestiMED Plus itinerary includes a snorkeling outing in search of invasive marine species accompanied by naturalist guides – which sadly we had to cut short because of jellyfish.
To go diving or snorkeling in Ventotene, get in touch with Diving World Ventotene, located on the Roman harbour.
11) Go on a Boat Tour
One of the best ways to see the hidden beaches of Ventotene and other sights you cannot access from land is taking a boat tour around the island. Boat tours typically start from the new port, and last approximately two hours – more if swimming stops are included.
Our guide was Francesco from Destriero Ventotene – you can get in touch with him on his Instagram page. Our tour included a counter-clockwise loop around the island, including the crossing to Santo Stefano and back, even though sadly we couldn't land as the island is closed to tourism.
It was still kind of chilly so we didn't stop to swim, but Francesco showed us the natural pools where he normally takes swimmers, and let me tell you, I'd love to go back just to swim there! We also saw lots of birds, and another highlight was seeing Ventotene town from the sea, with all its colourful houses and the iconic 'rampe' built by in Bourbon times.
12) Kayak around the Island
Are you looking for a more active alternative to a boat tour around the island? You can opt to go kayaking – the Circolo Velico Ventotene (sailing club) in Cala Rossano also has kayaks for hire, and guides available to lead kayak trips around the island.
Just one word of warning, though – if you've never kayaked before, this may not be an activity for you. The waters opposite the beach are calm, but as soon as you leave the harbour, you might get waves and a bit of a current. You also need to know the ferry schedule, as the way out of the harbour is also the way ferries come in, and you don't want to find yourself face to face with such a behemoth!
A quick and easy trip from Cala Rossano will take you to the rocks known as Scunciglie, around the northernmost tip of the island – where you can also see Villa Giulia from the water. Definitely recommended – it took us less than an hour to paddle there and back.
13) Learn about Sustainable Agriculture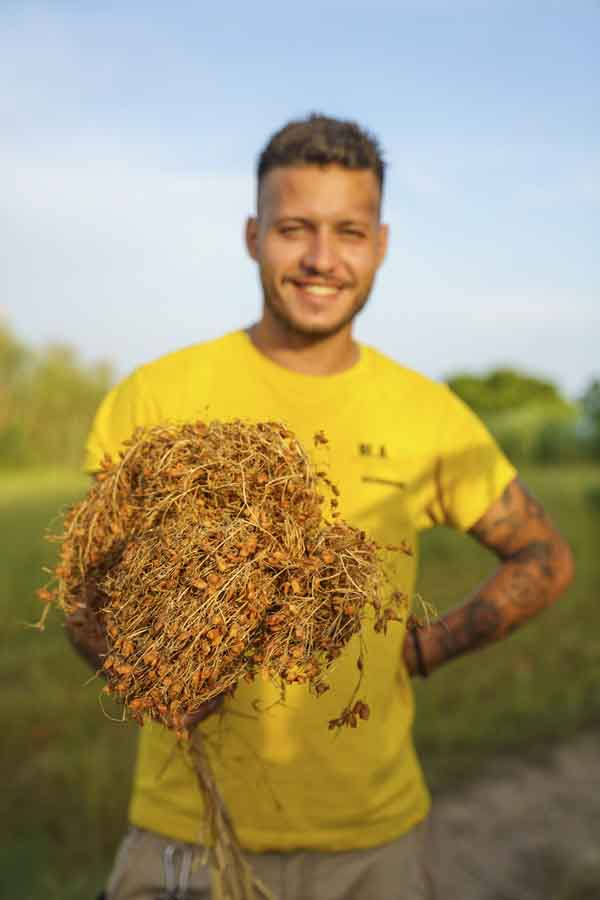 Despite its diminutive size, and the fact it's really steep, much of Ventotene's interior is sustainably farmed. Selected crops such as lentils, chickpeas, and fava beans are grown in tiny parcels of land scattered all over the island.
To learn more about sustainable agriculture in Ventotene, you can visit Un Mare di Sapori, a restaurant right on the Roman harbour, which is also great for a sunset drink or dinner. Many of the dishes they serve are made with seasonal ingredients grown and harvested on the island – don't miss the soup made with Ventotene lentils, which you can also buy in the shop attached to the restaurant.
Wine lovers can also pay a visit to Candidaterra, the only wine producer in Ventotene, which offers sunset tours of the vineyard which end with a tasting of their crisp whites. Their Pandataria wine can also be found at restaurants all over the island – but nothing beats trying it straight from the source!
Ventotene Practical Info
Getting to Ventotene
-From Rome
From Rome, hop on a train bound to Formia-Gaeta – there are hourly departures with both regional and Intercity trains. Travel time is 1 hour with Intercity (booking required), and 1 hour and a half with regional trains.
From Formia-Gaeta, it takes approximately 15 minutes to walk down to the harbour. Laziomar ferries run both slow ferries (travel time 2 and a half hours) and fast hydrofoils (1 hour and a half) – if you suffer from seasickness, we HIGHLY recommend the slow ferry, because you can sit outside and start birdwatching!
For info on fares and timetables, visit the Laziomar website. As you can see, there are only 3/4 ferries a day, so plan ahead to avoid being stuck in Formia for hours!
-From Naples
You can also easily reach Formia-Gaeta from Naples. Travel time is slightly shorter – about 50 mins with Intercity trains, 1 hour 15 with regional trains.
From Formia, hop on a Laziomar ferry – info in the paragraph above!
There are also direct hydrofoils from Naples to Ventotene 5 times a week – check this page for more info and updated timetables.
Getting Around Ventotene
Technically, cars *are* allowed in Ventotene, so there's nothing stopping you from taking your car across, provided you book a place on the ferry. However, driving in Ventotene is very inconvenient, with narrow streets which get congested in no time.
The island is small enough to walk across, with all points of interest detailed above located max half an hour walk from one another. Many locals used electric bikes as the road can be steep at times, but we didn't see them for rent – yet. Hopefully soon!
When to Visit Ventotene + Weather
The weather in Ventotene is typically Mediterranean, with hot summers and mild winters. In summer, the temperature usually hovers around 25-30°C, dipping slightly at night. The busiest months are July and August, when the island is popular with holidaying Italians – finding affordable accommodation will be near impossible, the beaches are packed, and it's a pretty boring time for birdwatching.
Shoulder season (March/May and September/October) also coincides with migration time. It's a great time to see birds, temperatures are more bearable around 20-25°C, and the island is generally much quieter – and in September/October, the water is still warm enough to swim comfortably. This is definitely the best time to visit Ventotene in my opinion!
In winter, Ventotene is very quiet. It never gets really cold, with temperatures dropping around 8/10°C at the most, but many businesses and restaurants close leaving the island to its 700 full-time residents.
Just remember that Ventotene may get a little windy year-round, and that ferry schedules may be disrupted in case of strong wind.
Where to Stay in Ventotene
There are only a handful of hotels and B&B in Ventotene – the majority of accommodation on the island are apartment rentals, booked year after year by returning customers.
A wonderful option is Le Parracine, a bed and breakfast in a scenic location overlooking Santo Stefano island. There are only 7 rooms, 5 of which have sea view – so book ahead to avoid disappointment!
Breakfast is served under a pergola with first class views, and includes cakes, jams and preserved made by the owner, plus freshly-brewed coffee. There is also a mini coastal path starting right next to the spot where breakfast is served, along which the owners planted plants and flowers to promote rewilding with local flora species.
To reserve Le Parracine, fill in the request form on their website – get in touch early to avoid disappointment!
Otherwise, here are other accommodation options:
Albergo Belvedere – a large hotel near the Roman cistern with panoramic terrace, offering great value for money.
Hotel Agave e Ginestra – boutique hotel in a secluded location away from the crowds, with breakfast served on a terrace overlooking Santo Stefano.
Hotel Calabattaglia – on the western side of the island, this hotel offers free shuttle to the beaches, as well as a shady terrace with views.
Where to Eat in Ventotene
Food on small island can be hit and miss, but in Ventotene was found it actually outstanding! As part of the sustainable focus of the DestiMED tour, most of our meals were vegetarian, and only the final one featured sustainably-caught fish, but you can find all sorts of food around the island. Here is where we ate!
–Un Mare di Sapori – under the arches of the Roman harbour, owned by a Ventotene farming family. You'll find lots of dishes made with locally-grown ingredients and wild foraged herbs.
–La Terrazza di Mimì – on a terrace right in the centre of town, with fantastic views over Ventotene and Cala Nave. It serves a menu featuring mainly fish and vegetables, with the day's catch changing daily. The lemon dessert was a winner, lemon mousse encased in white chocolate in the shape of a lemon.
-Il Giardino – an upscale option offering a set menu centered on locally caught fish and vegetables grown in the owner's farm. The highlight were paccheri allo scorfano, pasta with rockfish, which was cleaned and served for us right at the table.
My visit to Ventotene was supported by MEET Network as part of the DestiMED Plus project. We would like to thank Andrea and Valerio from K'Nature, and all the people who shared the trip with us!