Have you ever considered visiting the colourful city of Guanajuato? This colourful colonial city rarely features in Mexico itineraries, but it's full of interesting and unusual attractions. Here are our 14 favourite unusual things to do in Guanajuato!
Driving into Guanajuato is a surreal experience. The city seemingly appears out of nowhere all at once, as if somebody decided to paint the mountains with splashes of vivid colours. Houses upon houses crowd the mountainsides – some blue, some yellow, some bright green, others pink. Mountain and city become one and the same, with tunnels and staircases alongside streets and plazas, looking like the urban plan was designed by Escher on LSD.
Alas, this was my first impression of Guanajuato, after getting lost and driving my rental car for half an hour between tight hairpin turns, steep hills, and mystery tunnels. Your first impression may be something completely different altogether – but I'm sure we'll find ourselves in agreement that Guanajuato is truly beautiful, and really worth visiting.
It's not the kind of beauty you'll find in nearby San Miguel de Allende, all clean and polished up for white middle-aged Americans to enjoy. It's a kind of gritty, rough-around-the-edges beauty – maybe not as Instagrammable, but certainly full of character. Guanajuato offers plenty of things to see and do – colonial architecture and history, delicious local food (with some dishes you won't find anywhere else!), fascinating museums, great views, and unique local customs.
We recently had the chance to spend time in Bajio Mexico reporting on the Tourism Recovery Programme organized by enpact and Tui Care Foundation, offering support to sustainable, locally-owned businesses impacted by the pandemic. We visited two enterprises part of the programme during our time in the city, and also had time to check out more things to do in Guanajuato – here they are!
To know more about nearby Queretaro state, check out our 17 Amazing Things to do in Queretaro post!
13 Fun Things to do in Guanajuato
1) Explore the Colourful Centro Historico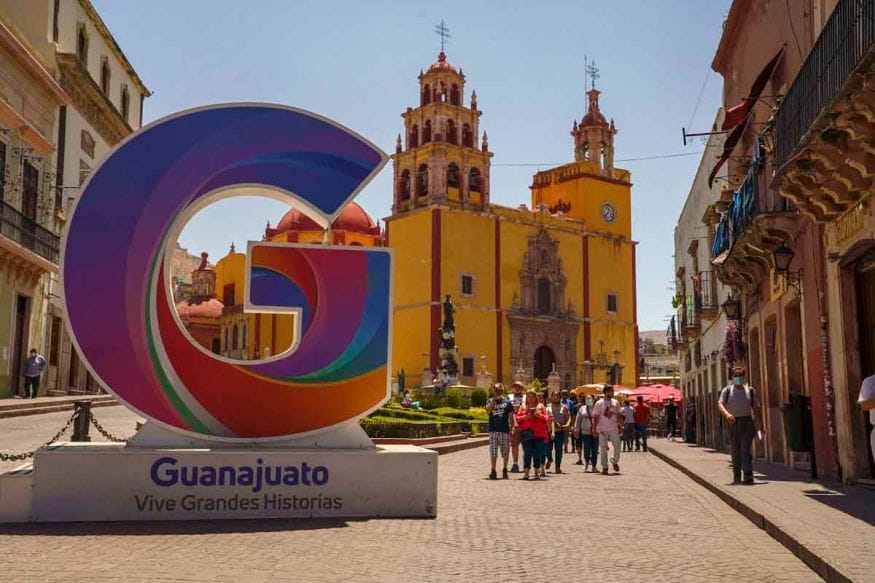 Guanajuato is the perfect place to wander around on foot. The Centro Historico is a maze of leafy plazas and colourful alleyways, and it's also pleasantly car-free, since most road traffic crosses through the city by way of tunnels dug into the mountains. The Guanajuato tunnels were originally built to divert the river the flows through the city in case of floods, but were then converted and used to channel car traffic.
Take your time to wander around, checking out local shops for souvenirs and maybe stopping for an outdoor drink (or two).
Start at Plaza de la Paz, also known as Plaza Mayor, where you'll find the Basilica, the main church in town. Keep walking past the church to reach Teatro Juarez, another famous landmark. At night, this is the area where callejonadas start – more info on this unique thing to do in Guanajuato later!
Other nice plazas are Plaza de los Ángeles, Plaza de San Roque and Plaza del Baratillo, surrounded by colonial houses painted in vivid colours. Also, don't miss checking out the faculty of architecture of the University of Guanajuato, with a grand staircase entrance reminiscent of that of a cathedral!
If you fancy sitting down, head to Jardin de la Union, where you can always find some shade and a vintage bandstand that offers cool photo opportunities.
2) Share a Kiss at Callejon del Beso
Guanajuato is known for its callejones, narrow alleyways climbing over the hillsides, and the most famous of them all is Callejon del Beso, meaning 'The Alley of the Kiss'.
The name of the alley dates back to the tale of two star-crossed lovers. They lived on opposite sides of the alley, and even though their families didn't want them to see each other, their balconies were close enough for them to kiss. Sadly, the story had a tragic ending, but sharing a kiss on the Callejon del Beso is said to be good luck for couples, and it's definitely one of the most popular things to do in Guanajuato!
3) Hike up to Monumento al Pipila
Checking out the views is probably the #1 thing to do in Guanajuato – the city is fun to explore, but the views are truly stunning! There are several viewpoints all over town, but the best known is the mirador next to Monumento al Pipila, the giant statue of a local Indigenous miner who led a revolt against the Mexican government.
From the Mirador, you'll get a view over the whole of the Centro Historico – can you spot all the sights? In the late afternoon, the steps of the Mirador are full of people eating, drinking, and enjoying the views. There are street stalls selling tacos and micheladas in various flavours, and if you truly want a drink with a view, head to nearby restaurant La Terraza Encantada, with a terrace overlooking the city!
4) Or Take the Funicular!
Hiking up to Monumento al Pipila takes about 15 minutes, but it can be steep at times. Luckily, there's an alternative – the funicular!
You can catch it right behind the Teatro Juarez, and it takes only a few minutes to reach the top station right next to Monumento al Pipila. The funicular operates from 8 AM to 9.50 PM, and tickets are $30 MXN one way, $60 return. Don't miss this fun and quirky thing to do in Guanajuato!
5) Join a Callejonada
Wander around the Teatro Juarez and Basilica at night, and you'll surely notice crowds of young people in period dress selling tickets to the callejonadas, a truly unusual thing to do in Guanajuato!
Callejonadas are walking musical tours through the streets of the historic centre. They feature stories and folk tales about the city, singalongs of traditional Mexican songs, dancing and even some role playing. Callejonadas are held in Spanish, but fear not – even if you don't speak Spanish, you'll have lots of fun!
To attend a callejonada, simply walk around the historic centre in the afternoon looking for people in period dress, even though more than likely they'll find you first. Tours usually start between 7 and 9 PM and last approximately 2 hours, with tickets priced between $100 and 120 MXN. Don't miss this fun Guanajuato activity!
6) Have Mexican-Italian ice cream at Estacion Gelato
Guanajuato does indeed get hot, and when that happens, we have the perfect place for a break – Estacion Gelato, a lovely little artisan ice cream shop run by a friendly couple.
Alejandra spent some years in Italy and fell in love with Italian gelato. When she moved back to Mexico she had an idea – what about making Italian-style ice cream, but using Mexican ingredients? That's how Estacion Gelato came about, with unusual ice cream flavours like guayaba and jamaica, marzipan, and mamey, as well as traditional offerings like cookies and cream.
Estacion Gelato was one of the participants in the Tourism Recovery Programme. The shop had to close for several months due to the pandemic, but thanks to the guidance and financial support offered as part of the programme they were able to get back on their feet and expand, opening a new shop and renting out a lab where ice creams are being made.
The future looks even brighter, with further expansion plans to offer immersive gelato-themed weekends. But I can't say anything else for now – you'll have to visit Guanajuato and see for yourself!
7) Meet the Mummies of Guanajuato
Are you going to have time for just one thing to do in Guanajuato? Make sure you visit the Museo de las Momias, a museum with dozens of mummies from the local cemetery.
We're not talking about mummies from thousands of years ago like the ones in Salta, Argentina. The mummies in this Guanajuato museum date back to the period between 1870 and 1950 – some are victims from a cholera outback, others were exhumed because their families simply couldn't afford paying for grave space anymore.
Due to Guanajuato's hot and dry climate, as well as the chemical composition of the soil, the bodies became naturally mummified. After the bodies were disinterred and stored in an ossuary, some entrepreneurial cemetery workers started charging visitors to see the mummies – this gave the city government the idea of keeping the 100+ mummified bodies in a museum.
I found the museum really interesting and was surprised to see how many Mexican families were visiting with children, which speaks to the completely different attitude towards death compared to North American and Western European cultures.
Trigger warning – the museum contains mummies of children, babies, and even a 6-month fetus. There is also a section with victims of violent deaths, including a woman who was buried alive. If this upsets you, avoid visiting.
The Museo de las Momias is approx 20 minutes walk uphill from the Centro, with interesting city views along the way. Tickets cost $85 MXN per person, with a further $30 charge for pictures.
8) Visit the Diego Rivera Museum
Have you visited Frida Kahlo's home in Mexico City? Well, then you can't miss visiting the Museo Casa Diego Rivera, located in the artist's family home in the centre of Guanajuato.
Diego was born in Guanajuato and spent there the first part of his life. On the ground floor of the museum, you can see his house as it once was, and on the upper floors you'll find temporary exhibitions as well as works by Diego himself providing an insight as to how his art developed throughout his life. Please bear in mind that Rivera's art cannot be photographed for copyright reasons – but you can take pictures of the rooms recreating Diego's childhood home.
Entrance to the Museo Casa Diego Rivera is only $25 MXN – a true steal including there's enough to see to fill two or three hours!
9) Eat Doña Lupe's Enchiladas Mineras
Ok, let's move onto my favourite topic – FOOD! When in Guanajuato, there are two local specialties you must try. The first is Enchiladas Mineras, a recipe dating back to the boom of silver mining in the city (hence the name).
The enchiladas are stuffed with a mix of potatoes and carrots, dipped in guajillo chile sauce and topped with queso fresco or Cotija cheese. The dish is traditionally vegetarian as it dates back to a time when meat was a real treat, but restaurants in Guanajuato also serve enchiladas mineras with chicken on the top.
My favourite place for enchiladas mineras is Enchiladas Doña Lupe, a tiny restaurant where an older woman named Lupe serves up delicious plates of enchiladas topped with poached chicken each night. She also makes pozole at the weekend, a traditional soup dating back to Aztec times!
10) Try to Finish a Guacamaya
So, what about the second Guanajuato specialty? Having a guacamaya at Mercado Hidalgo is definitely a thing to do in Guanajuato that shouldn't be missed!
Guacamaya is Spanish for military macaws, rare birds that live in the Sotano del Barro in the nearby Sierra Gorda. It's also the name of a mammoth sandwich, made with crusty bread split open and filled with avocado, carnitas (slow-cooked pork), avocado and spicy salsa. The bread roll is split open, with avocado spread on the inside – reminiscent of the green of the guacamaya's wings – and all the fillings piled up in the middle.
It does look gigantic indeed – will you be able to finish one? There are plenty of stands in Mercato Hidalgo offering guacamaya, we were told they are all equally good so we ended up picking a random one, and we were not disappointed!
11) Shop at the Market
The bottom level of Mercado Hidalgo is full of all kinds of stands selling food, from tortas and comida corrida (fixed-price lunch menus), to fruit and vegetable, meat, spices and the like. If you want to get some spices or dried chillies to take home, it's a great place to shop.
On the upper floor you'll find small shops with t-shirts, Mexican handicrafts, and the traditional rag dolls wearing Mexican outfits. There are also shops offering Mexican sweets, mezcal, homemade chocolate, and other specialty food products for sale. So, whether you are after food or non-food souvenirs, you'll find something at Mercado Hidalgo.
If you don't care about shopping, climb up to the top anyway for great views over the market!
12) Visit the Mines
Mining has been crucial to the development of the city of Guanajuato – the city was at the forefront of silver extraction in the 18th century, and wealth from silver mining helped fund the construction of stunning Baroque and Neoclassical buildings found in the historic centre.
Many of the mines are still operational, and the city's mining background is behind its unusual street plan, with underground streets and tunnels to prevent congestion.
Visiting a mine is definitely a worthwhile thing to do in Guanajuato – most mines are located in the mountains north of the city, but one can easily be accessed without a car. Mina El Nopal is actually owned by the University of Guanajuato and operated to give practical experience to engineering and mineralogy students. Tours are actually given by the students themselves and include a walk down the tunnels – sadly we didn't have time to visit this mine, but we'd love to go back to Guanajuato just to do it!
13) Drink Mexican Craft Beer
We do love craft beer and truly believe there's nothing like sitting down with a good IPA after a day sightseeing. I know, I know, some will say that craft beer bars are the same all over the world, but we're not big fans of 'regular' Mexican beers or michelada-style concoction, so we found ourselves looking for a craft beer bar in Guanajuato.
Guess what? We found a really good one! The Beer Company in Plaza Allende on the edge of the historic centre is definitely the best beer bar in Guanajuato in our opinion, with lots of craft beers from Guanajuato, San Miguel de Allende and the nearby state of Queretaro. On the bottom floor, you'll find the bar and several beer bottles on the shelves available both to take away and drink on the rooftop deck!
14) Stay at Meson Cuevano
Ok, so we've told you all about the best things to do in Guanajuato, except for where to stay! Our accommodation of choice was Meson Cuevano, a boutique hotel in the historic centre part of the Tourism Recovery Programme.
Meson Cuevano was opened over 10 years ago by a Mexican-German couple, who took over and renovated an existing hotel in a colonial building in the heart of the historic centre. The name 'Cuevano' is in reference to one of Guanajuato's most beloved authors, Jorge Ibargüengoitia, who named the town Cuevano in his famous novel 'Estas Ruinas Que Ves'.
The hotel has a literature theme throughout, with quotes from the book on the walls of common spaces and every room named after a character in the book. The rooms are all individually decorated, with features like original stone walls and roof beams perfectly preserved.
Participating in the Tourism Recovery Programme was a wonderful opportunity for Meson Cuevano. Sophian, the German-born owner who has called Guanajuato home for 12 years, explained that he enjoyed the mentoring part of the programme especially, as it gave him the opportunity to look beyond what was his day-to-day reality for several years. This gave him the idea to expand and diversify his business, opening a rooftop bar and a Mediterranean-themed restaurant and cocktail bar.
We loved staying at Meson Cuevano – the hotel is literally steps away from all the action in the historic centre, making sightseeing super easy. The callejonada route goes right by the hotel, meaning you can listen to crowds singing along to Mexican classics from your bed. Fear not, they usually stop around 11 pm, so you can have a good night sleep!
Have we missed any of the best things to do in Guanajuato? If so, let us know in the comments below!
Our visit to Mexico was in partnership with the Tourism Recovery Programme organized by enpact and TUI Care Foundation – click on the link to find out more about the programme. Many thanks to Manuel from TUI Care Foundation and Nicholas from iAmbassador for this wonderful experience!