Welcome to the second instalment of our Finnish winter adventure! After spending three days skiing in Finland in wonderful Tahko, we caught a train headed north to visit Kemi, the capital of coastal Lapland. We spent three days enjoying adventure activities in the ice – including a stay in the snow castle of Kemi and a cruise on ice breaker Sampo!
Water, ice, air, snow. The boundaries between elements are blurred in coastal Lapland. The sea becomes ice. The air is clean, crisp, laden with ice. It tingles your face, fills your eyelashes with tiny icicles.
The snow is everywhere, covering land, sea and ice with a soft, fluffy curtain – as if it were concealing what lays below, keeping it hidden until the thaw of spring arrives.
In Kemi, you don't know where the land finishes and the frozen sea begins – were it not for an incline connecting the city to the Gulf of Bothnia. The trails of kick-sleds and cross country skis blend into one another, covering land and sea without distinction.
The ice on the frozen sea is thick – the sea has become land. You can walk on it, ski, ride a kick-sled all the way west, until you reach Sweden – but when will you realise that, once again, you're on terra firma?
The realms of the real and unreal intertwine. The sun and the whiteness do strange things to your mind. Sunrises turn into sunsets within a matter of hours. Stars shine with otherworldly brightness, and everything is so still and silent that you can almost see them move.
And when the clouds descend onto the land, you're jumping on the clouds. White is everywhere – there's no horizon.
Welcome to Kemi, our first experience in the great, wild North.
The sea becomes ice. Ice becomes land – or it doesn't actually, but it may as well be. Ice becomes a building material. Every year, an ephemeral castle, fashioned out of snow and ice appears on the Kemi shore. The shape changes – one year it may be multi-storey, another year it has turrets, or a grandiose entrance gate.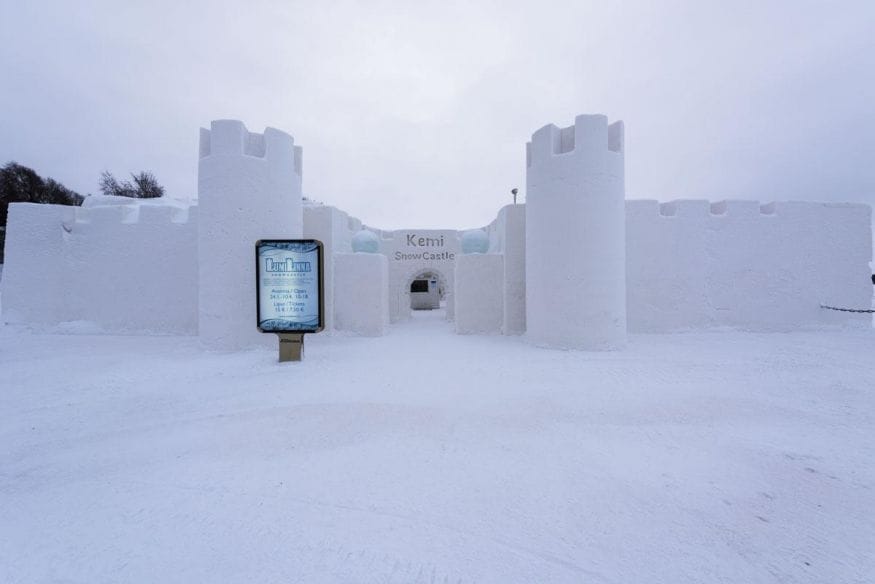 The Snow Castle of Kemi is built with blocks of ice and snow made from sea water. It is open between January and April. When the spring sun starts shining it is dismantled and returned to the sea, in accordance with the cycle of nature.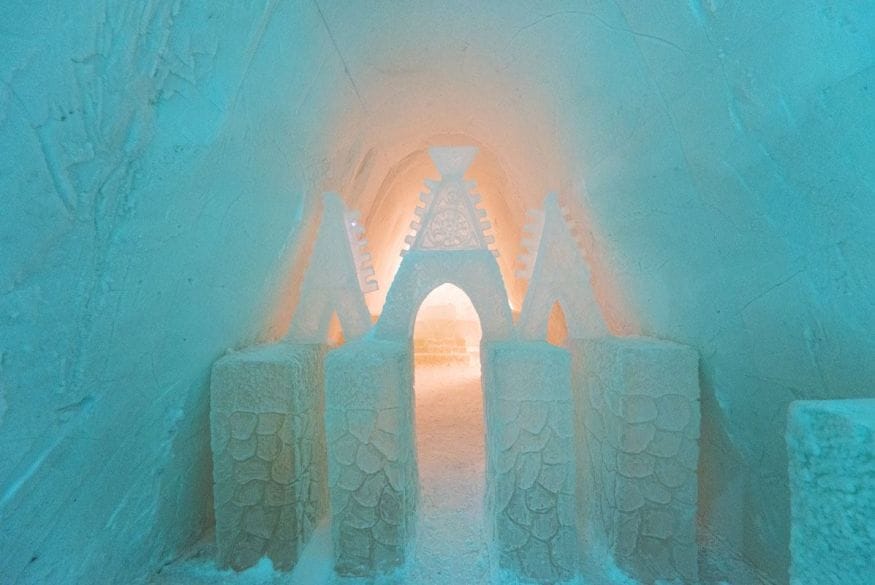 It doesn't look real. No, this cannot be, I thought, as we were introduced to the castle. Snow castles are from fairytales, the product of enchantments. 'And they lived in a snow castle, happily ever after…' I must have read it somewhere, in the browning pages of an old story book.
The Snow Castle of Kemi – or LumiLinna, as it is called in Finnish – has been built every winter, for over 20 years. The first snow castle dates back to 1996, and it was built as a gift from UNICEF. Then it became a kind of tradition and a challenge for the group of local builders – or magicians? – that every year turn ice and snow into a beautiful castle.
The snow and ice are manufactured with machines, but the temperature had to be around -10° to begin building the castle. Sometimes, it just isn't cold enough. Other times, it's too cold – or it starts warming up too early. Yet, no challenge is too big for these builders, and there hasn't been a winter without a Snow Castle in Kemi.
Lumi Linna. I rolled these words in my mind, as we toured the corridors of this dream made out of ice. Our guide was Noora, the Visit Kemi representative. Lumi Linna. It sounds like a spell. Noora explained to us that everything is handmade – from the walls to the ceilings, as well as the ice sculptures adorning every corner of the castle.
Every year, the construction of the Snow Castle follows a different theme. This year it's 'A Castle in the Castle' – meaning that after comic book characters and super heroes, the walls of the Snow Castle are decorated with 'castle' motifs – dungeons, jesters, wizards and more.
Inside, the castle contains a restaurant, a chapel and the famous Snow Hotel, our home for the night. There are also two slippery slides and a lookout on the roof, where you get an unobstructed view onto the frozen sea and its many islands.
The temperature of the Snow Castle is around -5°. That means COLD, so be prepared. If you feel the need to warm up, there's a heated building that serves as luggage storage, cafe, reception and breakfast room. That's where you'll be spending most of your time after having toured the castle – it's just too cold to hang out and relax in the rooms.
Our evening was spent at the restaurant, drinking hot chocolate with mint liqueur and eating hot veggie soup and fish cooked in foil on tables made of ice. Our seats were wooden logs, topped with reindeer hides for warmth, and we were also supplied a huge blanket to wrap ourselves in.
After dinner and some time in the cafe, we headed to our room in the Snow Hotel. Our mattress was covered with sheep skins and two huge super duper Arctic sleeping bags and fleece liners. Inside, I felt snug as a bug, but every exposed inch of skin was just freezing cold. It wasn't easy to get to sleep – maybe because of the excitement of the day, or because I was too busy observing the intricate carvings on the walls of our room.
Or maybe because I was afraid that my nose would fall off like an icicle. But after a good amount of tossing and turning, we both fell asleep – a deep, dreamless sleep, from which it was very hard to wake up the following morning.
And here, let me give you some advice. There are no bathrooms in the snow hotel, for obvious reasons – so don't drink too much before going to bed, because if you need to go during the night you'll have to get out of your snug and toasty sleeping bag and brave the icy walk up to the toilets in the heated building. It's not pleasant when that happens. Just warning you all.
If you're afraid of sleeping in the cold, you can opt to stay in an Olokolo, a heated clear-roofed pod from where you can sleep under the starry sky – or even under the Northern Lights, if you're lucky. Olokolo – meaning 'nest' in Finnish – can also be experienced during the day, when they're used to take visitors on snowmobile tours on the frozen sea.
The Sampo Icebreaker
If you visit Kemi, you'll have the chance to partake in a variety of adventure activities. You can go on snowmobile safaris in search of the Northern Lights – sadly, they eluded us. You can pretend to be a cross-between Cinderella and Elsa and take an olokolo ride. You can rent kick-sleds and cross-country skis and wander around the frozen wilderness at will.
But whatever you decide to do, make sure you save some time for a cruise on Icebreaker Sampo. We opted for the 'Arctic Sunrise' cruise – remember that being in the Arctic winter, sunrise means 9.30 am.
It was a milky morning, the kind of morning that seems to be looked at through fogged-up glasses. The contours of the world were blurred. Everything was white-grey-blue. The color of that kind of half-sleep-half-wakefulness feel that never left us the whole time we spent in the Arctic. Our bodies didn't adapt to the little light and everlasting darkness – they seemed to require more sleep than normal.
Shapes appeared like mirages in the mist. A windmill, slicing through the whiteness. A small house. A ship, moored on what looked like a sea of ice.
That was our first glance of icebreaker Sampo. Ships are usually referred to as she – and no ship was ever more feminine than Sampo, whose shape and tale exuded feminine qualities like strength and mystery, determination and resilience. Sampo was built in the Sixties, and operated as an icebreaker off the Kemi coast for 25 years, opening shipping lanes for vessels coming from near and far.
She was retired in the mid-eighties and was about to be sold for scrap metal – but the citizens of Kemi had grown fond of her, and decided to find a new purpose for the mighty ship.
She was reconverted into a tourist ship, running recreational cruises for four months of the year – making Sampo the only icebreaker in the world solely for tourists.
As we sailed, the sun slowly rose over the thin, blurred line of the horizon. It was a white spark at first, then it turned larger and started to gain colour. Meanwhile, the ship made her way through blocks of ice. She didn't push her way across – as one may think – rather, the ship crushed the ice pack under her hull, pushing it downwards and breaking it with her weight.
The temperature approached -20 that morning, and the clouds, mist and sunrise light played tricks with our senses. The frozen sea looked almost purple, then the horizon was set alight – a will o'the wisp, or a Fata Morgana of the Arctic.
The bridge was covered with a shimmering layer of ice, smoothed by the bellowing wind. Thoughts crowded in my mind. I was Wordsworth's Ancient Mariner. I was Captain Ahab. I was sailing to Ultima Thule.
We stood outside until we lost feeling in our hands and feet, then we toured the ship inside – the roaring engine room, all spitting and sputtering and grinding metal on metal, we saw the control room with dashboards and dials and flashing lights, that two engineers turned on and off with two rubber-pointed sticks.
Then, as soon as the blood started flowing, we went back out. And in. And out. Until the ship stopped – and we jumped into the ice.
Before you think we're crazy, let me tell you the whole story. We were wearing thick red rubber drysuits and all our clothes underneath. It wasn't cold at all – at least not for the first few minutes, as the suits were watertight and not a single drop of water filtered through.
The water looked like melted steel, dark and unforgiving, with blocks of ice as big as doors. Our suits only allowed two positions – floating on one's back or standing up with the water at mid-waist level. It felt strangely cosy – once you jumped in, the water lost its menacing feel. We felt its embrace, as we stood and floated in this element that so deeply shapes life in the Arctic and the eternal dance of seasons.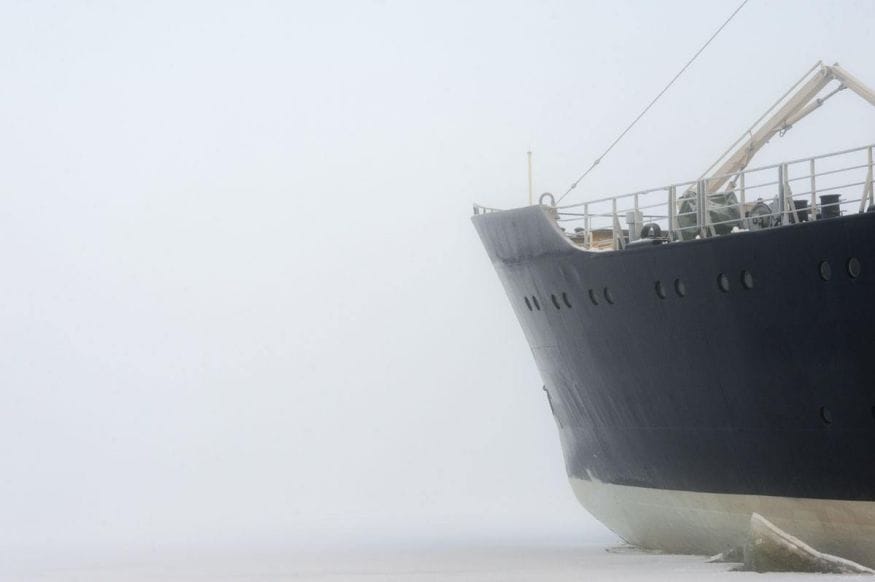 All around us was the frozen North. A boundless horizon. White on white, and a thin golden sliver where the sun filtered through the clouds. We laid on our back and looked at sunrise turning into sunset, and as we sailed back to shore it was once again golden hour. But this time the clouds lifted and the mist dissipated, and the sliver turned into a golden path, shining our way back into Kemi.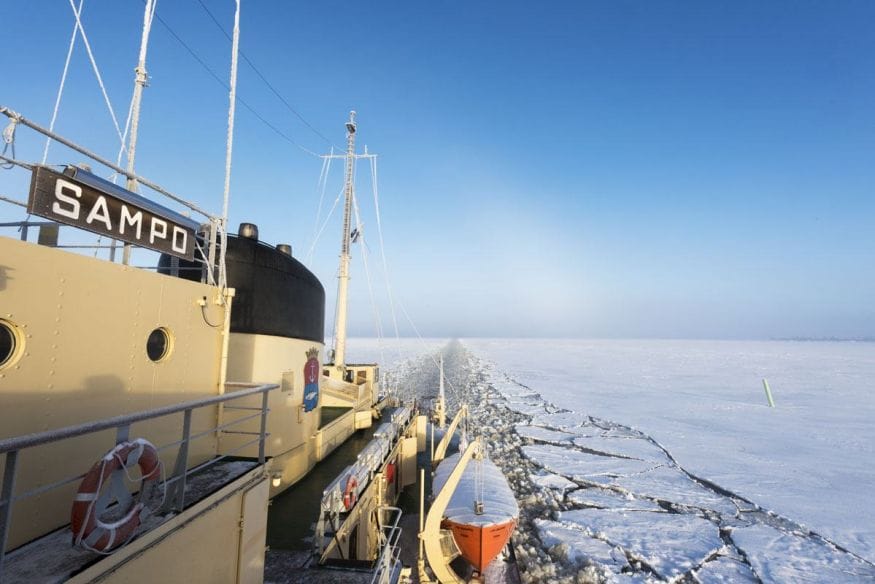 Visit Kemi – Practical Information
The easiest way to visit Kemi is by plane from Helsinki, there are two direct flights with Finnair.
However, if you love adventure and want to enjoy the frozen north even before you reach Lapland, taking the train to Kemi is an excellent option. There are several daily trains between Helsinki and Kemi, taking between 8 and 11 hours, travelling during the day and at night. Finnish trains are reliable, comfortable and usually offer wi-fi – and the views of the Narnia-like land outside the windows come free of charge!
We travelled to Kemi by train from Siilinjarvi, taking about 5 hours, and then left Kemi for Rovaniemi, 2 hours away. Both trains were pretty much empty, and reservations were not needed – we travelled with an Interrail pass which meant we could just hop on any train we wanted. Visit the official Interrail site for more info on rail passes!
We recommend a minimum of three nights to visit Kemi properly – one night in the Snow Castle and two more in a 'regular' hotel to give you more time to wander around Kemi at will, do a snowmobile safari, try and catch the Northern Lights or do some skiing or kick-sledding on the lake – after all, Finland in winter is a real wonderland!
We stayed at Hotel Merihovi, a wonderfully atmospheric property in the centre of town, a few minutes walk to the station and the snow hotel. Entering Merihovi you feel as if you've been caught into a time warp and transported to the 1950s – think dark furniture, retro wallpaper and – of course – your own personal sauna. The hotel also offers excellent buffet breakfasts with hot and cold food – just what you need before a day in the snow!
We were guests of Visit Kemi for three days. We would also like to thank Interrail for providing us with rail passes. As always, all opinions are our own. As always, all opinions are our own.
Pin it for later?
Snap the Photo to add us!